In this series entitled Agent Success Stories, we sit down with agency leaders to find out their side of the story. From their humble beginnings to the challenges they have faced on the road to success, we learn that a career in the real estate industry is one filled with boundless opportunities – if you know where to look.
"Life really does begin at forty," Carl Jung declares, "Up until then, you are just doing research."
At age 39, Kevin Lim is all geared up to embark on the next chapter in his journey towards real estate domination. With his wealth of experience moulding Preeminent Group into the corporate behemoth it is today, Kevin is already a veteran of developing talent and fostering collaboration between agents, putting him in prime position to bridge the gap between the organisation's agents and management. As ERA's newly minted Chief Agency Director, Kevin has set his sights on touching the lives of all ERA agents by personally running holistic training programmes that strive to achieve both professional and personal growth.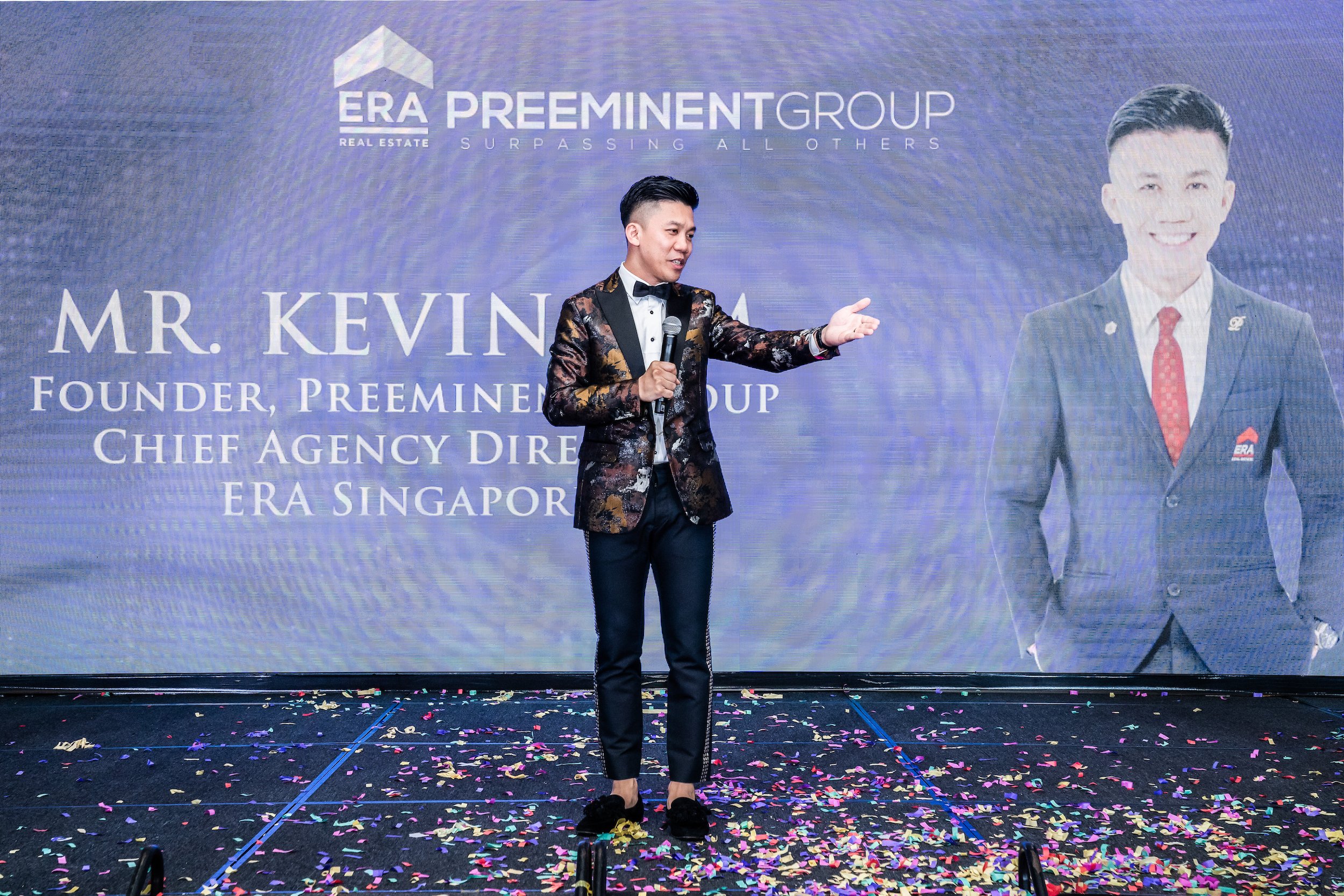 Removing rose-tinted glasses
Unlike most of his peers, Kevin seems to have effortlessly skyrocketed to success. At first sight, his résumé seems spotless. To his agents, he seems "like a god". There is no denying that Kevin has a flair for deal-making. His charisma is palpable, his upbeat attitude is infectious and he possesses the gift of the gab. However, behind that shiny veneer, Kevin has been hustling every single day for the last 16 years to achieve a level of success most only dream of achieving within their lifetimes.
Today, at more than 1200 strong, Preeminent Group is the largest group in ERA and has been producing the highest group sales figures for the last 5 years, setting a precedent in the agency. It is, without a doubt, ERA's pillar of strength and a formidable powerhouse in Singapore's dynamic real estate industry. Unbeknownst to many, Preeminent Group struggled to get on its feet during its infancy. Kevin laughed, candidly describing a time when he "ate plain bread" as he shifted his tunnel vision focus from sales to building the group. He was also quick to acknowledge his own faults, citing that he faced some resistance from the team in the beginning, possibly due to oversights as an inexperienced leader. Instead of blaming others, Kevin kept his worst instincts in check, choosing to reflect and learn from the experience. This is the mark of a true leader – the ability to put aside one's ego to change for the better.
On the 11th anniversary of establishment of Preeminent Group this year, Kevin pulled out all the stops, inviting the entire group to a grand celebration at W Hotel in Sentosa. Remembering his roots, Kevin recognises that he would not have come this far without the blood, sweat and tears of all 36 Division Directors and 290 Team Leaders in the group. Hence, he took the opportunity to express his heartfelt gratitude to everyone in the team for their support throughout this tumultuous journey.

10X your life
Despite the challenges that were hurled in his way, Kevin persevered and exercised the 10X rule. Even though Kevin does not have a role model that has significantly impacted him, he is an avid reader and draws inspiration from books. Gesturing animatedly in the air, Kevin explains that he survived the stagnation in professional success by "10X-ing it". By working and focusing 10 times harder on his goal to lift Preeminent Group to the top, he barrelled through all obstacles that stood in his way. This single-minded drive to succeed is what spurred him to rise above and differentiate himself as a capable leader and a shrewd businessman. At the 2019 ERA Asia Pacific Business Conference, the first ERA Honorary Award was presented to Kevin in recognition of his contributions to the growth of the agency.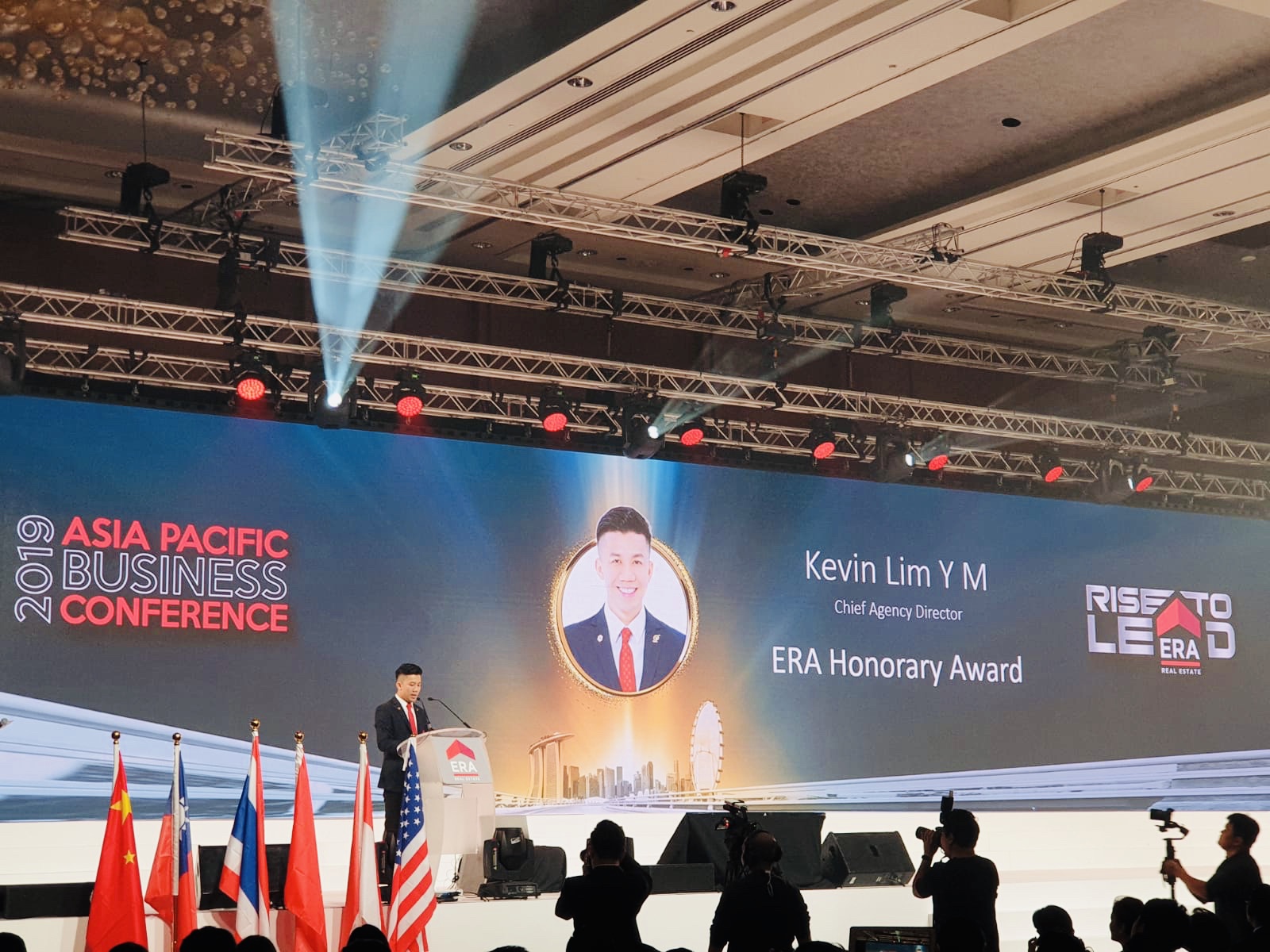 Kevin applies his 10X rule to agents in Preeminent Group by setting goals that are 10 times as ambitious as well. "The goal I set for all my agents is to earn a million dollars," Kevin said emphatically. That being said, the amount of time it takes to reach said goal is inconsequential to him. The only thing that matters is that they achieve this goal someday, not just for the growth of the group, but more importantly, to attain financial security and independence for their families.
Even though the goal sounds far-fetched, Kevin ensures that every single one of his agents receive the training required to fulfil their potential. For a talent scout like Kevin, being acquainted with someone who has already peaked in their career holds limited appeal. By contrast, he is on the hunt for someone with fresh eyes and raw talent, someone that can be sculpted into the next big thing, someone who needs a little nudge to break through their plateau. As an up-and-coming agent, he benefitted greatly from ERA's well-established brand identity and extensive training programmes. As a top division director, he groomed several top-notch division heads and created training programmes exclusive to agents in his group. The record-breaking sales records of Preeminent Group is undeniable proof of the effectiveness of these programmes. Kevin's commitment to paying it forward is also apparent in the way he fosters a culture of information sharing that is unfettered by rivalry.
For the greater good
In a bid to give back to ERA and nurture others to succeed in this field, he aspires to be a life coach for all agents that join the ERA, guiding them towards a prosperous career and a fulfilling life. Proving to be a man of action, Kevin identified a gap in existing training programmes and helped unveil a string of Ultimate Agent Training (UAT) programmes, an initiative led by ERA's COO Marcus Chu, soon after his appointment as Chief Agency Director. Along with esteemed colleague Gary Lau, the duo personally run their flagship camps – Ultimate Leadership Warrior Camp (ULWC) and Ultimate Sales Warrior Camp (USWC) – taking a hands-on approach towards training. Rather than focus exclusively on boosting revenue, these camps are a catalyst for both personal and professional growth, ensuring that their agents flourish holistically.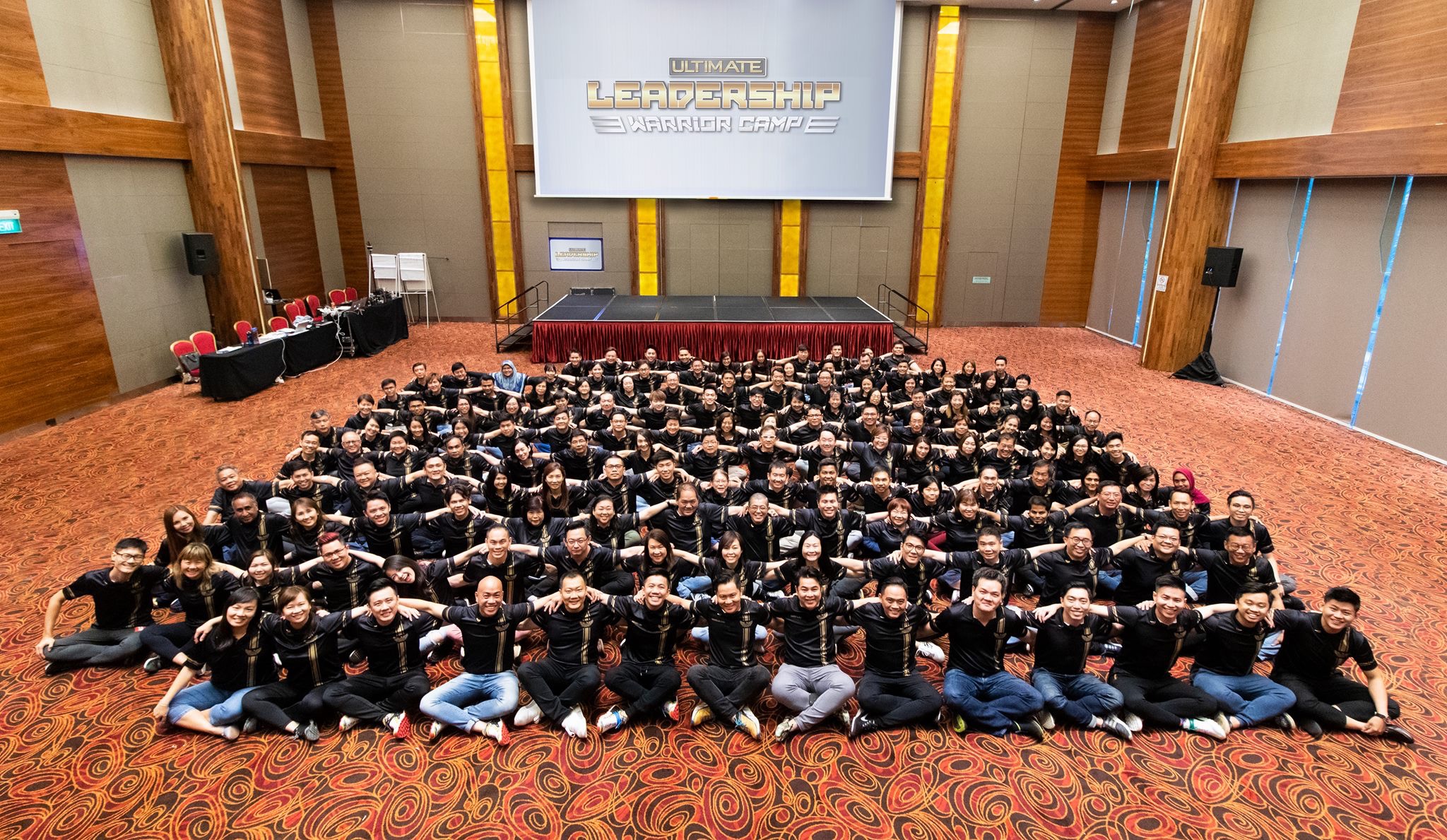 The all-rounded approach is exemplified in the Ultimate Leadership Warrior Camp which revolves around love, dream and achieve. The camp encourages participants to hone their personal leadership qualities, such as family leadership skills, and put them into practice. Since Kevin's mantra is "win together" and strongly believes that "collaboration is the new competition", participants learn to rise by raising others up as well. 9 camps and 1000 participants later, there have been visible improvements in agents' attitudes and a positive shift in ERA culture.
On the other hand, the Ultimate Sales Warrior Camp aims to train participants to excel in the field. By utilizing the "desire, faith, action" framework, participants learn to take their salesmanship to the next level and build up the confidence to imagine beyond their horizons. Kevin seizes this opportunity to impart his expertise and share his personal beliefs with participants too, taking them under his wing to ensure emerging talents from diverse backgrounds blossom over the course of the camp.
Unleashing limitless potential
For Kevin, his quest to inspire agents to pursue their dreams and believe in themselves is something that is close to his heart. From a young age, he was taught to be humble, to keep his head down, to blend into the crowd. If not for a career talk on becoming a real estate agent, he would have enlisted in the Special Operations Force within the SAF Commando Formation and opted for a relatively stable career. However, Kevin took a leap of faith, choosing to break out of his shell and reinvent himself, adopting a confident go-getter personality. Instead of subduing his boisterous personality, he unleashed it fully, adopting a "if you've got it, flaunt it" attitude. Even though others doubted his ability to succeed, he snatched up the Top Rookie award soon after joining ERA, proving that he has what it takes. Over the years, he has swept the boards at ERA's award ceremonies, to the extent that he has taken himself out of the running for future awards. Now, he aims to set others free and mentor budding agents who can carry on his legacy of excellence.
Just a year shy of 40, Kevin's research is well and truly complete. To say that everything he touches turns to gold is not at all far-fetched. As an accomplished real estate agent, he understands the ins and outs of salesmanship and empathizes with issues faced by agents on the ground. As the founder of ERA's record-breaking Preeminent Group, he became a seasoned leader who is receptive to feedback. As the Chief Agency Director that unites ERA, he is ready to cultivate leaders by implementing comprehensive and wholesome training programmes to help agents achieve financial independence. With Kevin at the helm, ERA is bound to make waves in the industry once again.