Ever wondered what it is like being a property agent?
In this series entitled Agent Success Stories, we sit down with agency leaders to find out their side of the story. From their humble beginnings to the challenges they have faced on the road to success, we learn that a career in the real estate industry is one filled with boundless opportunities – if you know where to look.
Benjamin Tan started off his real estate career by selling his scooter. He is now a Meritorious Award winner, the first recipient of the highest honour in PropNex. How did a computer technician turn his life around to be a Top Individual Producer, Top Senior Team Leader and Top Project Chief IC all at the same time? Benjamin shares with 99.co how his hunger for success drove him to overcome obstacles and how he hopes to pass on these skills to groom more leaders for the future.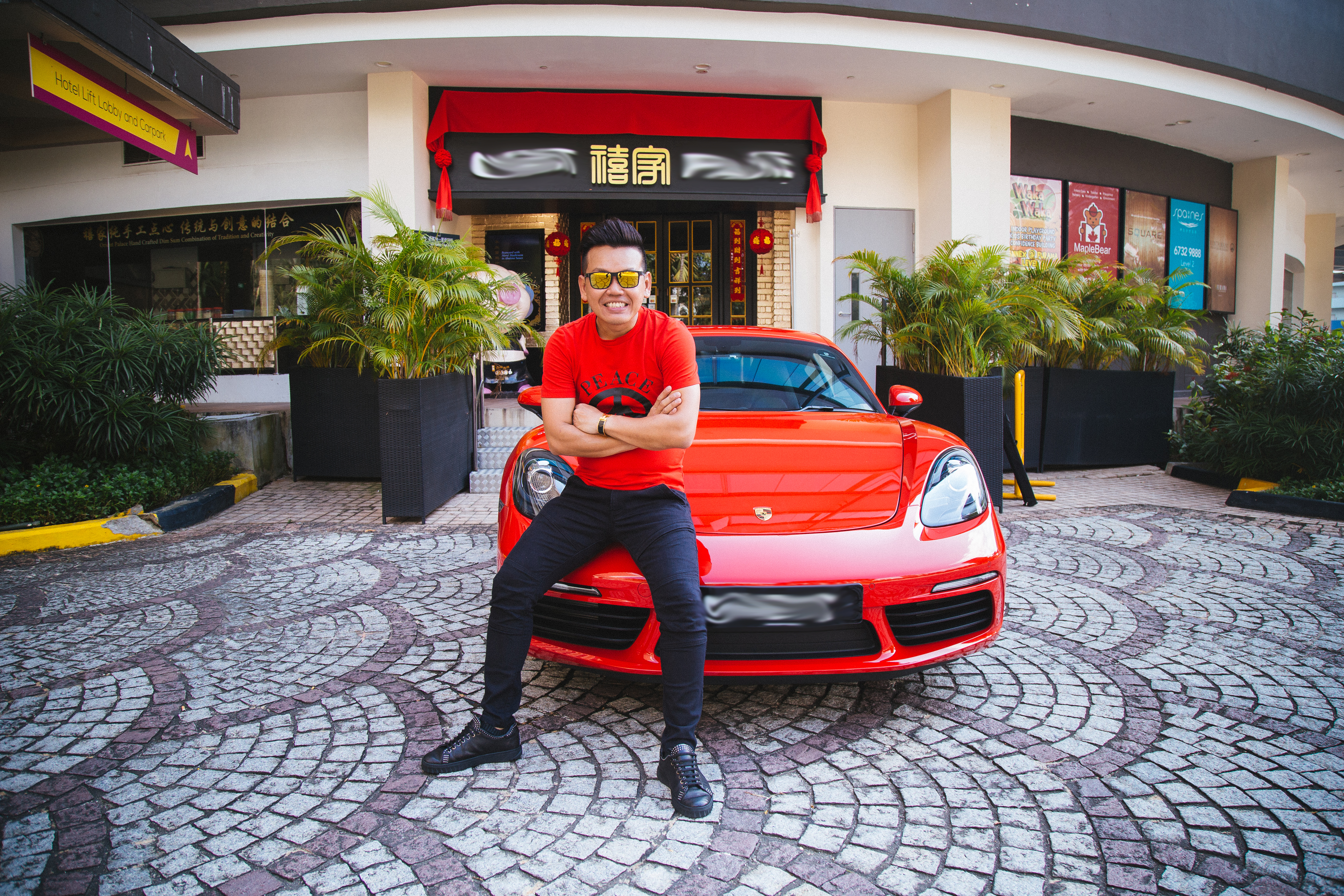 Tell us about your background and how you joined real estate.
In 2005, I was working as a computer technician drawing a mere monthly salary of $1,900. That wasn't enough, especially since I desired for my parents to retire comfortably. After bumping into my camp mate who had joined the real estate industry, I decided to make the jump. I was eager to earn a better income so I sold off my scooter for $3,000 as my initial capital.
I knew being an introvert wouldn't help me in an industry where I would be required to talk to many people. As such, I went on to take courses to improve my communication and presentation skills.
I first joined my camp mate in a small real estate agency. Before I could fully settle down, the agency closed 6 months later. I followed my colleagues to another agency that focused on selling HDB. With little money, I chose to use all the time I had to carry out on-the-ground prospecting. I designed, printed and distributed my own flyers. I was hungry to succeed and did everything I could to get there. Though poor, I had the will to overcome all obstacles. My NDU motto trained me to believe that "Nothing Stands In My Way".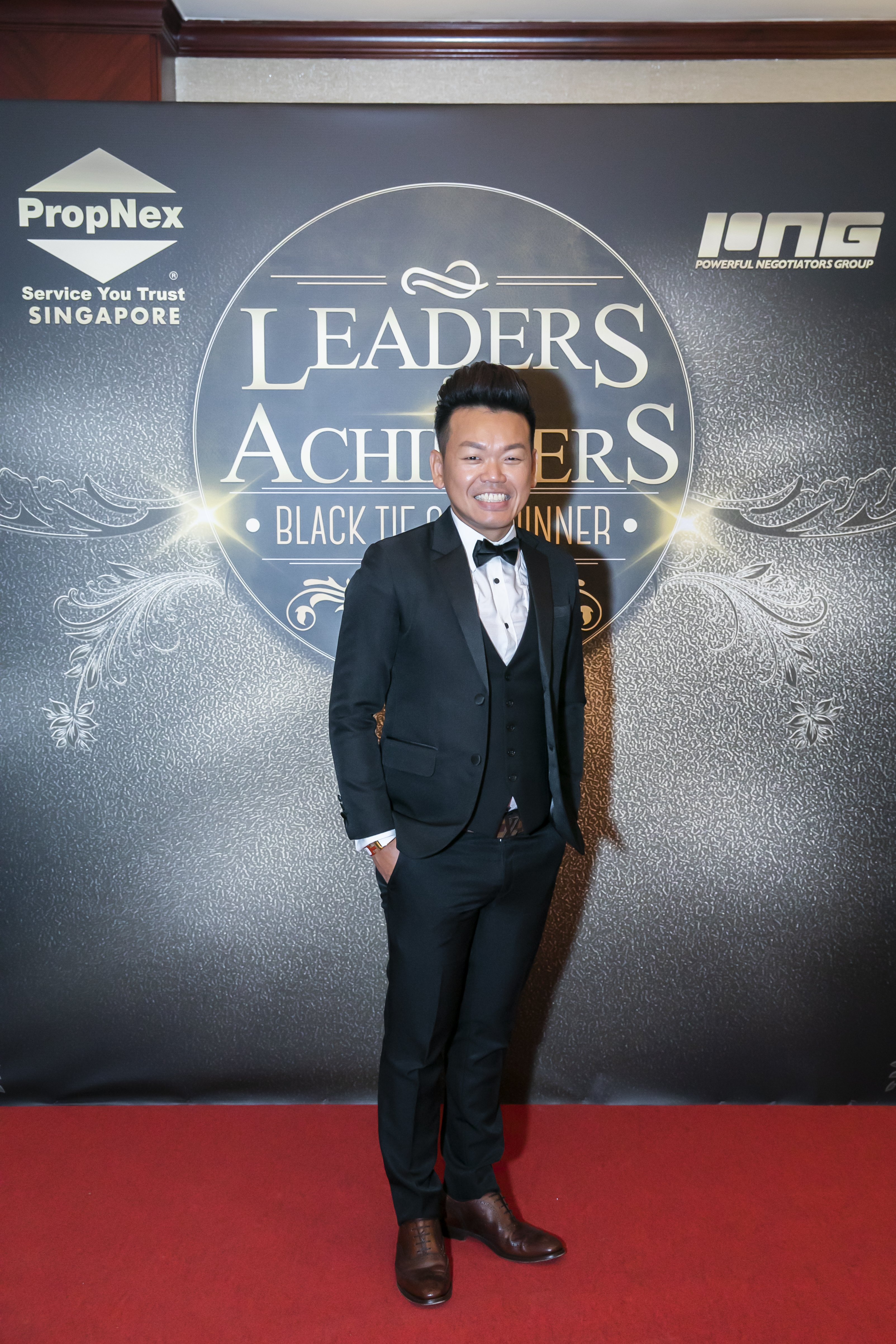 What led you to settle down in PropNex?
I crossed over to PropNex in end of year 2008. Having a bad experience with smaller agencies, I knew I needed a bigger, more stable platform for growth. PropNex, being one of the largest real estate agencies, provides me with a bigger platform where I could grow on multiple fronts. In 2008, I also made the decision to move into private property investment sales because I did not want to be stuck just doing HDB resale. Being in PropNex allowed me to widen my personal portfolio. In my first year, I achieved 88th Top Producer. Many people started to join me after and in my first full year of team building, I grew the team to achieve the No.1 Top Division Director (Team Leader Category). Surprisingly, I found that I had a flair for team-building. From there, I eventually groomed 5 team leaders.
In the last 3 years, I've also spearheaded several PropNex Projects as Chief IC. I'm the only Project Chief IC in PropNex to have won two Outstanding Project Awards – the highest award given to Project Marketing. At the same time, I am still within the top 2% of Individual Top Producers in PropNex for year 2018. PropNex gave me the platform to excel in personal sales, team building and project management. It allows me to earn three sources of income from one business.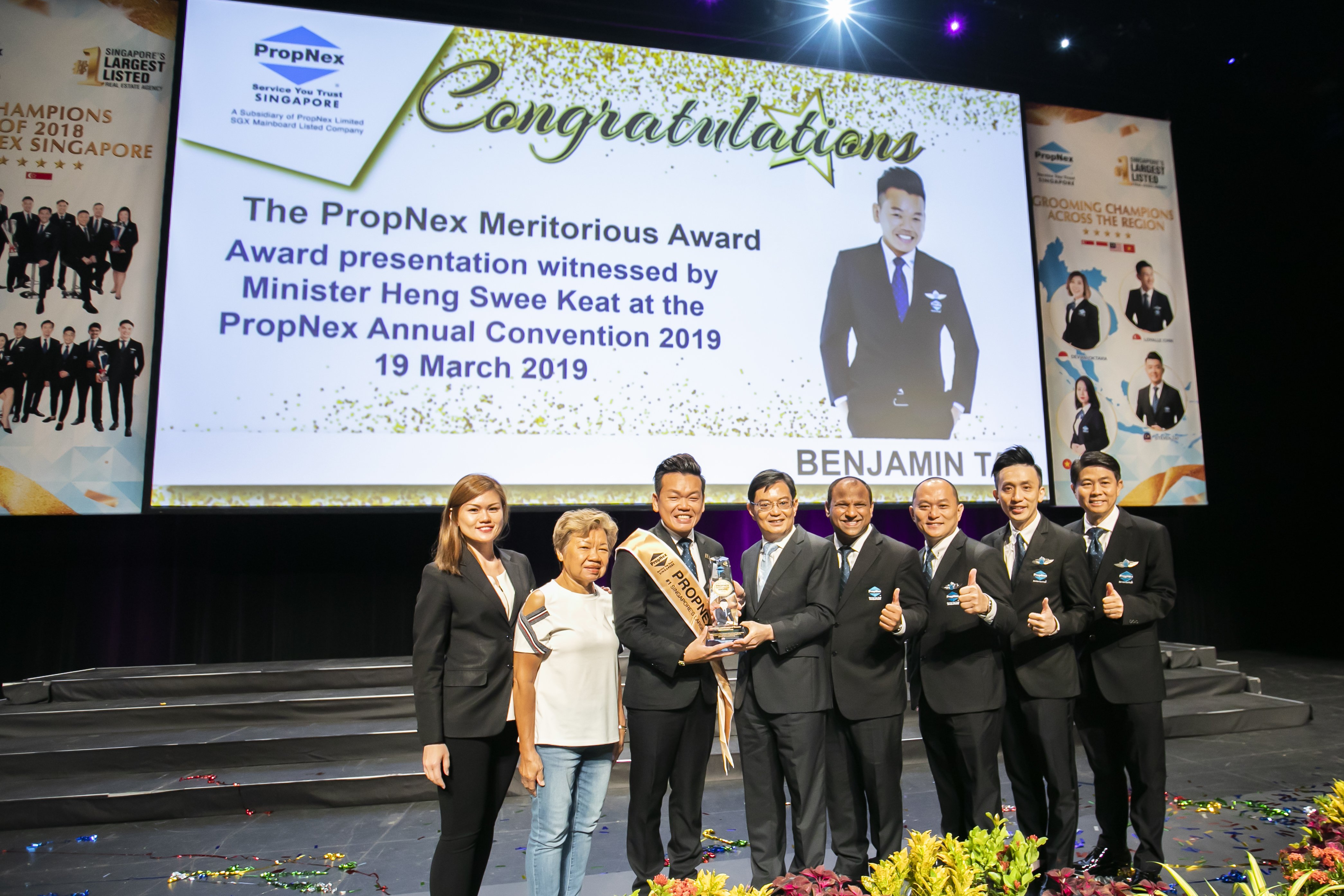 You've just been awarded PropNex's first ever Meritorious Award this year. What are your feelings?
I'm truly appreciative to be the first recipient of this highest honour in PropNex. It's a surprise to me and I'm humbled by this recognition! This award recognises my contributions to my company, my people and all the work I've done. I'm lost for words, but I truly want to thank PropNex for recognizing my efforts in bringing the company to a higher level especially in the area of project marketing where we had tremendous success in just two short years.
PropNex today is recognized as a leading agency in Project Marketing. It all started from the luxury market led by fellow Meritorious award winner Mr Dominic Lee and myself in the West Zone Team. Today, the West Zone Team have duplicated the success formula and expanded the reach to all the projects in Singapore. I want to continue to add value to the lives of all PropNexians. I will also like to take this opportunity to thank Mr Ismail, Mr Alan Lim, Mr Lim Yong Hock, Mr Eddie Lim. I also want to thank the founder of PNG Mr Kelvin Fong, all PNG colleagues and leaders, my manager Bobby Sng, my BTD group of division leaders Evan Tay, Kelvin Thong, William Wu, Zenn Tan and my entire team of BTD associates.
How are you able to balance personal sales and leadership duties?
I do not believe in compromises as I always strive to excel on all fronts. In my business right now, I spend about 1/3 of my time on personal sales, 1/3 on team building and 1/3 on project marketing.
Being in PropNex gave me the opportunity to be a public speaker for many seminars and events. At one of my seminars in May 2018 held in Jurong Genting hotel where I was the key speaker, more than 500 consumers attended the session, excluding salespersons and vendors. The total turnout on that day was closer to 800. It was a really great experience, especially considering I was an introvert and a man of few words all my life until I entered this Real Estate Industry.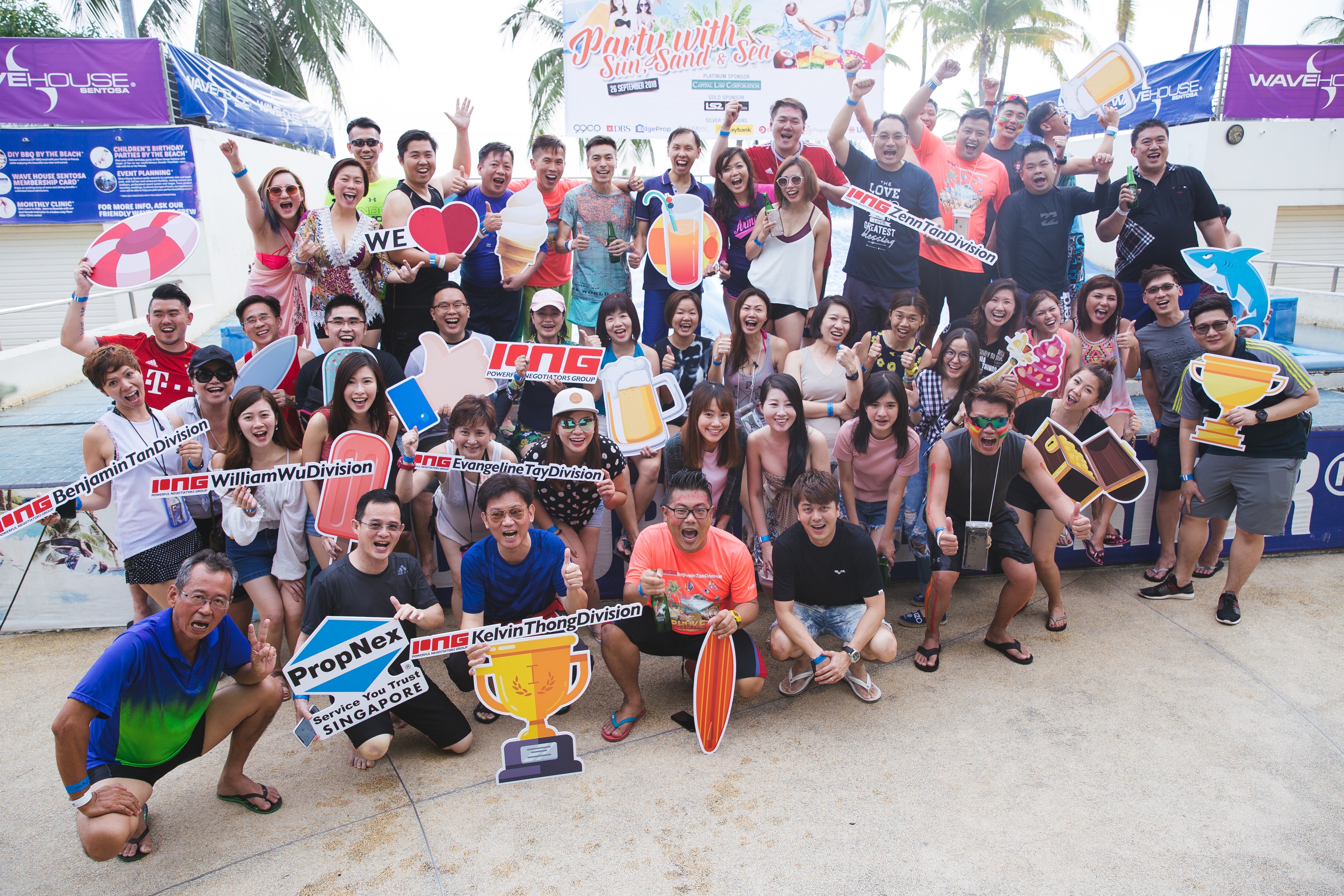 How do you plan to pass this skill set on to your team?
I meet my associates face to face regularly because I believe personal connection is the best method. Many hours are spent setting the right direction, following up and adjusting the sails to make sure they are traveling in the correct direction. PropNex and PNG already has a proven system. Any one who joins only needs to plug themselves into this system to follow the team's and company's direction. Ever since I joined PropNex, I follow and do. It's that simple. I had great results, so I educate my associates to do the same. Leverage is key. Trust is of upmost importance. Trust the company and leverage on the system. Be a copycat. There is no need to waste time to reinvent the wheel. That's the fastest way to success.
What is the culture of your division like?
Our motto is "We Play to Win". Sometimes the real estate industry (and life in general), is a game. We want to play and have lots of fun. Work must always be fun because we spend a huge portion of our lives working. Whatever we do, we do our best. We always want to be in a competitive mode. Competition brings out the best in a person. Think the Olympics, the World Cup Football or Formula 1 racing. The world's best and most popular sports thrive on competition. Broadly speaking, without competition, humans cannot break-through the limits they impose on themselves. Life will be black and white. We play a lot, we love to win. We are one happy family.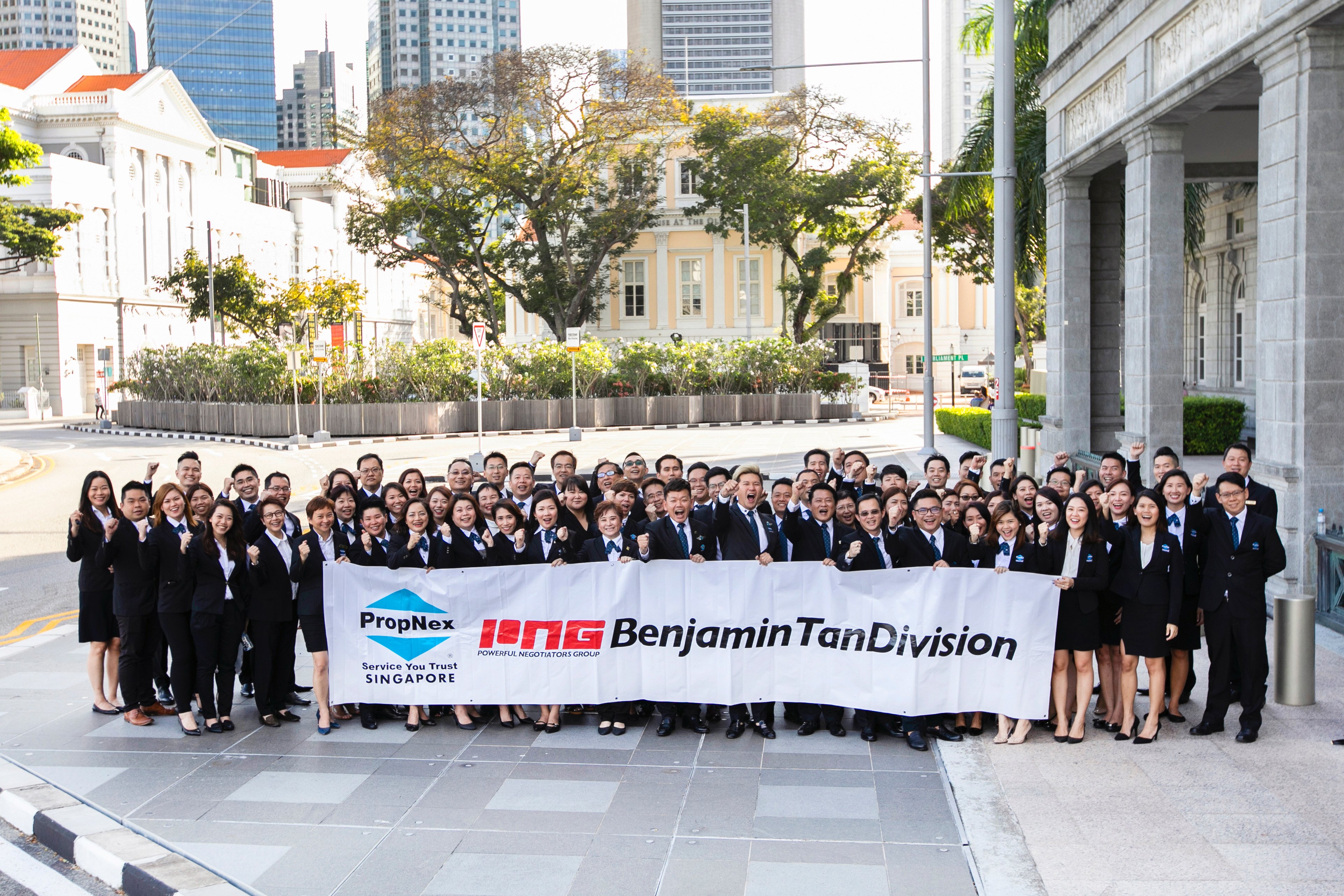 What kind of agents are you looking for to join your team?
Anyone who is hungry for more success, who believes they deserve more. Anyone who wants to earn a better income to give a good life to their family, or is already doing well and wants to leverage on our proven system to do even better in personal sales, team building or project marketing.
I look forward to groom more producers and leaders. Benjamin Tan Division commission received in year 2018 increased by 58% compared to 2017. We are a winning division, a happy family. I welcome more new or experienced salespersons to join this winning team.
Benjamin Tan Division – We Play to Win.
Win for our clients.
Win for ourselves.
Win for our family and company.