Ever wondered what it is like being a property agent?
In this series entitled Agent Success Stories, we sit down with agency leaders to find out their side of the story. From their humble beginnings to the challenges they have faced on the road to success, we learn that a career in the real estate industry is one filled with boundless opportunities – if you know where to look.
An Associate District Director at Powerful Negotiators (PNG), property agent Matthew Lam has almost a decade of experience in the real estate industry. A former National Team Fencer who represented Singapore at the Southeast Asian games, he is now the youngest leader in PropNex at age 29, and a millionaire Producer in 2017.
The 99.co team sits down with Matthew to learn more about how he achieved real estate success in such a short time, and how he plans to grow #MattLamDivision.
Why did you decide to join the real estate industry?
Back then I was juggling my time between my National University of Singapore (NUS) Engineering degree and the national team. I wanted to have a head start among all my peers in terms of savings and wealth and all I had time for was a weekend job. It happened to be a telemarketing role for a property agent. Instead of paying me a salary, he converted me into a real estate agent after 3 months and I had to share half of my deals with him.
At a young age, it was quite daunting to enter the scene. A lot of things that my mentor asked me to do, frankly I wasn't comfortable. But in order to thrive, I had to adapt quickly. When we talk to different clients, some can be very wary of agents and I had a fear of speaking to people. What's more, there were also different ways to do prospecting at that time. It was a lot of trial and error.
Through this job, I started developing a passion for real estate! As there was a lack of support and a lot of uncertainty in the past, all I could rely on was my mentor. He showed me the ropes, and this is my 9th year in the industry.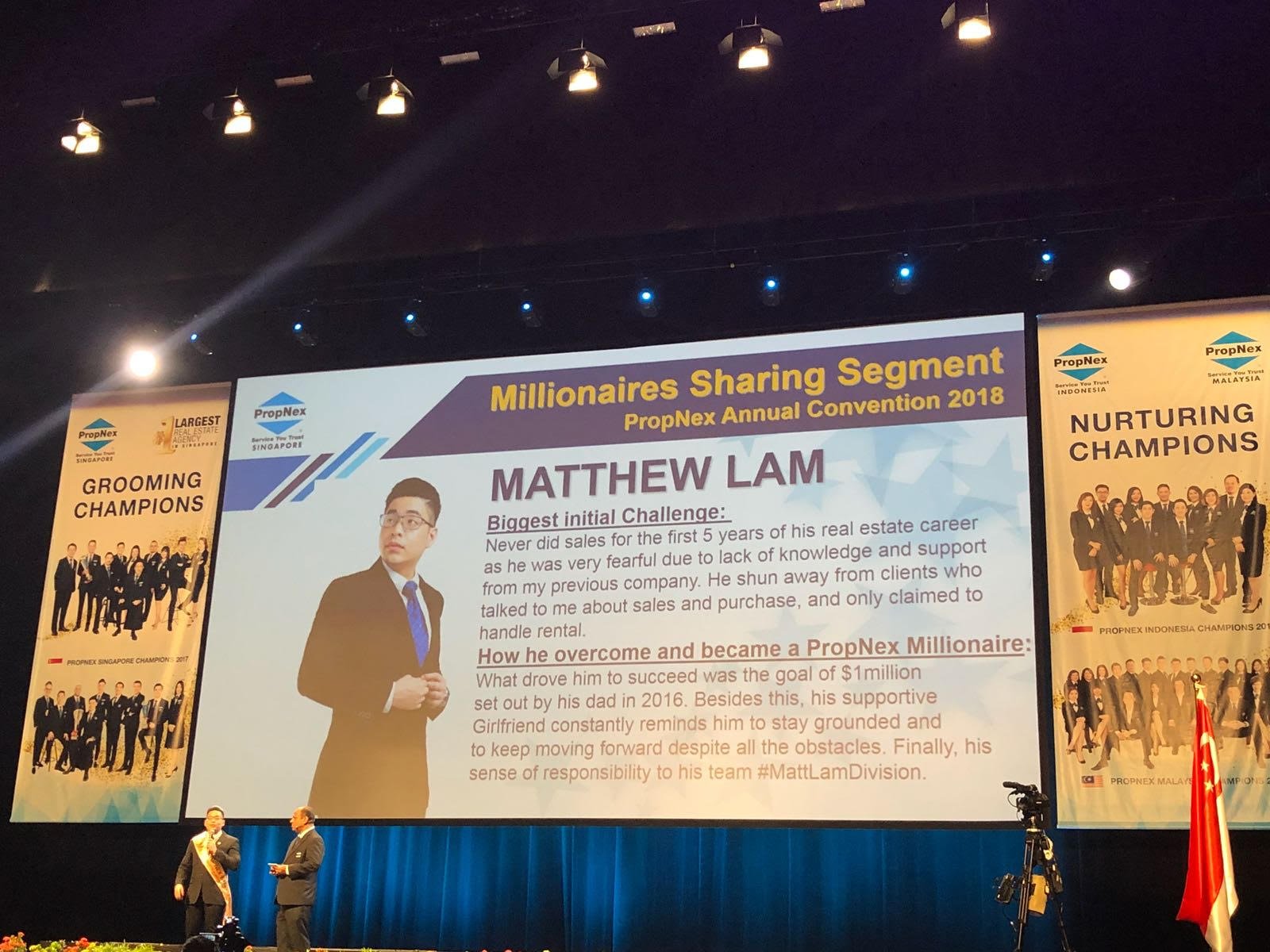 How did you grow from there?
For the first 5 years of my career, I didn't do sales at all. I only focused on rental. When the industry grew in professionalism, I had to cope with new changes. It affected my business and my income got hit. I was on the verge of giving up of being a property agent.
I had a few agents under me who were my close friends. I realised I couldn't forsake them, so I started looking around at various agencies and stumbled upon Marcus Luah from PNG. That was a turning point. A huge support network and trainings opened up to me. Most importantly, the culture of powerful negotiators changed my perspective.
I didn't do sales in the past because I was fearful. I didn't know how to talk to investors or homeowners who were more mature and older than me. Coming into Powerful Negotiators, I was exposed to many Top Producers who shared with me their secrets and how to do business with sincerity. They didn't hold back – they taught me how to pitch and talk to people. Coupled with PNG's training, it gave me the confidence to step up. I believe that a change must start from within, because how you are within is how your clients perceive you.
Initially, I didn't think of team-building and focused on my own sales. As I grew, I felt a unique sense of responsibility. This is the only job where I'm able to transform people's lives. When they are able to to move forward, rebuild and give their families a better life, I feel fulfilled. Because I benefited from the system, I'm now paying it forward. I also manage my time well: 10am to 1pm is for team consultation where I'm readily available in office for my members. In the afternoon, I focus on my personal sales while at night is family time. The rule of thumb to my team members is a 15mins response time whenever they call or text me.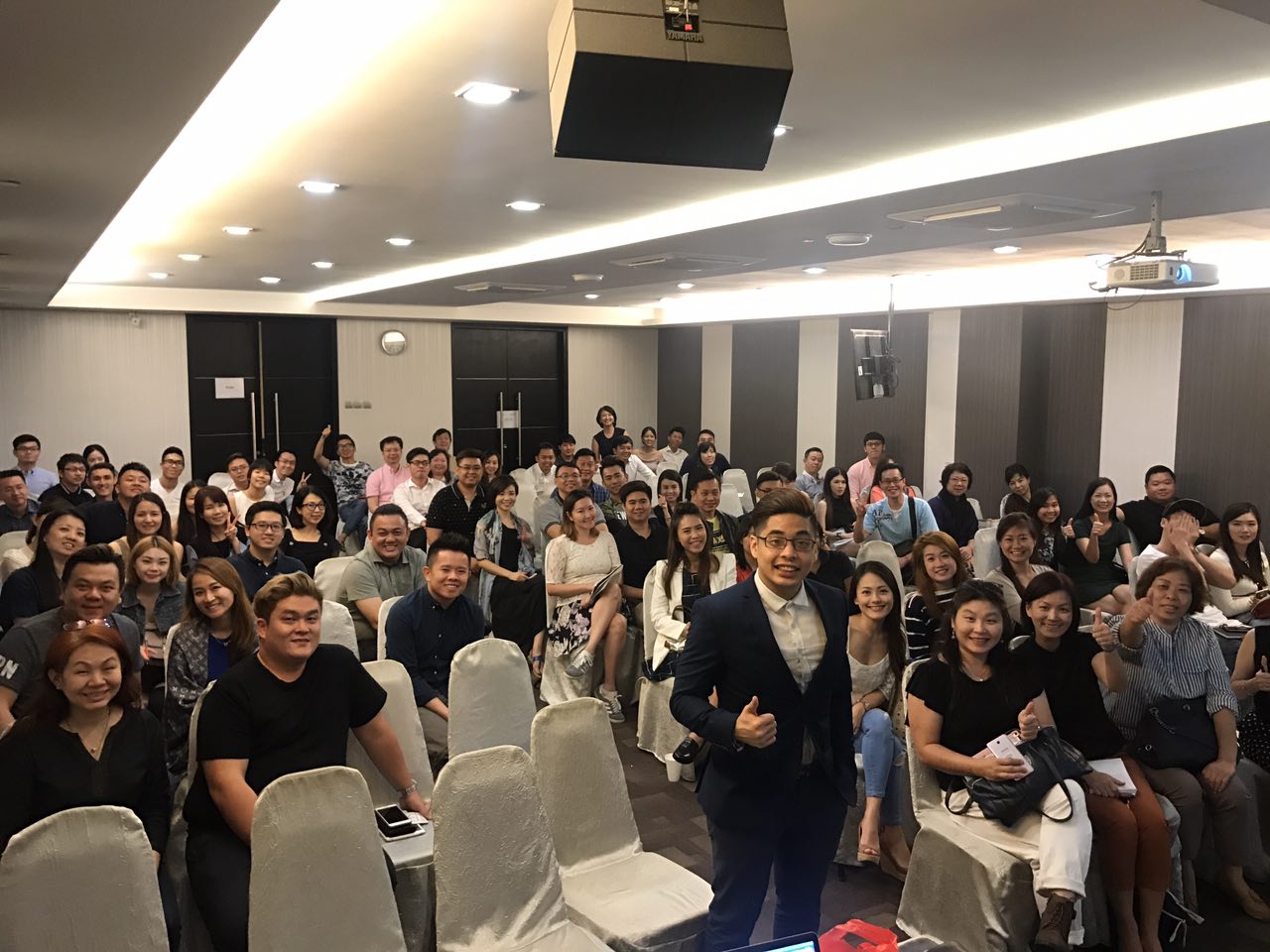 Are there unique challenges you've faced as the youngest leader in PropNex and PNG?
At the start, it was daunting to have senior leaders and other Top Producers doing the same recruitment as me. I was concerned about how I could add value and transform the lives of my agents. Being 28 years old at that time, it was natural for others to wonder if I am mature, if I have enough life experience to guide them.
Team-building is not just about real estate. It involves character building and people's private lives; it's one package. Of course, I managed to overcome these challenges and prove myself on several platforms. My primary focus now is on the Luxury Market and upgrading agents from the Rest of Central Region (RCR) to the Core Central Region (CCR).
Last year we had 10, this year we are up to about 80 agents and we hope to keep going strong. I've achieved more than $700,000 in sales this year while still increasing recruitment. On top of personal training, I conduct training at multiple levels for 500-600 agents here at PropNex so that everyone can be responsive to ruling and market changes.
You have your own hashtag #MattLamDivision. What role do you think digital marketing plays in the real estate agency?
Social media marketing has become a powerful tool in personal branding. My division has an in-house digital marketing training. One of my agents attended this digital marketing course. She received two to three effective leads from Facebook that converted into new launch and resale closing deals! That's why I make this course compulsory.
What are some of the key skills real estate agents need in order to succeed?
I would ask, what's the direction for yourself, for your clients and the market? Each agent in my division has a personal business model that let's them clearly define where their leads will come from, how they're going to get them, and what to do with their leads.
When a new agent joins, we will sit down one-on-one and go through 2 sessions. My main focus is to get to know this person better because that's the best way to help somebody. I can then use his or her strengths to create a personalised, sustainable business model. Under this proven system, we produced 4 Platinum Achievers within a month in April 2018 and 2 Super Platinum producers within 6 months. On top of that we're currently Champions in the District category within PropNex!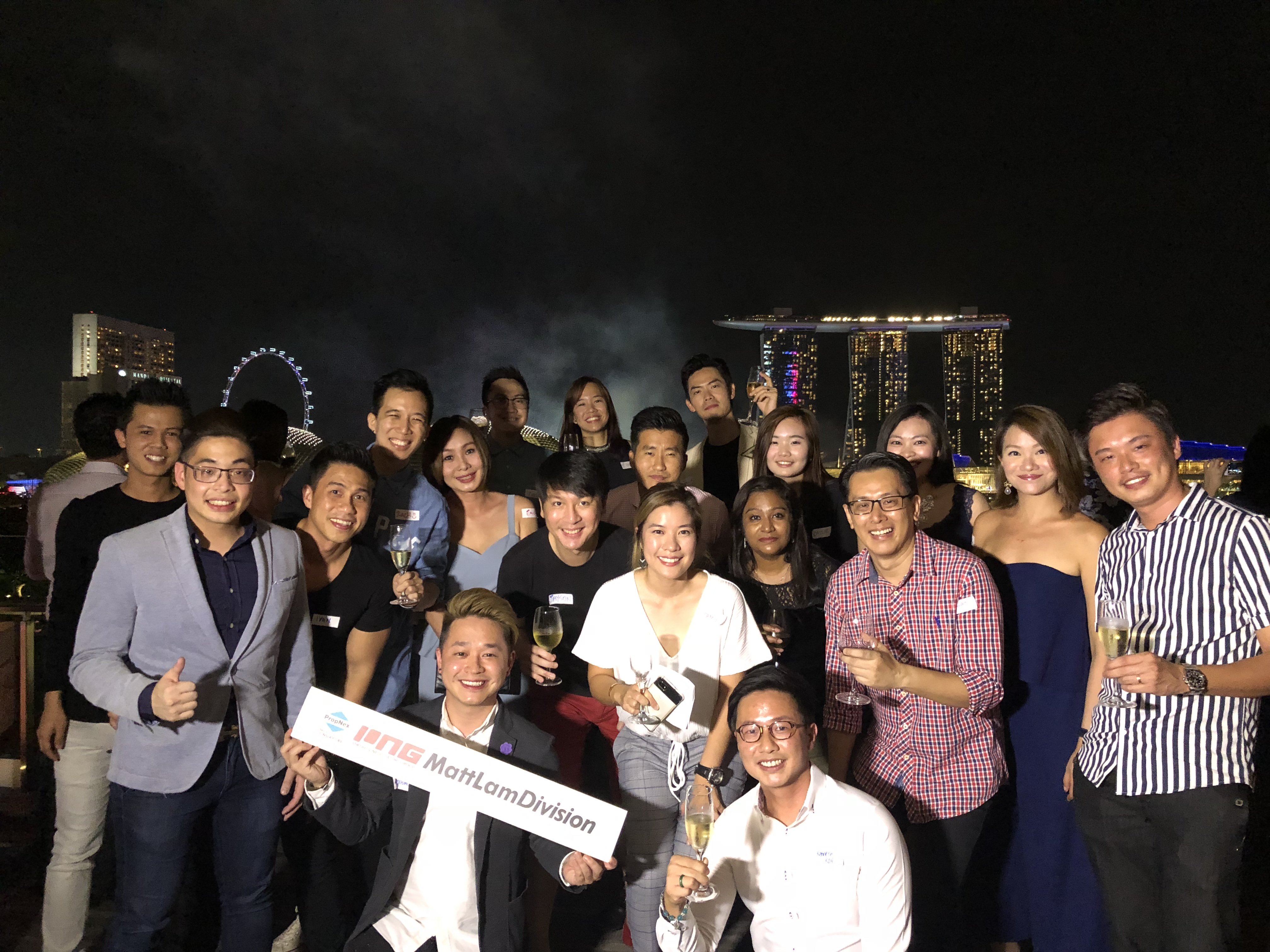 Apart from PNG trainings, in the second session I will equip my own agents with two trademark presentations about pitching and negotiation. One is an exclusive presentation, the other will enable agents to speak to all the investors, friends, teach them how to leverage on ABSD so that they can convince their clients to make money using ABSD. It's a different perspective altogether.
For young agents who aspire to be where you are today, what advice would you give them?
I always like to say, "How much hardship you can take will determine the capacity of your success". Most people can take a certain amount of hardship but they don't last long enough to see the light at the end of the tunnel. Secondly, always aim for a change, because change is a form of progression. I wish I told my younger self, "Be brave to make changes earlier". In real estate where we do almost the same thing everyday, it can become mundane and stagnant. For myself each year, I put forward a change which can be a target, a goal, or even a change in the way I speak or carry myself.
Marcus once told me that the Producer mindset is about how fast you can pick yourself up from failures. Even when I burst a deal, I'll tell myself to move on. These are the few factors which I feel are important for young agents below 30.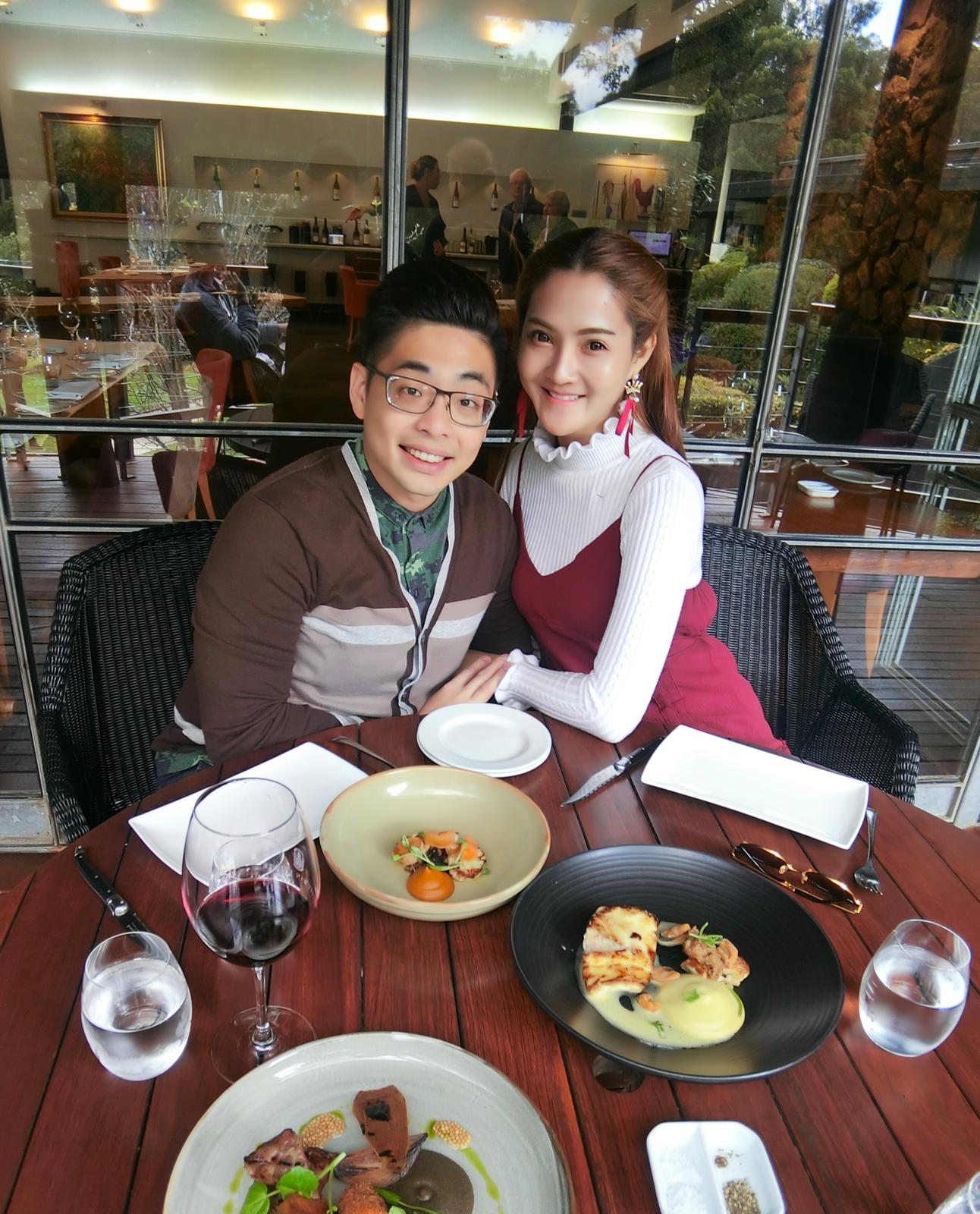 Who are you most thankful for here at PNG?
I thank Kelvin Fong for without him, PNG won't have this platform for me to leverage on and pass on my experience to future family members. Without Marcus Luah, I wouldn't be who I am today. He gave me a clear-cut direction and business model. I can always count on these two leaders to help me get through any kind of hardship.
Most importantly, the #MattLamDivision family members. As a leader, it's not all about giving orders but also listening and learning from my team. I share with them certain feelings and vulnerabilities so that can understand me better as a person. In return, I've gained so much insight from the division  that a 29 year old normally wouldn't have. They have molded my character, thinking and perspective. Here's looking forward to growing together as one big family and achieving greater success!