So you were either celebrating your wedding anniversary at a Michelin-star restaurant or working overtime in your office. Either way, you missed the chance to buy your dream property before the Singapore government raised Additional Buyer Stamp Duty (ABSD) and further tightened the Loan-to-Value (LTV) limit on the stroke of midnight — a move that provoked widespread panic buying.
With the ABSD increases at a minimum 5% quantum, this was no doubt a heavy handed measure to put many prospective buyers out of the game. So, where do you go from here? Assuming you're a Singapore Citizen or Permanent Resident intending to buy a second property, here's our essential before-and-after guide for every budget:
Your maximum budget: Under $1 million
Goal: You were probably looking at buying a shoebox-sized, new launch, 99-year leasehold mass market condo unit for the rental yield. Well, now the combination of ABSD increase and tighter loan-to-value (LTV) ratio has completely eliminated that option… not entirely. If you still really want to invest in property, you might want to consider the merits of buying a resale condo. In doing so, you might realise three things:
A new-ish resale condo in the same area could cost much less, which more than offsets the ABSD increase
You have a world of options, compared to new launches
The resale condo lets you reap rental yields right away
What you could have bought: A new launch 1-bedroom condo unit at Park Colonial for $800k.
What you can buy now: A similar-sized resale condo unit at Eight Riversuites (99-year leasehold) or Casa Cambio (Freehold). Both have 1-bedroom units sold for an average of $750k in the past year.
[Recommended article: Calculate rental yield in Singapore: a quick and simple guide]
Your maximum budget: $1 to 2 million
Goal: You were probably eyeing an upgrade from a HDB flat to a new launch, mass market condo for your family. Although you have to pay the higher 12% ABSD, you are still entitled to a full ABSD remission when the second residential property is a joint purchase as a married couple — as long as you sell your first property within six months of your new property's Temporary Occupation Permit (TOP). So, although these buyers may be affected by the higher initial outlay, they will still go ahead with their property purchase. But, regarding which project to buy, some adjustment of expectations might be needed, especially given the tightened LTV limits (which means plonking down an extra 5% in downpayment).
What you could have bought: A new launch 3-bedroom condo unit at the 99-year leasehold Affinity At Serangoon for $1.4 million
What you can buy now: The next smaller-sized condo unit at the same development, or a similar-sized new launch condo unit at Riverfront Residences for $1.2 million (assuming it isn't already sold out). If you're willing to consider resale condos, why not check out Sunglade, The Scala or Casa Rosa? There are so many resale condo options out there, odds are you'll surprise even yourself.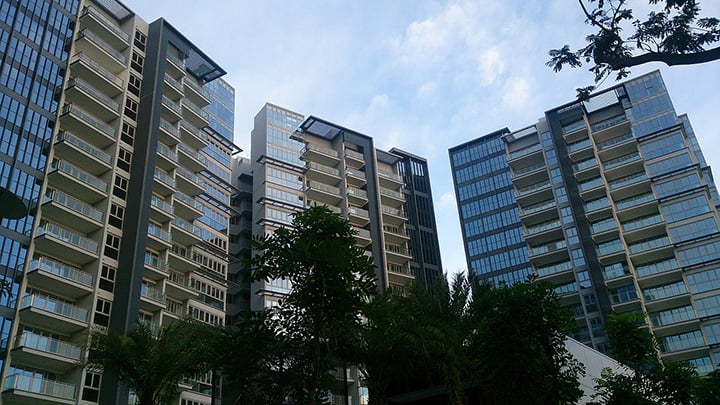 Your maximum budget: $2 to 3 million
Goal: You were probably looking to buy a nice new launch or resale 4-bedroom condo for you and your family, while renting out the apartment you currently live in for rental income. No matter how financially endowed you are to be in this situation, we reckon the prospect of paying more than $100k in additional taxes in the form of ABSD would still leave a sour taste in your mouth (especially if you got to where you are today by being financially prudent). Luckily, you have options.
What you could have bought: A new launch 4-bedroom condo unit at the 99-year leasehold Stirling Residences for $2.5 million, or a cluster house that's all the vogue nowadays.
What you can buy now: If you really like a particular condo project, you can choose a slightly smaller unit type on a lower floor, for example. In the same district as of Stirling Residences (D3) is The Metropolitan Condominium. And if you can make do with one fewer bedroom, you'll open up a world of possibilities, including attractive freehold condos should you see the value of leaving this second home to your children.
Your maximum budget: $3 to 5 million
Goal: You were probably looking at buying a luxury property as a key asset in your financial portfolio. Now you aren't so sure. With anywhere from $1 to $3 million on hand, you have a lot more high-yielding investments that you could consider. But then again, the leverage you can get with property is attractive, as with the prestige of owning a luxury residential project in a prime district. This is a good problem to have, we reckon, and a question that can still be answered with property.
What you could have bought: A luxury condo unit in District 9, 10 or 11.
What you can buy now: How about a commercial property instead of a residential one? These are completely free of annoying stamp duties, plus rental yields are typically higher. You might want to check out Grade A CBD office space or shophouses — in particular the ones that have been designated as conservation shophouse. Find them all on 99.co's commercial property portal.
So, in summary, there are two important lessons here to be learnt:
Important Lesson #1: Whatever your budget, don't try to "ignore" the additional cooling measures and pay more than what you were originally ready to pay
Even if you can stump up the extra money for that exact property you wanted before the ABSD and LTV changes kicked in, you could be better off taking a step back and opening up your options to decide if a change is needed. Ultimately, while the announcement isn't a deal-breaker, it's definitely a financial game-changer for those buying their second property. Not looking at other options when the game has changed is an open invitation to buyer's remorse, which is just the worst feeling to have for a purchase as major as property.
Important Lesson #2: Property is still an attractive investment. The ABSD increase just forces buyers to speculate less and care more about present value
If the additional cooling measures works just as the Singapore government had intended, the property market will experience a price correction over the next few quarters. If this happens, it'll be largely due to excess or speculative demand — especially foreigner demand — being weeded out. Married couple upgraders will then benefit the most from the lower property prices as they get a refund on the full ABSD, while first-timers could very well find condos more attainable as a first property. Though everyone else might bemoan the ABSD increase and the tighter LTV limit, we're confident that every property buyer can look at this new status quo objectively, work around it, and still achieve their property goals with satisfaction.
Voice your thoughts in the comments section or on our Facebook community page.
If you found this article helpful, 99.co recommends Stamp duty for property in Singapore: What you need to know and Residential vs Commercial property investment in Singapore: which is right for you?
Looking for a property? Find your dream home on Singapore's largest property portal 99.co!