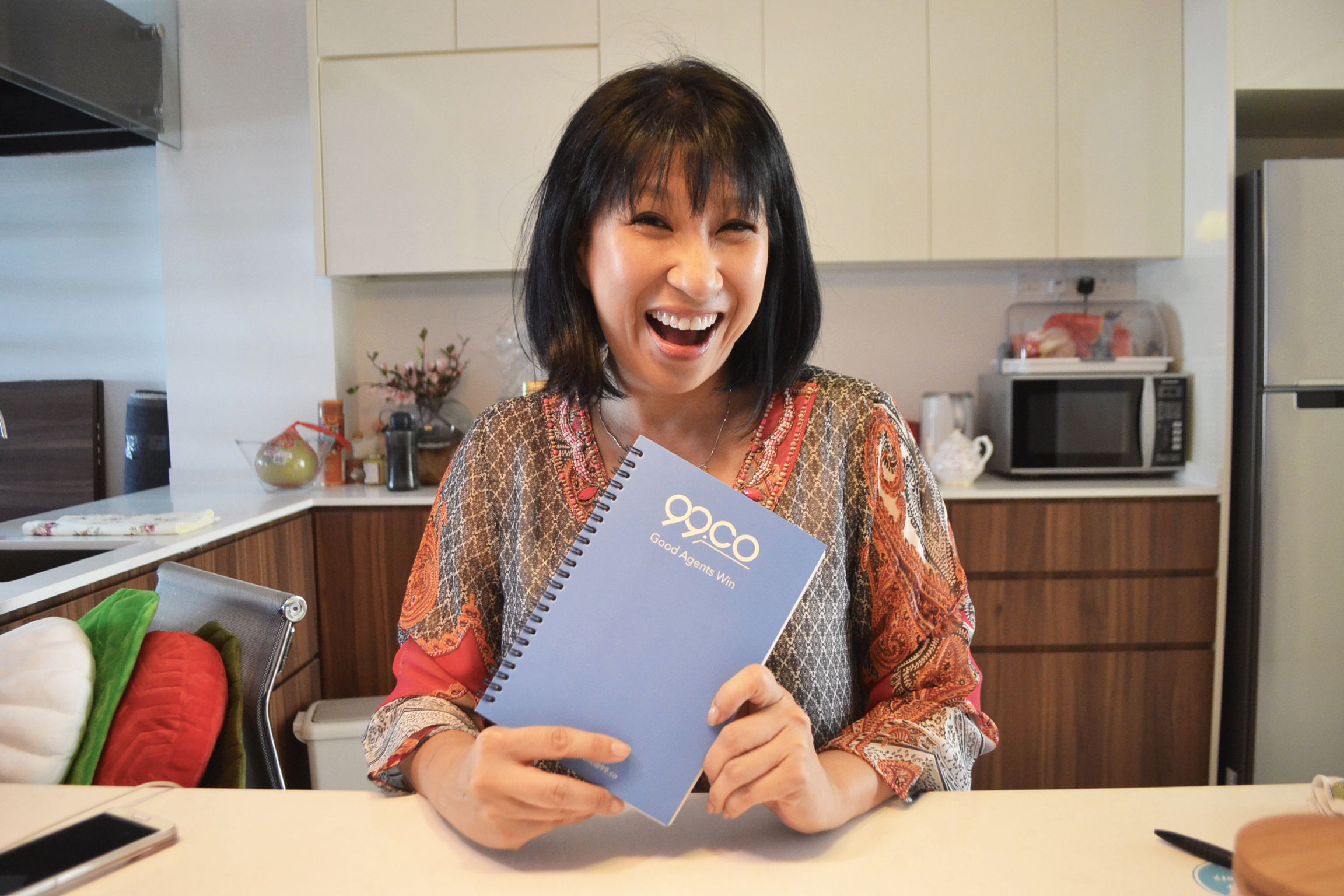 In the midst of dealing with clients and landlords, Angela Cheong, an agent from Huttons Asia Pte Ltd, sat down with 99.co and shared her experience and insights as a property agent. After putting her listings up on 99.co for 2-3 weeks, she got a message from a tenant via our CHAT messenger. On the same day, they arranged for viewing, and even closed the deal in just a few days!
99.co: Why did you decide to be a property agent?
Because of my own personal experience. I have been renting for the last five years and I have been searching for my own property to buy. So through renting and searching, being a tenant, meeting agents and landlords, I found out a lot about this business unwittingly. So I know everything from renting, selling, to building, and I thought, why not just put my skill set to use and here we are!
How long have you been in the industry?
Less than a year. So maybe that is why I'm still wide-eyed and excited, you know being a very efficient agent.
So how did you find out about 99.co?
My colleagues told me to put my listings on 99.co! I see 99.co on Facebook; it is popping up which is very good! You guys actually pay to advertise.
You have recently closed a deal on 99.co. Can you share with us your experience?
I put that listing on 99.co for awhile, around 2-3 weeks. One day, Carli responded through 99.co and I think Carli is one of these very unique tenants. She was very independent and you know she's a photographer and she does lifestyle photography. She is very very cool.
So I woke up in the morning at 7:45am, and I saw a message from Carli and said 'okay cool, come see the house at 10am'. The arrangement was made in around 2 hours. At first I didn't have the 99.co app, so I saw the message on my computer. Then I realized that there was a CHAT function so I downloaded the app onto my phone. Subsequently I was communicating with her through the phone. I thought that was very useful and very effective. At 10:30am I offered to pick her up at the MRT station. She looked at the place and she liked it. But it was a bit over her budget, so I wished her good luck and sent her off. Over the next couple of days, she communicated to me that she was looking at houses in the East and I was teasing her saying people in the East were cooler. 5 days later, she chatted with me more, and we negotiated. The landlord was happy as well and she got the deal! The landlord even allowed her to get the keys earlier to move bits and pieces in. She viewed the house on Saturday and she confirmed it in 5 days.
So what do you think brought Carli to your listing?
I took special care to take very nice pictures, the swimming pool, the chandeliers. Photos are the number 1 important thing. Also the write-ups — I put in little things that are a little different from the usual. For an unbelievable good deal, I will put "No kidding, its real. Come and have a look." or "Brand new marble flooring. You can even see your face in it!". I supposed if people read it, they would appreciate some humour.
What do you think about the process of closing the deal?
It was very easy. I think the interface is very nice, it is very easy to use. I had no problem putting my listings on. I put up the listings very quickly.
Is there anything interesting you want to share about the deal you closed?
I think it is a personality thing. The tenant had a very lovely personality and we hit it off very nicely. And I hope to close deals through my personality, all things being equal.
Other portals sometimes sends me an e-mail saying someone has messaged me and I would have to go in and open up my computer to see. This CHAT function allows me to respond very quickly, and it works almost just like Whatsapp, which is very useful. As long as I am able to communicate with the buyer efficiently, I don't think phone numbers would be needed at all.
Is there any particular feature on 99 that you really like?
The search-radius function. I really really like this. As the agent, I can immediately know what my competition is and where it is. I can also advise my landlord about the pricing of the unit. You can't ask for $6,000 when everyone around you is asking for $4,500. So I find this very useful.
What are the common problems you face as an agent?
Buyers and sellers who are not aware of market trends, asking for prices that are unrealistic, that can't sell the units. I think it is a matter of educating the sellers. Some sellers insist on the price they want. Sometimes it is hard to convince the sellers to lower their price because everyone wants the higher price.
New buyers who are not aware of how much property now costs. The other day I brought a buyer around and he said "$8,000 and thats all I get!?". He was expecting bigger rooms.
Any last thoughts on our platform?
I think 99.co is very professional looking and I think it is beautiful to look at and easy to use. I do like what I see on 99.co, because it is pretty and nice. I also don't think one portal is enough.