According to figures released by the Urban Development Authority (URA) on 15 April 2020, a total of 660 new private homes (excluding executive condos) were sold in March 2020. This is down 32.4% from the 976 condo units sold in February 2020, and down 37% from the 1,054 condo units sold in the same month last year (i.e. March 2019).
Looking at these numbers, you'd be forgiven that that the Singapore condo market has well and truly entered the dark ages. But we dived deeper into the data to see whether the fall in March 2020 transaction volume deserves more pessimism, or chill.
The first thing you must remember when reading about new condo sales statistics for property is that launches distort numbers. This is because the launch weekend of a project usually sees a disproportionate number of buyers vying for the best units from that project, be it the lowest priced units or those with the best facing and layout.
In general, the bigger sized the project, the higher the spike that project's launch will contribute to sales volume.
Back in March 2019, seven condominiums debuted, including the mega 1,410-unit The Florence Residences and the ultra-mega 2,203-unit Treasure at Tampines. The URA captured 45 and 255 transactions for The Florence Residences and Treasure at Tampines over their launch weekends respectively.
Constrast that to March 2020, when four condos debuted (excluding OLA, an executive condominium). Not only do the four condos have just 562 units combined, the actual number of units that were actually released was even lower as Kopar at Newton (378 units) had to scrap the usual launch weekend for appointment-only bookings, due to the implementation of Covid-19 safe distancing measures.
The truth behind condo sales volumes in March 2020
So, in order to get an accurate picture of new home sales volumes in a particular month, it would be far more accurate to take projects that were launched in the same month and the month prior out of consideration. And this is what we did when we analysed condo sales volumes in March 2019 and March 2020: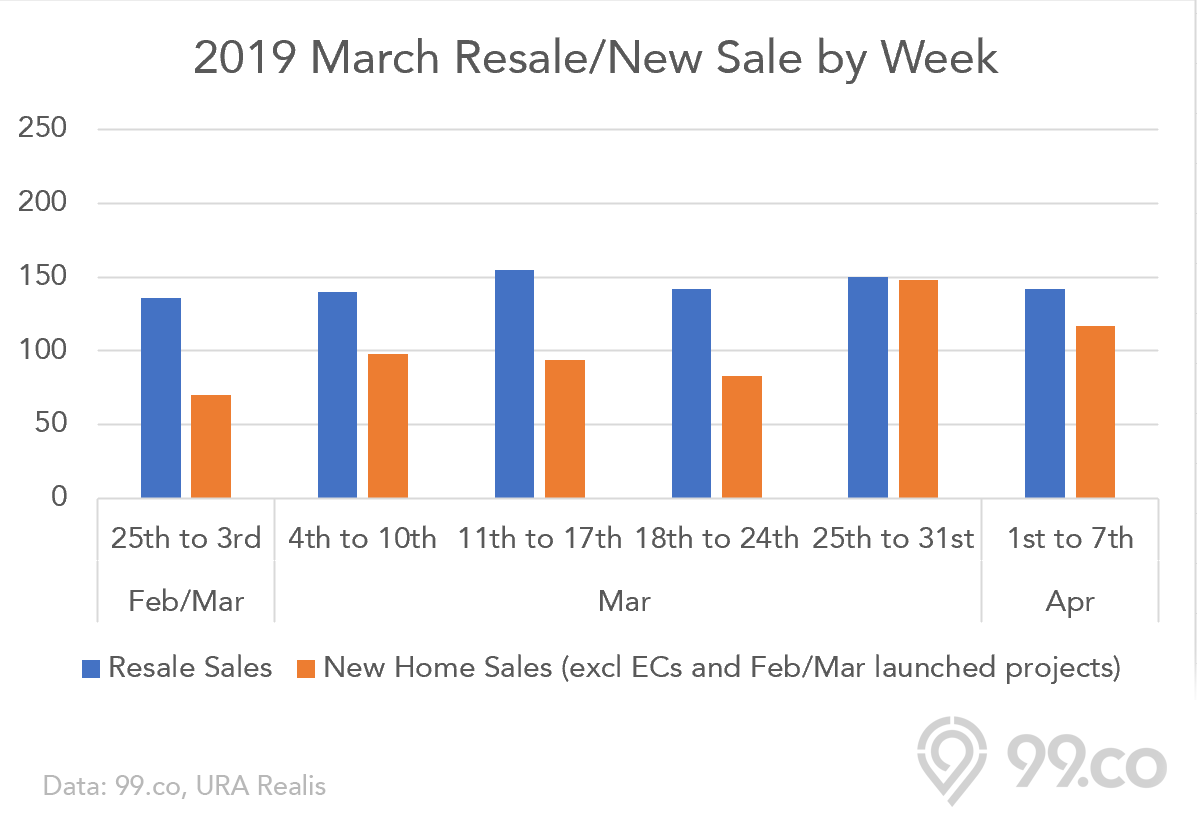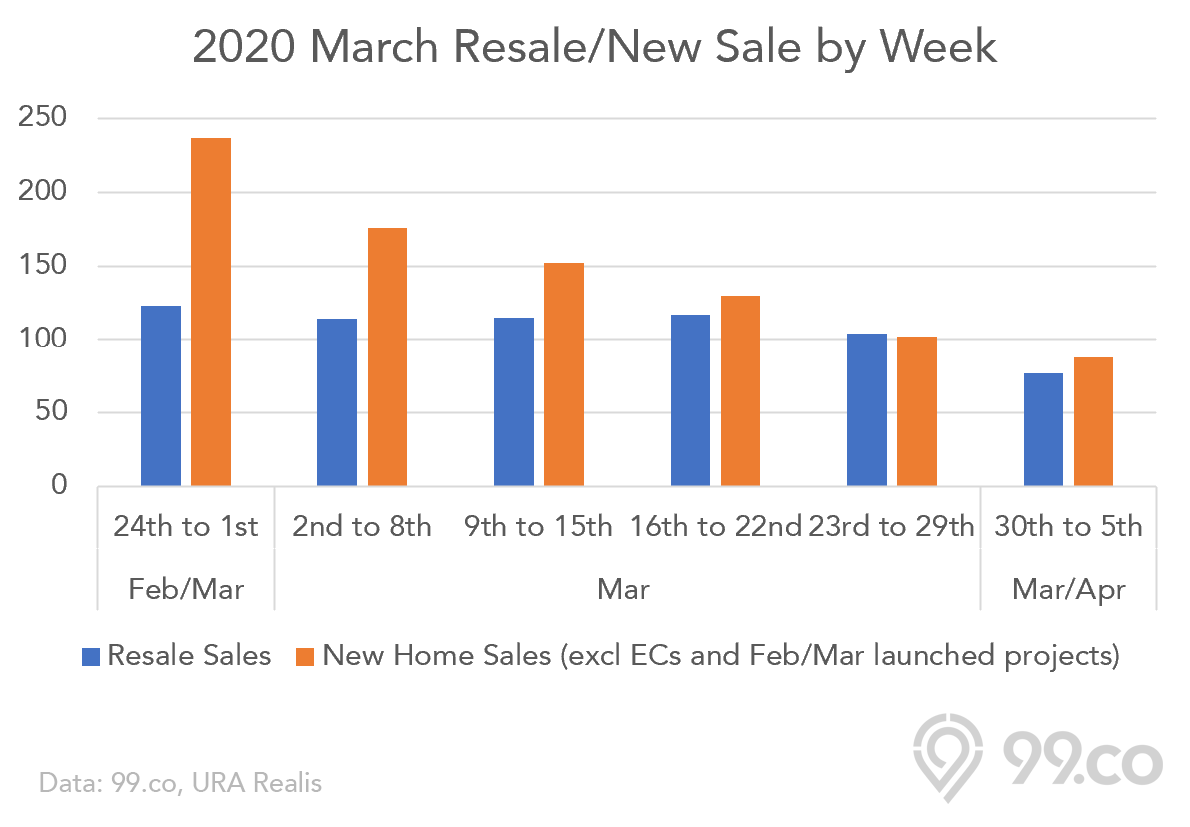 In the respective charts, omitting transactions from recent launches (i.e. February and March for 2019 and 2020) reveals a surprising truth: The number of new condo sales in the four weeks of March 2020 (560 units) is actually about 32% HIGHER than the sales in March 2019 (423 units).
So, can we still say for sure than March 2020 was a really bad month for property sales?
To answer that, let's see what else the charts tell us:
Launch weekend activity can lower sales of competiting new launch condos
The resale market might be a more reliable indicator to property market health
Week-on-week declines in March 2020 can reveal where the Covid-19 slowdown is taking us
Factor #1: Launch weekend activity can lower sales of competing new launch condos
Buyers can only physically be at one condo showflat at any given time, and if there's an eye-catching condo preview on a particular weekend, you can be sure they'll prioritise that shiny new thing in their schedule, especially since developers typically offer discounted early-bird prices at previews.
In the third week of March 2019, for example, the Treasure at Tampines launch preview could've been the reason why sales volumes (for other already-launched projects) dipped slightly from the week before (94 to 83 units). It's also interesting to note that the dip was short-lived; the following week saw sales spike to 148 units.
A plausible explanation for this spike? Buyers might have waited to check out Treasure at Tampines before deciding where to put their money, and they ended up picking another project.
Similarly in the week of 30th March to 5th April in 2020, the launch of Kopar at Newton might have taken away some of the business from other already launched condos. CEL Development sold a total of 69 units at Kopar at Newton that week despite safe distancing restrictions that kept buyer viewing numbers low. Meanwhile, competing new launches that were already on the market for two months saw sales dip to 88 units, from 102 units the week before.
[Recommended article: This is Covid-19's impact on Chinese buyers in the SG property market]
Factor #2: The resale market might be a more reliable indicator to property market health
The resale condo market, on its own, is quite distinct from the new launch condo market. What we mean is that buyers who have decided to buy a new launch condo will likely ignore the resale market, and vice versa. Where a decision is made between buying resale versus new launch, it's usually made early on in the process, before the property hunting begins.
And without the distortion on sales volume that new launch previews generate, resale volumes can give us a far clearer, more consistent indication of where our property market for condos is heading.
If you look at the March 2019 chart, you'll see that resale volumes (the bars in blue) are pretty consistent week-on-week, with an average of 146.75 units transacted per week in the four weeks of March 2019.
In March 2020, resale volumes also did not fluctuate like new launch volumes did. Here we have an average of 112.5 units transacted per week in the four weeks of March 2020.
So, in March 2020, we can reliably conclude that the resale condo market is relatively muted, given the 30% fall in transaction volume compared to the previous year.
And moving into the first week of April 2020, the resale volume for that week declined to 77 transactions as the Covid-19 situation worsened. This could be a sign of what sort of transaction volumes we can expect in the condo resale market once the circuit breakers are lifted (on condition that the financial situation of buyers don't take a hit).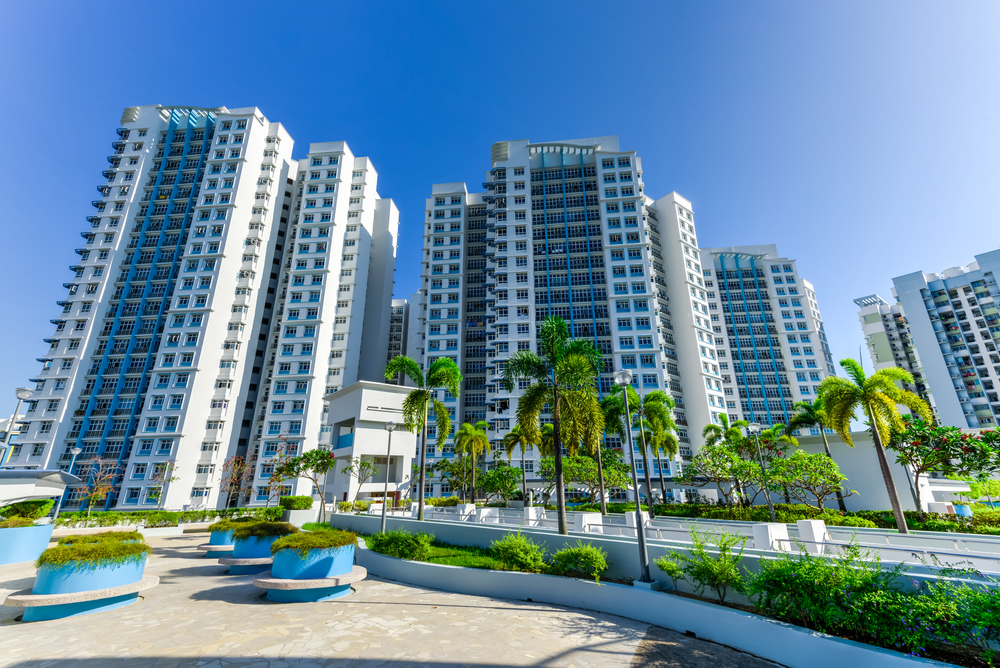 Factor #3: Week-on-week declines in March 2020 can reveal where the Covid-19 slowdown is taking us
Perhaps the most standout observation of the March 2020 graph is the consistent week-on-week decline in sales for new launches that have already been on the market for two or more months.
In other years, March would've been the start of the "bumper months" for sales of new launch condos. "From 2015 to 2019, developer sales during these months [March to May] usually made up around 26% to 38% of total sales in those years," said Wong Xian Yang, Associate Director of Research (Singapore and Southeast Asia) at Cushman & Wakefield.
BUT although the downward trend in the chart is quite clear, it's not so bad considering that the world is fighting a pandemic and a recession. As we already said, the number of new condo sales in the four weeks of March 2020 is actually about 32% HIGHER than the sales in March 2019 after accounting for the distortion effect that condo launch previews have.
And, as much as new launch sales have trended downward in the run-up to the circuit breaker period, the opposite (i.e. an upswing) could happen when the government begins to lift those measures and life starts going back to normal. Ismail Gafoor, CEO of Propnex Realty, noted that before the circuit breaker "rightly-priced projects that were previously launched have been a pull-factor in attracting buyers and investors."
Now we can only wait (at home) and hope that buyers remain in the same financial position as they were before the circuit breaker, so we can get the condo market going again with a bang.
How will the condo market fare after the circuit breaker period? Share your thoughts in the comments section.
If you found this article helpful, 99.co recommends Will rent go down in a recession? and Property transaction issues during Covid-19: Your questions answered
Looking for a property? Find your dream home on Singapore's largest property portal 99.co!