What's the most exciting thing in August besides this National Day? For us and Singaporeans looking forward to their first home, it's definitely the Aug 2020 BTO launch by HDB.
The sales exercise for a bumper crop of 7,862 flats began on 12 August, with the seven-day application period closing at midnight on 18 August.
To help you make an informed choice about which of the eight towns to apply for, we're releasing in-depth reviews for the projects in each town over four consecutive days:
15 August (Sat): Bishan and Geylang
Earlier on, we've also done preliminary location reviews for the BTO projects here and here, which can give you more information on what is surrounding the sites (e.g. schools).
Meanwhile, here's the in-depth Aug 2020 BTO launch review, including site plan and floor plan analysis, for Bishan and Geylang!
Aug 2020 BTO: Bishan
Name of project: Bishan Towers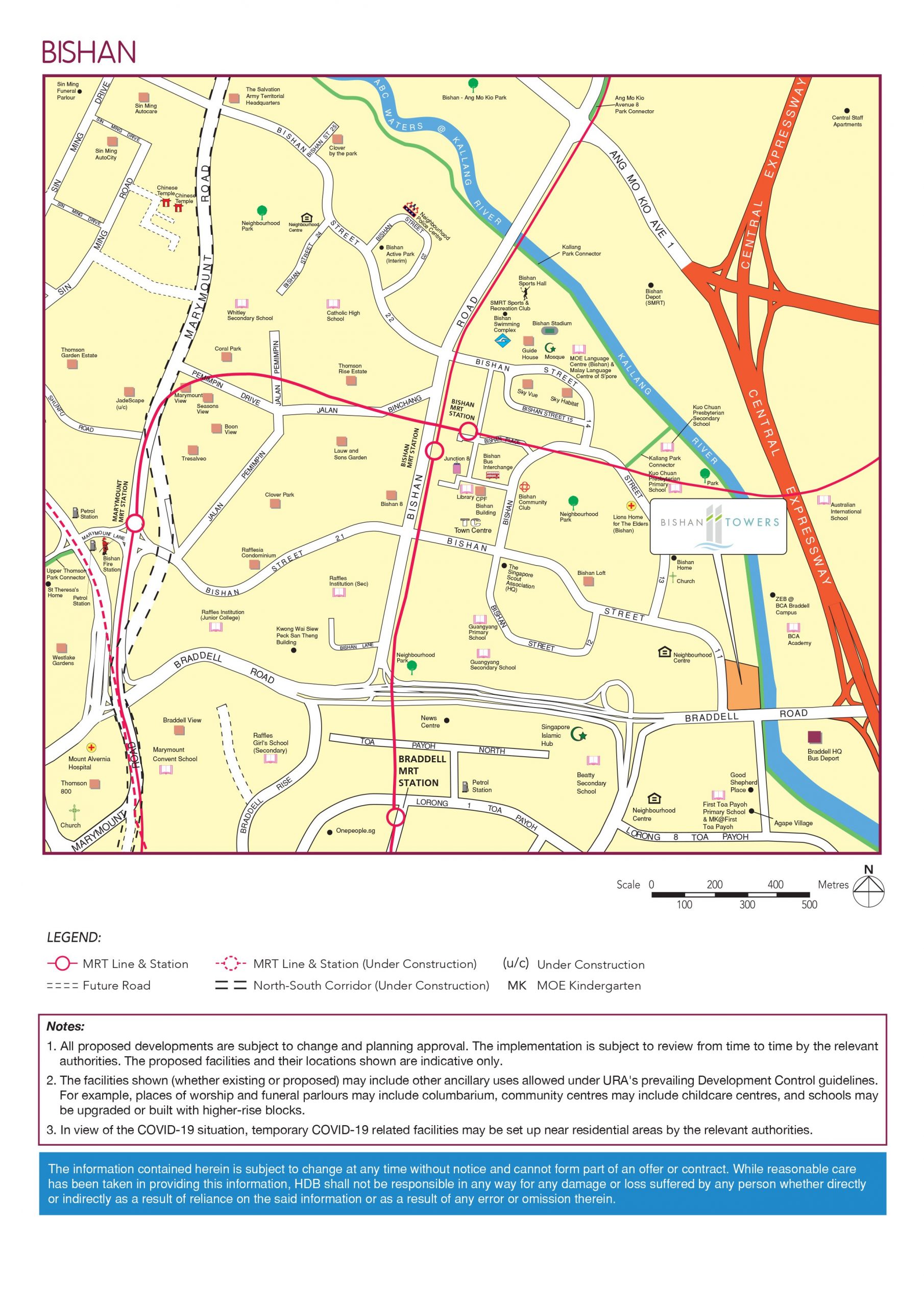 Units: 472 units across 2 blocks, with height varying from 25 to 33 storeys
Available unit types: 2-room Flexi, 3-room, 4-room
Facilities within project: Sky terraces, playgrounds, fitness stations, roof garden
Nearby amenities: Bishan East Neighbourhood Centre, Kallang Park Connector
Estimated completion date: Q2 2026 (62 months waiting time)
First impressions
Located in the southeastern corner of Bishan town, this BTO project was always going to pale in comparison to the next Bishan BTO in November, which is sited in a prime spot near to the town centre. Nevertheless, the high-rise Bishan Towers, as this project is called, may still merit consideration.
When we first reviewed the site location, the negatives really stood out. Aside from being a ten-minute bus ride to Bishan town centre (the consolation is that there's a neighbourhood centre next to the site), the site also borders Braddell Road, a semi-expressway and a potential source of noise pollution for residents.
HDB knows this, and kudos to the architect for doing its best to mitigate the negative aspects of the site, including as part of the design a 27th storey sky terrace on each of the two blocks. This gives all residents a chance to feast on unblocked views of Singapore from a high vantage point.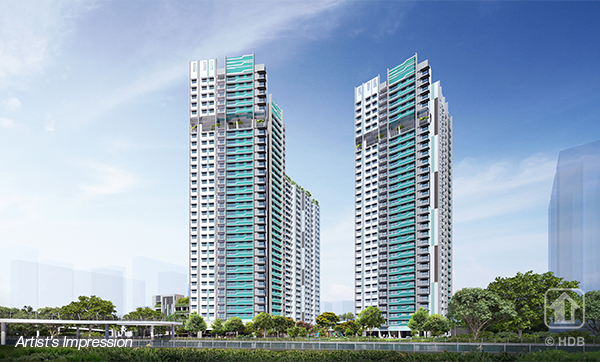 But the thing we like the most is still the decision to place the multi-storey carpark between the blocks and Braddell Road. This lets drivers/frequent private-hire car users have their cake and eat it; not only is getting to different locations in Singapore a breeze, noise level is kept down so they can sleep easier at night.
Now let's take a look at the site plan.
Site Plan of Bishan Towers + Analysis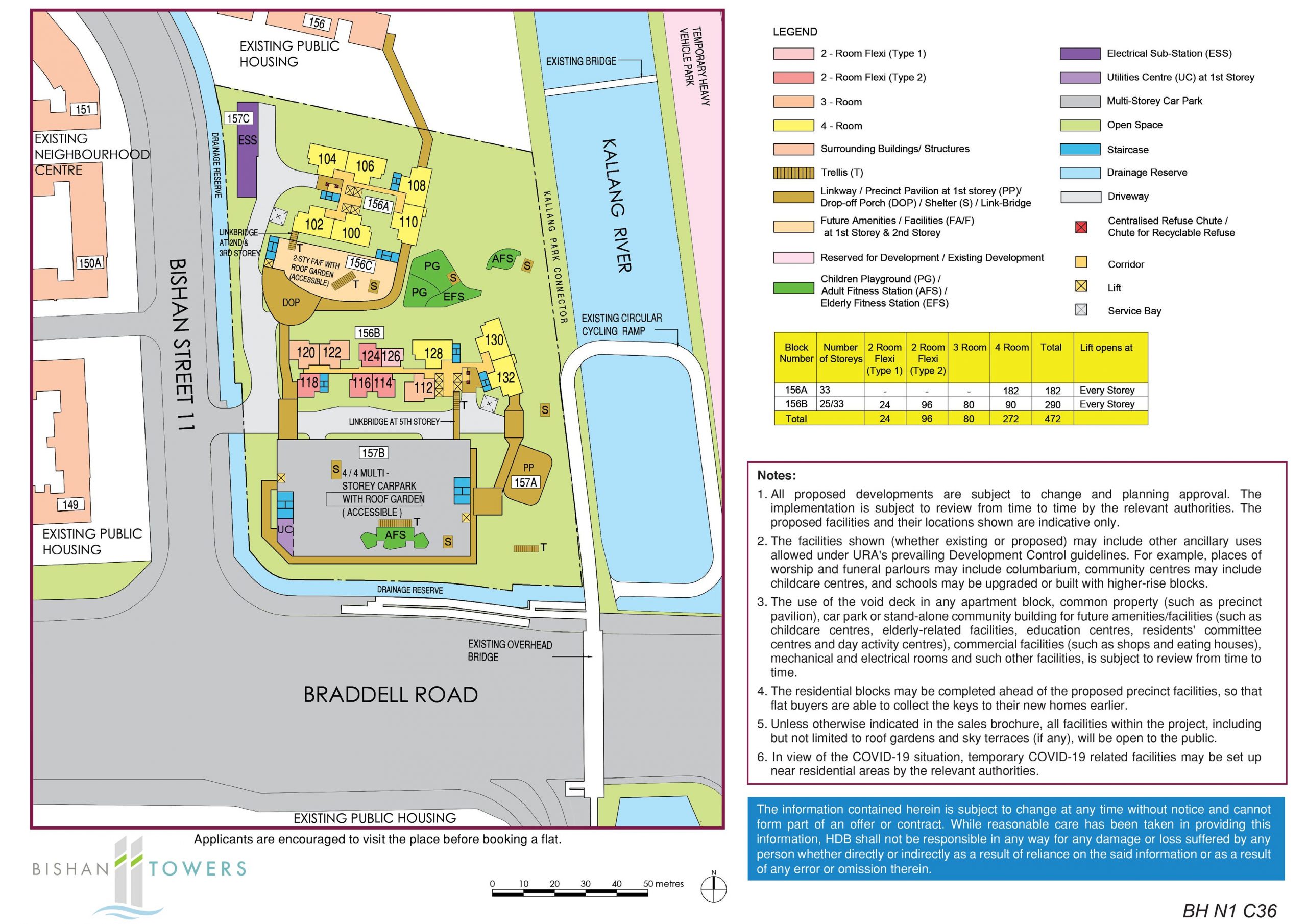 What we like about the site:
The 4-level multi-storey car park will do quite a bit in buffering the road noise from Braddell Road
Right across the road from an existing neighbourhood centre that provides the daily necessities a resident might need, including multiple kopitiams
Easy access to the cyclist-friendly Kallang Park Connector, which gives residents easy access to other parts of Bishan and Toa Payoh town across Braddell Road
Unblocked/partially-unblocked views available for most units. East-facing units can see all the way to Malaysia on a good day
Sky terrace on the 27th storey will be a great place to chill out
What we dislike about the site:
No sheltered access to neighbourhood centre
Without a new pedestrian crossing, residents may also have to jaywalk to across Bishan Street 11 to get to the neighbourhood centre, or take an extended detour
3/4-minute walk to the nearest bus stop is a definite thumbs down (the walk is also unsheltered)
The section of Kallang River that Bishan Tower borders is a concrete drain which is a bit of an eyesore, especially since water levels here are usually kept low
East-facing stacks might also receive some highway road noise from the CTE, which is about 250-300 metres to the east of the Bishan Towers site
Unblocked south-facing units limited to two-room Flexi and 3-room unit types
What else we noted:
Motorists can literally get onto the Central Expressway (CTE) in one minute, and can go very far in all directions without having to encounter a single traffic light, which is honestly kind of amazing
For 4-room units, one stack on each block will feature balconies
Our favourite stacks:
2-room Flexi: 124
3-room: 120
4-room: 102, 108, 110, 130, 132
Floor Plans of Bishan Towers + Analysis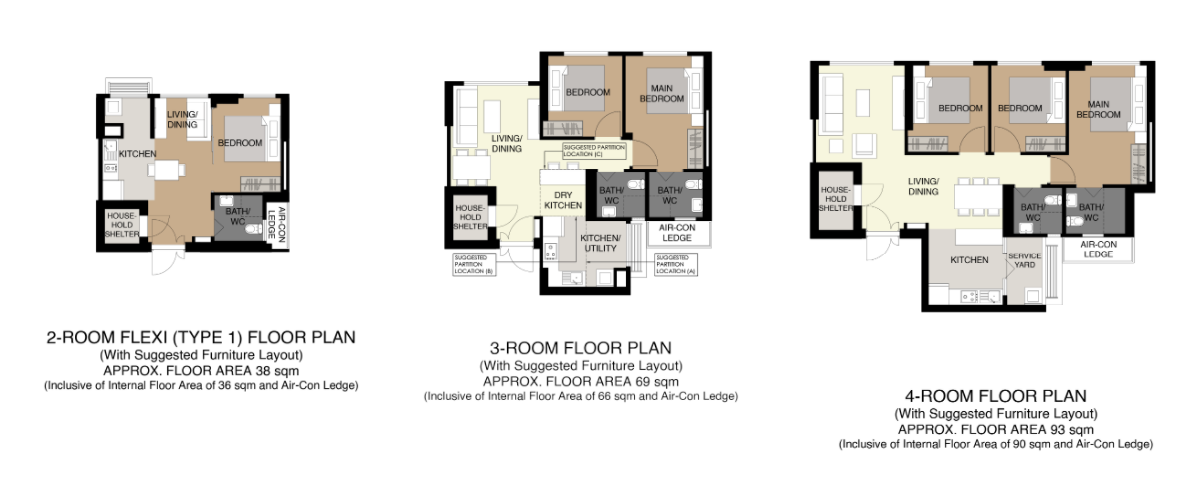 The good:
The layout of 2-room Flexi units is very functional
The larger of the 2-room unit configurations come with a well-placed study that can either be turned into a walk-in wardrobe or a room for a helper/caregiver
3-room units have combined kitchen and utility spaces (as opposed to each unit having a separate kitchen and service yard), which allows more flexibility in layout
The not-so-good:
Dry kitchens in 3-room units are not very well-connected to the living and dining areas
Common bedrooms throughout the development are slightly smaller than usual
Ironically, living rooms of balconied units might get less natural light, as the windows are smaller overall
In 4-room units, the presence of a non-hackable retaining wall separating the living room and common bedroom limits flexibility when it comes to interior design and reconfiguring spaces within the unit
Prices of the Aug 2020 Bishan BTO + Analysis
Flat Type
Floor Area (sqm)
Price Range (excluding grants)
2-room Flexi
38
$176,000 – $211,000
48
$217,000 – $277,000
3-room
69
$302,000 – $408,000
4-room
93-96
$484,000 – $617,000
It is noteworthy that 4-room flat prices for this Bishan BTO project is 14.4% higher compared to the other project in neighbouring Ang Mo Kio, which has the added advantage of being within walking distance of an MRT station.
Earlier in February this year, there was a BTO project released in Toa Payoh (Kim Keat Ripples) that had very similar characteristic to Bishan Towers. Starting prices at Kim Keat Ripples for 4-room flats stood at $395,000. Bishan Towers is a staggering 22.5% more expensive than Kim Keat Ripples, which is nearer to the city.
Crazy? We think so, too. While this is because resale HDB flats in Bishan are typically pricier than that of Ang Mo Kio and Toa Payoh, it can be argued that 90% of resale flats in Bishan town have a superior location than Bishan Towers.
And with a highly superior Bishan BTO project coming up next in November 2020 with more than three times the number of units up for grabs, there's very few reasons to put ten bucks on Bishan Towers.
Who should apply: Those who frequently commute by car and want to spend as little time on the road as possible.
Aug 2020 BTO: Geylang
Name of project: Dakota One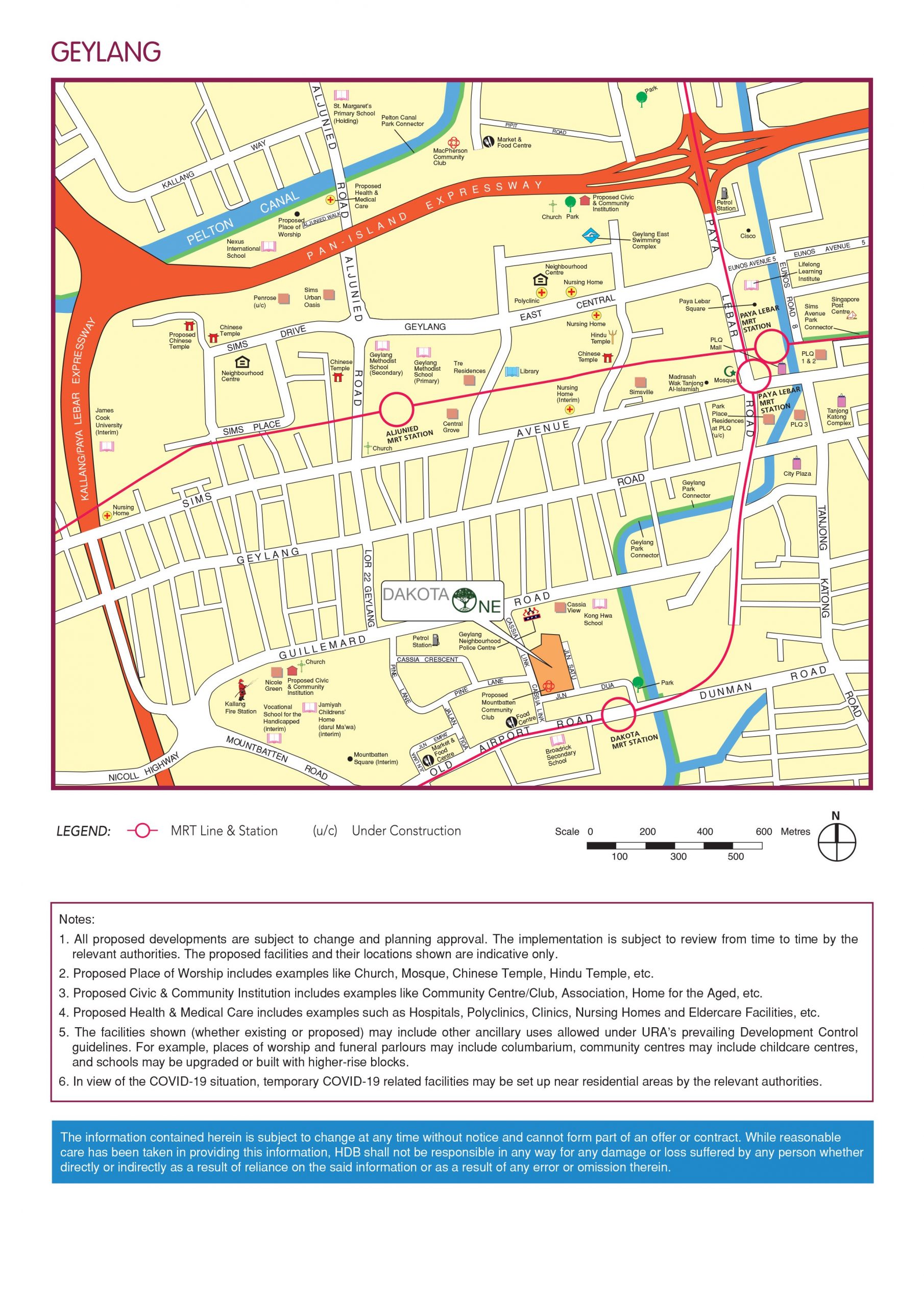 Units: 421 units across 3 blocks, each 19 storeys in height
Available unit types: 3-room, 4-room
Facilities within project: Mountbatten Community Club (with enrichment centre), community plaza, fitness stations, roof garden
Nearby amenities: Old Airport Road Hawker Centre, Dakota MRT station, Kong Hwa School, Kallang Market and Food Centre, Geylang Park Connector, 24-hour Fairprice supermarket, shops, kopitiam, childcare centres
Estimated completion date: Q2 2025 (50 months waiting time)
First impressions
With a location as prime as this (only a 15-minute train/bus ride to the city), Dakota One was always going to be the most oversubscribed of projects in this BTO sales exercise.
Prior to its launch, we were already impressed with the sheer number of amenities within close proximity of the site. Upon launch, we were even more impressed.
We dare say that even if the famous Old Airport Road Hawker Centre disappeared or moved away, it wouldn't diminish this project's appeal one bit
Read on to find out exactly what's good (and not-so-good) about Dakota One you might have missed.
Site Plan of Dakota One + Analysis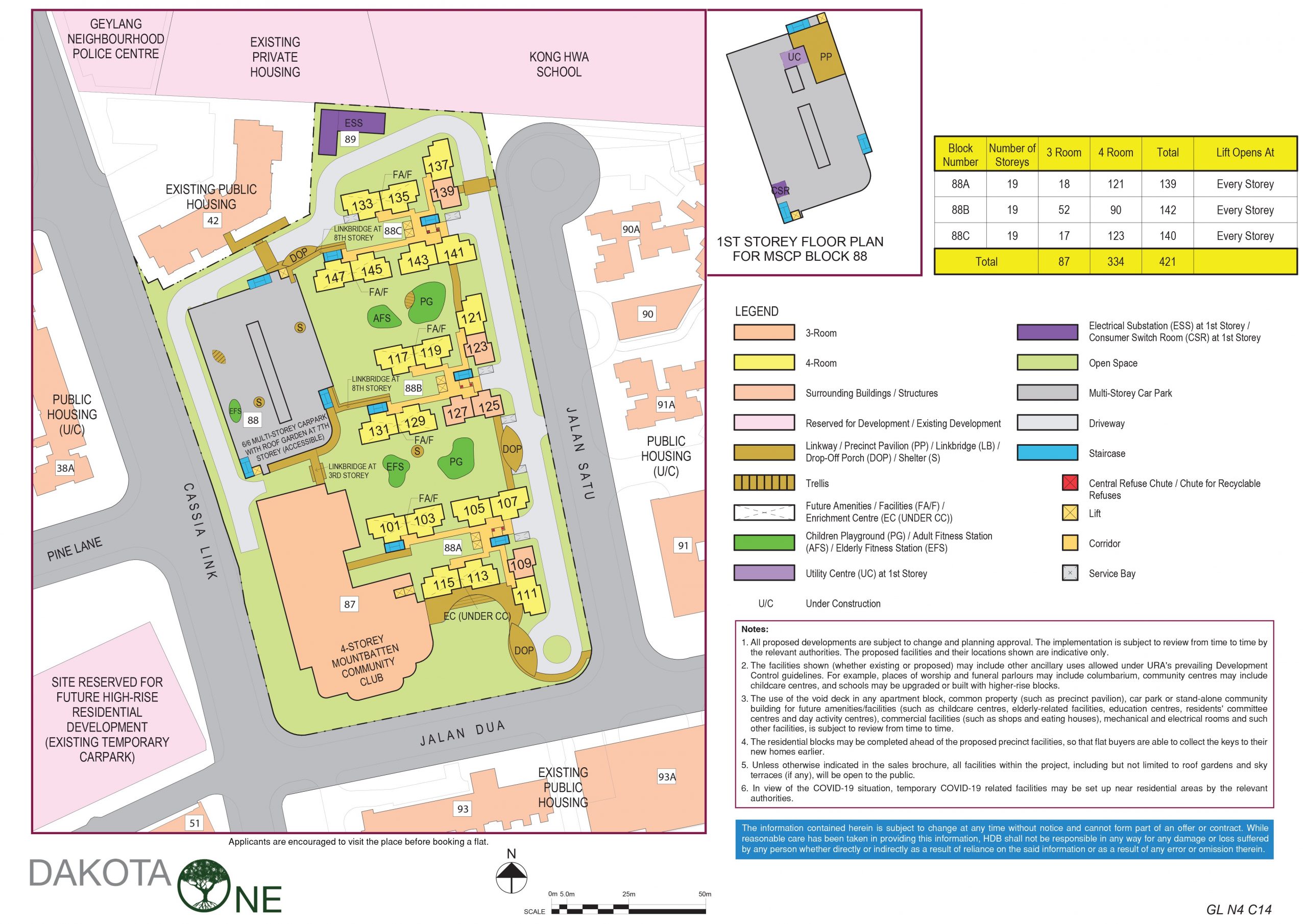 What we like about the site:
Highly auspicious block numbers (88A, 88B and 88C) will increase resale demand among Chinese buyers, and even fetch a price premium
The 4-storey community club that's part of the development is larger in size than we had previously expected. For residents, it'll be like having your very own clubhouse
The architect set the residential blocks away from Cassia Link, eliminating road noise
The architect set the blocks away from the bin centre at Block 93A, putting a community plaza in between the bin centre and the block nearest to it (88A), which is a thoughtful gesture
Blocks are the doorstep of Kong Hwa School, and two-minutes from Old Airport Road Hawker Centre and three-minutes to Dakota MRT Station. Will likely have a sheltered walking extending all the way to Dakota MRT station
A leaf motif running down the side of block 88A increases the project's visual appeal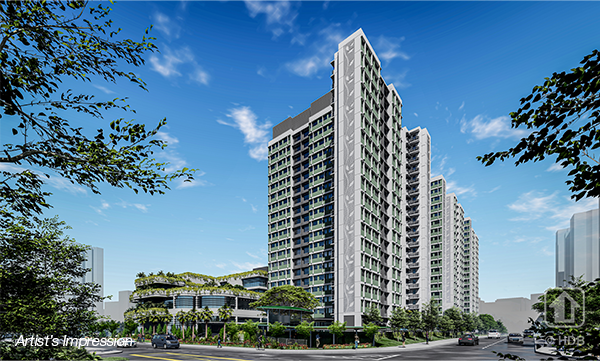 What we dislike about the site:
Each block has only two lifts despite serving 8 units on each floor. Ideally, there should be three lifts.
Entrance to the development by car is via Jalan Satu, which gets congested just before and after school when parents park by the roadside to pick up their kids from Kong Hwa School
Stacks nearest to Kong Hwa School may encounter noise during school hours
Block 88A isn't directly connected to the multi-storey carpark via a link bridge, so motorists might want to avoid picking this block
Will have high non-resident traffic due to the presence of a community centre and Kong Hwa School
Certain stacks appear to have front doors that open up directly to the common refuse chute area
Certain stacks could perhaps been tilted slightly towards the west to optimise for unblocked views
Units of stacks 109 and 111 up to 8 storeys will directly face the multi-storey car park of the neighbouring BTO project
What else we noted:
Stack 141 is probably too close to comfort to the next block. Residents here will be enjoying a view of blank wall and the service yards of the opposite block.
Our favourite stacks:
3-room: 109, 139 (units above 8th floor)
4-room: 111, 137 (units above 8th floor), 147
Floor Plans of Dakota One + Analysis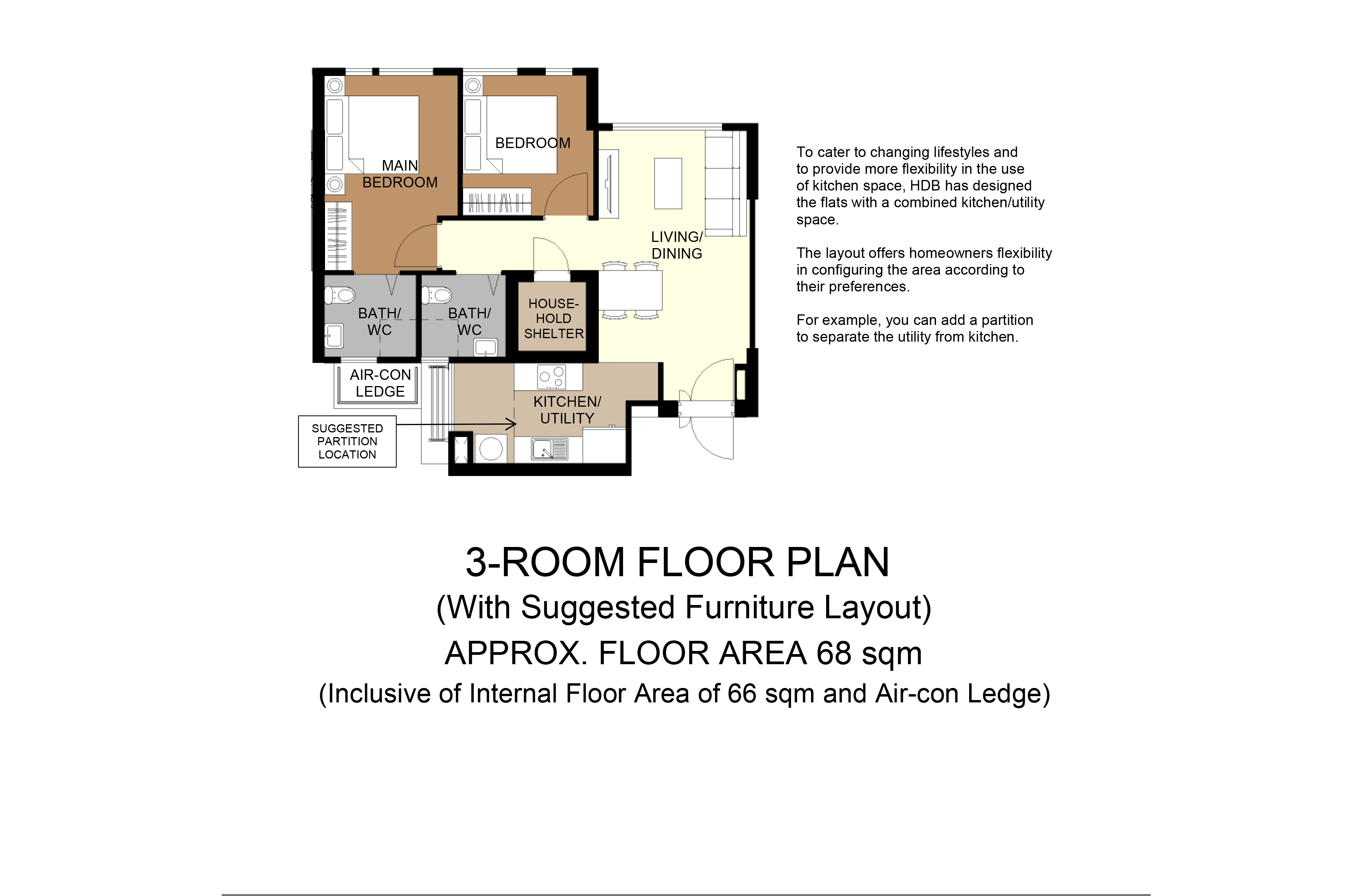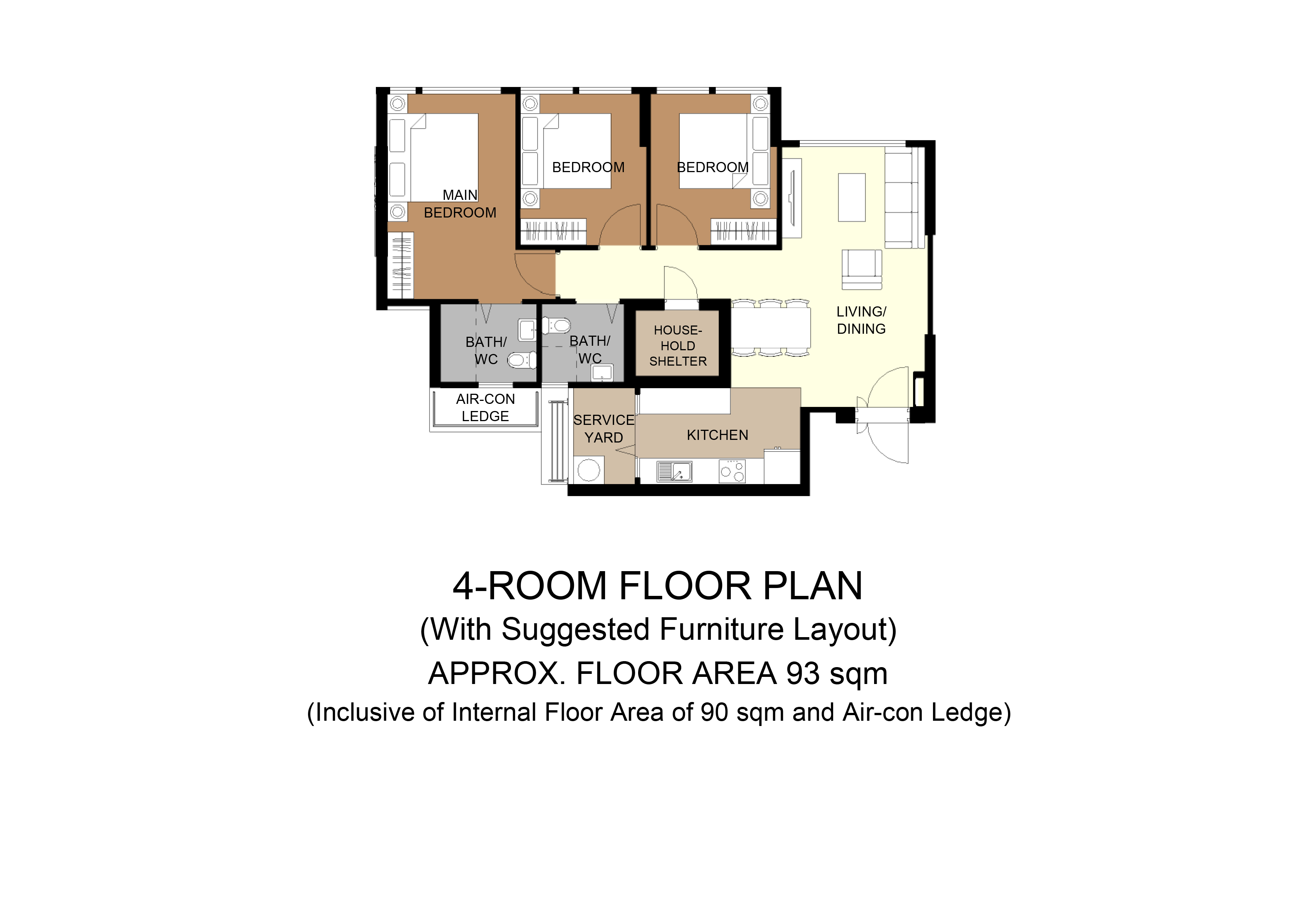 The good:
3-room units have combined kitchen and utility spaces (as opposed to each unit having a separate kitchen and service yard), which allows more flexibility in layout
3-room units have a smaller air-con ledge than usual, which results in a tiny bit more usable internal space
4-room units have quite large master bedrooms, allowing for the installation of a bigger wardrobe
Walls separating bedroom and living room can all be hacked away
The not-so-good:
Entrance to the kitchen for 3-room units is a little awkward. To make this better, the wall between the kitchen and entrance area can be hacked away
All units have the household shelter in the centre of the flat, resulting in more 'wasted' corridor space
Prices of the Aug 2020 Geylang BTO + Analysis
| Flat Type | Floor Area (sqm) | Price Range (excluding grants) |
| --- | --- | --- |
| 3-room | 68 | $355,000 – $421,000 |
| 4-room | 93 | $523,000 – $617,000 |
If you get a shock at seeing these prices for a BTO flat, it's perfectly understandable. $523k for a 4-room flat effectively puts this BTO out-of-reach of couples earning a combined income of less than $7,000.
In fact, we recommend earning at least $8,000 before trying for a 4-room BTO here.
BTO prices here have also increased since neighbouring projects Pine Vista and Dakota Breeze were launched in May 2017. Back then, 3-room and 4-room flats had starting prices of $349k and $489k respectively.
Then again, given their location, we feel that these flats will fetch at least 130% of their starting prices, once the five-year Minimum Occupation Period (MOP) is up. So congratulations if you manage to get a queue number and earn enough to stump up the mortgage for Dakota One!
Who should apply: Middle-income earners with a stable job who're feeling lucky, as applications will far exceed the number of flats available.
Stay tuned for our next in-depth review of Choa Chu Kang and Tengah HDB Aug 2020 BTO launches on 16 August (Sunday)!
99.co August 2020 BTO locational pre-launch reviews:
– HDB Aug 2020 BTO Review (Part 1): Pasir Ris, Tampines, Choa Chu Kang, Tengah
– HDB Aug 2020 BTO Review (Part 2): Ang Mo Kio, Bishan, Geylang, Woodlands