In a recent Parliament session, Prime Minister Lee Hsien Loong labelled Singaporeans who voted for the opposition but wanted the People's Action Party (PAP) to remain in charge as 'free riders'. The reasoning was that such voters didn't 'pay' for the governance of Singapore by PAP with their votes. We guess the same logic applies to a certain Bishan HDB flat, whose residents certainly didn't pay for condominium facilities, but yet have a stunning condo pool view they can admire day in, day out.
The flats in question are Blocks 233 and 235 at Bishan Street 22. Built in 1992, the 10/11-storey flats were originally facing an empty field directly adjoining Bishan-Ang Mo Kio Park, until the government put the State Land up for private residential tender about 15 years later.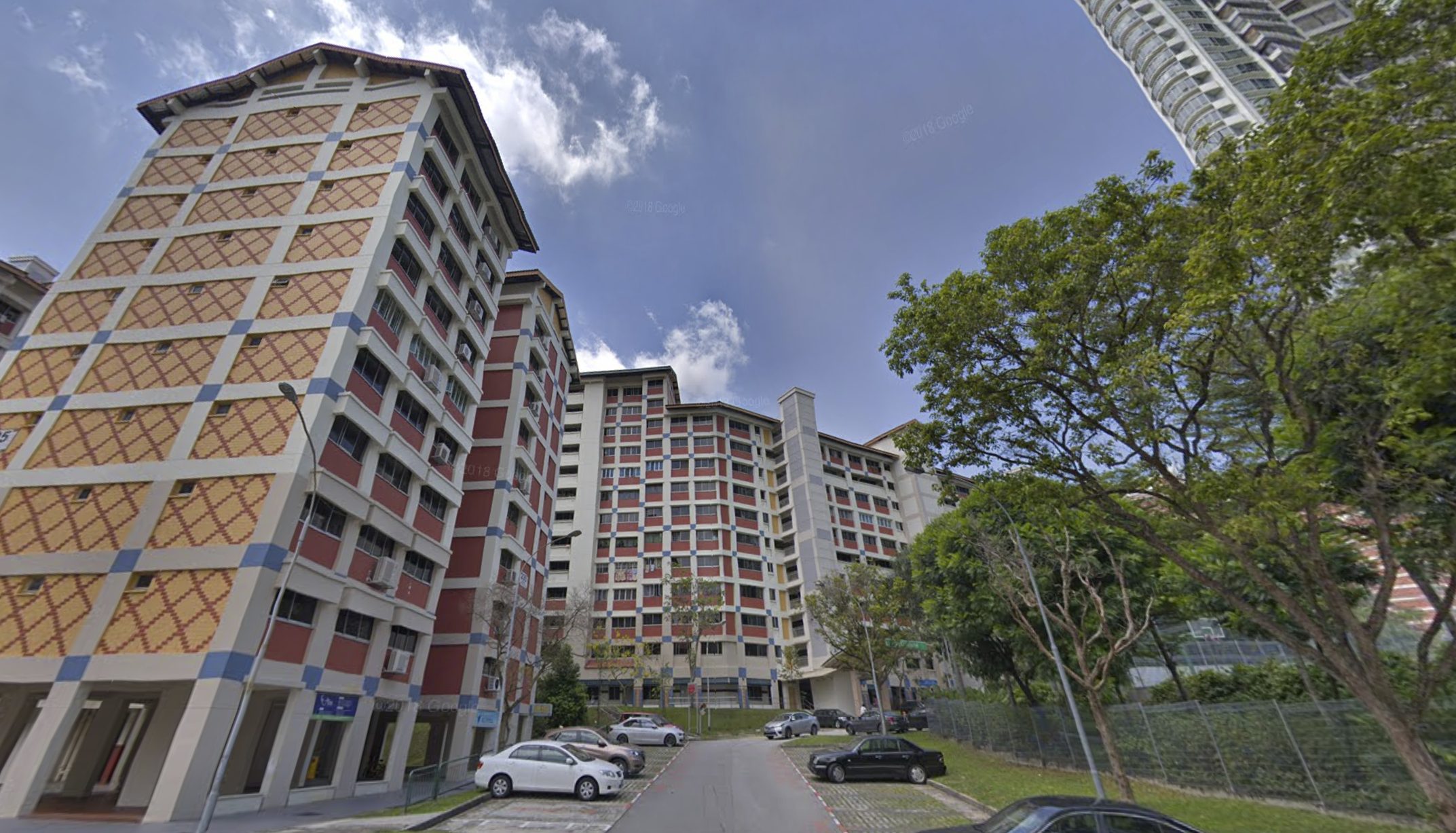 How Block 233 and 235 got their million dollar pool view
In place of the empty field, a 99-year leasehold condo named Clover by the Park came up in 2012. Typically, developers of condo sites that are surrounded by HDB flats tend to place apartment blocks along the sides, with the swimming pool at the centre.
Laying out the condo blocks with the swimming pool at the centre can maximise the number of units with pool views (which developers can then charge a higher premium for) and to preserve a sense of exclusivity and privacy for condo residents who are using the pool.
But Clover by the Park was different, not only does the site have superb unblocked facing to the south (looking towards the city) and north (looking across Bishan-Ang Mo Kio Park), developer Sim Lian could also build upwards to a height of 32 storeys, which they did to maximise these stunning views.
As a result, there was plenty of space on the 11,228 square metre site left over for facilities—including an epic 15 by 50 metre Olympic-length lap pool—and plenty of opportunity for neighbouring HDB flats to sneak a peek.
For residents on the higher floors at Block 233 and 235, it's not just a peek. What they get is this glorious panorama of Clover by the Park's amazing pools: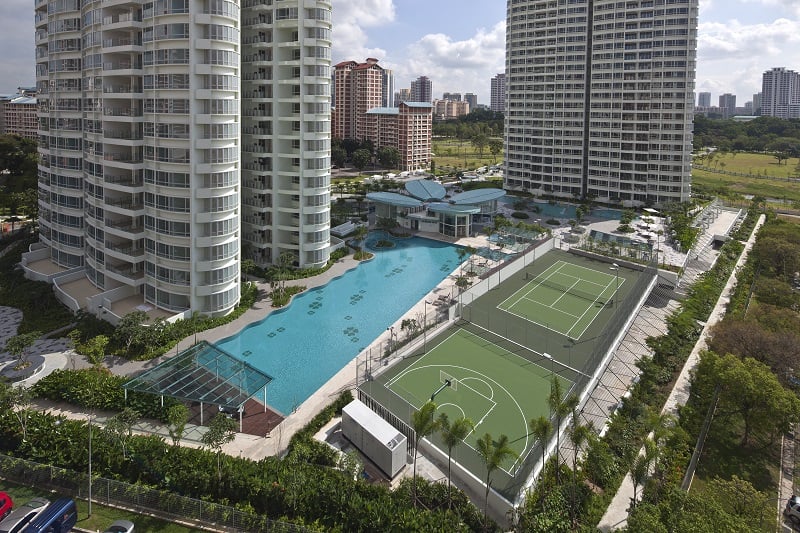 They can even watch a game a basketball or tennis. And with less than 30 metres between the HDB block and the pool, it feels like you're living in the condo itself (without being able to actually use the facilities as a resident, of course).
This is obviously 'free rider' behaviour going on here. Doesn't this bother the residents of Clover by the Park?
Not at all, apparently. Jessica, a university student living in the condominium, told 99.co: "I guess it helps that the HDB (flats) around here look nicer than most flats out there." (Bishan North's HDB flats are known for their unique red-brick facades and pitched roofs of varying heights—a rare depature from cookie-cutter concrete blocks that define the look of many other towns.)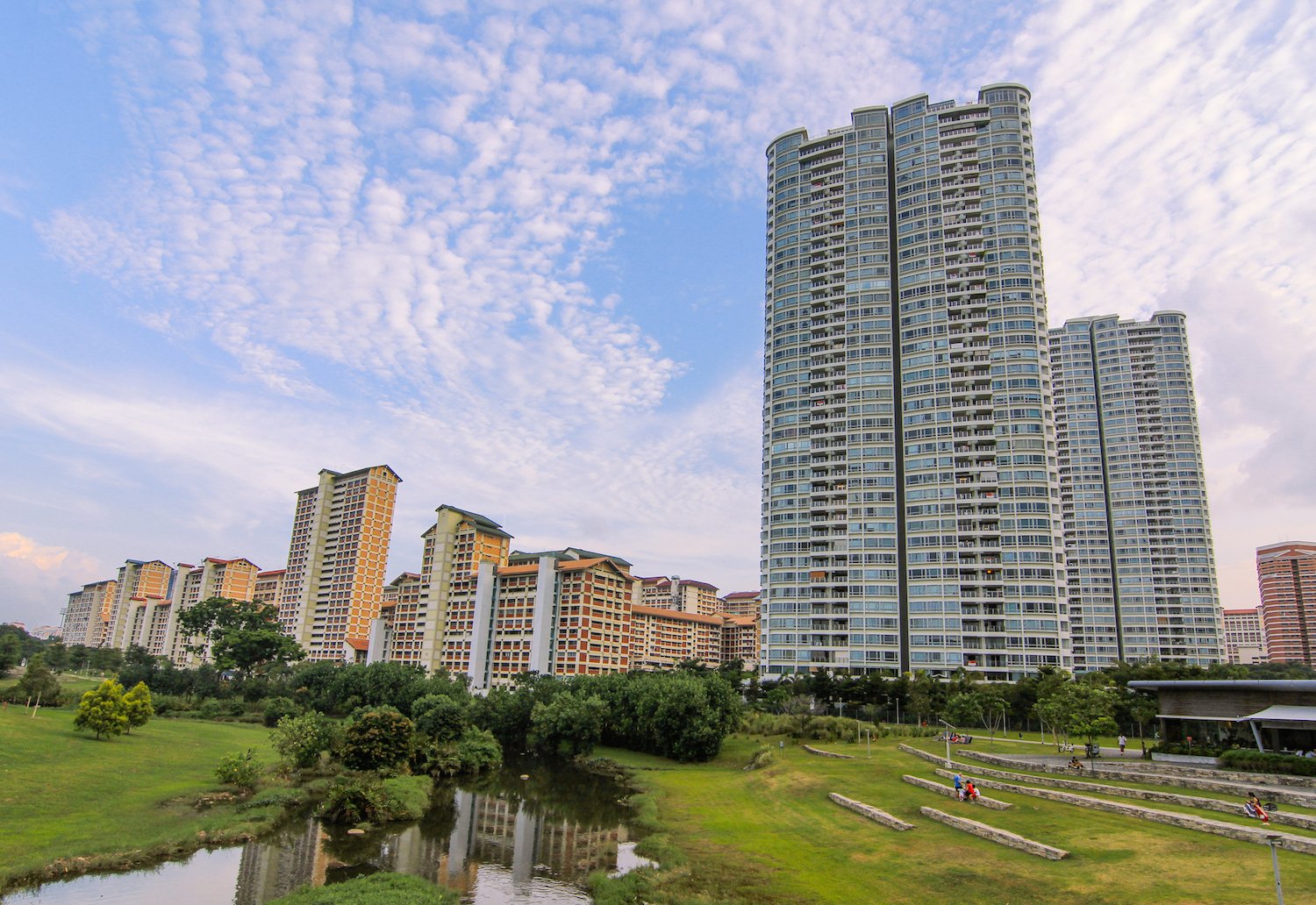 How much does the 'free rider' condo pool view HDB flats cost?
If you want a full condo pool view but only want to pay the price of a HDB flat, well, you're in luck. FYI, the last high floor unit sold at Block 233, which consists of solely 4-room flats, was in June 2020. The price? $590,000 for a 1,130 square foot (sq ft) unit with three bedrooms, which equates to a $522 per sq ft.
If you had wanted a same-sized unit at Clover by the Park, it would cost 2.5x more! Here, a 1,281 sq ft, 3-bedroom unit on the 16th storey transacted for $1.72 million (or $1,343 per sq ft) in December 2019. As owner, the right to use the facilities also means having to fork out a monthly maintenance fee of about $200.
Not only are Block 233's residents treated to a stunning pool view, their units are also North-facing, which means that there's no need to worry about heat from the morning or afternoon sun. High floor units of neighbouring Block 235 also get views of the pools at Clover by the Park, but these units are West-facing with afternoon sun exposure.
And if you still don't believe that there's no such thing as a free ride, our research also found that there's little to no price premium for Block 233's 4-room units with condo pool view, compared to other 4-room units nearby (although it's something that could well change after this article is out).
Now for an added bonus: If Block 233's residents actually wanted to go for a swim after gazing at the pools of Clover by the Park, they don't have to travel far at all. There are TWO public swimming complexes (Ang Mo Kio and Bishan) nearby, accessible via a short walk or a bus ride.
If you're unable to snag a unit in this block, there are even better alternative options nearby: Flats that directly overlook the scenic Kallang River and Bishan-Ang Mo Kio Park. We introduced these flats in an earlier article about riverfront properties, and it seems like these park-facing flats are the ones that actually command a price premium.
[Related article: What makes Bishan HDB Resale flats perform so well?]
Where else in Singapore can I get free pool views from a HDB flat?
Elsewhere in Singapore, there are also opportunities for 'free riders' looking to snag a gorgeous pool view. Here are some blocks to take note of:
Blocks 350 Ang Mo Kio St 32 and Block 335 Ang Mo Kio Ave 1 (overlooking Ang Mo Kio Swimming Complex and Bishan-Ang Mo Kio Park)
Block 125 Bishan Street 12 (overlooking the pool at Bishan Loft condo)
Block 409 Bedok North Ave 2 (overlooking the public pools at Heartbeat @ Bedok; see photo below)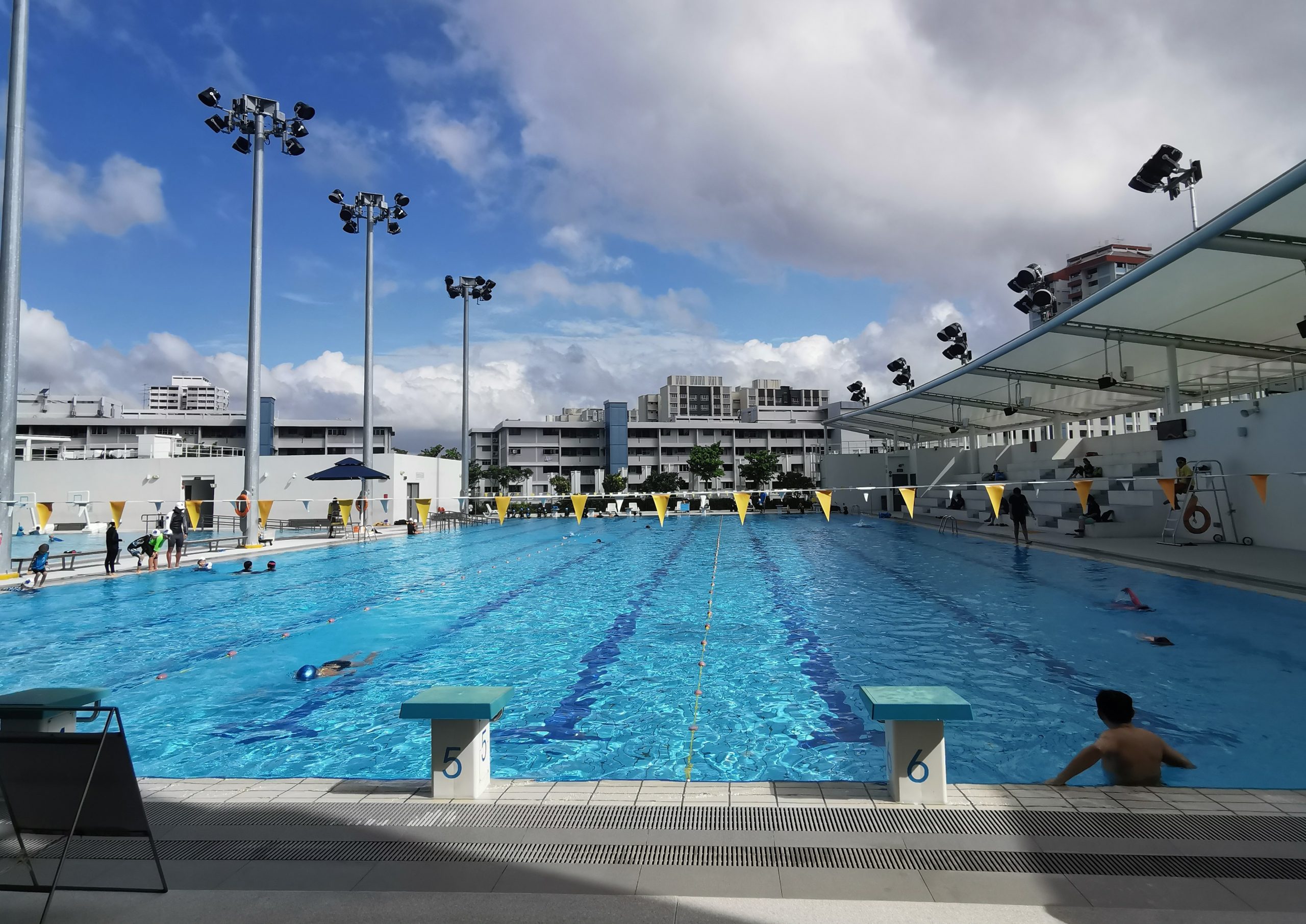 Block 708 Choa Chu Kang St 53, Blocks 751 and 752 Choa Chu Kang North 5 (overlooking Choa Chu Kang Swimming Complex)
Block 770 Choa Chu Kang St 54 (overlooking the pool at Yew Mei Green condo)
Blocks 461 and 462 Clementi Ave 3 (overlooking the Clementi Swimming Complex)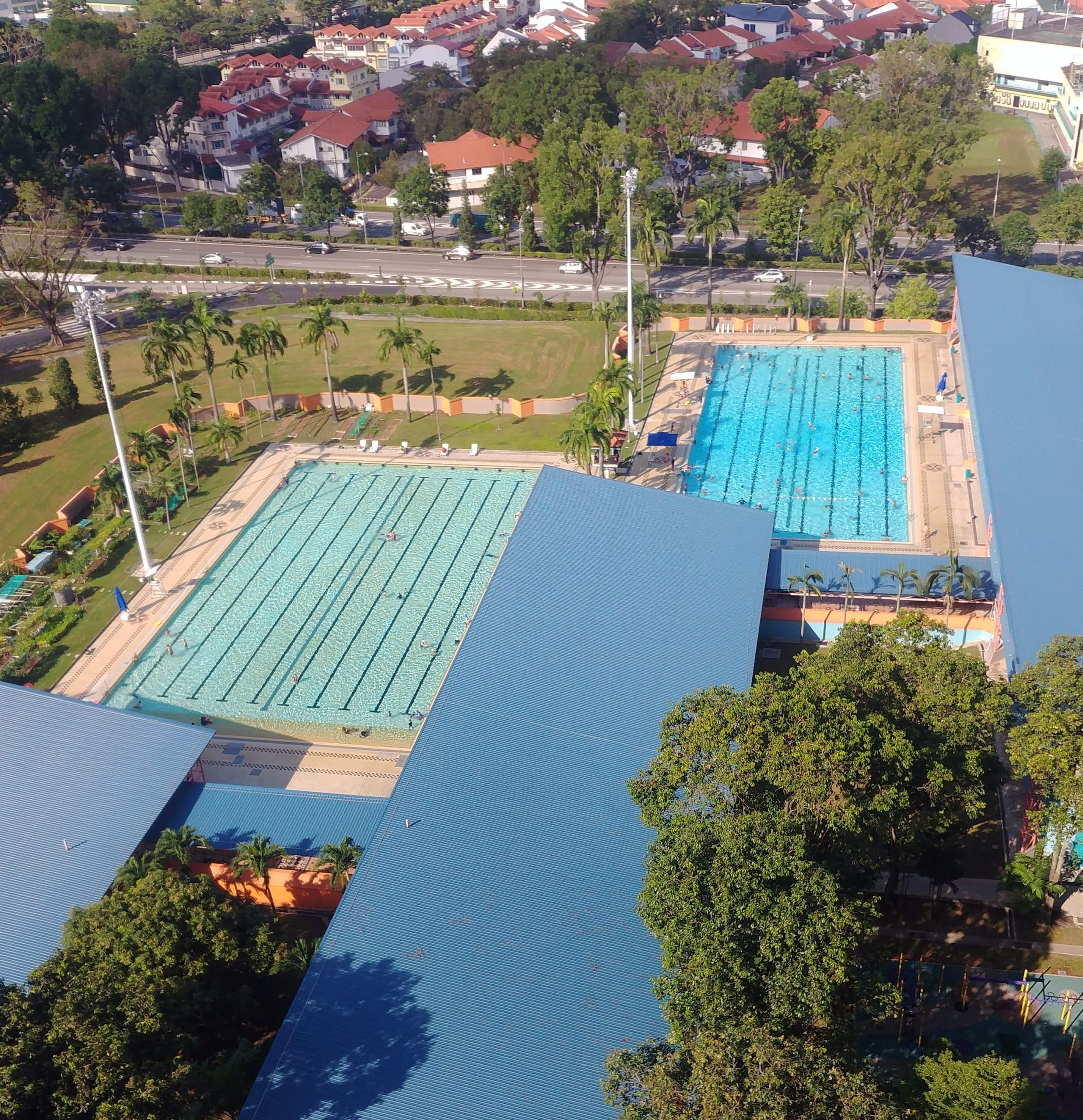 Block 160 Mei Ling Street (overlooking the pool at upcoming condo Stirling Residences)
Block 401 Pandan Gardens (overlooking the pool at upcoming condo Twin Vew, across the Pandan River)
Block 179 Woodlands St 13 (overlooking Woodlands Swimming complex)
Do you live on a property where you're 'free riding' off another? Share it with us in the comments below!
Interested in becoming a free rider living in these blocks, or buying a property with a view? Head to Singapore's most intelligent property portal 99.co and find your dream home!
If you liked this article, also check out 4 gorgeous SG condo swimming pools you'll want to cool off in and 5 SG condos that make you feel you're on holiday overseas despite Covid-19