Are you sick of staring out your window and seeing endless concrete blocks? Do you wake up at night because idiots blasts their car horns in traffic? Or maybe you just don't like central Singapore, where every weekend is an opportunity to discover seven new brands of body odour, as you struggle past 10,000 people just to buy a pack of toilet rolls.
In that case, you should consider living in Bukit Batok or Sengkang. It may not be exciting, but you'll have some quiet and breathing room.
The rundown on Bukit Batok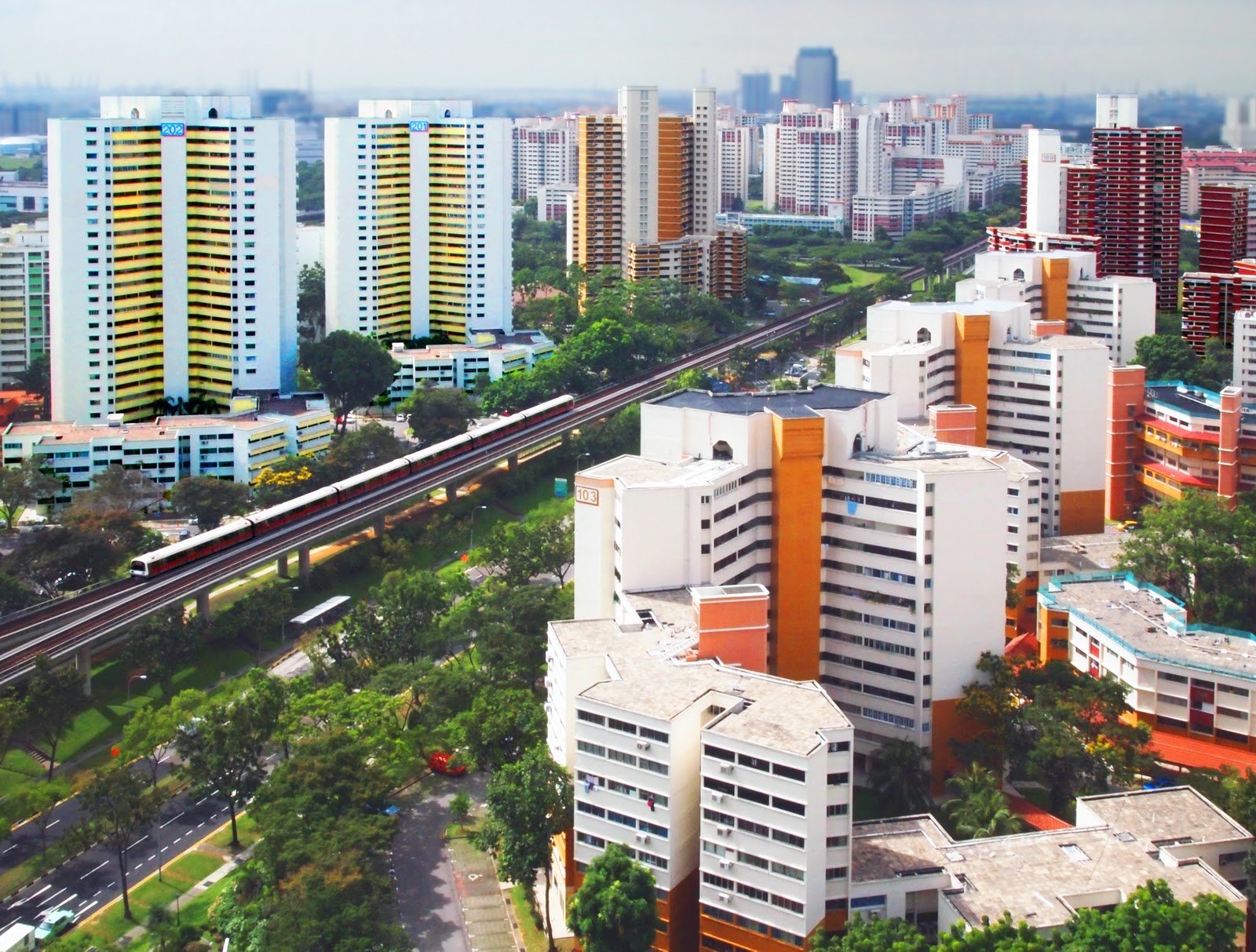 Bukit Batok is a residential estate located on the west end of Singapore, and is just one train stop from the Jurong Gateway.
Bukit Batok in Malay means "Coughing Hill", but the reason is unclear. It's commonly believed that the "coughing" refers to the controlled blasts from Little Guilin, a granite quarry that was in operation in the 1950s. However, it's also contended that the original name was Bukit Batu (Stone Hill, which also makes sense for a quarry), and was later corrupted to Bukit Batok.
Bukit Batok was home to mostly squatters and farmers, right up till it became a housing estate in the 1970s. During the Japanese Occupation, they built a victory memorial in Bukit Batok (the Syonan Chureito), in which dead Japanese soldiers were often commemorated. Today only the stairs to that memorial remain.
Bukit Batok has always been a partial industrial zone (in fact, the Ford Factory, where the British surrendered to the Japanese, is in Bukit Batok). Today, light industry is confined to the southern areas of the estate.
Upsides to living in Bukit Batok
Super affordable

Amazing scenery in many parts of the neighbourhood

Bukit Batok Hillside Park

Proximity to Jurong Gateway

Serviced by two train stations
Housing in Bukit Batok is amongst the most affordable in Singapore.
For example, the launch of West Plains, a BTO development, drew interest in February this year: three room flats were between $166,000 to $202,000, while four-room flats and five-room flats were upward of $266,000 and $367,000 respectively. Those prices are before subsidies, so this is a thrifty choice for those who have long term plans (like saving up to upgrade later).
Check out the maps on 99.co, for the range of affordable deals in this area.
Amazing scenery in many parts of the neighbourhood
Little Guilin, the former quarry, is famous for scenic walks. The Bukit Batok Nature Park is complemented by other, smaller green spaces, such that no home is further than 400 metres from a park space. This is a good place if you're the type to go into a park and practice your yoga, or paint landscapes.
Proximity to Jurong Gateway
West Mall is the main source of retail and dining for Bukit Batok, and it has a good range of amenities. If you need more however, Singapore's "second Central Business District", the Jurong Gateway project, is just one stop away. It's close enough that most residents consider it part of their own amenities.
Serviced by two train stations
The Bukit Batok and Hillview MRT stations provide relatively fast access to central Singapore. You can to get to Orchard with about a 20 minute train ride with the latter.
The Downside to Bukit Batok
I'm going to be blunt: for years, the most interesting thing about this area was rocks (it was a quarry). Yeah, that doesn't seem good for excitement.
So the neighbourhood doesn't provide much in the way of entertainment; you'll probably be taking  the train to Jurong or to town to keep yourself busy. West Mall can only keep you entertained for so long.
Then again, some of you might want to choose ole' BB especially because of the lack of all that noise.
The rundown on Sengkang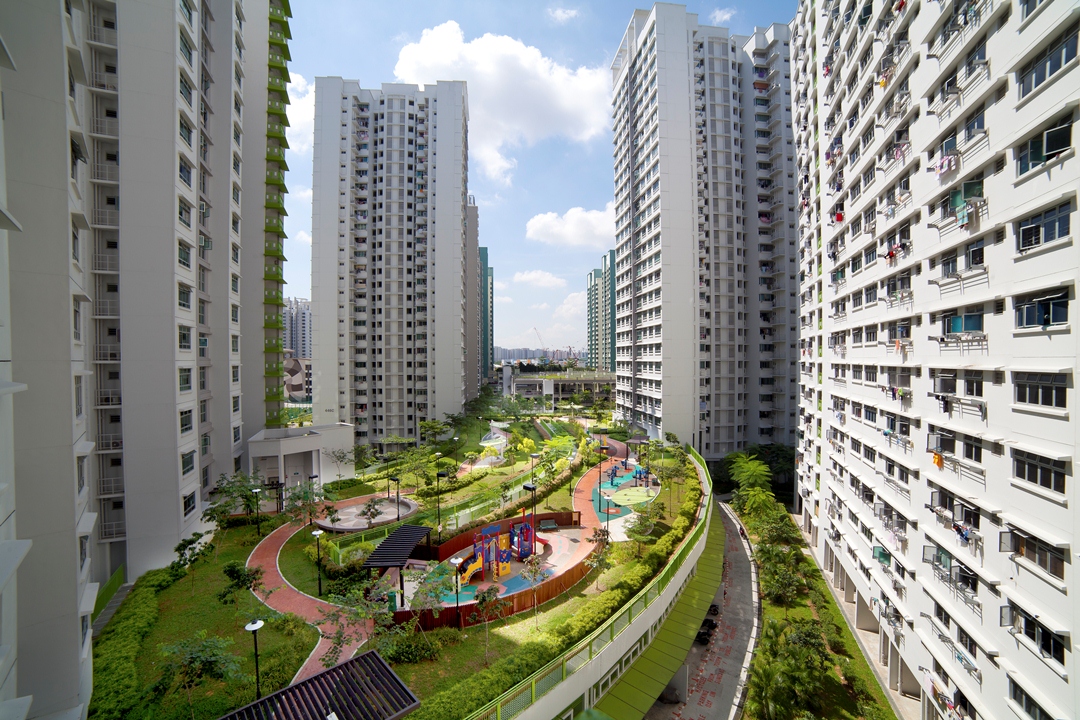 When we say that Singapore used to be nothing but a small fishing village, because exaggeration is a good way to make you feel patriotic, this is the fishing village we're referring to.
Sengkang (Prosperous Harbour in Chinese) was once a fishing port. It's former name was Kangkar, which means "Foot of the Port". Besides fishing, it was also an agricultural area noted for its pig farms. Or maybe they were just vegetable farms, and the pigs just wandered in (things were kind of disorganised back then).
Right up to the 1980s, Sengkang consisted of a few blocks of housing, and the Punggol Rural Centre. When the planners literally call the main hub a "rural centre", you know you have accessibility issues; and boy was it true. Sengkang used to have jungle so dense, it made Vietnam war movie sets look like condo box planters.
Real change started in 1994, when HDB launched a project to turn Sengkang into The Town of The Seafarer (despite the fact that the average resident probably couldn't drive a sampan down a stream). Sengkang was broken into six neighbourhoods. Three will have a marine theme, while the other three will reflect the plantations that used to be here. This is why the housing blocks are designed to resemble the stilts of kampung houses, or tree trunks (visit for yourself and decide if it works).
Today Sengkang is a fast developing residential estate, with Jalan Kayu designated as an "identity node" (more on that below).
Upsides to living in Sengkang
Localised job opportunities

Access to the Round Island Route

Sengkang Riverside Park

Jalan Kayu
Localised job opportunities
The Urban Redevelopment Authority (URA) has mentioned that, with the development of Sengkang West Industrial Park and the Seletar Aerospace Park, there may be a chance for residents to work nearby. This process of scattering prospective employers in different estates is partly to help ease congestion in the CBD, so we're not all rushing for the trains at the same time. Of course, it would be better to wait and see if you have an employer here before you decide to buy a house (if it's possible).
Access to the Round Island Route
The Round Island Route is 150 kilometres of green space, in which to walk, jog, or cycle. Residents in Sengkang will find it running through Sengkang Riverside park, which connects them to Seletar and the Punggol Promenade.
Never let your Fitbit down again.
This is a 21 hectare park complete with event space (the Civic Event Lawn), where you can sometimes find interesting events, like classical music performances. There's also spaces for cycling and jogging and such, but mostly this park consists of strollers and people watchers. In the evenings, Sengkang Riverside Park feels a little like Washington Square Park in New York City, minus the meth and muggings.
The Fruit Tree Trail is quite famous – it's a constructed path that winds through constructed wetlands, and features 16 types of fruit trees (some are hard to find these days, like the Fish Killer tree).
Jalan Kayu is famous, because we like to complain that the famous prata there is overrated (and some of us go back 10 times a month just to eat it, and make that same complaint). It's also noted for its architecture, such as the famous black and white colonial bungalows. The URA has plans to develop this area into an "identity node", which is totally not the same as a tourist trap. This should mean interesting heritage trails and eateries for Sengkang residents.
The downside to living in Sengkang
If you don't like cycling, jogging, or strolling by the river bank, this place will bore you out of your skull. Somewhat comparable to Bukit Batok, but easier on sporty types.
Who wins?
We call it a tie. Bukit Batok does have better transport, and its close enough that Jurong Gateway can lift it's overall appeal. However, both Sengkang and Bukit Batok are both quiet; but Sengkang has more in the way of active lifestyle activities.
Assuming you want peace and quiet (both estates lack bustle), pick Sengkang if you are outdoorsy. Otherwise, if you want peace and quiet at home but like to go out for the usual shopping and eating, choose Bukit Batok.