If you're buying a resale flat, time could be a big factor for you. After all, if you could wait another two or three years, you'd be looking at a BTO flat, right? To help you get your HDB resale unit as quickly as possible, we've highlighted the biggest time-wasters that can hold you back from your ideal home. Know what they are and you can avoid a lot of hassle and headaches.
1. Not having a prepared list or plan when you go house-shopping
Before you go looking for your home, prepare a fixed plan. Note down:
The essential things your property must and must not have (e.g. concealed pipings, built-in kitchen)
Key requirements such as age (tenure), floor area, amenities and preferred neighbourhood
The absolute maximum price you're willing to pay
Always go in with a plan. Don't randomly view a bunch of houses, and try to decide by "winging it". You're more likely to make a bad or impulsive decision without a clear plan. You'll also end up wasting a lot of time as you scratch your head and ponder each option without any plan to guide you.
2. Not knowing the state of your credit
You can get a credit report from Credit Bureau Singapore (CBS) to check your credit score. We suggest you do this before looking for a mortgage, as the banks will check it as well.
Having a credit report can save you hours of travelling from bank to bank and trying to get a loan, only to be turned down a few working days later. The fact is, if your credit history is bad (e.g. ranked BB or below), there's a good chance you won't get the full 80% loan-to-value (LTV) financing — no matter how many banks you approach.
Check your own credit score first and, if it's bad, set aside some time to improve it. You can do this by aggressively paying down debt, or taking a small loan and reliably paying it back to improve your score.
If you can do this 12 months prior to applying for a mortgage, your chances of loan approval — from the very first bank you ask from — are higher. That saves you the time of looking for second and third alternatives.
3. Starting the search on the wrong foot
When buying a home, don't start your search based on cheapest prices as if you're trying to buy an air ticket or car insurance. You'll find that this approach wastes more time, as it is plain unproductive (often, the cheapest results will end up being places where you don't want to live).
Instead, start your search based on one of the following:
The specific neighbourhood you want to live in
Key requirements, such as proximity to your senior parents or certain schools
Proximity to your workplace
Once you've filtered these, start looking for the most affordable properties in the given area. If you can't find any, then conduct the price search in the nearest neighbouring area, and so forth. To help you, you can search by HDB estate (or any specific location) and apply a range of useful filters to zoom in on promising listings on Singapore's largest property portal 99.co.
4. Forgetting about the HDB's Ethnic Integation Policy (EIP), also known as the racial quota
To prevent the formation of racial enclaves, HDB has implemented quotas based on race and ethnicity in every block of flats. This ensures an proportionate mix of different peoples, living together within a flat and neighbourhood.
When buying a resale flat, one common mistake is for people to spend hours comparing properties, contacting agents and arranging viewings — only to realise they can't buy the unit because the racial quota for their race has been filled.
To save you from unnecessary time-wasting and disappointment, 99.co has included the HDB sale quota as a filter, so be sure to check it and specify your race/ethnicity when you search for a resale flat.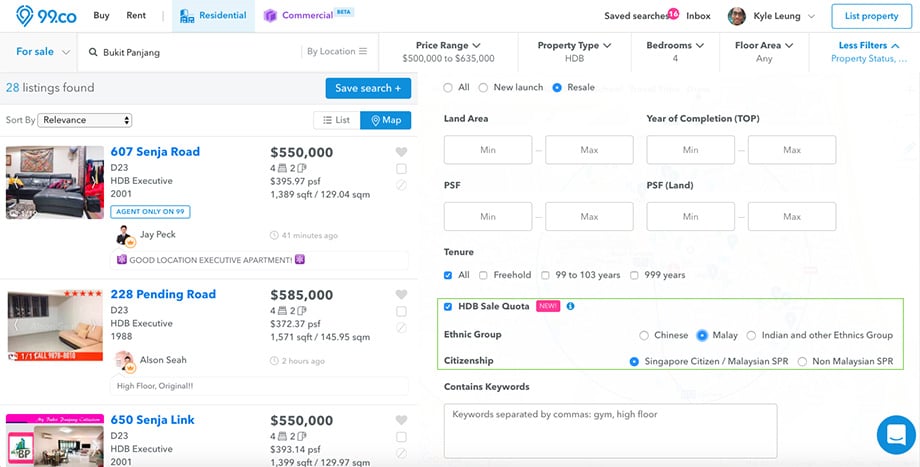 5. Involving too many people in the decision-making
At most, you and your spouse should be the one to make the final call. Don't try to buy a house by committee; you don't need input from both in-laws, your siblings, all your children, assorted aunts and uncles, friends, etc.
The more people you involve in the decision, the more you'll bog down the buying process. Pick what suits your criteria, makes you feel happy, and just go with it.
Besides wasting time, there's an added danger of the "blame game" happening if things don't work out. You don't want to feel resentful toward anyone later if you regret buying a house they pushed for (and not the one you really wanted).
6. Dealing with a flip-flopping seller
When buying a resale flat, be wary of sellers who keep changing their minds. If the seller is repeatedly changing the price, or you see that they're selling by committee (i.e. their spouse, children, and whole extended family for two generations seems to be involved in the selling process), then we suggest you not get too attached to the idea of buying their property.
These are also the types who are prone to change their minds about selling, often at the last minute. You'll also waste time with their pointless, insincere negotiations. For instance, they might agree on your price today, but change their mind tomorrow, thus prompting you to waste hours haggling it back down. Worse, they might try to pull this stunt after you've paid the deposit.
If you still insist on dealing with this type of seller, consider getting a property agent to help represent you as a Buyer's Agent. This will involve having to pay an agent's commission upon a successful transaction.
7. Not getting your loan papers in order before paying the deposit
Before putting down the deposit (also known as Option Fee) for the Option to Purchase of a flat, always obtain an Approval In Principle from a local bank or a HDB Loan Eligibility Letter if taking a HDB Concessionary Loan. It's dangerous to put down the deposit before getting your loan approval, because:
If you find out you don't qualify for a sufficient loan after you put down the deposit, the deposit will be foreited.
Even if you haven't gone to the extent of paying a deposit, you could end up going through the whole process (viewings, paperwork, questions etc.) only to have to back out at the last moment because you don't qualify for a big enough loan. This isn't just a huge waste of your time, it also wastes the sellers' time. They may be irritated enough to avoid dealing with you again (i.e. blacklisted).
(Note: if the seller urgently needs to sell, such as having to sell their flat within six months to qualify for ABSD remission, you could be causing them serious financial loss).
To find out if you should go for a bank or HDB loan, read HDB Loan vs. Bank Loan — Which one fits you better?
8. Trying to manually find the cheapest mortgage
When looking for the cheapest mortgage, don't bother calling from bank-to-bank. Just use a mortgage broker, or comparison sites that rank all the loans. These services are free to you; mortgage brokers work on commissions received from the bank.
If you're worried that a particular broker can't be trusted, simply use multiple comparison sites/brokers to verify what each of them is saying. Typically, there'll be some agreement on which bank offers the best rate for a given tenure and set of terms.
This is something you can get done in a matter of minutes, instead of having to spend hours calling up banks and getting stuck on call waiting, and doing your own comparison. Moreover, you might not have access to the preferential financing rates that mortgage brokers get anyway.
9. Trying to time the market
As a buyer, one of the silliest things you can do is to try and time that market. That's when you wait for prices to go down (because you think they will) so you can buy on the cheap.
While this is perfectly valid for some investors (read: people who are not going to stay in the house), it's a good way for buyers to lose out on the flat of their choice. While you're busy waiting for the property price index to drop, someone else can quickly move in and snatch it out from under you. Even if resale prices do end up falling by a little, regret will set in when you can't find a property that measures up to the one you missed out on.
So, make your decision based on what you can reasonably afford and not based on speculation about whether the price will rise or fall in a few months.
Bearing these nine time-wasters in mind will definitely make your property search a smoother, more enjoyable process. Good luck in finding and buying a resale flat of your dreams!
Voice your thoughts in the comments section or on our Facebook community page.
If you found this article helpful, 99.co recommends Quick Guide to BTO, SBF and Resale HDB Grants for Couples and 99.co guides: Everything to know about paying for a resale flat
Looking for a property? Find your dream home on Singapore's largest property portal 99.co!