In this new series, we highlight noteworthy pieces of data from 99.co's Researcher tool for property agents. This chart looks at how HDB resale prices of four towns — Geylang, Bedok, Tampines and Pasir Ris — have changed in the past 15 years from 01/01/03 to date, along with their sales volume.
First, a look at the relative positions of the HDB towns to the CBD of Singapore. Geylang is the nearest (15-25 minutes to the CBD by public transport), followed by Bedok (25-35 mins), Tampines (30-45 mins) and finally Pasir Ris (40-55 mins).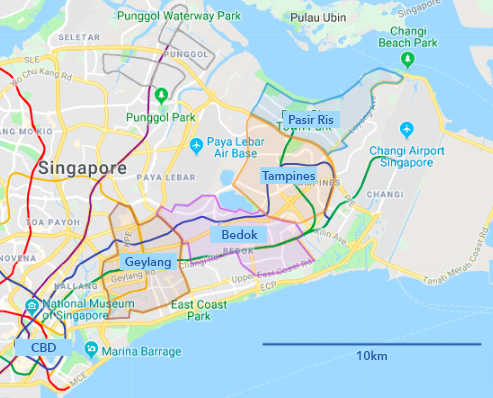 Now, let's look at the average per square foot (psf) transaction prices for resale flats in these estates over the past 15 years.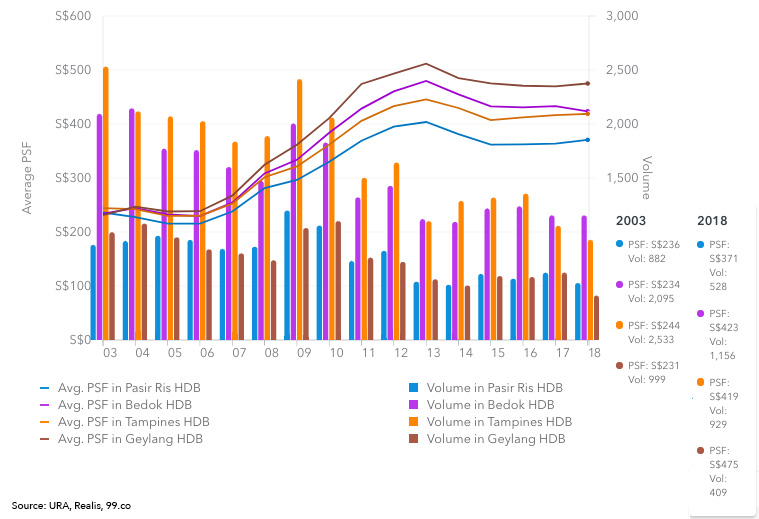 What stood out for us: Looking at the chart, we were surprised to find that average psf prices for all four estates were largely similar in 2003, despite the differences in distance to the CBD. Tampines, an in-demand estate at the time, commanded the highest average psf resale price at $244 psf. Even then, this price was only 5.6% higher than Geylang, the town with the lowest average psf price in 2003.
From 2007 onwards, a price gap started opening up between the four towns. Tampines relinquished its lead position, whereas Geylang started to surge ahead. Fast forward to 2018, and the average psf price gap between the most expensive HDB town in the east (Geylang) and the least expensive (Pasir Ris) has widened to 28%. It's also worth noting that this percentage price gap seems to have stabilised over the past three years.

The big question: For HDB resale flats, is proximity to city a key factor in value appreciation over time?
Taking just this chart into consideration, it certainly seems so, at least for towns in the East of Singapore. Amongst other things, prospective buyers of HDB resale flats in this region need to decide whether Geylang HDB resale flats justify the price premium, choose between Tampines or Bedok flats that are roughly at the same price point, or weigh the potential upside of Pasir Ris before making their decision.
Coupled with the lingering worries over the 99-year leasehold issue for HDB resale flats, it's even more important for homeowners to choose their location wisely by first taking into account their own needs and lifestyle preferences. In a nutshell, these are what each town offers:
Geylang: Short commutes to city, a potentially vibrant Paya Lebar CBD, close to sporting amenities (for Kallang and Dakota neighbourhoods)
Bedok: Self-contained community with full-range of amenities, access to varied recreation options (Bedok Reservoir Park and East Coast Park), reputable schools
Tampines: Self-contained community with full-range of amenities, plenty of shopping and entertainment options, proximity to Airport and Changi Business Park
Pasir Ris: A potentially vibrant town centre with upcoming developments, resort town vibes (Pasir Ris Park), proximity to Airport, future Cross Island MRT line and stations
For property listings in these towns, head to Singapore's largest property portal 99.co for the most comprehensive HDB resale flat listings.
[View all Geylang HDB resale flat listings for sale]
[View all Bedok HDB resale flat listings for sale]
[View all Tampines HDB resale flat listings for sale]
[View all Pasir Ris HDB resale flat listings for sale]
Voice your thoughts about this Chart of the Week in the comments section or on our Facebook community page.
If you found this article helpful, 99.co recommends How your HDB sale proceeds might get "taken" by CPF and 3 questions first-time HDB resale flat buyers must answer
Looking for a property? Find your dream home on Singapore's largest property portal 99.co!