When it comes to renting in Singapore, there are some lesser-known city fringe neighbourhoods that have flown under the radar despite having a great living environment. These precincts offer good value to expats who don't want to stay too far from town, or need more space for a given budget.
Here, we outline the characteristics and the charms of five underrated city fringe neighbourhoods. Go into this with an open mind; you might just find yourself falling in love with one of these neighbourhoods!
Underrated city fringe neighbourhood #1: Stevens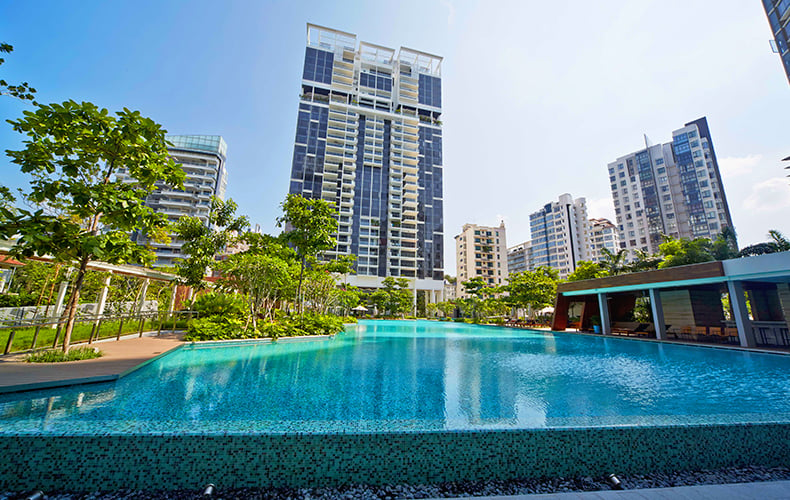 Nearest MRT Station: Stevens MRT Station
If you can afford paying a higher rent but want a greater and greener sense of space without sacrificing accessibility, Stevens (District 10) is the place to be. While tiny downtown condos average $5-6 per square foot (psf), there are a handful of 2-bedroom and larger condos at Stevens that are available at $3-4 psf. Most of them are within walking distance to Stevens MRT on the Downtown Line, which connects to the CBD in 20 minutes or less.
Stevens is also a low-to-medium density city fringe neighbourhood, which means that renters get to enjoy a more laid-back surroundings while still having easy access to restaurants, shops and supermarkets. Living here also puts you within touching distance of the Singapore Botanic Gardens.
In the neighbourhood, newer condos such as Cyan ($4.10 avg psf rent), which has a unusually large area dedicated to swimming pools, and The Glyndebourne ($4.30 psf rent) are giving older well-maintained condos — such as The Equatorial ($3.34 avg psf rent) and The Balmoral ($2.10 avg psf rent) — a run for their money. Away from the main road, developments such as Fifteen Robin and Parc Stevens are smaller, often consisting of fewer than 50 units — good for more privacy.
Best for: Upscale garden living
**[View all condo units for rent in Stevens]
Underrated city fringe neighbourhood #2: Balestier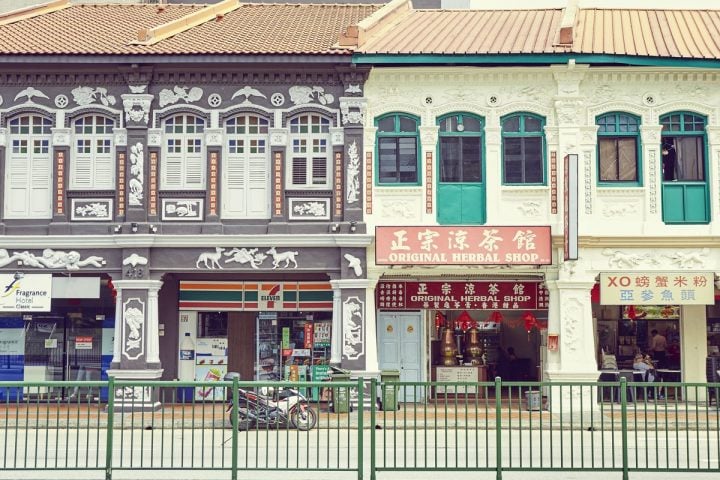 Nearest MRT station: Toa Payoh, Novena MRT
The one drawback of living in Balestier is that it doesn't have its own MRT station, but if you're going to be taking the taxi and claiming them off your transport allowance, this won't matter much to you anyway. (Some condos here are also within walking distance to Novena MRT.)
Now, onto the perks of living in Balestier. First and foremost, you'll never find yourself going hungry. Along Balestier Road is array of authentic local cuisine, including famous chicken rice and bak kut teh (pork rib broth) eateries. The really good news? Many of these local eateries don't close for business until the wee hours of the morning.
On top of that, staying in Balestier also allows you to get to know Singapore on a more intimate level. Yes, we might have the fancy skyscrapers and the avant-garde looking malls, but there are other parts of Singapore that are steeped in tradition and history. Balestier, for example, is where you'll be able to find one of Singapore's last original Chinese opera stages, the last remaining water kiosk in Singapore, and an old-school shop that has been roasting traditional Singaporean-style coffee with margarine and sugar since 1959.
Condos in Balestier are typically smaller developments, such as The Viridian (108 units; $3.90 avg psf rent), Pastoral View (50 units; $3.80 avg psf rent) and 368 Thomson (168 units; $3.60 avg psf rent).
Best for: Fans of local food
**[View all condo units for rent in Balestier]
Underrated city fringe neighbourhood #3: Dakota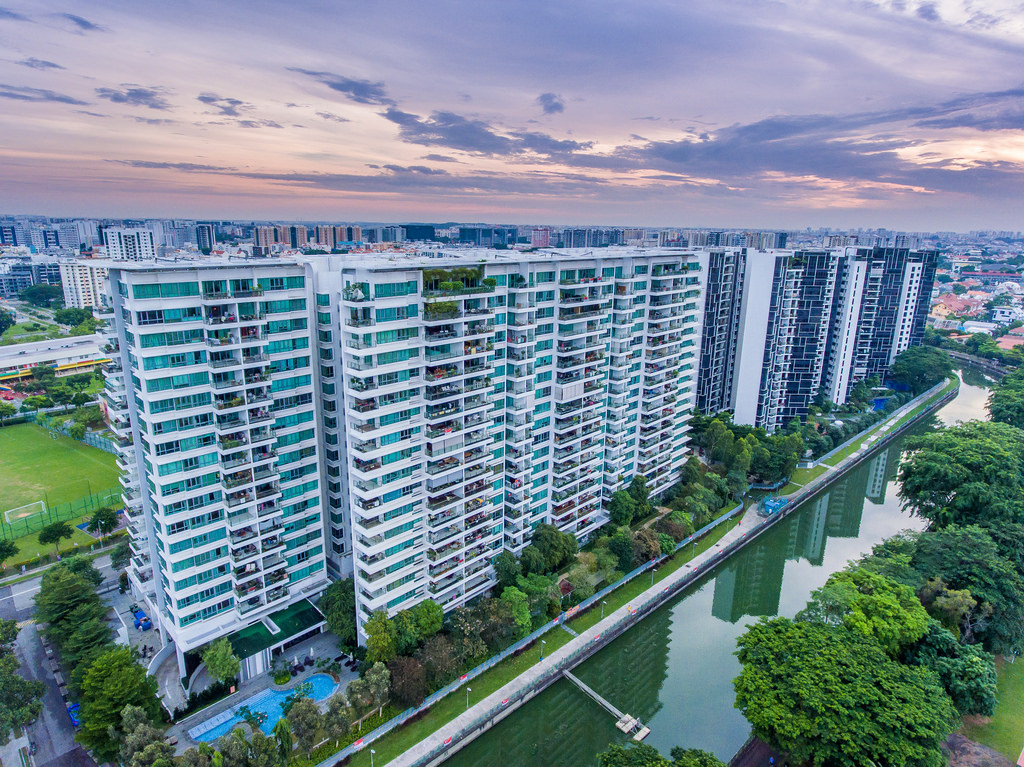 Nearest MRT station: Dakota MRT Station
If you dislike towns that have grown too big for their size, yet crave convenience and amenities, then the city fringe neighbourhood of Dakota might be the ideal place to stay. Dakota is just a few blocks in — about 1km x 0.6km — and doesn't have many residents, to the extent that getting on the train at Dakota MRT is a breeze even during peak hours. Rental demand here is poised to increase, as the town is just a MRT stop away from the soon-to-be-completed Paya Lebar CBD and commercial hub.
Dakota is one of the rare city fringe districts where buses connect to the CBD as speedily as the train (about 20 minutes) thanks to the Nicoll Highway. Cyclists, be it for commuting or recreation, are another group who'll relish living here, the town is also connected to the Singapore Sports Hub, Gardens by the Bay East and East Coast Park and the CBD by Park Connectors.
Within Dakota, the chief attraction is the food. The Old Airport Road Centre is widely regarded as one of Singapore's best hawker centres. For the artistically inclined, Goodman Arts Centre offers workshops such as batik design and glass making. There's also a handful of preschools and international schools in the area, which makes Dakota an ideal town for expats with family in tow.
The main condos here are Waterbank At Dakota (616 units; $4.60 avg psf rent), Dakota Residences (348 units, $3.83 avg psf rent).
Best for: Families
**[View all condo units for rent in Dakota]
Underrated city fringe neighbourhood #4: Pek Kio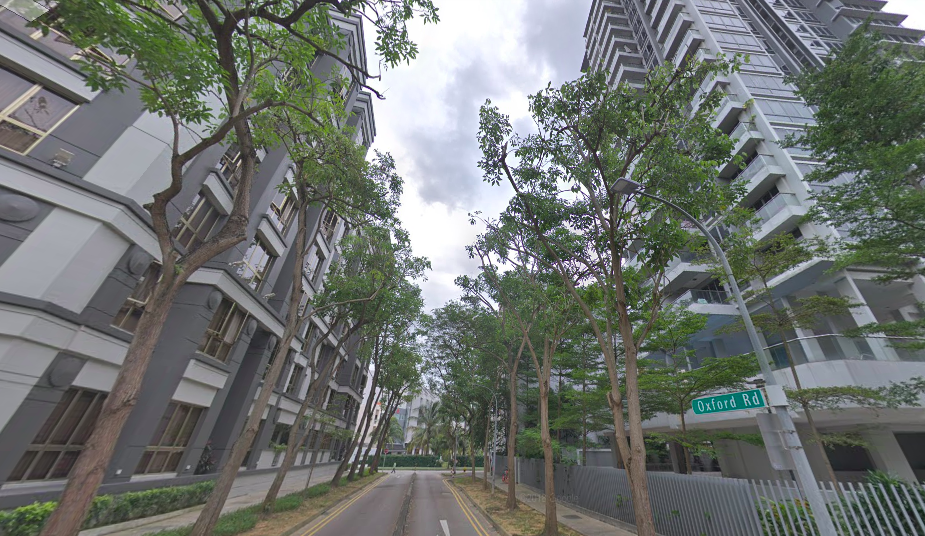 Nearest MRT Station: Novena and Farrer Park MRT
Pek… what? We'd understand if you're hesitant to stay in a neighbourhood whose name you can't even pronounce, but again, if you want to get to know Singapore on a deeper level, it makes sense to look past the flashier areas, and hone in on somewhere that's underrated.
There are two main draws for living in Pek Kio. The first is that it's located within walking distance of Little India, but away from the bustle. The truth is that ten years ago, nobody would've batted another eyelid at Pek Kio. But given how the neighbourhood's surroundings have transformed for the better, with malls (City Square Mall, the 24-hour Mustafa Centre), hotels and hipster cafes around Farrer Park MRT, rental demand for homes here have been increasing.
The second main draw of living in Pek Kio is its proximity to Novena, which like Little India is under 10 minutes walk. Novena has long been established as a mini business hub of Singapore, with an impressive array of shopping and dining options in its malls. There are also two hospitals — one public and one private — in Novena.
With all the action and accessibility to the Central Expressway, Pek Kio somehow remains an oasis of calm, with not a lot of traffic and an old-school Singapore vibe. Condos here include Kentish Court (77 units; $2.70 avg psf rent), Kentish Green (122 units; $2.66 avg psf rent) and Pristine Heights (60 units; $3.41 avg psf rent).
Best for: Quiet city living on a budget
**[View all condo units for rent in Pek Kio]
Underrated city fringe neighbourhood #5: Pasir Panjang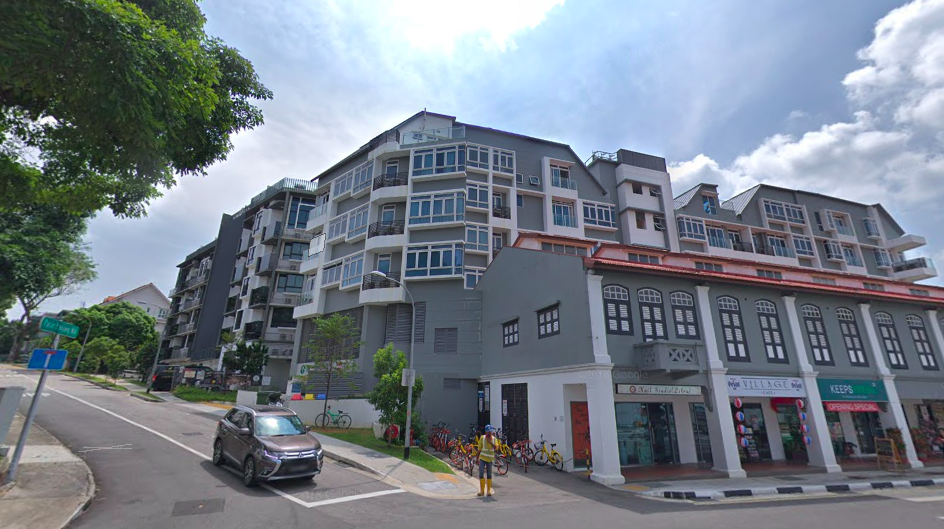 Nearest MRT Station: Haw Par Villa, Pasir Panjang MRT Station
In most other cities, living between lush green hills and the sea will be a costly affair. But renting an apartment in Pasir Panjang — the only area in Singapore with said landscape — won't break the bank. In fact, this is one of the most affordable neighbourhoods on our list. And if you're working at Mapletree Business City, Alexandra Technopark, the National University of Singapore, Science Park or one-North/Buona Vista, then staying here is also a great way of minimising your daily commute. Meanwhile, the CBD is accessible via the West Coast Highway in 15-20 minutes by car.
Proximity to nature is one of the perks of living in Pasir Panjang. The neighbourhood sits at the foot of a chain of hilly parkland called the Southern Ridges. There's also a mangrove forest to explore near the shore and a boardwalk that leads to HarbourFront — the gateway to the island/beach resort of Sentosa.
Pasir Panjang has also been designated as a low-density housing area, which many expats will appreciate. Condos here typically have low unit counts, such as Horizon Residences (72 units; $3.77 avg psf rent), Pepys Hill Condominium (32 units; $2.40 avg psf rent) and Banyan Condominium (104 units; $2.30 avg psf rent)
Best for: Expats based in the west
**[View all condo units for rent in Pasir Panjang]
What do you think of these city fringe neighbourhoods? Voice your thoughts in our comments section or on our Facebook community page.
If you found this article helpful, 99.co recommends International schools in Singapore: Where to live for expat families and East Region of Singapore: the best neighbourhoods for you
Looking for a property? Find the home of your dreams today on Singapore's largest property portal 99.co!