Before we point out why Clementi deserves prime real estate credentials, we'll reiterate two attributes that make any housing estate in Singapore worth a second look: location and amenities. Location here mainly refers to being located close to the Central Business District (CBD). For HDB estates far from the CBD (i.e. less than ideal location), the government diligently makes up for it with amenities, as we've seen in the transformation of Punggol. Both attributes can increase quality of life and hence demand for housing in these areas, which is always good news to homeowners and property investors alike.
And over the past decade, the plus points — location and amenities-wise — for towns in the West of Singapore have been steadily increasing. Jurong and Queenstown were probably the most hyped about towns over the past few years. Clementi, however, is seldom mentioned in the same breath, but here's why we think it should:
#1: Clementi isn't dependant on its own success (or failure)
Let us explain. Unlike Jurong, whose fortunes are tied to the future success of the Jurong Lake District and mega-projects such as the Jurong Region Line and KL-Singapore High-Speed Rail, Clementi doesn't have much hype going for it. Conceived in the late 1970s, Clementi simply hasn't figured in any major, estate-transforming government initiatives; all that has changed in Clementi in recent years is the construction of a modestly-sized shopping mall next to the MRT station and a number of new HDB blocks.
So, it's not so much purposeful planning, but by accident that Clementi now enjoys the best of both worlds. Over the years, the town has found itself sandwiched in-between the Jurong East commercial-business hub and Singapore's true "second CBD" at Buona Vista. Jurong has a vibrant commercial cluster (JEM, Westgate etc.) and the International Business Park, whereas Buona Vista has one-north, a technology-oriented, research and development precinct that has truly taken off with prestigious tenants such as Shell and P&G setting up offices there.
What this means is that, Clementi gets to enjoy the success of neighbouring developments if they happen, but the town won't go down the dumps if one of these developments were to fail. So, for property in Clementi, there is both present value and potential upsides.
Possible future boost: The government has announced time and again that there will be plenty of new office spaces and job opportunities springing up in the Jurong Lake District over the next few years. For assured Clementi residents, this would be a good-to-have — not a die-die must happen — thanks to the already bustling Buona Vista.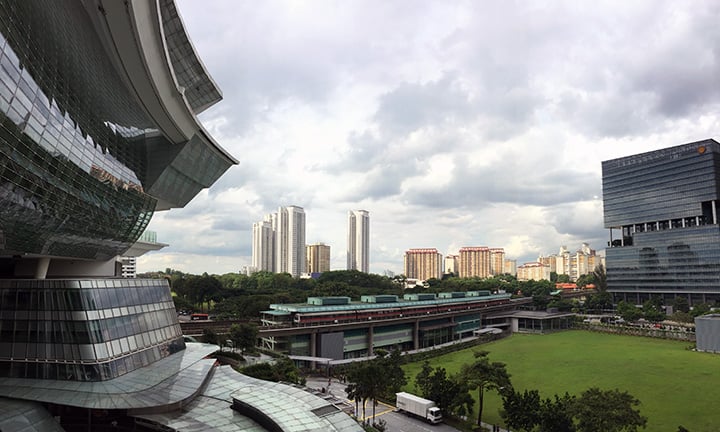 #2: Clementi is actually an elitist in disguise, when it comes to schools
If Clementi was to be hyped up, we'd be saying that it's the Singapore equivalent of England's Cambridge town. But even if we don't overstate facts, it's quite clear that only Clementi can lay claim to the title of a "university town" in Singapore. You see, the National University of Singapore (NUS) is right next to Clementi, and we reckon that the proximity to NUS has made Clementi an attractive place to stay for student tenants. Singapore's sixth autonomous university, the Singapore University of Social Sciences (SUSS), is also in close proximity to Clementi.
Here's a select list of educational institutions within close proximity to Clementi town, which altogether makes it an ideal place to raise a family:
NUS
SUSS
Singapore Polytechnic
Ngee Ann Polytechnic
NUS High School of Math and Science
Nan Hua High School
Nan Hua Primary School
Possible future boost: We don't know if student intake will increase for the two universities in the future, but a dive into our data already shows that rental psf figures for HDB resale flats in Clementi matches that of more centrally-located estates, even though average sale prices for flats in Clementi are cheaper. This is a unique observation.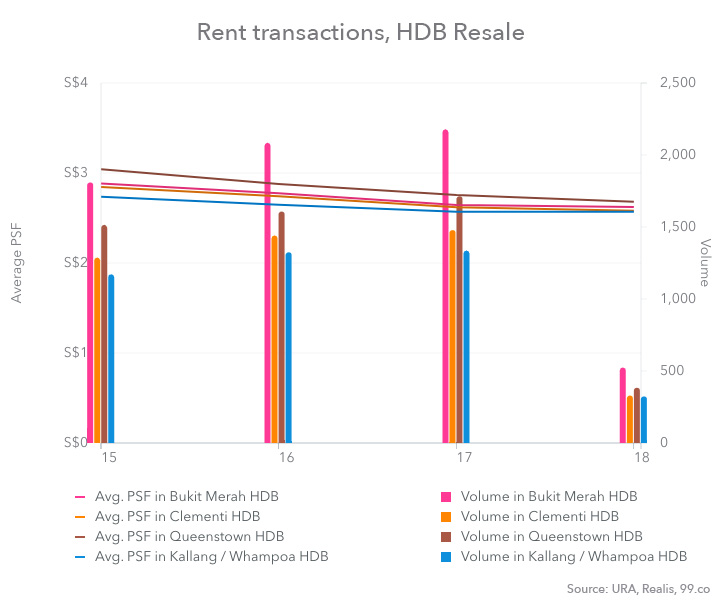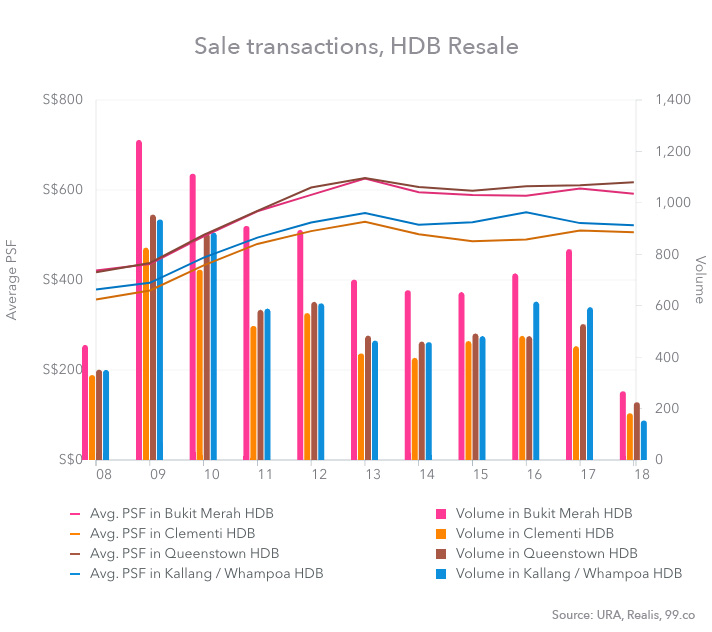 So, you can conceivably buy a cheaper resale flat in Clementi and in the meantime free up your financial resources for other forms of investment. After living in the cheaper flat for five years, you can then upgrade to a private property and rent out the flat for rental income. Now, the above is a reassuring piece of data that points to potentially higher rental yield for Clementi HDB flats, as compared to other HDB estates.
#3: Clementi has entered the HDB million dollar club
Remarkably, Clementi is the furthest estate from the CBD in which a flat has been sold for over a million dollars. Last year, two 5-room flats from the Clementi Towers project was transaction for over $1 million each. Perhaps we can attribute this performance to Points #1 and #2.
It also helps that Clementi Towers is integrated with a shopping mall and a bus interchange, and has a direct link to Clementi MRT station, making it the first HDB project in Singapore to be integrated with a transport hub. Completed in 2012, a unit there now fetches an average price of $816 per square feet (Q1 and Q2 2018). This is a higher psf price than a unit at the far more centrally-located Kim Tian Green — in Tiong Bahru — and a DBSS unit at City View @ Boon Keng, as the chart below shows: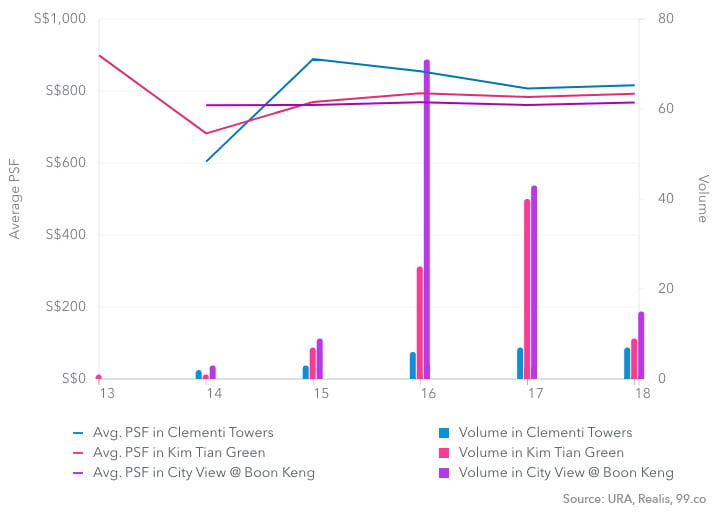 Possible future boost: As several new HDB projects in Clementi approach their Minimum Occupation Period (MOP), many owners in these projects will hope that the prices of Clementi Towers are a sign that they can land a big profit if they sell.
If they don't, they can look forward to the Cross Island Line (CRL). When it's complete in 2030, the CRL will connect Changi Airport and Jurong via Bukit Timah, Ang Mo Kio and Pasir Ris. There will not only be one, but three stations to be accessible to Clementi residents (at West Coast, Clementi Central and Ulu Pandan).
Besides being a connectivity boon to residents, the CRL can potentially give property sale and rent transaction prices an uplift.
Upcoming properties in Clementi to watch
Clementi used to be a predominantly HDB estate, but there have been condominium projects springing up in the past few years. Recent projects include The Clement Canopy at Clementi Avenue 1 (TOP: 2020) and Parc Clematis at Jalan Lempeng (TOP: 2023).
Also watch out for Clavon, an upcoming new launch at Clementi Avenue 1 by developer UOL/UIC. Targeted for completion in 2024, Clavon's 178,074.90 square foot site is expected to yield up to 640 private residential units, and is located near to NUS, NUS High School of Math and Science and Nan Hua High School.
Voice your thoughts in the comments section or on our Facebook community page.
If you found this article helpful, 99.co recommends Resale flat in Clementi fetches over $1m and Neighbourhood guides: Cool hangouts in Clementi you'd need to discover
Looking for a property? Find your dream home on Singapore's largest property portal 99.co!