The recent slump in the property market has proven to be great news for home buyers. Gone are the days when huge monthly incomes of $15,000 or $30,000 were needed to even consider private housing. With a combined income of just $10,000 a month (below the income ceiling for HDB flats, which is $12,000 a month), there are some great properties within your reach.
Key assumptions regarding loan acquisition
For the purposes of this article, we will assume that there are joint borrowers for the mortgage (such as you and your spouse). We also make the following assumptions:
Both borrowers are free of bad credit (no pending litigation, former record of defaults, bankruptcies, and so on)

Both borrowers are around the same age (25 to 30)

Both borrowers earn a combined monthly income of $10,000

The loan tenure is 30 years

There are no significant outstanding debts, such as a car loan or extensive credit card and personal loans
Under the above circumstances, the maximum loan amount the borrowers would qualify for is around $1.33 million. All of the properties below are thus affordable to borrowers in the given situation.
The following is based on our opinion of the best valued listings at the time of writing (December 2016), and the situation may change  – especially if interest rates are slated to rise.
North Park Residences, 31 Yishun Central 1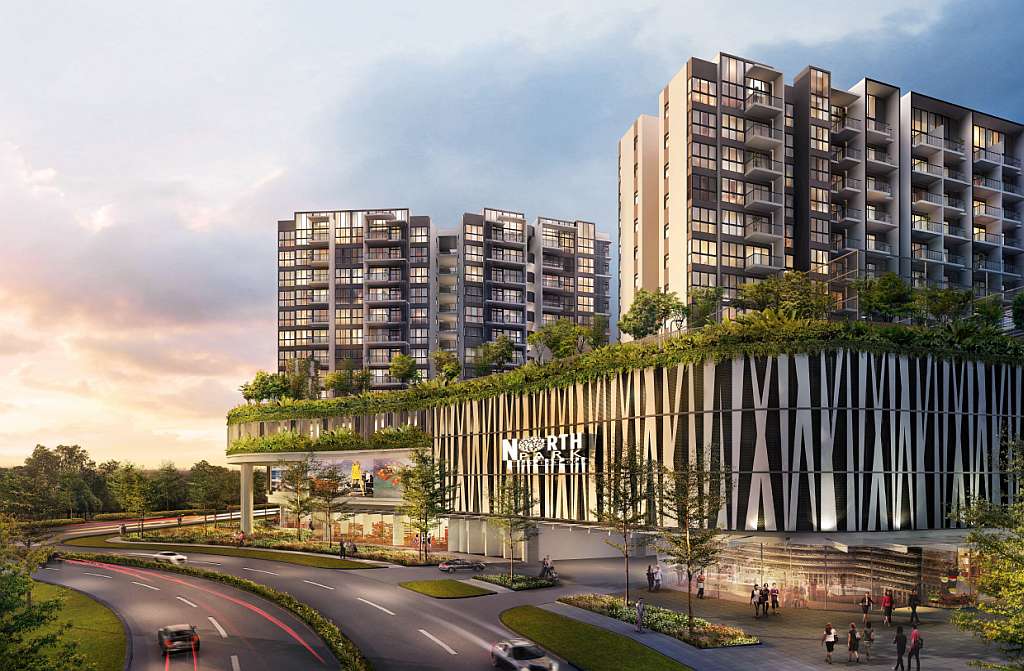 Condo details: 99-year leasehold, 969 square feet, 3 bedrooms, two bathrooms
Approx. $1,317 psf (Unit price estimated at $1.27 million)
Yishun Central is a developed area, which has a lot of nearby amenities. In particular, it is close to NorthPoint City, which is the main shopping mall that services the neighbourhood. This means access to supermarkets, food courts, banks, and childcare services. There is also a Golden Village cinema.
A little further away, Yishun 10 and Northpoint Mall also provide a range of retail outlets, and mid-priced restaurants.
North Park Residences is close to the Yishun MRT station.
Key highlight:
North Park Residences is a mixed commercial and residential development. We tend to like these, as they are almost "self-contained" spaces. Furthermore, this is a development by Frasers Centrepoint, which has a reputation for building malls with a cost effective bent (Centrepoint Mall and Causeway Point, to name a few). That is to say, we know their malls tend not to be loaded with luxury brands and high-end eateries, which would make them too expensive to be considered everyday amenities.
If you make the wise choice of forgoing a car to get a good home loan, living here will ensure you don't feel any drawbacks.
Seletaris, 511 Sembawang Road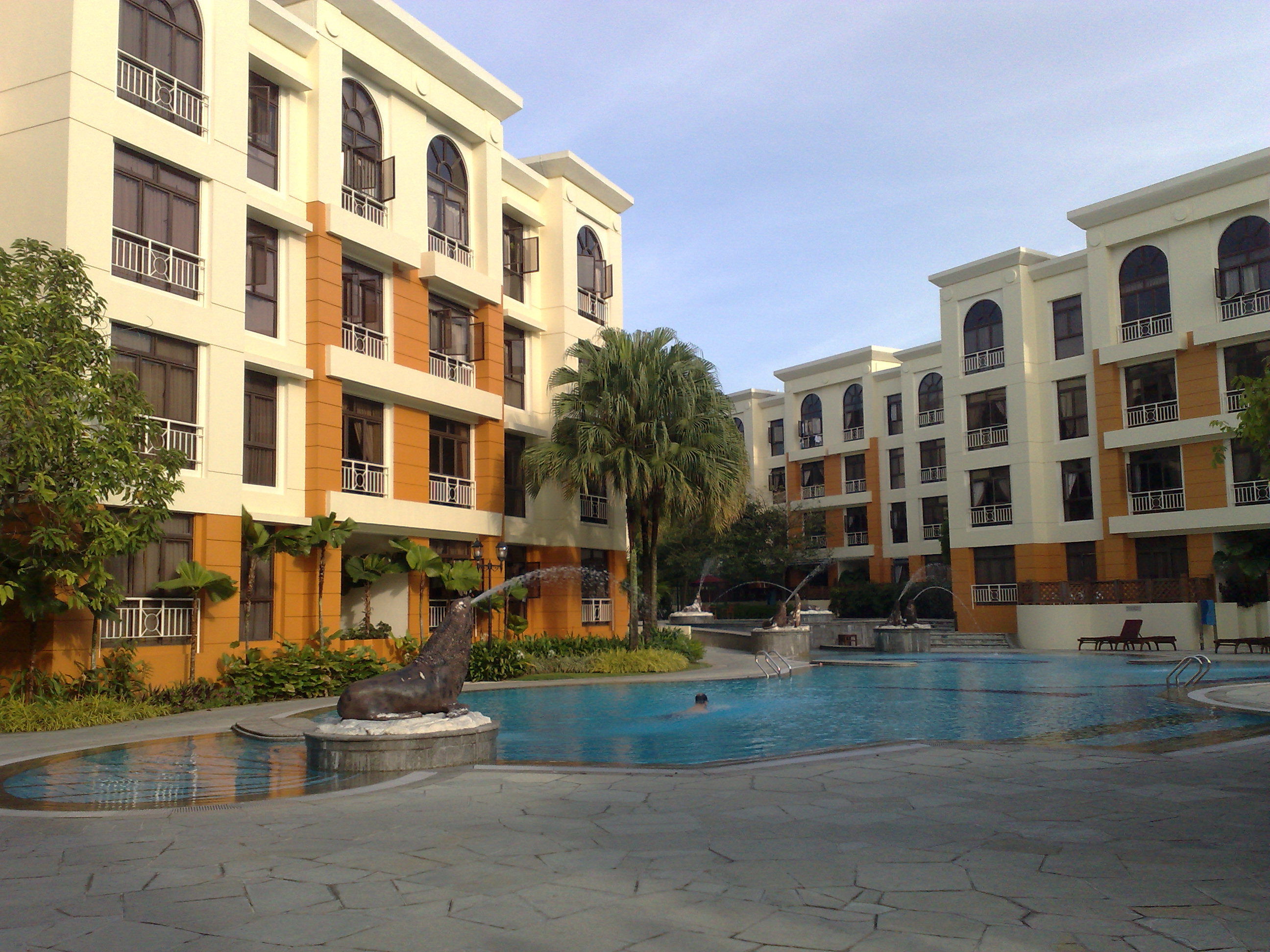 Condo details: Freehold, 1,350 square feet, 3 bedrooms, 3 bathrooms
$800 psf (Unit price approx. $1.08 million)
Seletaris is a spacious, freehold unit for a price of little over $1 million. It's ideal if you drive, since the closest MRT station (Yishun) is quite a distance away. However, the condo does run a free shuttle service to the station. This is a quiet development, just a few minutes away from Sembawang Shopping Centre.
This is a value buy, as the Sembawang is gradually being developed, and we feel it's a good price that allows a lot of room for future gain.
Key highlight:
If you don't like densely packed condos, and you want a development with a more spacious suburban feel, Seletaris is the home you're looking for. Also, the price is excellent for a freehold condo of this size.
The Santorini, 29 Tampines Street 86
Condo details: 99-year leasehold, 1,152 square feet, 3 bedrooms, 3 bathrooms
$1,152 psf (Unit price approx. $1.18 million)
The Santorini is expected to TOP in 2017. The development is named after the Greek island Santorini, and has a Greek resort theme. It's close to Bedok Reservoir, so that's a plus for residents into water sports.
In terms of location, most buyers are banking on the development of the Tampines Regional Centre. With the opening of planned retail and business spaces, and a downtown line MRT station, there's a lot of room for capital appreciation.
For now however, it's not one of the more central locations in Tampines (it's not close to the cluster of malls and offices near Tampines MRT station). But don't let that blind you to future prospects.
Key highlight:
The Santorini is close to Bedok Reservoir, and is a quiet enclave. For now, that makes it ideal for outgoing types who want to get away from the city (but there's no guarantee it will continue to be quiet after Tampines Regional Centre takes off).
Hedges Park Condo, 79 Flora Drive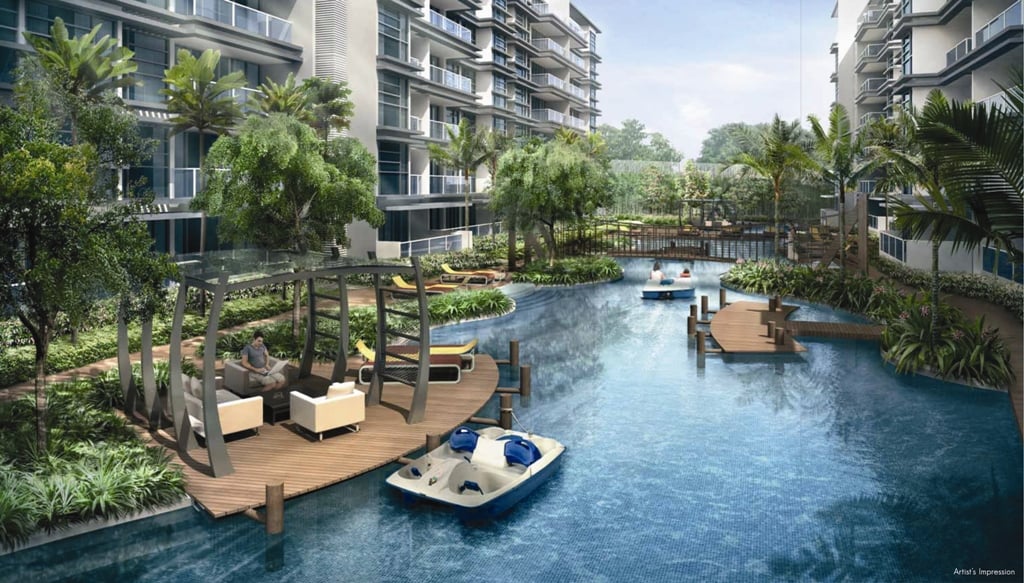 Condo details: 99-year leasehold, 1,087 square feet, 3 bedrooms, 2 bathrooms
$1,057 psf (Unit price approx. $1.15 million)
Located in the Pasir Ris area, Hedges Park is close enough to Tampines to share many of its amenities (like Tampines Mall). In the immediate area of Pasir Ris, most residents have their needs serviced by White Sands Mall. As is characteristic of this area, it's quiet and fairly low density, making an ideal home for those who actively dislike the bustle of more crowded areas. The development is iconic of laid back, east end living.
One drawback to note, however, is that there is limited accessibility. The nearest MRT stations (Tampines and Pasir Ris) are a little bit far, so it's preferable if you drive.
Key highlight:
For drivers, Hedges Park is a short hop away from a large number of amenities (many in the Tampines area). Think IKEA and Courts. You also have relatively easy access to the Singapore Expo, so you can be kiasu and score the early deals at the Comex sales (or whatever "hot" event comes up). You will also find the area to be peaceful, and lacking in crowds or road congestion.
Principal Garden, 95 Prince Charles Crescent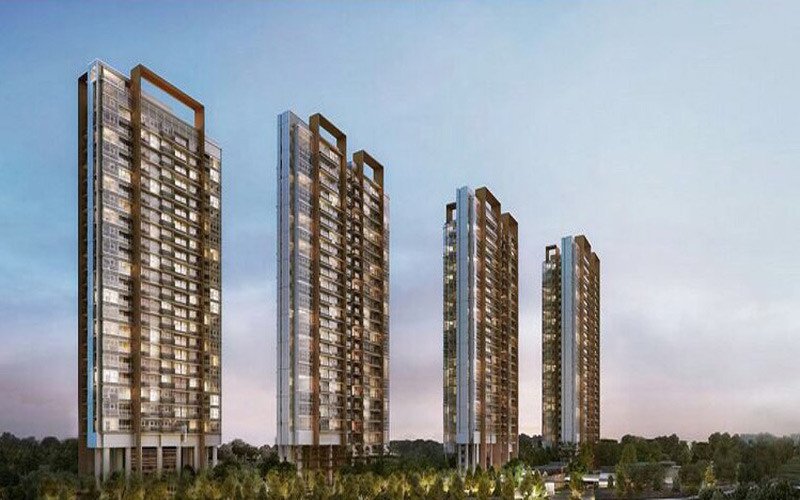 Condo details: 99-year leasehold, 764 square feet, 2 bedrooms, 2 bathrooms
$1,511 psf (Unit price approx. $1.155 million)
Principal Garden is expected to be complete in 2019. It's definitely an investment opportunity, as you seldom see properties in this luxury area at such a low price. For owner-occupiers, this is a chance to live a short drive away from places like Orchard Road, or parts of the Central Business District (CBD).
We daresay rental potential is also solid, given that it is on the fringe of Singapore's upper crust neighbourhoods.
Note, however, Principal Garden is not easily available by public transport. Redhill is the closest MRT station, and it is more than half a kilometre away. Still, it's probable that shuttle services will deal with this inconvenience.
Key highlight:
This is a rare opportunity to own a home near the CBD and the Orchard shopping belt, at an affordable price. We doubt you'll see another chance at this, for many years to come.
The Anchorage, 370A Alexandra Road
Condo details: Freehold, 936 square feet, 2 bedrooms, 1 bathroom
$1,335 psf (Unit price at an estimated $1.25 million)
The Anchorage is an older condo, but it's location boasts a lot of convenience. It's right across the road from Anchorpoint, a small mall (hence the name), and is within walking distance of IKEA. And as everyone knows, you can practically live on a diet of those Swedish meatballs. There is no MRT station nearby though, so this is a home for drivers.
Key highlight:
The Anchorage is directly across the road from a shopping mall and an IKEA. That's not enough?!
Kingsford Hillview Peak, 101 Hillview Rise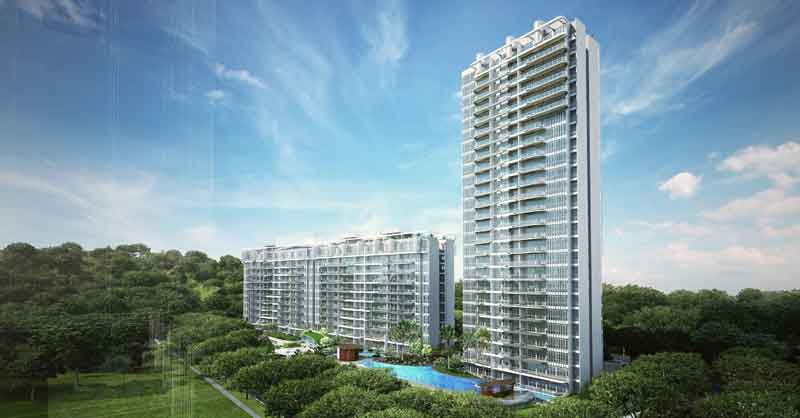 Condo details: 99-year leasehold, 829 square feet, 2 bedrooms, 3 bathrooms
$1,231 psf (Unit price at an estimated $1.02 million)
Hillview Peak, developed by Kingsford, is located in a private residential enclave traditionally considered a high rent area. If you want to hobnob with the atas crowd, and have a home with an upper crust aura, Hillview Peak is the way to do it without breaking the bank.
This condo is right in front of of HillV2, which is a small mall with a lot of upmarket amenities (think Dean & Deluca). Also nearby is The Rail Mall, which is a strip mall with a lot of small eateries and speciality stores. It actually feels a lot like you're living in a small town in America, albeit one of the rich ones.
Transport wise, it's serviced by the Hillview MRT, which is just five stops from the Botanic Gardens.
Key highlight:
You get to live in a peaceful, upmarket enclave that feels entirely detached from urban Singapore. The proximity of the Botanical Gardens, as well as Bukit Timah nature reserve, make this area an escapist fantasy for nature lovers. And did we mention it makes you look fancy, when you say you live around here? It totally does.
Lakeholmz, 82 Corporation Road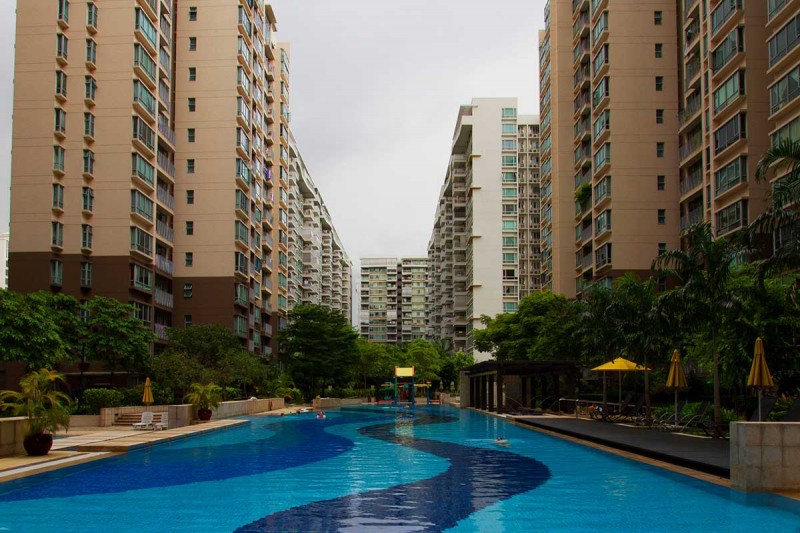 Condo details: 99-year leasehold, 1,238 square feet, 3 bedrooms, 3 bathrooms
$953 psf (Unit price approx. $1.18 million)
Lakeholmz is one of the older condos on this list (it was completed in 2005), but the residents have benefitted from the recent developments in the Jurong area. Back when they bought their units, Jurong was still something of a backwater. Today, Jurong is well on its way to becoming the second Central Business District (and just wait till the high speed rail to Malaysia is built – prices will go up even more).
Lakeholmz is a walkable distance from Lakeside MRT (less than 10 minutes), and it's about one train stop away from Jurong Point mall. That makes it close to a huge range of retail outlets and eateries. Also close by is the older Boon Lay Food Centre, and the Chinese and Japanese gardens (soon to be conjoined).
Key highlight:
Due to the development of Jurong, this area is now (or soon to be) as convenient as living in the CBD, but at a still affordable price. And unlike the earlier residents, you won't have a long wait while the amenities are built up.