HDB flats can occasionally throw up some surprising and downright weird discoveries. In recent weeks, a Tampines HDB resident has stirred public debate when someone exposed his outdoor koi pond. The pond was built on a communal space: atop a spare staircase of his ground floor HDB flat. Because of the attention he got, the owner has since been called to apply for a permit to do so, although MP Baey Yam Keng has spoken in favour allowing the resident to keep the tank, with certain conditions.
Well, this is not the first time a HDB resident decided to use communal shared spaces of our public housing for their own ends; here are 5 crazy things that have appeared outside HDB flats at one time or another, and how likely each item is likely to run afoul of the authorities:
#1: Herb garden
Not content with keeping a few potted plants outside of their HDB flats, some green-fingered HDB dwellers have set up sprawling herb gardens outside their flats. One such resident, Balan Gopal, has planted more than 200 herbs along the common corridor of his HDB flat, leading all the way to his floor's lift landing.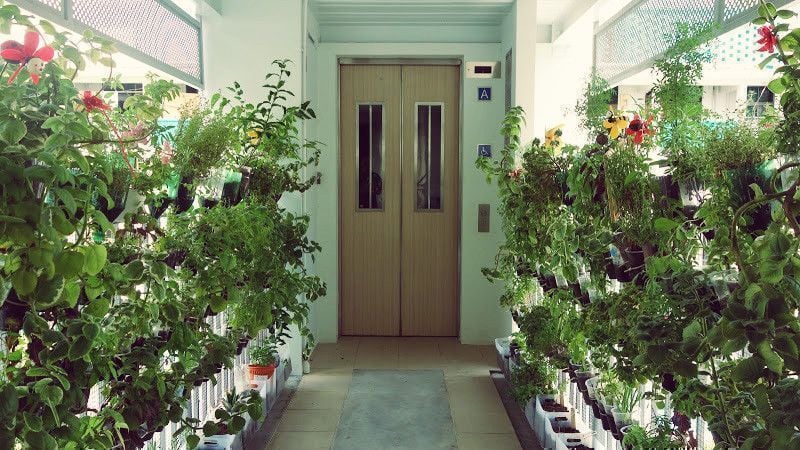 While we applaud the greenery in our heartlands and growing your own food, the garden does beg some questions: Will the placement of the plants drastically cut down on natural light reaching the corridor? Will it also compromise security, seeing that a bad dude might use the plants as cover? Will it start a uniquely Singapore #MeToo movement of residents wanting to colonising and fighting over common spaces?
As to whether HDB will mind such acts at all, sources we've spoken to suggests that the public housing authority operates on a close-one-eye basis. If there are no complaints from residents, they'll more often than not leave you and your beloved greens alone. But if you're an unpopular dude like, perhaps, Roy Ngerng, or have a face only your mother would love, expect complaints that will ultimately lead to a HDB or National Environmental Agency (NEA) officer knocking on your door.
And in the event that your estate gets identified as a dengue cluster, NEA officers will be doubly stringent with plants outside homes, and may require residents like Mr Gopal to take his hobby indoors.
Likelihood of getting into trouble: 2 out of 5 (somewhat unlikely)
[Note that if you spot precariously placed plant pots (i.e. on the ledge of corridors), alert HDB immediately as these are potential killer litter. Call the HDB Branch Service Line at 1800-225-5432.]
#2: Pet cages
Some Singaporean households have a love-hate relationship with pets. If you see a pet cage outside a neighbour's HDB flat, it's likely the poor pet is grudgingly accepted by the head of the household, likely in return for the love of a spouse or offspring.
Not that we want to butt our nose into our neighbours' family matters, but these pet cages are huge (especially if it's a dog cage). If you have kids, they might like the fact there's a cute animal in close quarters, but pet cages could constitute a obstruction hazard as they reduce the width of corridors to less than the 1.2m required for safe passage, wheelchair access and fire evacuation. The odour from an unclean pet cage can also make its way into your home.
Before you call the HDB or Society for the Prevention of Cruelty to Animals (SPCA) on your neighbour, however, you should always play the nice guy and talk to him/her and find out the rationale of banishing their pet outdoors. You could mention that you have seen suspicious folks lurking on your level, which could prompt the owner to move the pet cage indoors.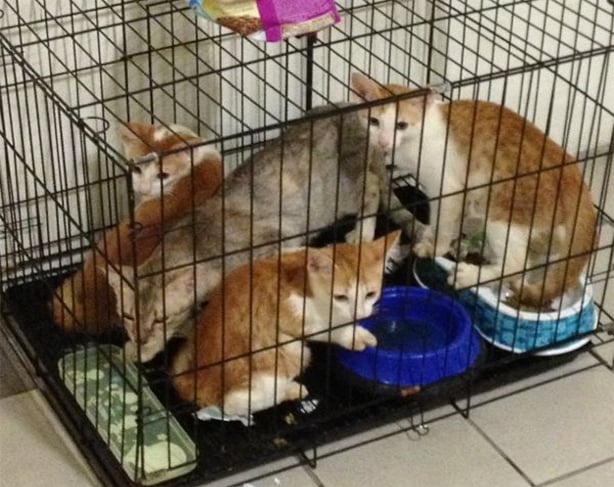 But if your neighbour is the type who keeps 19 cats in a makeshift, tented cat apartment outside his flat like this uncle in Redhill, perhaps you should take a more serious view on the matter for the good of the poor animals. In extreme cases such as these, the Agri-Food Veterinary Authority (AVA) will step in and investigate.
Likelihood of getting into trouble: 3 out of 5 (might invite complaints, depending on the severity)
#3: Chinese New Year decorations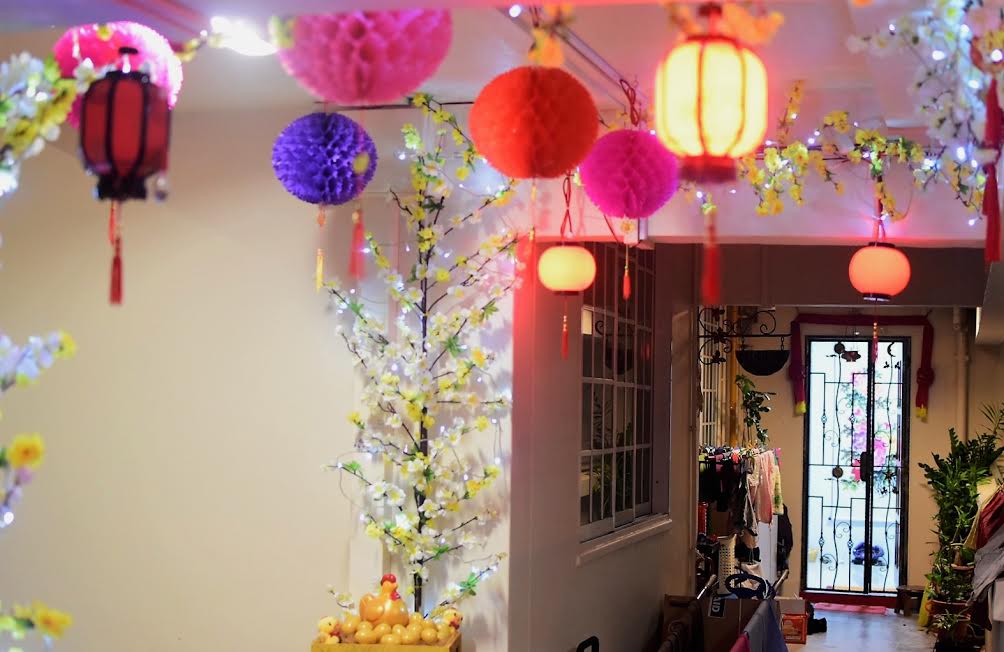 Finally, something we can live with. Some residents go all out to adorn not only their HDB flats, but also the common corridor outside their units, in festive decorations every Lunar New Year. Some even put up large murals, buffet lines and seating at lift lobbies. Although some of the decorations may call the owner's aesthetic sense into question, we haven't heard anyone complain about what's a seasonal occurrence.
Do note that the Singapore Civil Defence Force (SCDF) forbids the lighting of open flames in HDB common spaces, and that includes setting off sparklers.
Likelihood of getting into trouble: 1 out of 5 (unlikely)
#4: Refrigerators
In 2017, things got heated when two neighbours lost their cool over seven refrigerators placed along the common corridor of a HDB block in Simei.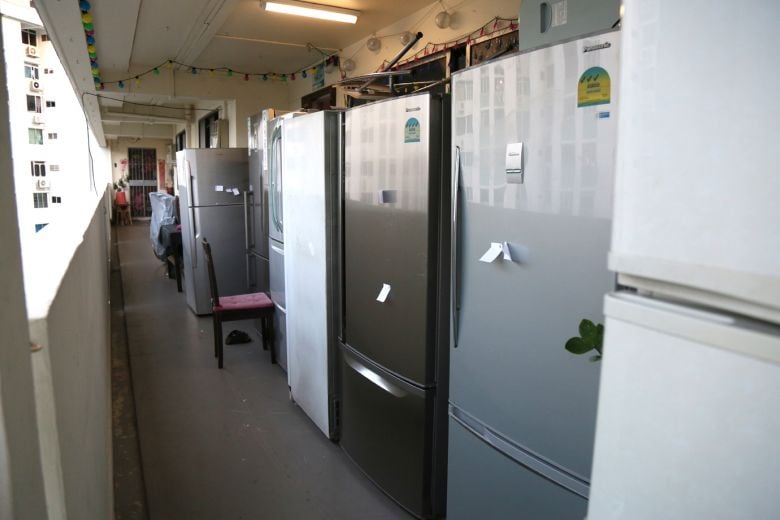 Quite why anyone would horde seven used refrigerators is anyone's guess. The episode came to a swift end, when a complaint was lodged with the Town Council managing the estate. The Town Council swiftly issued a notice ordering the removal of the refrigerators by the following day, and the offending resident duly complied.
Note that if you live in a HDB flat, your town council would often offer a free bulky item disposal service, up to a certain number of items per unit per month. That's reason enough for anyone not to leave any furniture or household appliance lying outside the flat.
Likelihood of getting into trouble: 5 out of 5 (asking for it)
#5: Human beings
Well, turns out it's not only weird objects that take up space in HDB common areas, but living and breathing human beings, too. In 2016, the Straits Times reported a mother-daughter pair who chose to sleep outside the front door of their HDB flat in Ang Mo Kio, because they were hoarders who had crammed their actual flat with stuff. They shielded themselves from the bright corridor lights with two open umbrellas.
Needless to say, neighbours were riled up. To make matters worse, the hoarders would do weird stuff, such as washing dishes outside of their flat using 1.5-litre water bottles. "They would pour away the greasy water, and some of it would flow over here," an affected neighbour told The Sunday Times. The mother-daughter duo also cluttered the staircases with their belongings, heightening their socially-unacceptable behaviour.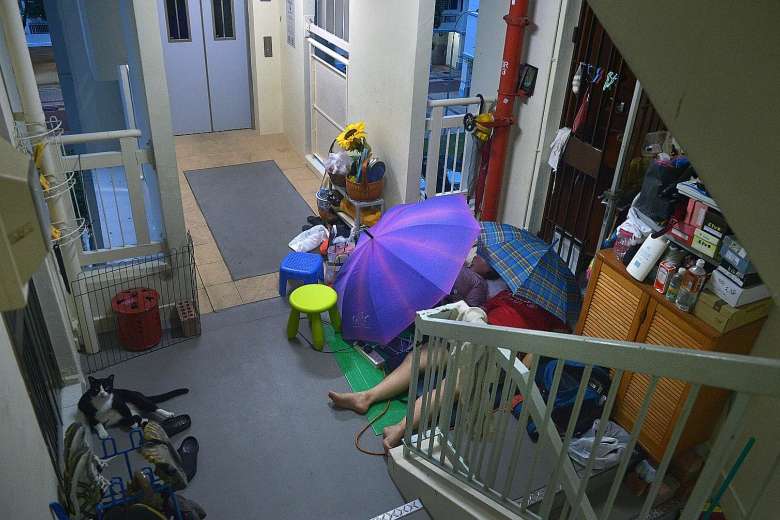 While the Nee Soon Town Council, who has jurisdiction over HDB common spaces, clears the clutter in the common area regularly (after serving one-week notices to the hoarders each time), they were reported to have declined help from the Town Council to help remove excess stuff from inside their home. The matter is currently being handled by both the Town Council, HDB and social workers, who have all of our respect for dealing with these issues just so we can all have a better shared living environment!
Likelihood of getting into trouble: 5 out of 5 (duh.)
Know worse stuff left outside HDB flats? Share your story with us in the comments section or on our Facebook community page.
If you liked this article, 99.co recommends 9 questionable HDB rules you probably didn't know about and Neighbour Disputes: What Can You Do?
Looking for a property? Find your dream home today on Singapore's largest property portal 99.co!