I was recently invited to speak at the Investors Exchange organised by BIGScribe – a half-day seminar offering retail investors useful investment advice and concepts from successful investors.
For the purpose of this piece, I could have chosen the title "7 Common Mistakes of Singapore Property Buyers". But no one likes to admit that they have made a mistake. So I call it "7 Deadly Sins" instead to highlight the sinful "temptations" faced by many property buyers.
Sin #1: The "worship" of properties
Singapore is a property-crazy nation and Singaporeans are property-obsessed.
What is the Singapore dream?
Firstly, apply for an HDB or BTO flat. Then upgrade to an executive condo or private condo after five years. Next, save enough money for a second private property for investment.
Can you see that the whole life of a Singaporean revolves around properties? As we upgrade from one type of property to the other, we are also paying off one mortgage to another until the day we retire.
Property is our life goal. Property is what we live for. We pin our hopes on property ownership and investment. Every time after we buy a property, we pray very hard that its value will go up.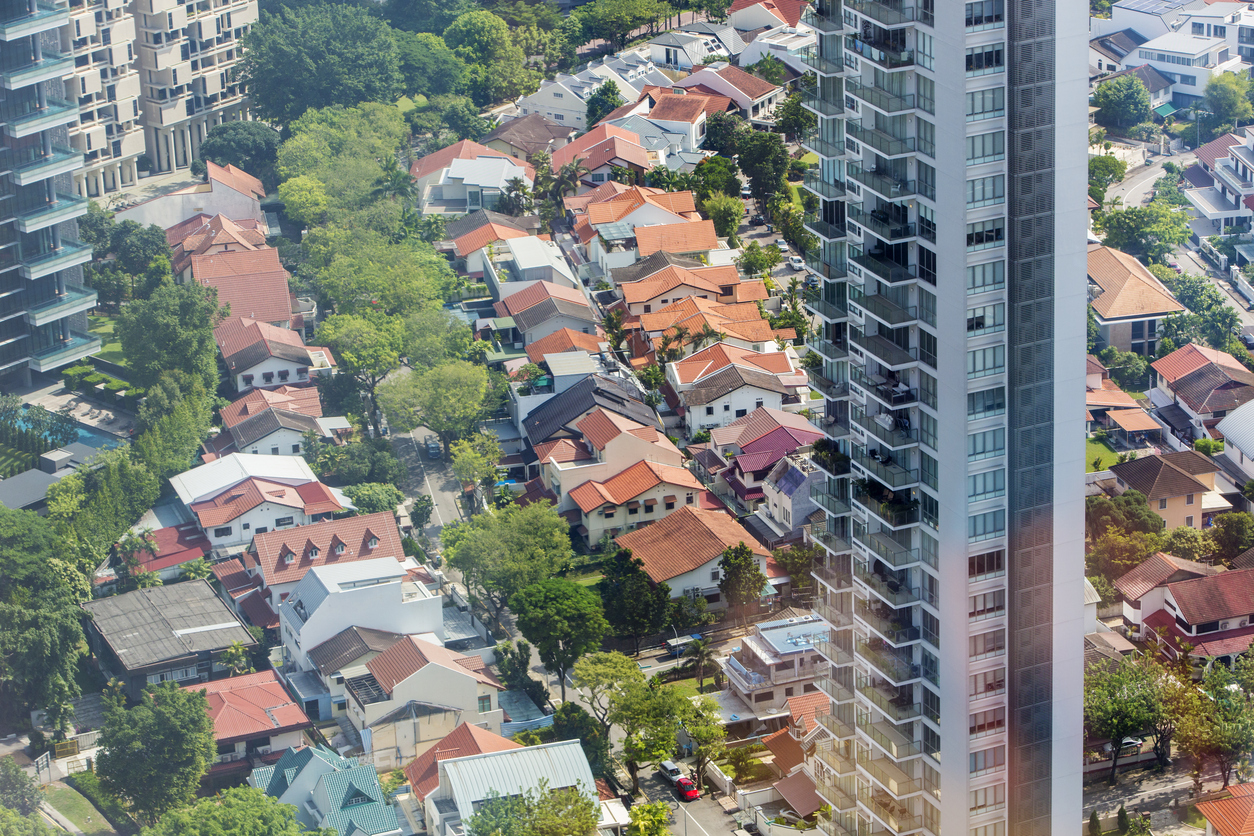 In fact, the desire of home ownership and improvement has long been flowing in our blood.
This could be traced back generations ago when our ancestors landed on this Little Red Dot to look for a better life. Once they settled down and started their families, they wanted to have a place to call home.
In the last 50 years, Singapore has evolved from an emerging market to a developed country. With improved infrastructure, stable economy and easy financing, housing prices have multiplied many times.
That gives local property buyer the faith (and illusion) that the value of properties will continue to go through the roof in the coming decades. But we forget that the GDP growth in this mature country can never go back to where it was decades ago.
Sin #2: Looking for free advice
As a property blogger, a common message I receive in my mailbox reads like this: I am a 44-year-old with two school-going children. Our monthly household income is $xx,xxx and we have a combined savings of $xxx,xxx. We have an outstanding loan of $xxx,xxx for our 4-room HDB flat and we are planning to upgrade to a condo (or buy a private property for investment). Do you think it's the right time to buy? What do you think about condo X and condo Y? Which layout is a better buy …
Do you know what is the problem of asking for free advice?
Because I don't know you, I can only offer you general advice based on assumptions.
Because it is free advice, I know you will either take it at face value, or trust me half-heartedly and forget about the whole thing.
If the advice helps you in some way, you will most likely forget to thank me. If the advice influences you to make the wrong decision, you will conveniently put the blame on me.
Time is a precious resource for all of us so it's best invested in activities that reap measurable returns (both for you and me). If you're about to make a million (or multi-million) dollar decision, would asking for free advice be in your best interest? 
Ask yourself: When you need advice for a big business deal or in a tricky lawsuit, will you go for paid and professional advice, or just settle for free advice off the Internet? 
Sin #3: The herd mentality
Do you know what is Singapore's national sports?
Swimming? No. Running marathons? No. Shopping? Try again.
Queuing is what we are good at.
It is a no-brainer to join the longest queue in front of the hawker stalls because the food must be good. Any hawker can get ten people to stand in front of his stall to draw another ten "real customers" joining at the end of the queue.
We like to play safe and go along with others. Who wants to be guinea pigs when buying big ticket items like properties? The bigger the crowd in the sales gallery, the better buys the new project.
A lot of property buyers are not aware that it is the job of the marketing agent to ensure that the carpark, showflats and discussion tables must look full at least during the first weekend of the new launch.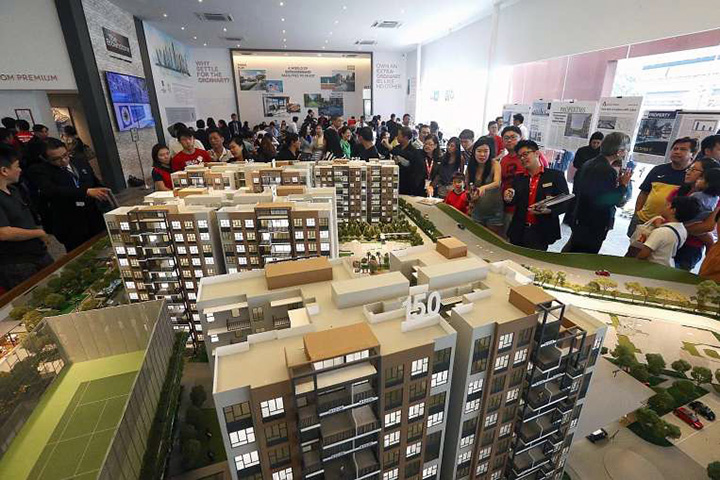 But reality can be cruel.
With sky high asking prices, the psf of commercial units in mixed development properties can reach as high as $7,000 psf. I have heard of commercial shop lots being snapped up on the first day of a property launch, only for buyers to face dismal occupancy rates, poor (or non-existent) rental yield and low footfall a few years later.
On 28 June 2013, the Monetary Authority of Singapore introduced the Total Debt Servicing Ratio, shortly after the launch of a new project in the market. Property buyers who had submitted their cheques for balloting suddenly found themselves in the market with a new rule that had far reaching consequences.   
The two scenarios I have painted are neither unique or new. The same thing happened before when buyers entered at the peak of the property market in droves in 1995, 2000 and 2007.
Many people buy properties without doing much homework, thinking that property prices will go up indefinitely. Such a "kiasu" and herd mentality can be dangerous for the everyday property buyer on the street. It is ironic that we find it easier to accept our investment loss than to realise that we miss a buying opportunity. Even though we regret about the wrong purchase, it is a "relief" to see that there are many people who are in the same boat.
Sin #4: Trust the media and conventional wisdom
"Mass media reflects and also influences sentiment, and most of it has become steadily more groundthink … Modern media makes it pretty easy to spot widely held beliefs and mass sentiment. The media will only rarely quote anyone outside the herd or anti-herd."
–        Ken Fisher, Beat the Crowd: How You Can Out-Invest the Herd by Thinking Differently
Property buyers tend to trust what is published in the media which unavoidably has a tendency to interview all the industry stakeholders and quote their comments in catchy headlines.
This is no difference from asking the fishmongers whether the fish is fresh today. It is equally awkward to ask anyone working in the property industry questions that obviously attract answers with vested interests.
"Humans accumulate a lot of knowledge, and 95 per cent of that knowledge is not true. Instead of using knowledge as a tool for communication, we become puppets of knowledge. We give life to that knowledge, and that knowledge begins to create a lot of drama and suffering because it isn't based on truth."
 –       Don Miguel Ruiz, The Four Agreements Companion Book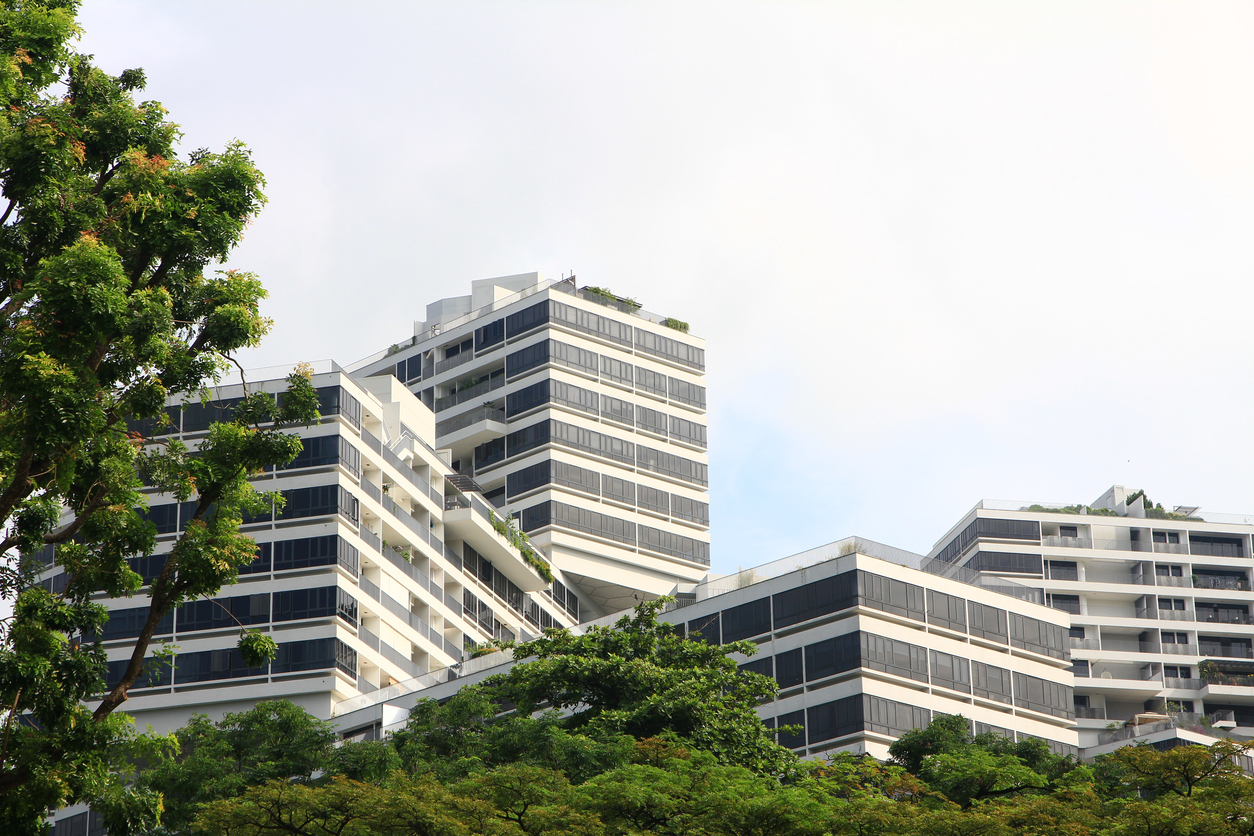 When it comes to buying our homes, we tend to trust conventional wisdom, without verifying the facts behind those traditional beliefs. These include but are not limited to:
– Freehold is better than leasehold.
– Brand new is better than resale properties.
– Any time is a good time to buy.
– Property prices will always go up.
– Putting money in properties is better than putting money in banks.
It's better to be slapped with the truth than kissed with a lie. Do your own research and be clear-headed to avoid making the same mistakes that everyone else is making.
Sin #5: Avoiding legwork
We can spend hours and hours researching and test-driving while shopping for our next car. But buying a home can be a very different story.
There are some property buyers who limit their choices to new projects being advertised at that time. We walk inside a sales gallery and book a unit in an hour's time. We follow the property agent to eight to ten places and find that they look the same. Why waste time on more viewing appointments?
There may be over 10,000 resale transactions of private residential properties this year. How many buyers have done their homework to study Singapore's property cycles, past transactions and government policies in last three decades? How many bother to do their personal research to look for a good bargain, housing loan, property agent, or conveyancing lawyer?
I cannot stress this point further – in order to make a sound property-related decision, you have to do all the necessary homework which requires time, effort and patience.  
Sin #6: Overstretch financially
We listen to the media, property agents and bankers who show us how property buyers can afford their dream home. We are motivated when we see other property buyers with equal or lower affordability going into the market now.
That's why many feel like a slap on their face when I share the 3-3-5 housing affordability rule.
As a conservative value investor, I bought all my private properties strictly in compliance with my 3-3-5 rule. I know many buyers who can do the same, if not better.
It is not it can't be done. It is people who don't know that it can be done, or they choose to believe that it can't be done.
And don't forget that I bought and profited from mortgagee sale and fire sale properties before, from property buyers or investors who overcommitted or overstretched in a boom market. I certainly hope that you won't be the next one.
Sin #7: Fantasize about being landlords
Remember the Singapore dream of buying a second private property for rent? Or staying in a newly bought condo while renting out our HDB flat for passive income. To many, this is an important step to financial freedom and early retirement.
Whenever I go for a flat viewing, I ask the property agent why the owner is selling. An answer I often get is: it is not easy to be a landlord. The owner finds that there is too much hassle managing the tenants, compared with the humble rent he collects.
I wrote a previous blog post on "Dealing with 4 types of tenants from hell".  The reality is: Tenants from hell are not limited to four types, with infinite possibilities and permutations.
There's no "Being a Landlord 101" manual out there offering one-size-fits-all solutions for all aspiring landlords out there. There are many things to learn – sometimes through hands-on experience, others through painful experience.  Above all, you need the right character and knowhow to be a good landlord.
It is certainly a rewarding experience to be a landlord. But make sure you learn all the tips and tricks before you look for a tenant.
If you enjoyed reading this article by Vina Ip, check out her previous article on Chinese developers: who exactly are they?
This article was written by Vina Ip, expert property blogger, bestseller author and founder of Property Club Singapore on behalf of 99.co. As a property investor, Vina frequently researches and blogs about the Singapore property market, which you can read for free.
Find the home of your dreams today at Singapore's largest property portal 99.co!