Even as we fight Covid-19, dengue fever remains one of the biggest health threats in Singapore. So far in 2020, there has been 16 deaths arising from dengue infection. All 16 deceased contracted the deadly disease within dengue clusters identified by the NEA.
And as of 14 July, a total of 17,249 dengue cases have been recorded in 2020, exceeding the 15,998 cases recorded for the whole of 2019.
Dengue fever is mainly spread via the bite of a species of Aedes mosquito called Aedes aegypti. The mosquito can be distinguished by white markings on its legs and a U-shaped marking on the upper surface of its thorax (i.e. its midsection).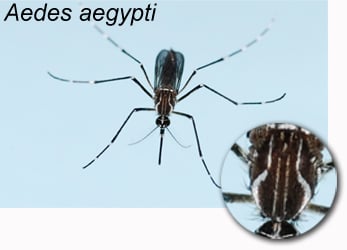 While there's a related species by the name of Aedes albopictus that has a white central band on its thorax, it does not transmit dengue fever as effectively as Aedes aegypti, according to NEA.
Dengue fever does not spread from person to person. Some dengue cases can become severe. If treated, severe dengue has a mortality rate of 2%-5%. With early detection and access to proper medical care, the mortality rate of dengue fever may be lower than 1%.
What is a dengue cluster?
A dengue cluster is a localised area where two or more dengue cases have been recorded less than 14 days apart and within 150 metres of each other (including both residential and non-residential addresses). The NEA carries out intervention measures (e.g. fogging) in areas identified as dengue clusters.
A dengue cluster is additionally classified into three types:
High-risk ('

Red

'): an area with 10 or more cases
High-risk ('

Yellow

): an area with less than 10 cases
Previously high-risk ('

Green

'): an area with no new cases in 14 or more days, and is under surveillance for the next 21 days
Here's the dengue cluster map of high-risk areas in Singapore (updated daily).
You may zoom in and click/tap on the highlighted high-risk areas to see how many dengue cases have occured in an area.
(Note: Map data is updated at 1am daily. You may need to clear your internet browser cache after each visit to view the latest information.)
Regardless, of whether you're living in or outside of a dengue cluster, it's important to watch out for possible breeding grounds.
Typical aedes mosquito breeding habitats:
Still natural water bodies (e.g. puddle, tree holes)
Artificial water containers holding stagnant water (e.g. plant pots, clogged roof gutters and household water storage containers)
Top 5 breeding habitats for Q1 2020 by NEA (Provisional)
| | | |
| --- | --- | --- |
| | Top 5 Breeding Habitats in Homes | Top 5 Breeding Habitats in Public/Common Areas |
| 1 | Domestic containers (e.g. pails) | Covered perimeter drains |
| 2 | Ornamental containers (e.g. vases) | Discarded receptacles |
| 3 | Flower pot plates and trays | Gully traps |
| 4 | Water fountains | Covered carpark drains |
| 5 | Toilet bowls and cisterns | Inspection chambers |
You may report suspected breeding spots, mosquito sightings to NEA via this form.
Dengue prevention tips according to the property you live in
To breed, mosquitoes only need a area of stagnant water the size of a 20-cent coin, so it's important everyone plays an active role in preventing dengue fever with frequent checks, starting with their own homes:
If you live in a HDB flat:
Do the following to prevent your surroundings from becoming a breeding ground for mosquitoes:
Change water in vases/bowls on alternate days
Store all water storage containers upside down, and pay attention to lips of pails and basins that can collect water
Clear water from flower pot plates on alternate days
Cover bamboo pole holders when not in use
Pay attention to common corridors for any drain blockages or trapped stagnant water
If you live in a condo/gated community:
Condo residences should take measures similar to those living in HDB homes to ensure there are no mosquito breeding ground within their units. Condominium managements are also required do the following:
Every week, condo staff (e.g. cleaners) should check for mosquito breeding in the following places:
Unused containers in open areas and under bushes
Open and closed drains
Gully traps
Ground puddles
Tree holes and bifurcations between branches, leaf axils of banana trees, Travellers Palms and other palms
Outdoor litter bins
Scupper drains in common corridors and void decks
Bin centre (particularly perimeter drains, gully traps, discarded receptacles and stored bulk bins inside and around the bin centre)
Scupper drains, perimeter drains and sumps of basement or multi-storey car parks.
Flower troughs, plant boxes and plant pots
Ponds and fountains
Air-conditioner trays
Rooftop, pump room, and water tanks
Any other containers
Every fortnight:
Check roof drainage and gutters of condominium buildings, bin centres, walkways, and other buildings or structures with roof drainage.
Apply sand granular insecticide to gully traps, manhole cover handle depressions, lightning conductor pits, stop-cock pits, valve chambers, and sumps.
Ensure water tanks are properly covered, and that all drainage outlets are properly sealed.
Where there's potential mosquite habitats or evidence of breeding found during the inspection, the management is obliged to take action and treat all potential breeding habitats with insecticide. They may advise owners to do the same.
Residents should report all breeding detected, as well as potential breeding habitats observed, to the condominium management so that appropriate interim or permanent measures can be taken.
Fogging treatment should only be done when there is a mosquito nuisance problem or disease outbreak.
If you live in a landed property:
The dengue prevention measures for residents of landed property are more extensive and require greater effort and vigilance. This video by NEA illustrates the things that residents of landed homes should do/look out for:
(Note: Be sure to take appropriate safety measures when cleaning roof gutters!)
If your current home is within a dengue cluster, you may also take the following preventive measures:
Apply mosquito repellant and keep your arms and legs covered
Sleeping under mosquito nets
Wire-mesh your windows
Spray insecticide in dark corners of your home
What are the symptoms of dengue fever?
When a person is bitten by a dengue-carrying mosquito, symptoms may develop after an incubation period of 4 to 7 days (may range from 3 to 14 days), according to the Singapore Ministry of Health (MOH). Up to 75% of dengue infections are asymptomatic.
Seek immediate medical treatment if you develop the following symptoms:
Sudden onset of fever for 2-7 days
Severe headache with pain behind the eyes
Joint and muscle pain
Skin rashes
Nausea and vomiting
Mild bleeding (e.g. nose or gum bleed, or easy bruising of the Symptoms usually appear 4-7 days after being bitten (ranges from 3-14 days).
In rare cases, dengue fever may progress to dengue hemorrhagic fever or dengue shock syndrome. These are severe forms of the infection that can result in death. Usually developing after the patient starts to recover from the initial infection, symptoms of severe dengue may include:
More severe bleeding problems (gum bleeding, nose bleeding, bleeding into the skin and internal organs, black/tarry stool)
Plasma leakage (abdominal pain, persistent vomiting)
Seek medical attention immediately if you think you have dengue fever, even if you're not living in a dengue cluster.
Is there a dengue vaccine?
Yes, there's a vaccine for dengue fever that's been approved by the Health Sciences Authority (HSA). The vaccine is suitable for persons aged 12 to 45 years old. The MOH recommends consulting your doctor to find out if you're suitable for the dengue vaccine.
Bookmark this page to see the latest dengue clusters in Singapore at a glance.
If you found this article useful, 99.co recommends 7 Effective Ways to Get Rid of House Lizards and How to Get Rid of Mice with Natural Ingredients
Looking for a property? Find your dream home on Singapore's most intelligent property portal 99.co!