A place for nourishment, the kitchen has a significant place in all homes. Lately, Singaporeans have upped the game even further by turning home kitchen interiors to beautifully designed spaces.
Here are five ideas that'll help you design a kitchen you can be proud of:
Idea #1: Make a monotone (not monotonous) statement
This kitchen's design aims to make a statement by breaking free of design norms with a subtle yet modern approach. It starts by pairing muted elements that do not draw much attention to it, such as the grey floor tiles and laminates on handle-free storage compartments, with a dramatic focal point.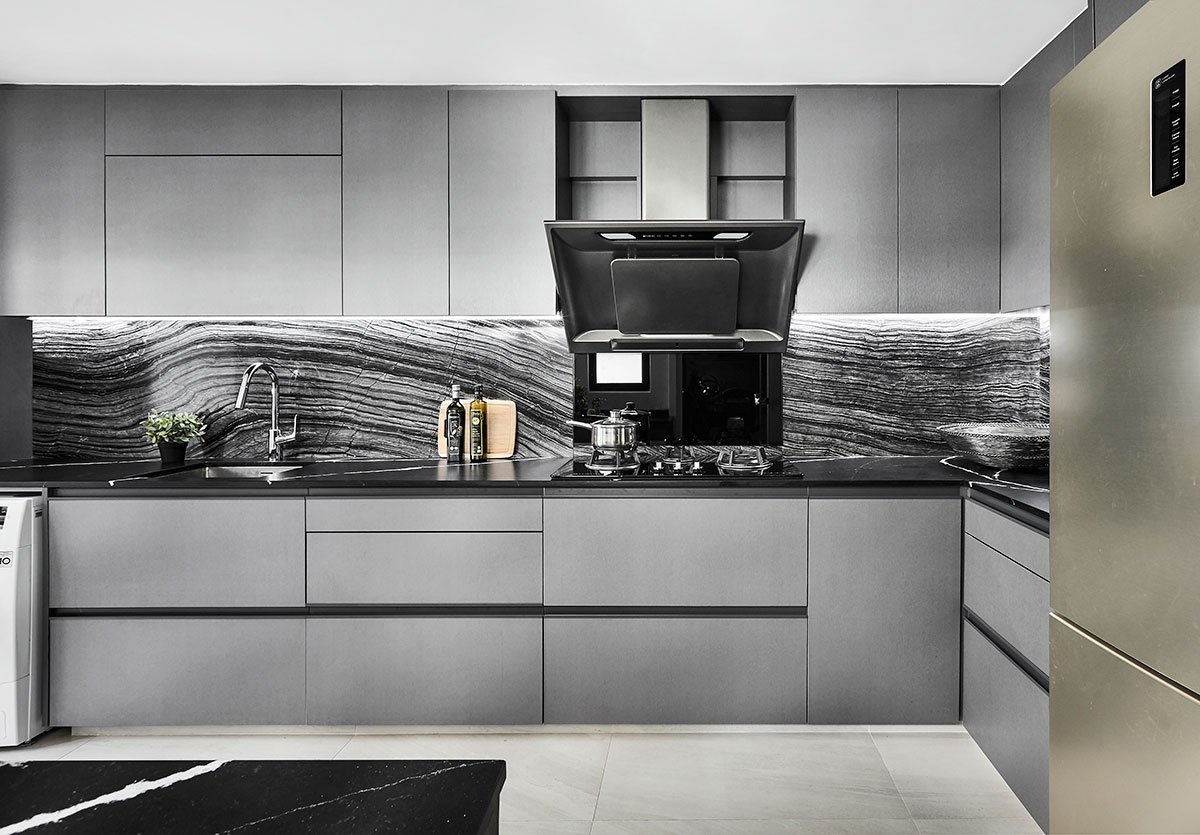 In this case, the focal point is a richly-veined marble backsplash that's full of detail and intrigue, no matter how many times you look at it.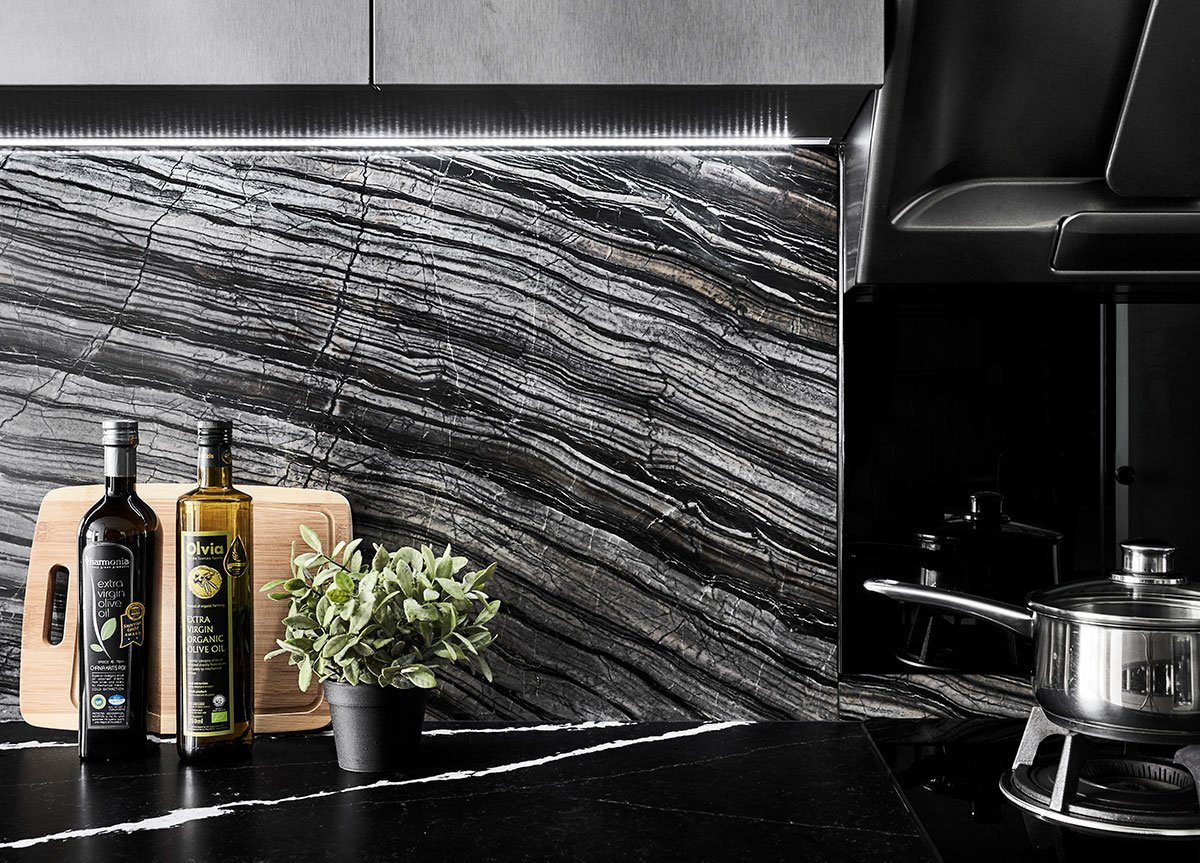 Meanwhile, the onyx-hued, minimally-veined quartz countertop acts as an intermediary—a classy transition between the backsplash and cabinetry.
Tip: If your kitchen has predominantly black hues, you'll definitely need under cabinet lighting to really bring out design details and textures.
[Project by Icon Interior]
Idea #2: Deploy geometry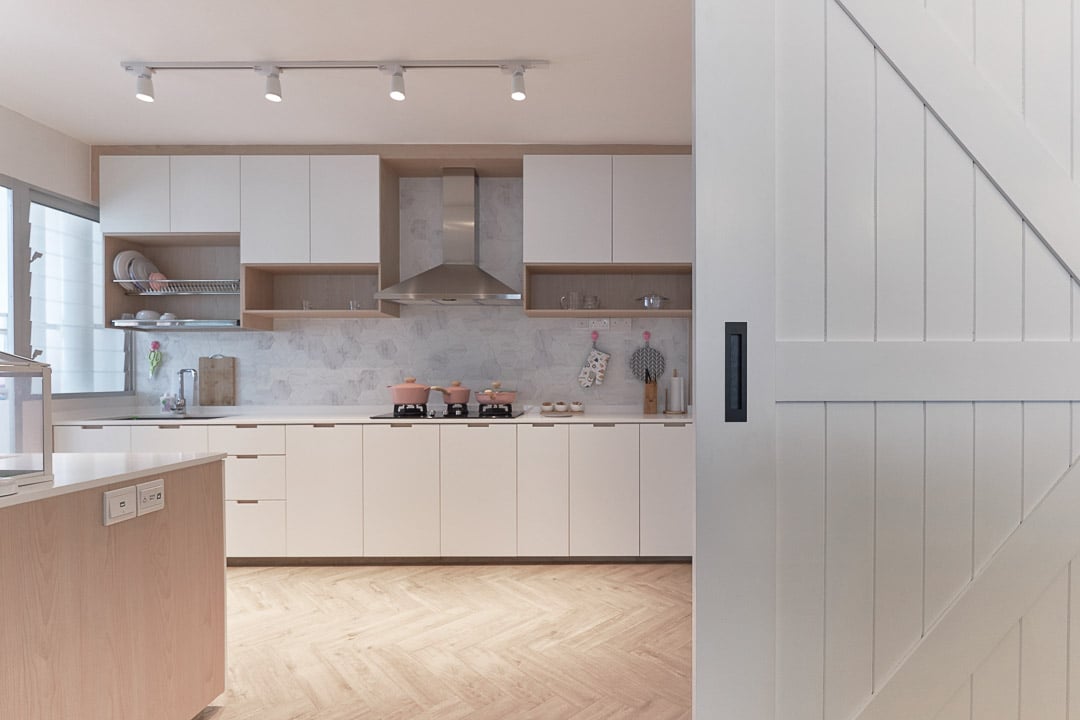 Looking for something a little lighter than a black-themed kitchen design? This soft, cosy style might be exactly what you're looking for.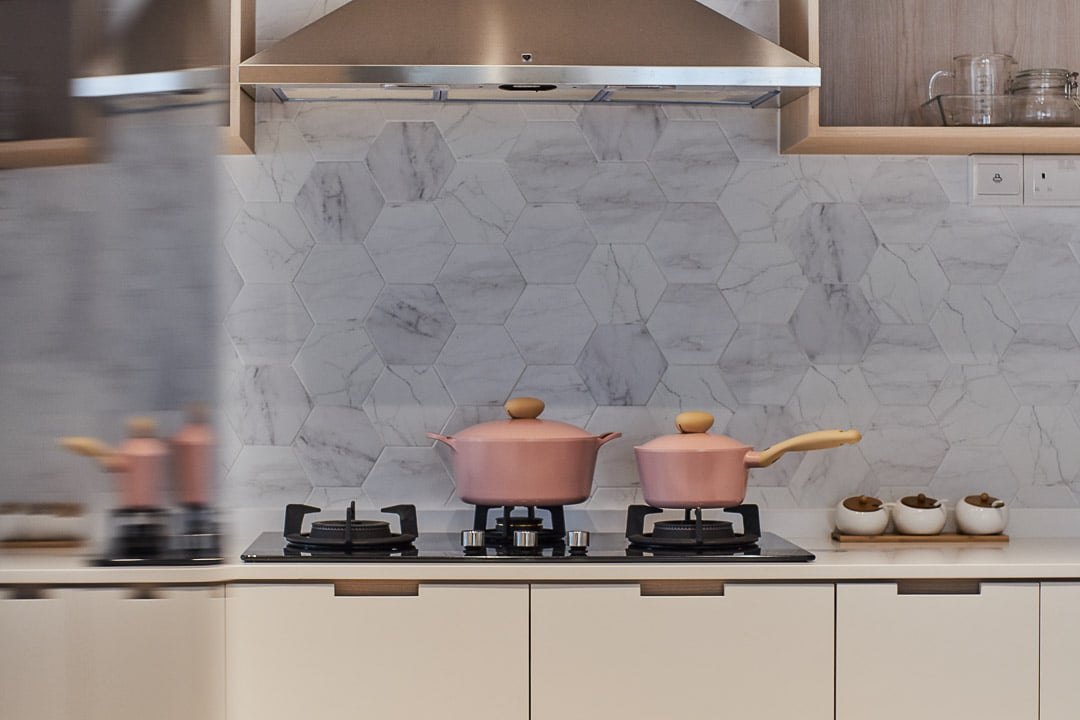 At first, this looks like a blend of Scandinavian meets American cottage. Look closer and you'll find that wooden floor tiles (arranged in a herringbone pattern) and the hexagon-tiled backsplash provide plenty of visual interest without being in-your-face.
Tip: Make sure the hues of your 'wooden' elements (e.g. tiles, cabinetry skirtings) match. Otherwise they'll be distracting.
[Project by Lemonfridge Studio]
Idea #3: Use gold as the bridge between classic and modern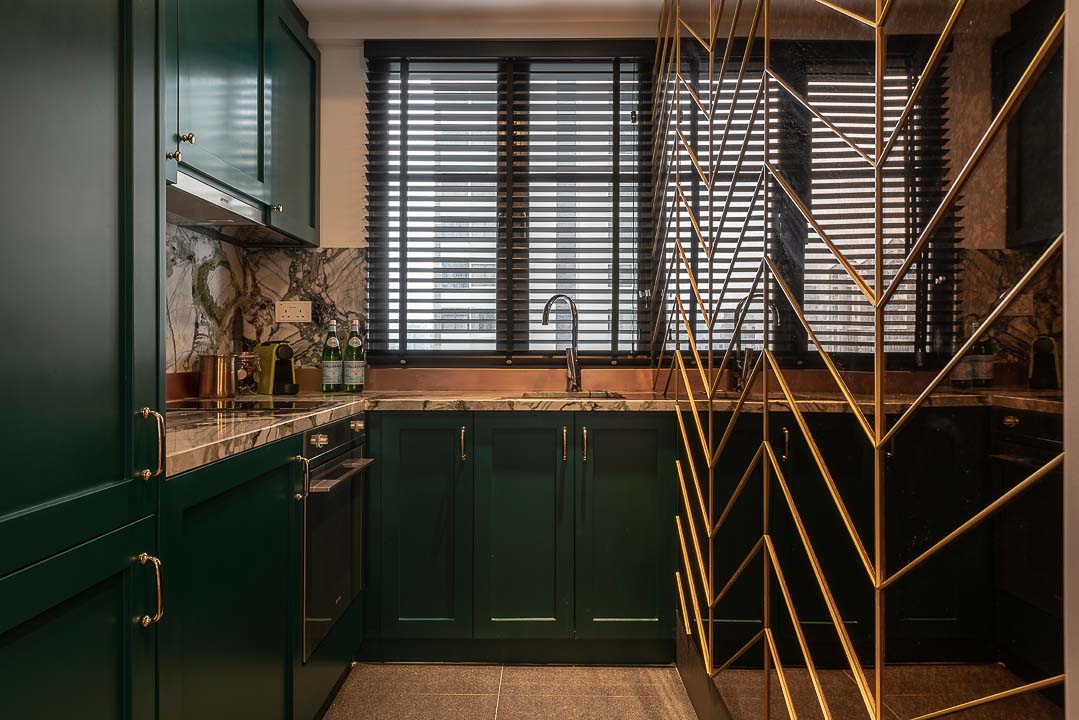 Exotic and stylish, this kitchen showcases the use of 'jungle green' as a primary hue and gold as an accent colour.
Here, the designer has astutely blended classic and the modern; wainscoted kitchen cabinet panels with old-style gold handles and knobs contrast with a gold-trimmed tinted mirror directly opposite.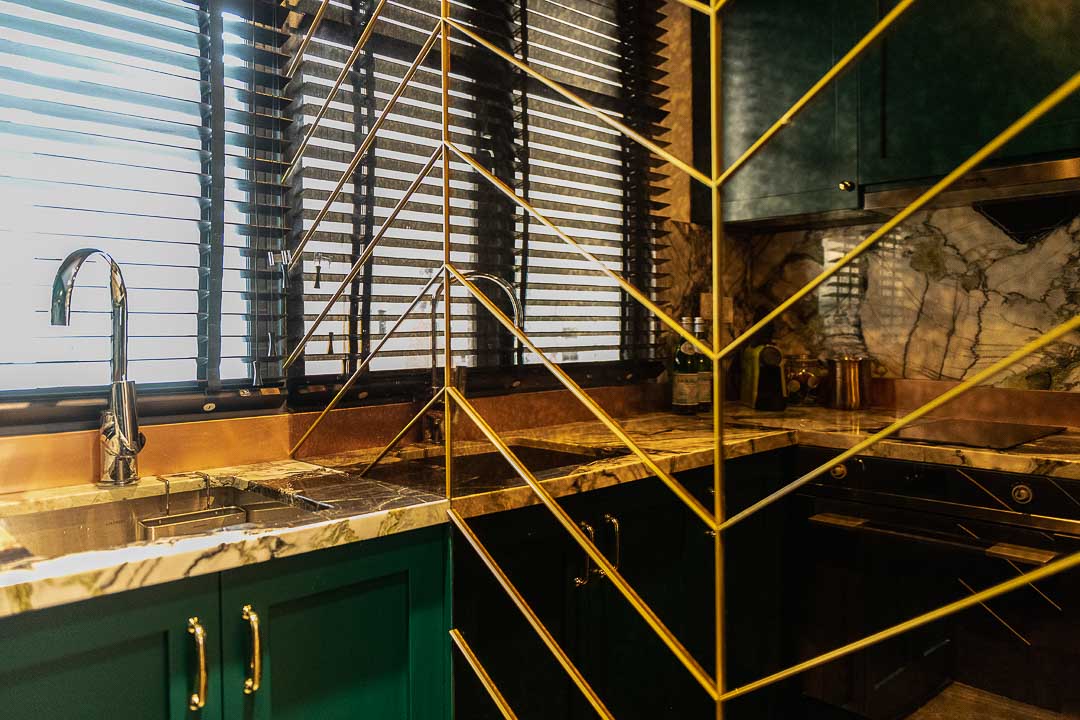 The angular gold accents of the mirror extend from floor to ceiling like the veins of a leaf, giving depth of meaning to the use of 'jungle green' and lending a very classy vibe to the kitchen space.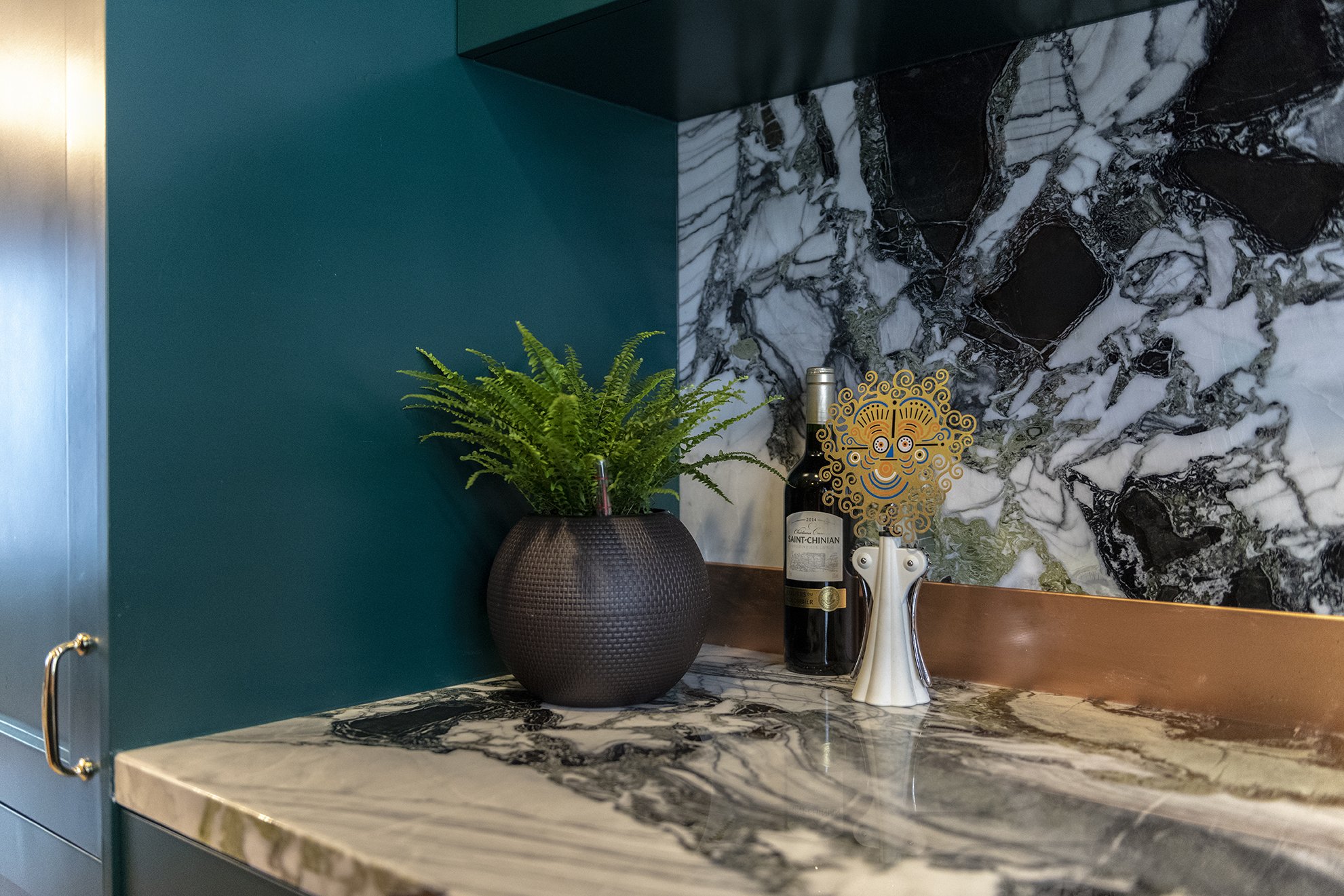 To further emphasise elegance and timelessness, a black and white marble with rich veining was chosen as the countertop material.
Tip: If you have a small kitchen, consider using tinted mirrors to craft the illusion of a larger space with understated style.
[Project by Aiden T]
Idea #4: Do minimalism with a retro twist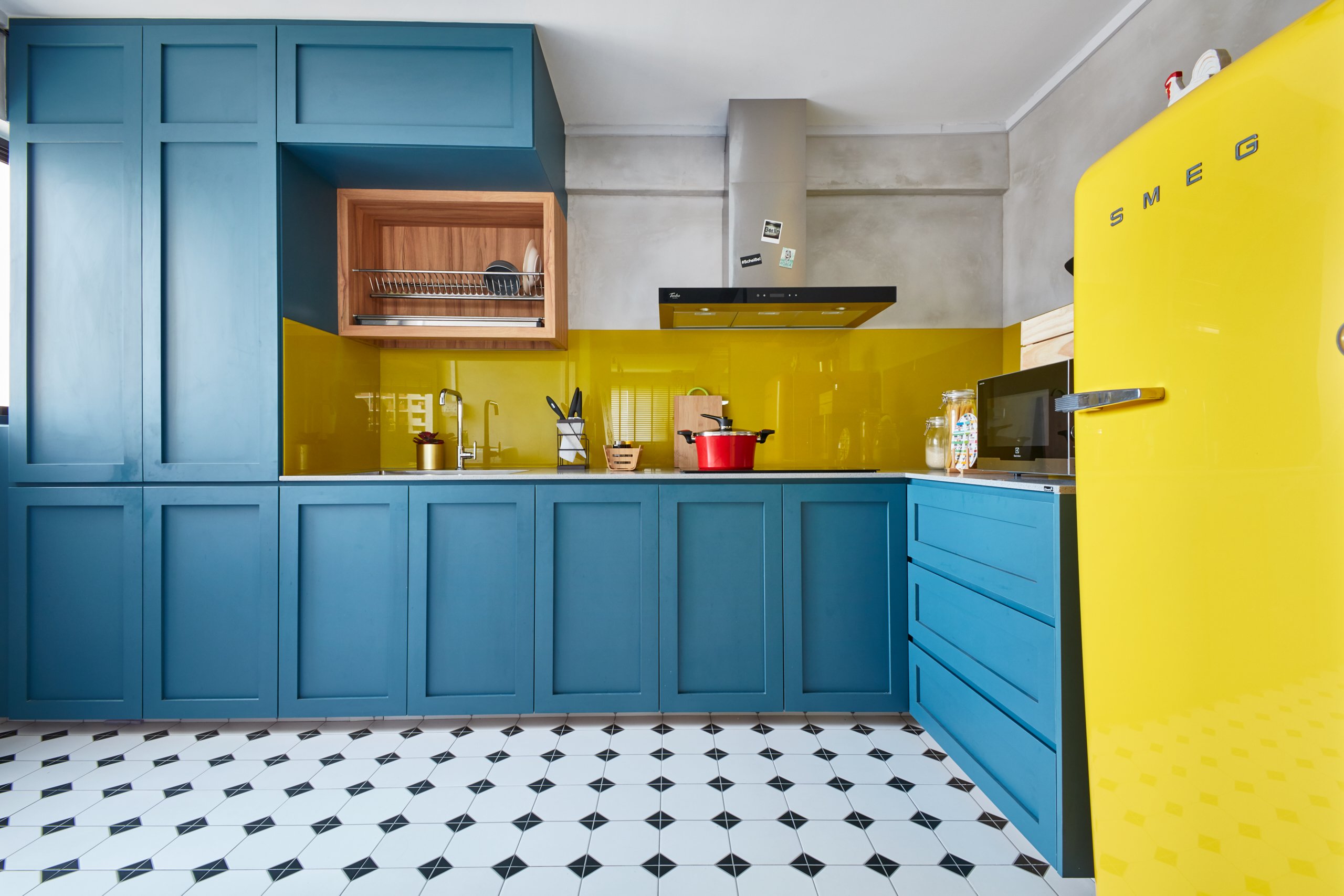 Somewhere between retro and contemporary lies a fresh interior design concept. This vibrant kitchen, for instance, is daring in appropriate doses as the design principle is anchored in minimalism.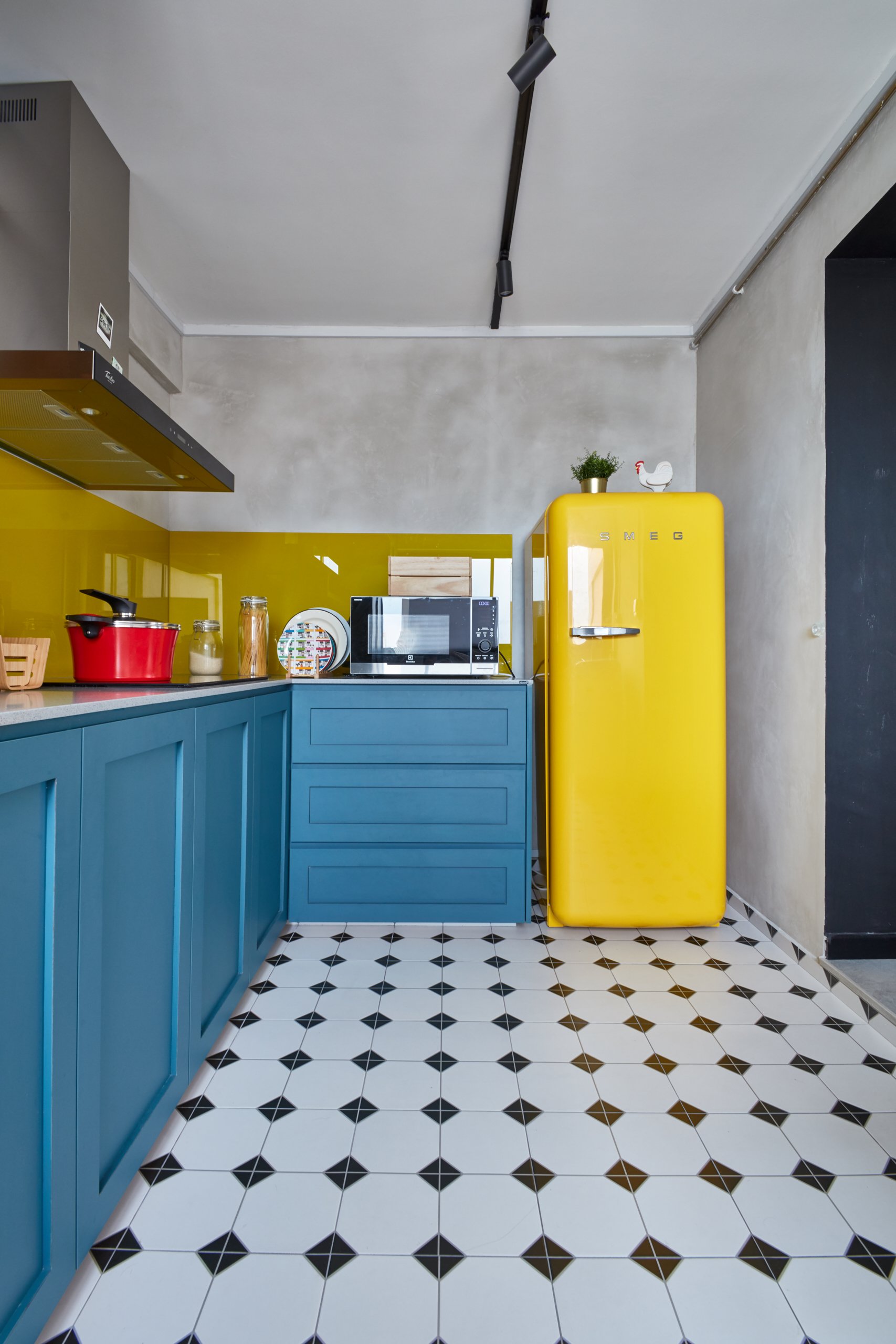 Bright colours can be great for reinforcing a sense of style and zest. The particular shade of neon yellow chosen here instantly brings a 70s vibe to the space.
Old-school black and white patterned flooring tiles help reinforce the retro intent to the kitchen, while adding a lot of character to the space.
Tip: Leaving some surfaces with an 'unfinished' look can make the space look more authentic if you're going for a retro look, since interiors of old are often unfinished from half-height onwards.
[Project by Free Space Intent]
Concept #5: Have functional wall-to-ceiling storage as a visual anchor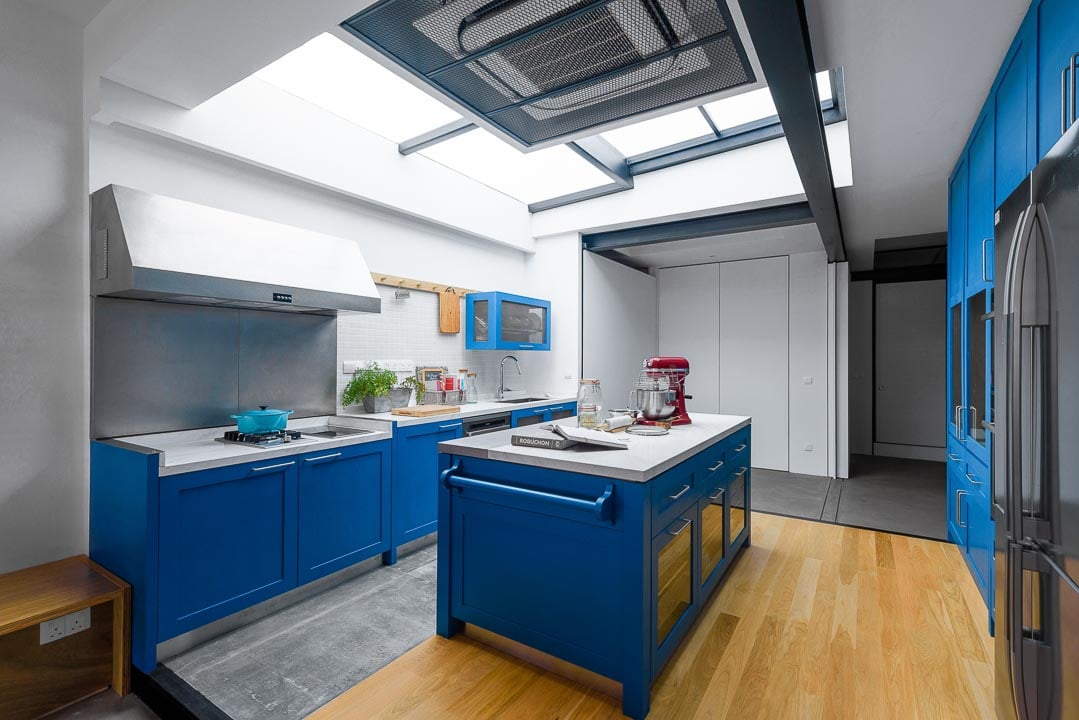 If your kitchen space allows, consider using an entire length for full-height cabinetry that let's you showcase both aesthetics and functionality.
In this open kitchen, one side of it is fully occupied by continuous floor-to-ceiling cabinetry, which is decked in a vibrant blue hue.
Aside from serving as a visual anchor, this particular shade of blue, often found in industrial and factory environments, also playfully alludes to the kitchen's functionality.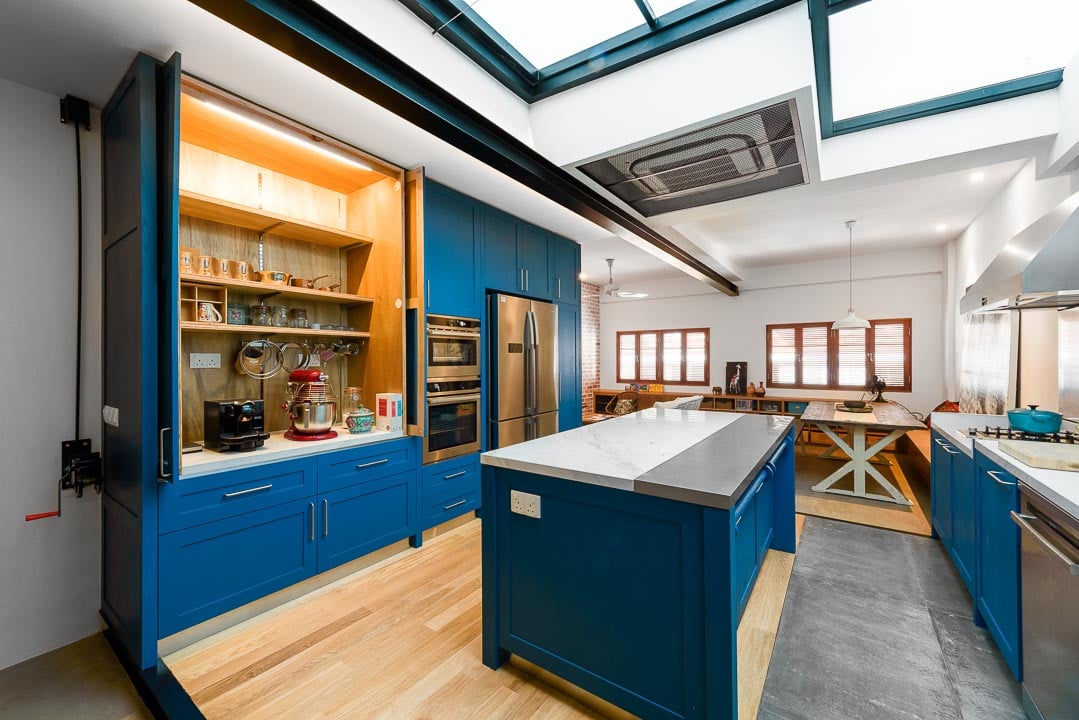 The proof? Half of the full-height cabinet is used for the owner's extensive collection of baking applicances and cookware. The integrated countertop within the cabinetry allows baking equipment to be easily stowed away (and quickly retrievable when called upon). No hassle.
Tip: You can do up your kitchen island countertop in two contrasting materials, like the example above. The ideal ratio between one material and the other is 1:2.
[Project by PIU Design]
This article has been adapted from the original in partnership with Dezainn.
Which interior design idea for kitchens do you like the most? Let us know in the comments below!
If you're planning to renovate your home during the Covid-19 pandemic, read this: Home renovations OK to resume, but here's why it won't be smooth sailing
Looking for a property? Find your dream home on Singapore's most intelligent property portal 99.co!