Condo sales in August 2020 have reached an 11-month high, according to official figures by the Urban Redevelopment Authority (URA). Excluding Eexecutive Condominiums, a total of 1,256 non-landed private residential units changed hands in the month—a 16.3% month-on-month increase.
The August 2020 figures were the highest since 1,270 units were sold in September 2019. Private homes in the Rest of Central Region (RCR) and Outside of Central Region (OCR) continue to form the bulk of purchases.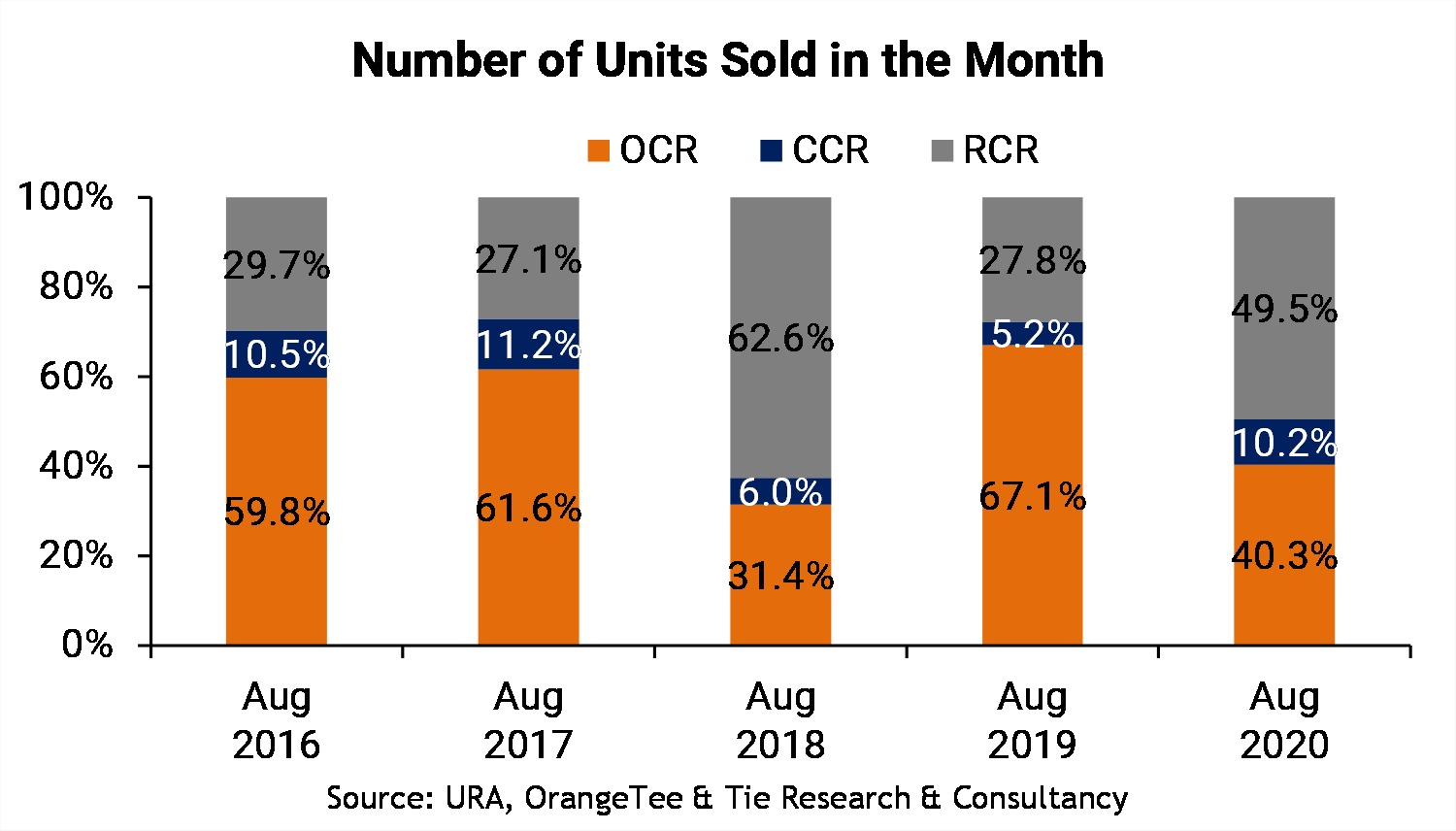 Local buyers fuelling demand, foreigners returning to the market
With 1,047 units sold, Singaporeans accounted for the bulk of the purchases of non-landed private residential homes (84.4% of total) in August 2020. This is the highest number of purchases by Singaporeans since 1,237 units were transacted in July 2018.
Purchases by Singapore Permanent Residents (PRs) also reached a two-year high, with 139 transactions in August. Foreigner condo purchases increased to a seven-month high with 54 units bought.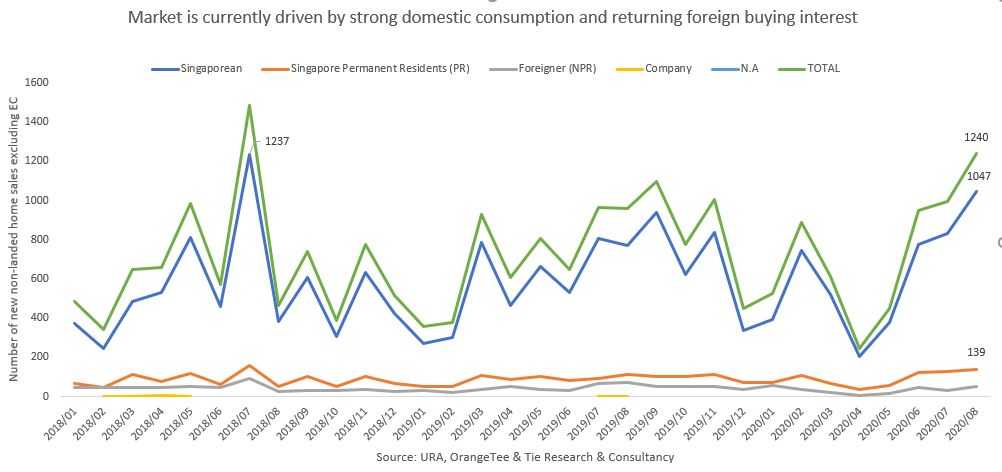 "August's new home sales have surprised on the upside, particularly in the face of a cocktail of challenges – the pandemic, recession, weak hiring prospects – and the Hungry Ghost Month as well," admits Wong Siew Ying, Head of Research and Content at PropNex.
"The brisk sales [in August] reflect the underlying demand for homes and also suggest that there is still ample liquidity in the market. In addition, we believe the larger number of units launched by developers in August also offered buyers more choices and helped to boost sales during the month," Wong added.
At the same time, "rising economic uncertainties and volatile equity markets" might also have had a part to play in driving buyers toward safe-haven assets for wealth preservation, said Christine Sun, Head of Research and Consultancy at OrangeTee & Tie.
"Moreover, record-low interest rates are stoking the property market's recovery as mortgages are now increasingly affordable for both owner-occupiers and property investors," she added.
Buyers remain price sensitive
Analysing the prices of new private homes sold by region, Wong suggested that buyers are aware that developers are "pricing units more sensitively", which factors toward their purchase decision.
She noted that buyers of condos in the suburban OCR were most price sensitive in August, with nearly 75% of units purchased coming at below $1.5 million.
Meanwhile, the pricing sweet-spot for condos in the city-fringe RCR was in the range of $1 million to under $2 million. This price range accounted for 70.4% of transactions in the RCR in August.
In the prime Core Central Region (CCR) market, most August buyers (60.5%) bought units priced between $1.5 million to below $3 million.

Developers bullish despite Hungry Ghost month
Also prominent was the number of new condo launches in the month of August, with projects such as Forett at Bukit Timah and Noma all hitting the market despite the start of the Hungry Ghost month on 19 August.
In total, developers launched 1,582 condo units for sale in August—the most number of units launched in a calendar month so far this year. Out of the number of units sold in the month, Forett at Bukit Timah led the charts with 213 units sold.

Leonard Tay, Head of Research at Knight Frank Singapore, noted that "sales have also picked up in earlier launches like The Garden Residences in the OCR and The Woodleigh Residences in the RCR". The two projects came onto the market in 2018.
"Even with buyers' attention turned towards the RCR and OCR, developer sales in the CCR saw its third consecutive month of uptick," Tay added. He singled out the boutique project Mooi Residences, which sold its first three units at a median price of S$2,566, as an examples. The buyers were all Singaporean.
Outlook for September 2020
With condo sales hitting a year high in August, property experts have mixed views on whether demand will continue to rise.
"With Penrose and Verdale launching, we anticipate that September's transaction volume should stay fairly elevated. That said, as the pent-up demand from the circuit breaker and Phase One period gets absorbed into the market, new home sales may start to moderate slightly in the months ahead," said Ismail Gafoor, CEO of PropNex.
Tay echoes similar views. "While sales volume has been strong in the few months after the circuit breaker, sales momentum for the rest of 2020 might stabilise in the remaining months of the year," he said.
Remaining bullish about the property market, Sun argues that "demand for property is anticipated to rise further in tandem with the tidal wave of quantitative easing (QE) unleashed around the world to stimulate economies".
"Interest rates at new cyclical low levels will also prop up the market in the coming months," she added.
Interested in more property-related news? Follow us on our Facebook page!
Looking for a property? Find your dream home on Singapore's most intelligent property portal 99.co!