There's more to Tiong Bahru than hip cafes and quirky shops. The art deco, circa-1930s apartment blocks have been conserved, but changes are constantly afoot at ground level. Aside from the ever-present wet market and hawker centre and selection of cafes and boutiques, it seems like there's something new and unique every time at every visit: a fan club for imported cheese, 20 year olds who think beading is a fun weekend activity, or folks who think dubstep is music.
As it turns out, Tiong Bahru has had a chameleon-esque history as well, such as how:
HDB didn't build the flats here
Tiong Bahru was a cemetery (before there was the bakery)
It was during the Japanese Occupation that the estate boomed
Tiong Bahru was once the bird singing hub of Singapore, when that was a thing
It was famous for catching fire
#1: HDB didn't build the flats here
Tiong Bahru became a housing estate before the Housing & Development Board (HDB) came into existence in 1960. Today, Tiong Bahru is now one of the few public housing blocks still standing which isn't built by the HDB, which might also explain why the iconic low-rise apartments look so much more aesthetic than different from the blocky, Lego-like flats we usually see.
Today, the sight of the low-rise Tiong Bahru public housing is juxtaposed with recently-built 40-storey HDB flats nearby. Far from diluting the area's charms, the new residents are sustaining the heritage precinct's laid-back, unhurried vibe, which could partly explain the presence of French-inspired F&B establishments such as Merci Marcel and Tiong Bahru Bakery.
#2: Tiong Bahru was a cemetery (before there was the bakery)
"Tiong" in Hokkien means tomb, and "Bahru" in Malay means new. The area was designated as an extension to an existing cemetery, hence the name. Just like Bishan estate, the tombs at Tiong Bahru have long been exhumed and the cemetery faded from memory. In place of the original cemetery is the Singapore General Hospital (SGH), Singapore's largest hospital with 1,785 beds. (The proximity of Tiong Bahru to the CBD and the SGH make it a favourite hangout/place to live for business folk and medical staff/students alike.)
#3: It was during the Japanese Occupation that the estate boomed
During World War II, the Japanese invaders must've liked what they saw. They continued developing the area and when they built, people came. After the war, it was found that some 40 per cent of the people living in Tiong Bahru currently had moved in during the Occupation. Many of them had lived in slum-like conditions before being relocated to HDB flats.
Today, the only vestige of war in Tiong Bahru is Singapore's last remaining air-raid shelter at the basement of Block 78, Guan Chuan Street. The size of nearly 13 four-room HDB apartments, the shelter is only open to the public during special events, such as art exhibitions and guided tours.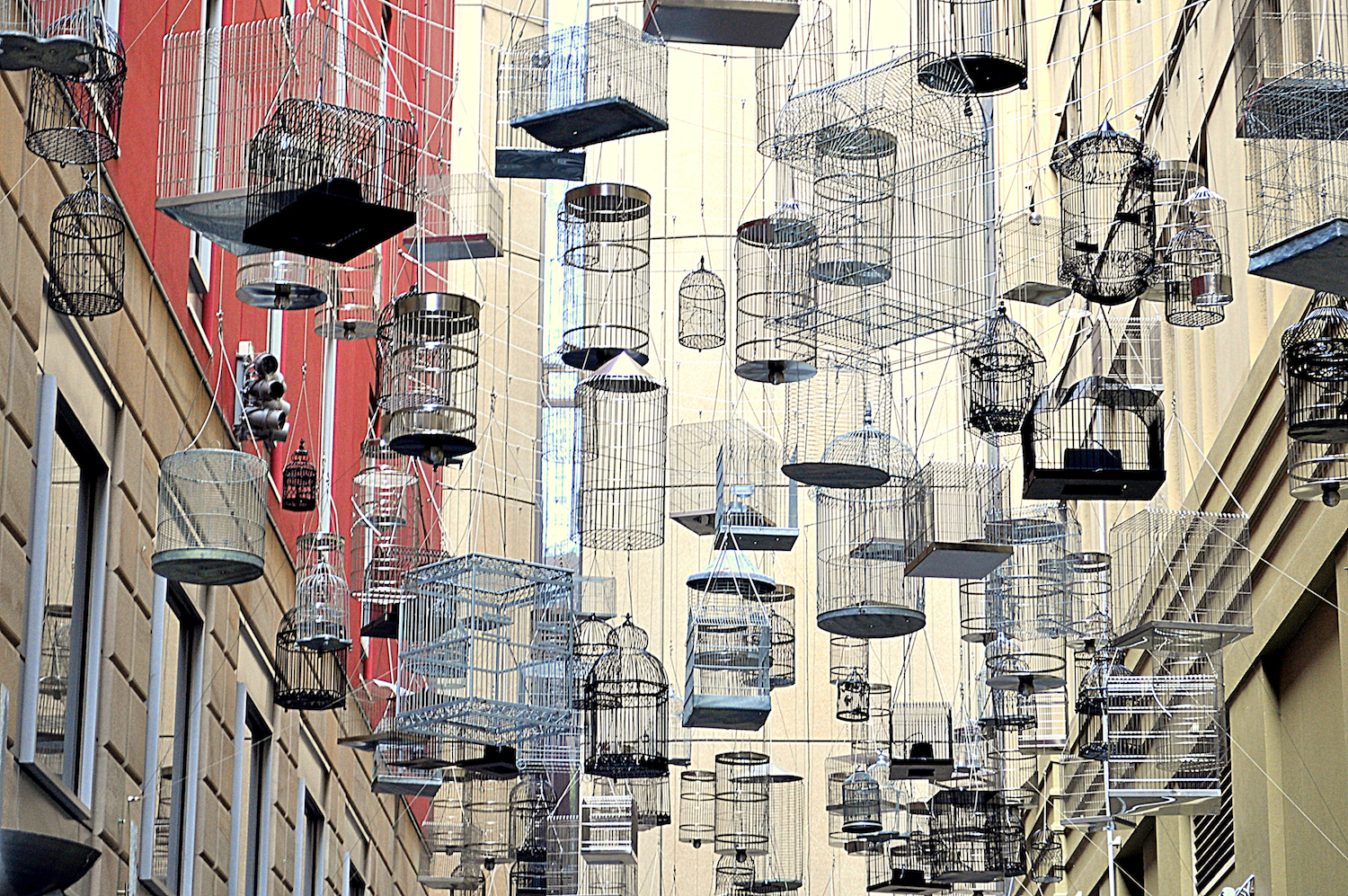 #4: Tiong Bahru was once the bird singing hub of Singapore, when that was a thing
In the 1960s, bird-singing was a big thing. Owning a top songbird was like being the one to sign on Justin Bieber or Nicky Minaj, except that you'd be dealing with more talent. The most famous spot for bird singing was Block 53 in Tiong Bahru, when even international airlines like KLM would sponsor competitions.
Even though Block 53 has been demolished to make way for a hotel, the bird singing corner still stands. It's however seldom used. (Perhaps the next hipster trend could revive it?)
#5: It was famous for catching fire
In the days before building codes, the Tiong Bahru area saw major fires in 1934, 1955, and 1958. The largest blaze was in 1959, which spread at breakneck speed and became known as the Bukit Ho Swee fire. Around 16,000 people were deprived of homes in a way that's far worse than failing to get a BTO queue number.
At any rate, the government decided that the fire was the last straw (see what I did there?) for thatched roof huts. After that, all homes went the way of brick, cement and concrete.
Either way, Tiong Bahru is fire (pardon me) right now. A new 500-unit condominium, Highline Residences, has just TOP-ed this year. And, for the owners of the old, low-rise flats next to the Highline, they're seeing healthy rental demand, with 13 whole-unit rental transactions (out of 559 units) in the first four months of 2018 alone. Besides the lifestyle amenities, vibe and proximity to the CBD, we reckon that the spaciousness of the apartments is a big draw for tenants. At up to 940 square feet, the two-bedroom units are comparable in size to current three-bedroom flats! See it to believe it, we say.
P.S. Tiong Bahru residents care for their community cats, too.
Want to live in or around Tiong Bahru?
Find the home of your dreams today at Singapore's largest property portal 99.co!
Enjoyed what you've read? We recommend reading these other articles as well. The flat is old — but it is gold and  5 hip neighbourhoods for young Singapore renters.