"First mover advantage" is a favourite catchphrase in showflats. Being the buyer of the first condo in an area supposedly gives you a huge advantage over others, as if you're inventing a tablet device or an electric car. But does a pioneering spirit in property really pay off?
What, in theory, is the first mover advantage?
There are two common understandings of the term.
On one level, it refers to being the among the earliest buyers of a particular development. For example, buying during the first phase of a launch. This provides certain advantages such as early-bird discounts, being able to pick the units with the best facing, and so forth. This is more a discussion of new launch versus resale condos, and you can read about that in our earlier article.
The second meaning is being the first development in a particular area. Usually, this means getting in on a neighbourhood before it rockets in value, such as through development or redevelopment.  The first batch of new flats appearing in Canberra, for example, or the Executive Condominiums (ECs) in Punggol launched before the towns' amenities were fully developed.
The second form of first-mover advantage is the one we'll talk about here.
What are the advantages of being first in a particular location?
In theory, being first to an area often results in a scenario where you can "buy low and sell high".
To illustrate this, let's look at four Executive Condominiums (ECs) that have been launched near Punggol Central over the past decade: Prive, Twin Waterfalls, Ecopolitan and Piermont Grand. (FYI: We're also using ECs because they are of a similar positioning and thus make more accurate comparisions.)
The very first Executive Condo in Punggol town was Prive. Prive first launched in January 2011 and obtained Temporary Occupation Permit (TOP) in July 2013. (When residents moved into Prive, Punggol was still pretty ulu, with key amenities such as Waterway Mall and Safra Punggol still three years away from opening, and the nearest mall was in Sengkang.)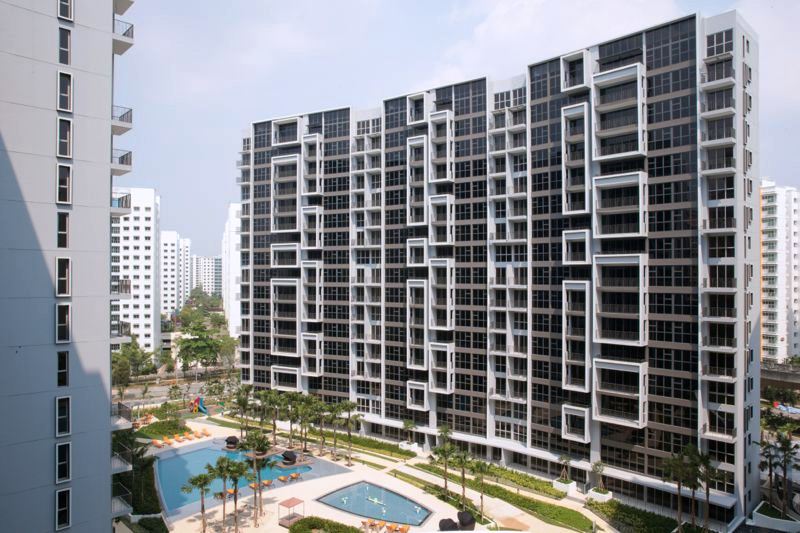 The average launch price for Prive—the first mover—was just $686 per square foot (psf). A year later in March 2012, Twin Waterfalls became the third Punggol EC to launch. It was roughly within a similar walking distance as Prive from Punggol MRT and the then-upcoming Waterway Mall. Twin Waterfalls sold at an average launch price of $715 psf, about 4.2% pricier than Prive.
Ecopolitan EC, located next to Twin Waterfalls, launched in August 2013 (a month after Prive's TOP). The average launch price of Ecopolitan was $791 psf—10.6% higher than Twin Waterfalls and 15.3% higher than Prive!
Punggol has certainly matured well over the past decade. In 2019, Piermont Grand, the latest Punggol EC to launch, sold at a average of $1,098 psf. Eight years apart, the price gap has widened by 60%.
Moreover, Prive (the first mover) had the highest price appreciation out of the four ECs. So far, six units at Prive have been sold for an average of $1,018 psf, translating to a 48% appreciation since launch.
Project Name
Launch Year
Launch Year
Average PSF price
2020
Average PSF price
% Change
(Resale vs Launch PSF Price)
Prive
2011
$686
$1,018 (Resale)
+48%
Twin Waterfalls
2012
$715
$987 (Resale)
+38%
Ecopolitan
2013
$791
$978 (Resale)
+24%
Piermont Grand
2019
$1,098
$1,106 (New Sale)
N.A.
[Recommended article: Why are Executive Condos located so far away?]
Is it the first mover advantage apparent in other parts of Singapore?
Tanah Merah is another area where we can see first mover advantage. The area was quite empty when condos like East Meadows first appeared, back in 1998 (TOP: 2001). After that, a number of condos began to spring up in the area; one of these was [email protected] Merah, which was launched in 2009 (TOP: 2012).
If we look at prices over the past two decades, we can see how much East Meadows has appreciated; from just $585 psf to $967 psf. It's up around 65%. Conversely, [email protected] Merah—which has had close to a decade to appreciate—has only managed to go from $837 psf to $1,154 psf, up around 38%.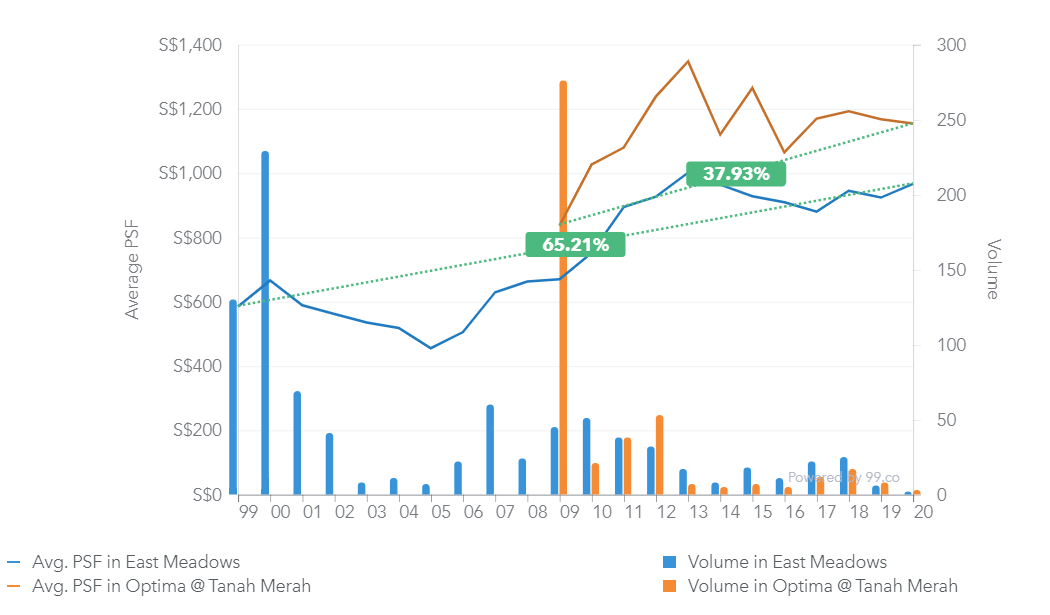 Again, note that even if you had bough the older East Meadows at the time Optima was launched, you still would have seen better appreciation, percentage-wise from the older "first mover":
Again, the reason for lower appreciation often boils down to later condos having priced in the surrounding amenities, which are more developed at the time. The first condos, which moved in before the area was convenient, likely had to be priced lower for their day (much like if we were to have a condo in Tengah today, it would have to be priced much lower than most other places; if not who will buy?)
You can see the first mover advantage as being a sort of market-given "reward" for those who first moved into a less mature area. It's also probable, but not guaranteed, that amenities such as MRT stations, neighbourhood malls and markets, and childcare will tend to be established around the earliest residential properties (if there's a lot of room, there's no reason to located them far away from the immediate residents).
As such, first movers often see the "centre" of the neighbourhood developing around them. This is especially true for HDB flats rather than private properties, as public properties are built with the assumption that the majority don't drive (and they're already in an ulu location, the least that can be done is to build the amenities close to them).
However, there are too many variables to guarantee that first mover advantage will always occur, or will be sustained.
As is often the problem with this sort of theory, there are so many moving parts that it's hard to isolate one factor (e.g. being a first mover) as the main reason for better appreciation.
There are many other factors why being a first mover doesn't always help, such as:
It's increasingly difficult to be a first mover anywhere. Singapore is a small country, and there's little room for a condo to be a true "first mover" anywhere these days
Development plans of an area might get delayed because of economic recession or crisis
There are many growth areas specified by the Urban Redevelopment Authority (URA), what makes you think yours will be prioritised?
First movers get their views blocked pretty often. Many Bayshore Park owners, for instance, had their great seaview later blocked by The Bayshore and Costa Del Sol. You may consult the URA Master Plan if you want to know what future developments are and how it could affect you
You have to consider lease decay; it's hard for a property to appreciate much more if it's, say, 40 years old; even if it was a first mover in the area. For freehold properties this is less of an issue
Many more condos suddenly appear in the area also means more competition for tenants and buyers. You don't know if your "first mover advantage" can overcome excess supply in the area, which tends to drive prices down or, at the very least, lower the rate of appreciation of your condo
The first projects of a new town may not be near the future town centre (e.g. the first few batches of Tengah BTO flats)
So, should you believe the hype about first mover advantage?
These days, first mover advantage mainly refers to buying a condo/EC unit in the first phase of launch. The other definition, which we've covered here, is a less common buzzword because it can be hard to prove. Even if you buy the first condo in an area, it's difficult to predict how the maturing neighbourhood might reward or penalise you (e.g. for all you know, the biggest mall in the neighbourhood will end up being more than a kilometre away from you).
But if the plans are very well-articulated, such as the one for Punggol where hundreds of HDB flats were already being built prior to the launch of ECs, first-mover advantage can be a compelling reason to choose one location and project over another. Just buy with the long-term in mind and be prepared to live with any inconveniences in the short term!
Do you believe in the first mover advantage for property? Let us know in the comments section below!
If you found this article helpful, 99.co recommends How a deep recession could impact the property market in Singapore and Is pent-up demand for property a myth?
Looking for a property? Find your dream home on Singapore's most intelligent property search portal 99.co!