Good news to all homeowners to be; the final HDB Built-to-Order (BTO) sales exercise of 2018 features a total of FIVE locations to choose from (there were only two locations in the previous exercise). The sites this time round are Sembawang, Sengkang, Yishun, Tampines and Tengah. In Part 1 of our analysis, we examine the pros and cons of the Nov 18 BTO launch projects in Tampines and Tengah. If you want to read about the Sembawang, Sengkang, and Yishun BTO sites, access the article here.
How to apply: Go to the HDB BTO November 2018 Sales Launch official website. Applications are open till 19 November 2018, 11:59pm, and you can apply online at any time till then. Successful applicants will be determined by a computer ballot, and not on a first-come, first-served basis.
Nov 2018 BTO Launch: Tampines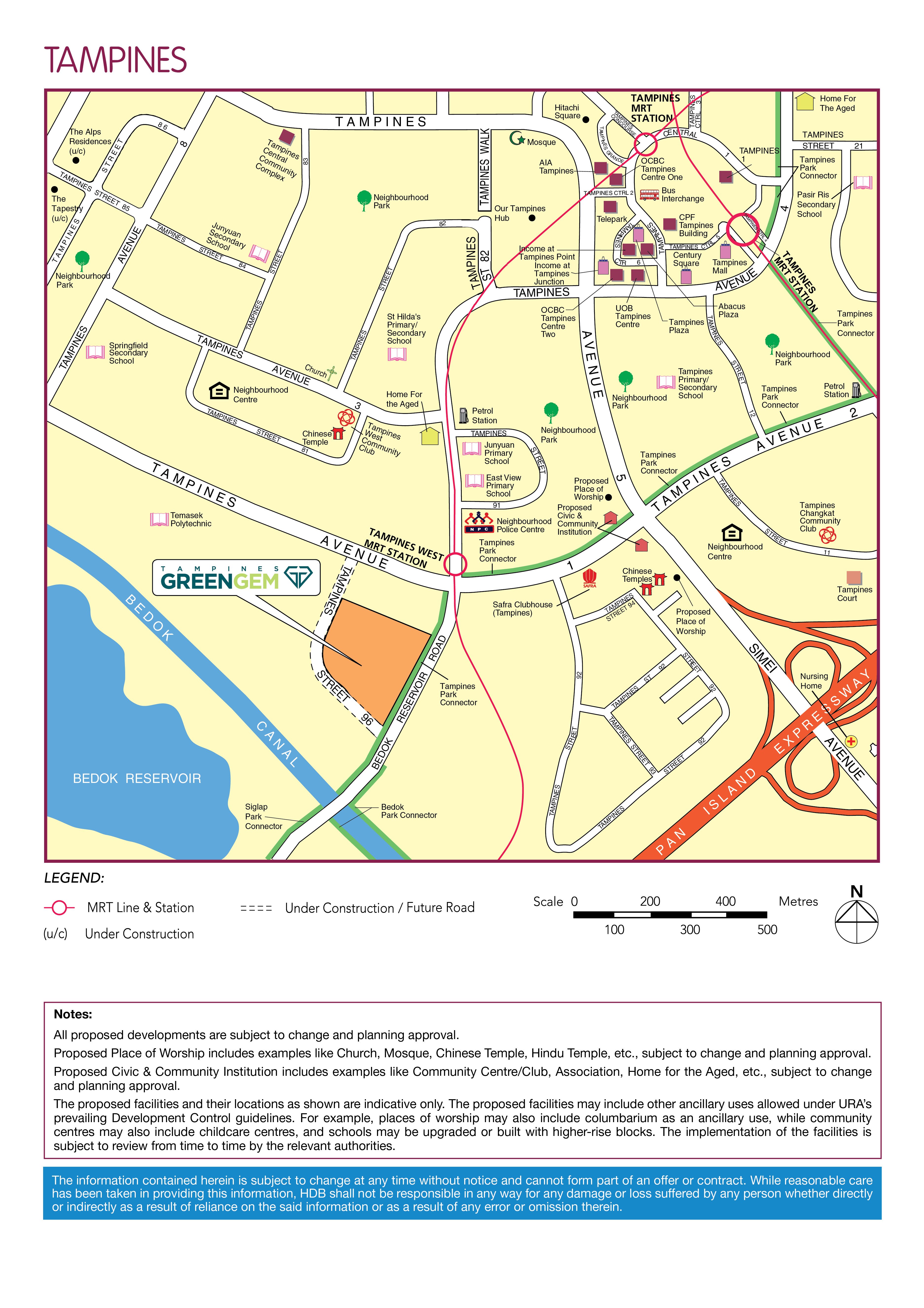 Project name: Tampines GreenGem
Total number of units: 310
Available unit types: 2-room Flexi, 3-, 4-, 5-room
Expected date of completion: 1Q2023 to 2Q2023
Location Brief: At first glance, this BTO launch in Tampines is in a far more advantageous location than the past few launches in the same town, which were concentrated in the yet-to-be-developed Tampines North area. Notably, this BTO is within walking distance of Tampines West MRT station on the Downtown Line, and the picturesque Bedok Reservoir Park.
A secret about this BTO
That said, there is a reason for homeowners to choose blocks that are FURTHER away from the MRT station instead. That's because of the 1km radius proximity to the reputable Red Swastika School in Bedok. By the looks of it, the blocks further away from the MRT will fall within the 1km radius of the primary school, but the northernmost blocks closest to the MRT station might not be assured of that.
Note that if you're angling for views of Bedok Reservoir in the southwest-facing units of this BTO project, there are two things to take note. First, there is another plot of land in between that's reserved for future high-rise housing, so it's just a matter of time before your beautiful view gets blocked. Secondly, if you're getting a view of the reservoir, which is to the west of the plot, you'll also have to bear the heat of the west sun, which might not be worth it.
Price premium + Unique selling point
Before you apply and part with $10 for this BTO project, it's useful to note that HDB has priced this project about 13% higher than Tampines Greenvines in Tampines North — the previous BTO launch in the same estate in May 2018. This could be because, in an unprecedented move, the units for this project all have internal floor areas sized 1 to 2 square metres larger than most previously released BTO flats.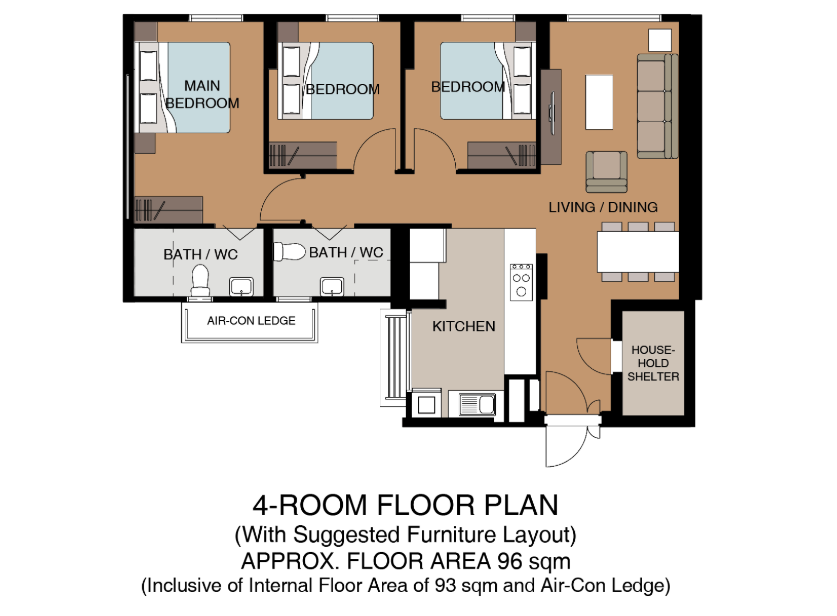 Moreover, the architect has taken the bold move — likely with HDB's green light — to completely eliminate the service yard in all unit types. This could be an experimental move for future BTOs, seeing as many current flat owners are merging their service yard with their kitchens by means of renovation and wall hacking.
Finally, some blocks also have only four stacks on every level, which may afford residents in these blocks greater privacy.
All in all, this looks like the Premium BTOs that HDB used to release in years past.
Pros:
Mature estate with lots of amenities a short distance away

Walking distance to Tampines West MRT; great transport connectivity

Close to Bedok Reservoir Park; Park Connector access to East Coast Park

Close to primary and secondary schools, as well as Temasek Polytechnic

Easy access to the Pan Island Expressway (PIE)

Larger unit sizes, no service yard!
Cons:
Road noise for units closer to/facing Bedok Reservoir Road

Sandwiched by empty land plots demarcated for future high-rise housing; meaning residents will get very acquainted with living next to a construction site. For seniors and families with young children in the future, it may be advisable to avoid stacks facing these empty land plots
A long wait for completion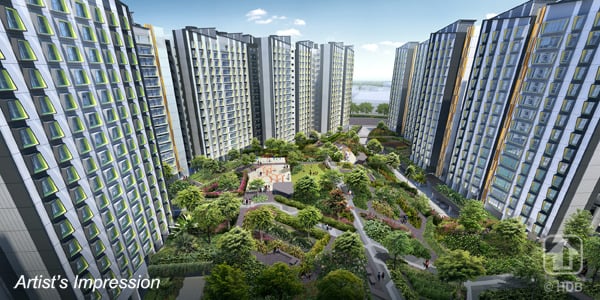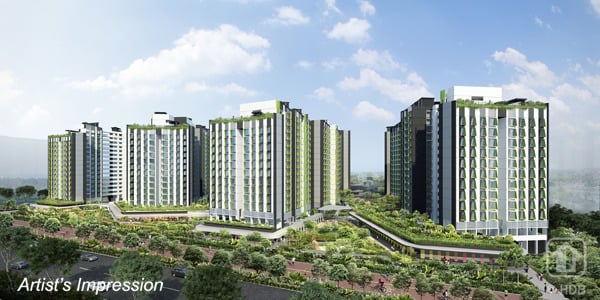 Indicative price range (excluding grants):
2-room Flexi (Type 1): $134,000 – $154,000
2-room Flexi (Type 2): $158,000 – $186,000
3-room: $240,000 – $281,000
4-room: $352,000 – $426,000
5-room: $472,000 – $550,000
Other things to note: As we mentioned, the unique thing about this BTO launch is units here are sized larger than usual. To be exact, 3-room unit types have an internal floor area of 67 square metres (sqm) compared to the usual 65 sqm. 4-room unit types here are either 91 or 92 sqm in size compared to the usual 90 sqm. 5-room unit types are marginally larger by 1 sqm. In every unit, the service yard has completely been omitted in favour of a larger kitchen. 
Nov 2018 BTO Launch: Tengah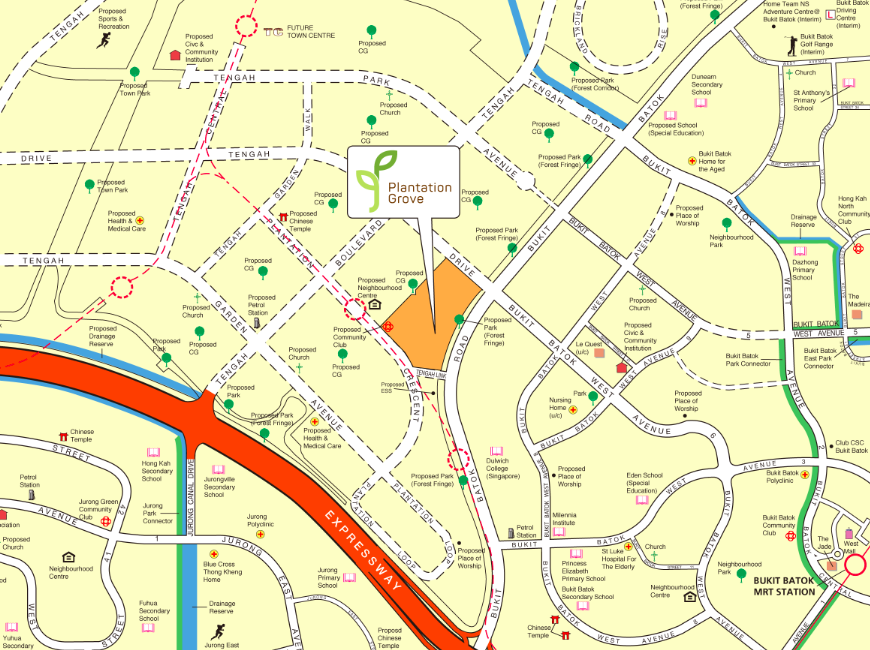 Project name: Plantation Grove
Total number of units: 1,620
Available unit types: 2-room Flexi, 3-, 4-, 5-room, and 3Gen
Expected date of completion: 2Q 2023 to 3Q 2023
Location Brief: This plot, along with the first few BTO plots for Tengah, would be more appropriate to be called a Bukit Batok Extension instead.
Why? Given that Tengah will take at least two decades to build up, residents of this BTO project must leverage Bukit Batok's amenities for a good few years.
Luckily, the up-and-coming Le Quest condo will have an integrated retail podium with a Fairprice supermarket for daily needs, just 5 minutes walk away.
Also, given that this is the very first plot in Tengah, buyers who want to eventually sell their HDB and upgrade are advised hold their flats for more than the five years Minimum Occupation Period (MOP) to realise the maximum upside from Tengah's development. Hold until the Jurong Region Line is fully up and running in 2028, and perhaps sell before the other Tengah plots also MOP (for less competition).
Speaking of the JRL, the line also runs above ground. Hence, if you're worried about noise in the future, avoid units closest to the planned tracks along the southwestern boundary of the plot. (Although Bukit Batok Road might also become busier — and noisier — as time goes by, there's a linear park separating between the road and the flats at Plantation Grove.)
What was HDB thinking?
It must also be said that this Tengah BTO project is shockingly pricey. Despite its hinterland location, HDB has priced Tengah significantly higher than other non-mature estates in this launch.
We're not sold by the fact that, even after the town develops, this plot will still be one of the furthest from Tengah town centre. (It's as if HDB pegged the price to Le Quest instead of HDB resale prices.)
Sincerely speaking, if you're looking for a home in the West, you might be better off looking at resale flats in the Bukit Batok area if the Tengah BTOs are going to be priced this steep for their location. You might also be better off waiting for the next BTO sales launch in Feb 2019, where 1,360 units in Jurong West will be released for balloting.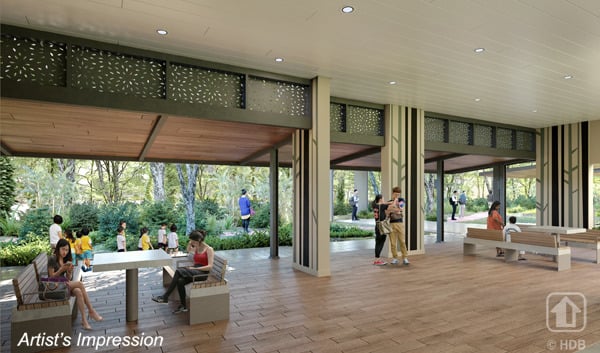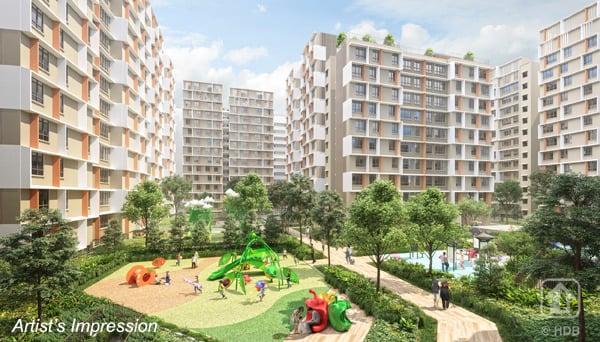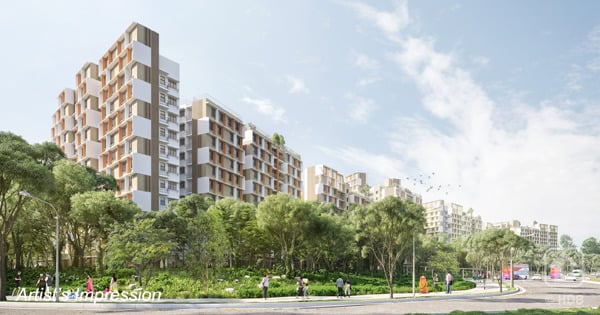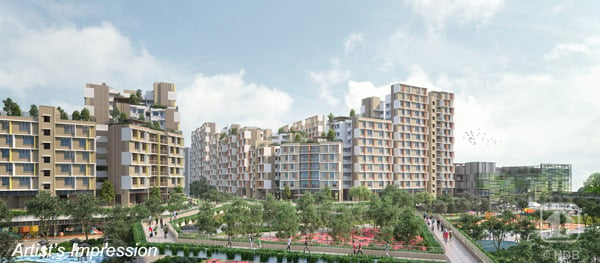 Chill like you've never chilled before
We suspect that the high price point went into implementing the infrastructure for a revolutionary centralised cooling system, a green technology that is supposedly more energy-efficient, cost-effective and does away with the need for air-conditioning. This system has already been implemented in the Marina Bay commercial district, but this will be the first time it'll appear in an HDB estate.
If you're always clamouring for the newest technology, don't mind paying for it or trust that this will lead to cost savings for many years to come, then this Tengah BTO might have added appeal. Plantation Grove home owners will have a choice to subscribe to have air conditioning provided from a centralised cooling system. In other words, if you insist on having your own air-con units, you might be paying extra for the centralised cooling system — in the flat price — without using it.
Here's how the centralised cooling system works, according to HDB: "Cooling to each household unit will come from highly energy efficient chillers. Home owners also do not need to install and maintain outdoor condensing units on their air con ledges. They will therefore enjoy cost savings while contributing to a sustainable lifestyle in this eco-friendly district." (Flat owners will be informed of more details and pricing during flat selection exercise, and they can make a decision to subscribe to the centralised cooling system from flat selection onwards.)
This is the only project in the Nov 18 BTO launch with 3Gen flats.
Pros:
Tengah is slated to be Singapore's first car-light town, with a completely car-free town centre, making it a good place to live for cyclists

Proposed parks galore; great for recreation

Walking distance to future Jurong Region Line (JRL) station, Tengah Plantation, which is slated to open in 2027

Potential upside from Tengah's development, including the Jurong Innovation District (subject to prevailing market conditions and trends)

Easy access to the Pan Island Expressway (PIE)

A three-storey Community Club is on this BTO plot
Cons:
Currently in a sort of no man's land. 

Tengah Green Town is pretty much non-existent now, and it's likely to still be underdeveloped as the first batch of residents move into this new BTO project

Flats appear too densely packed together (see site plan below)
Sandwiched by empty land plots demarcated for future high-rise housing; meaning residents will get very acquainted with living next to a construction site. For seniors and families with young children in the future, it may be advisable to avoid stacks facing these empty land plots

Uncertainty about concrete plans for Tengah, e.g. availability of schools

Centralised cooling system infrastructure costs likely included in flat price

While the BTO project is near Tengah Plantation MRT, this doesn't put them at the

heart

of Tengah, which is where Tengah MRT is located. The two upcoming shopping malls will be located near Tengah MRT, NOT Tengah Plantation MRT

The original plan was for Tengah to serve the Jurong population and the new CBD, but now that construction of the High Speed Rail to Kuala Lumpur has been postponed, it's less likely that Jurong will turn out to be the 2nd CBD the way our government have envisioned. Flat buyers need to be realistic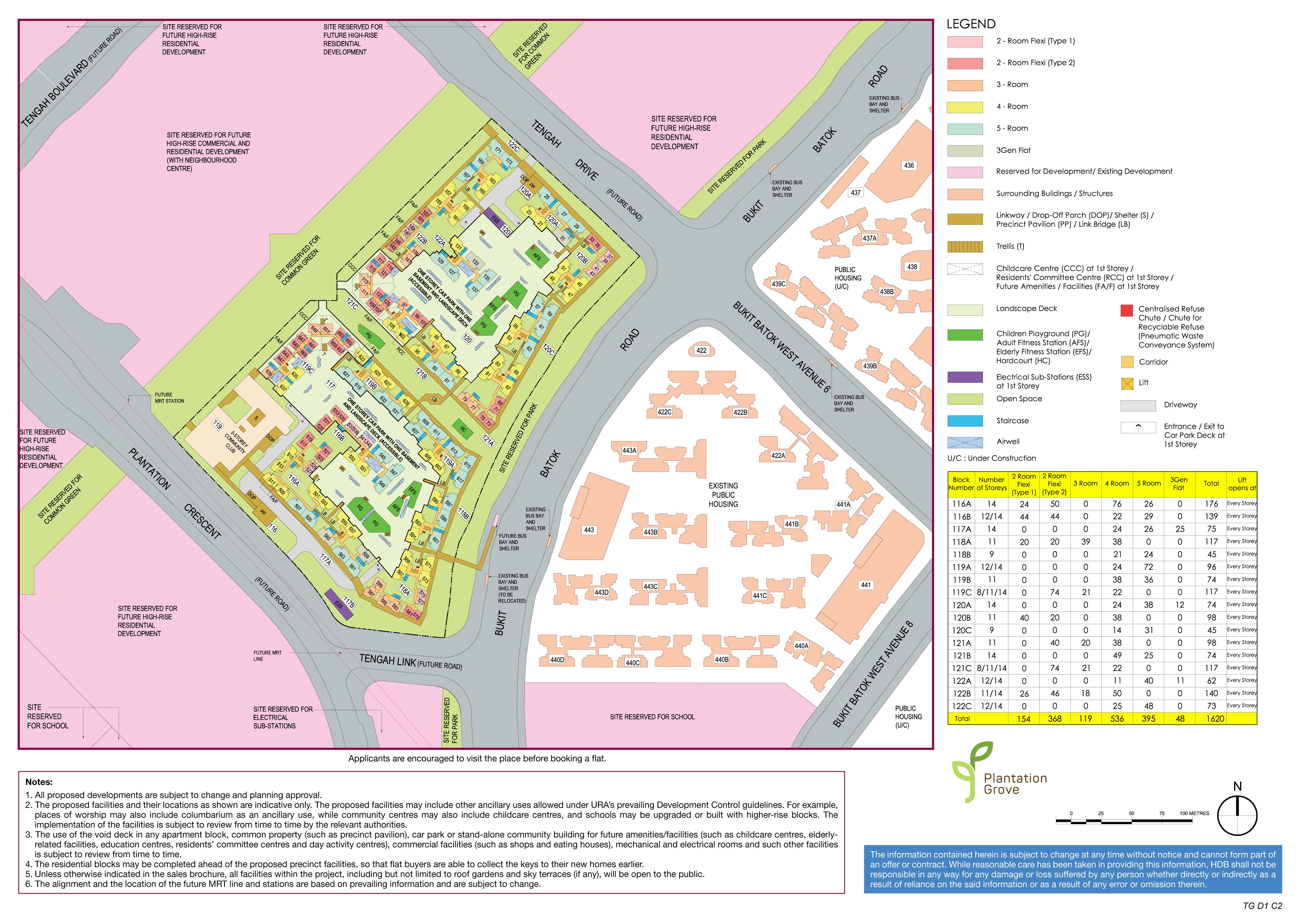 Indicative price range (excluding grants):
2-room Flexi (Type 1): $101,000 – $117,000
2-room Flexi (Type 2): $120,000 – $150,000
3-room: $193,000 – $243,000
4-room: $290,000 – $355,000
5-room: $397,000 – $480,000
3Gen: $423,000 – $475,000
Other things to note: According to HDB, there are plans to build 42,000 or so homes in Tengah Green Town, so this initial BTO project that we're seeing is just the first of the lot. If you'd like to stay in Tengah, but you prefer living nearer to the town centre, it might be a good choice to hold out and wait for subsequent flat launches.
Read Part 1 of our BTO analysis on Sembawang, Sengkang and Yishun here.
Want to find out about HDB BTO grants for couples? Read this article.
Looking for a property? Find your dream home today at Singapore's largest property portal 99.co!