Build To Order (BTO) flats tend to be extremely popular. Indeed, in recent launches the applications outnumbered the available lots 10 to 1. Inevitably then, many Singaporeans are rejected, and will have to try their luck again, at a different launch. While you cannot force luck , you can load the dice a little to enhance your odds. The magic method runs through one of the myriad of HDB priority schemes below:
So how do HDB priority schemes behind a BTO application work?
First off, if you are not sure how the overall BTO application process works, see our previous post.
After the deadline of a launch has passed, the Housing and Development Board plugs all applications into a computer, which in turn will more or less randomly select the applications to be granted a place on the shortlist for the BTO flat in question. We say 'more or less randomly' because not everyone is really awarded an equal chance; some ballots are weighted more than others, while there are also quotas for some segments of applicants, effectively granting that segment exclusive rights on a portion of the flats available.
Essentially, HDB have adopted a system reflecting a notion of fairness which lies somewhere between fairness as equality of opportunity and fairness based on the level of the need of the applicant. That is to say, while as a base, applications are picked randomly, they are also weighted differently allowing those who need it more to have a greater chance to succeed.
For instance, first-time applicants (defined as those who have never yet been successful in their BTO application) enjoy priority and other privileges because they are deemed to be in more need than second-time applicants (defined as those who have previously owned a BTO). There is no limit to this logic, and HDB grants extra priority to those who have previously been unsuccessful in their application. In this vein, the more often you are unsuccessful, the better your chances are to succeed in the next one. This is done to minimise the chance that a BTO application will continuously be burdened with bad luck.
Not all HDB priority schemes apply to all BTO types
In addition to what has been set out above, there're a multitude of HDB priority schemes, each of which place the odds a little more in your favour, if they apply to you that is.
Before we'll detail precisely what each scheme entails, it is important to note that not all schemes can be used for all types of BTOs. To know which priority scheme is compatible with each type of BTO see the table below: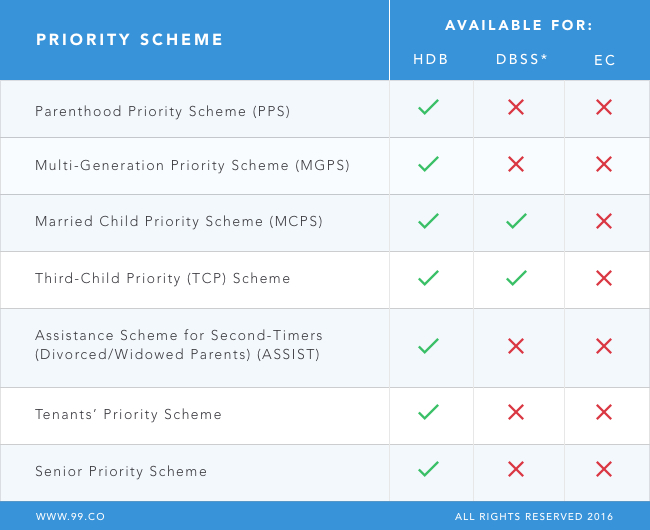 An overview of HDB Priority Schemes
Parenthood Priority Scheme (PPS)
Under the PPS scheme you will be granted a better chance to succeed based on the idea that families with children are in more need than applicants without offspring.
To be eligible you either need to have at least one child, or at the time of the application you must be expecting your first child. Also, the scheme only applies to first-time applicants, whose child is or will be a Singapore Citizen.
A maximum of 30 percent of the flats within a BTO are allocated to applicants with the PPS schedule
Multi Generational Priority Scheme (MGPS)
Under the MGPS scheme you, as a married person, can jointly apply with your parents for two flats in the same BTO development. As the government incentivises the bonding of extended families (cue The Proximity Housing Grant), when you make use of the MGPS scheme you are awarded with a better chance of success.
To be eligible for the MGPS parents must submit a joint application with their married child, and while the married child can apply for any flat, the parents may only choose between a 2-room Flexi or a 3 – room flat.
Married Child Priority Scheme (MCPS)
The MCPS aids married children to live closer to their parents, either in the same flat, the same estate, or in a neighbouring estate. The rationale is that it makes it easier for children to care for their ageing parents.
To be eligible for the MCPS you will have to meet the following criteria:
At least one of the married child's parents or the spouse is a Singapore Citizen or Singapore Permanent Resident.

Two parents on the one hand and the married child and his or her spouse must live within a 2km radius from one another as an owner or occupier, a tenant (if the flat is directly rented from HDB), or as an owner of a private property.
Note: if you wish to live together with your parents/married child within the same BTO development than you have to make a joint application. (This will essentially be the same as the MGPS).
The flat allocation and accompanying quotas are a little complex in the case of the MCPS. So it's best to take a look at the table below: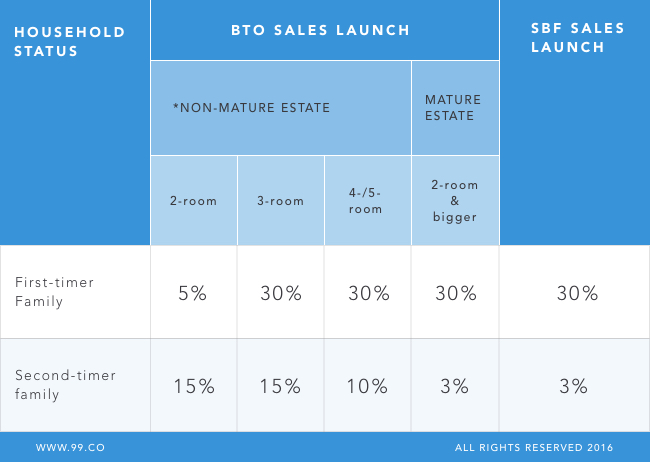 And there is more… within the quota as detailed in the table above, priority is granted in the following cases:
For applicants who apply for a flat to live together

with

, as opposed to

near

one another.

Parents who own a flat in a mature estate and are applying for a flat in a non-mature estate to live closer to their married child.
The way the priority works is that within the quota, those for whom the two criteria above apply will first be selected, after which the rest will be allocated a spot.
Third Child Priority Scheme (TCPS)
The TCPS was designed to encourage Singaporeans to have larger families. So if you comprise a nuclear family with at least three children, then this scheme is for you.
To be eligible for the TCPS you will have to meet the following criteria:
You and your spouse are both Singapore Citizens

Your family must consist out of at least 3 children (either offspring from a lawful marriage or legally adopted)

The third child must be a Singapore Citizen born on or after 1 january 1987

All other Children need to be either Singapore Citizens or Singapore permanent Residents.

This is your first time applying under the TCP scheme.
The flats allocated under this scheme is maximally 5%. The benefits that the scheme offers is rather than placing you within a quota, your application will be included in the first ballot round, and if unsuccessful, it will then be included again in the second ballot round together with other public applicants.
Assistance Scheme for Second-Timers (ASSIST)
Created to provide assistance to divorced or widowed persons with children below 16 years old, this scheme offers a helping hand to second-timers.
To be eligible, you will have to abide by the following criteria:
You must have at least one child below the age of 16 (again, from a lawful marriage or legally adopted)

You may not have owned or disposed of a flat or private residential property after the date of divorce/separation or death of your spouse.
For smaller flats such as the 2 – room Flexi and the 3 – room HDBs in non-mature estates the flat allocation for applicants using the ASSIST scheme is 5%.
Tenant's Priority Scheme (TPS)
Those with lesser means are offered to rent a home directly from HDB under the Public Rental Scheme. To help these Singaporeans move on more easily to homeownership, HDB has initiated the TPS.
To be eligible for the TPS, you and your family must be first-timers, plus you and your family must have been living in a flat rented from HDB for the last two years.
Up to 10% of 2 – room Flexi and 3 – room BTO's may be set aside for applications under the TPS.
Note: If you fall into the Resettlement, Relocation, and Selective En Bloc Redevelopment Scheme (SERS), then you may also apply under the TPS.
Senior's Priority Scheme (SPS)
The SPS is meant to allow the elderly to age in a familiar environment or live near to their family, in a 2 – room Flexi flat.
To be eligible for the SPS if you wish to age in a familiar environment, you will need to apply for a 2 – room flexi flat in the same town or estate, or within a 2km radius of a property you currently own and occupy.
To be eligible for the SPS if you wish to live near your family, you will have to meet the following criteria:
At least one of your parents, or married child or your married child's spouse is a Singapore Citizen or Singapore Permanent Resident.

The family you wish to live near lives at least within 2km of the flat you are applying for, as an owner/occupier of an HDB there, tenants of a flat directly rented from HDB, or owners of a private property there.

Your parents/married child are included in your flat application to live together with you
So, what if you are eligible for more than one of the HDB priority schemes?
It is possible that you are eligible to apply under several schemes, and it is encouraged for you to do so. A married couple with three children can, for instance, apply under the TCP scheme but also under the PPS. The way such an event will go down is that your ballot will first be balloted under the TCP scheme with other TCP applicants. In the event that the application then is unsuccessful, it will again be ballotted under the PPS.
With seven different schemes a large part of the population is granted privileged odds. And if you find yourself ineligible for all the schemes, then perhaps you can take comfort in the fact that sooner or later you will be successful too; the more often your application is unsuccessful, the less likely you are to be rejected for the next one.
Good luck applying! 🙂
If you found this article useful, 99.co recommends Quick Guide to BTO and Resale HDB Grants for Singles and Quick Guide to BTO, SBF and Resale HDB Grants for Couples.
Looking for an HDB flat? Find the home of your dreams today on Singapore's largest property portal 99.co!