As the court case against the Aljunied-Hougang Town Council (AHTC) enters the exciting hearing phase, we feel it'd also be appropriate to stage a trial! Not against the Worker's Party, mind you. What we've put in the stands are three HDB resale flats in AHTC's wards — comprising Bedok North, Serangoon and Hougang* — that are currently listed for sale on the 99.co property portal. Have these homes had responsible custodians of public housing assets? Are their asking prices fair? And are the owners' conscience clear? You be the judge.
*Yeah, we know, the Aljunied in the town council's name has nothing to do with the geographical location of Aljunied. Let that one sink in.
AHTC Exhibit #1: 467 Hougang Avenue 8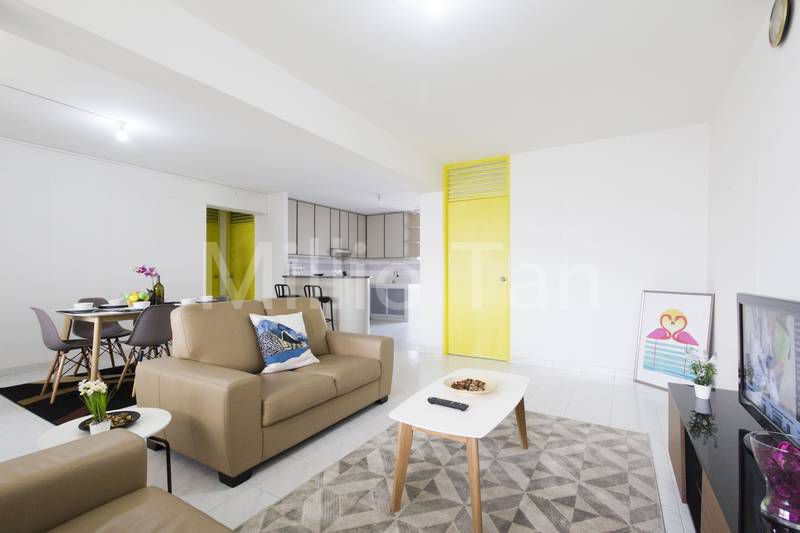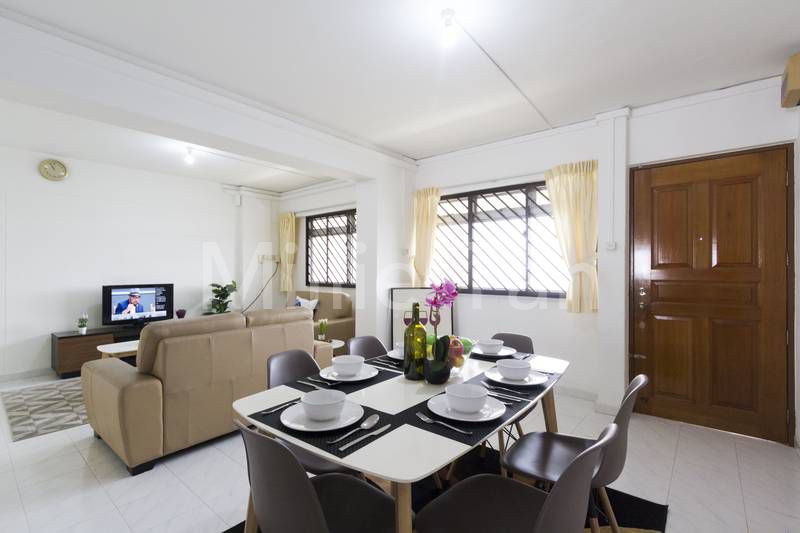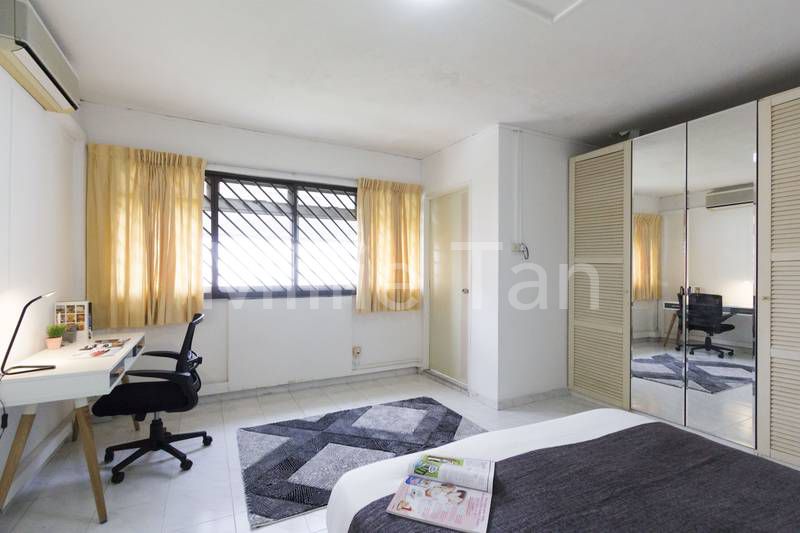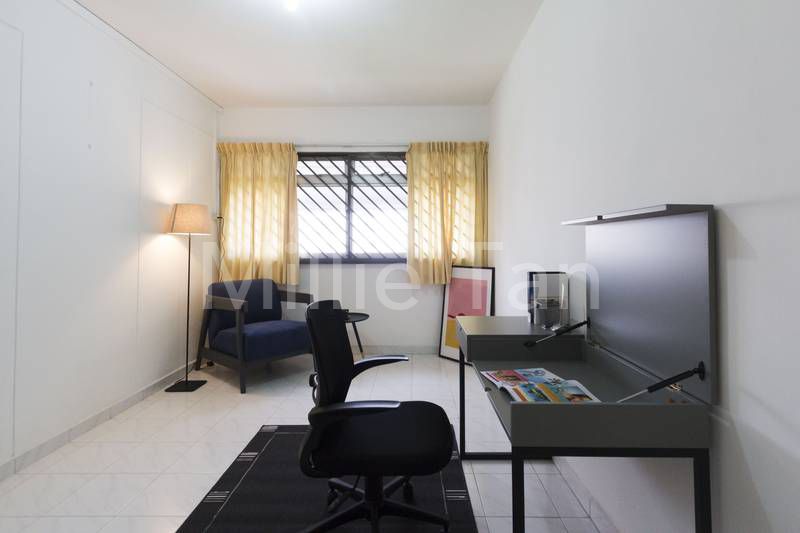 Built: 1992
Listed price: $499,000 ($429.06 psf)
Floor area: 1,163 sq ft
Type: 4-room Model 'A'
Nearest MRT: Hougang (5 minutes walk)
The home: A remarkably minimalist affair (not the Yaw Shin Leong type). The owner of this HDB 4-room flat in Hougang appears to have created a stylish abode with the bare minimum. This happens to be great news for many buyers of resale flats who prefer a unit to be in as "original" a condition as possible, so as to make renovating the house easier upon moving in.
Such is the owner's effort in keeping the flat pristine, the paintings around the house haven't even been mounted onto the wall. Instead, they sit on the floor and lean against it, which happens to be a hipster way of putting up art in the home.
At 1,163 square feet (108 sq m), this unit is also larger than the regular 90 sq m four-room flat, with the master bedroom, in particular, more spacious because of an angular wall that creates a nice nook for a study table or dresser. A king bed can also fit in the master bedroom, according to the agent, while the other bedrooms can comfortably fit queen size beds. You definitely can't say the same for flats built nowadays!
The location: Central without a fault. The unit is about a five-minute walk to Hougang MRT station and town centre, which features Hougang Mall, neighbourhood shops, supermarkets and eateries such as kopitiams — all within easy reach.
This area should prove ideal for families too; Punggol Park is a two-minute walk away, whereas schools such as Holy Innocents' High School and CHIJ Our Lady of Nativity is literally at the doorstep. Montfort Junior School and Punggol Primary School are also within a 1km radius.
Verdict: The bareness of the flat, down to the ceiling lights that are essentially just lightbulbs, could imply that the owner has a clear conscience and nothing to hide. Nevertheless, a thorough inspection for the property is needed for interested buyers, who also stand to experience first-hand the merits of simple living. (We bet no household funds were misused.)
**[See all HDB flats for sale in Hougang]
AHTC Exhibit #2: 222 Serangoon Avenue 4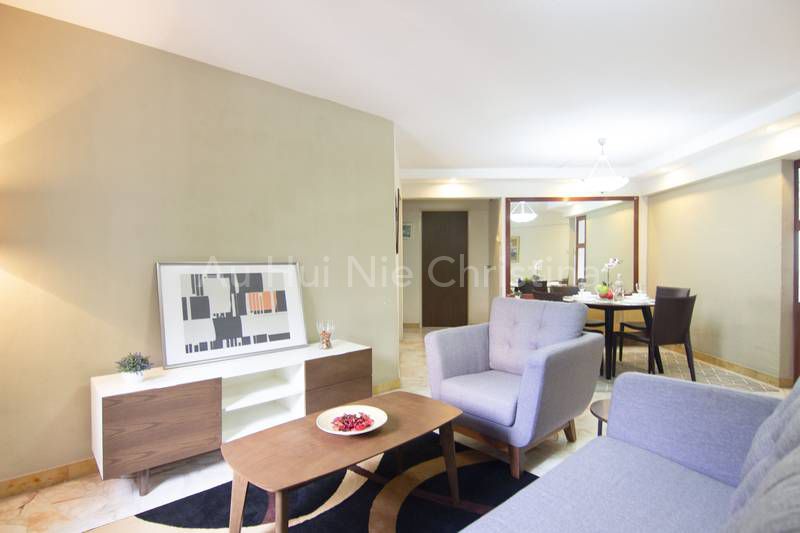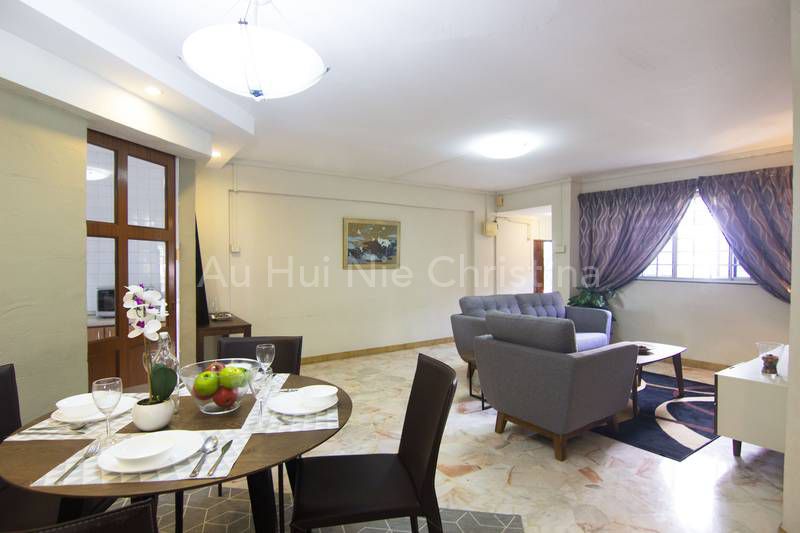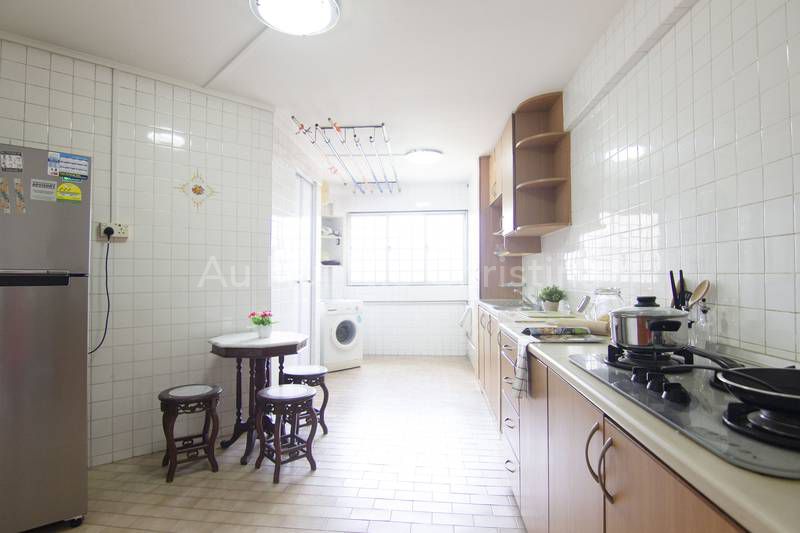 Built: 1985
Listed price: $438,000 ($411.27 psf)
Floor area: 1,065 sq ft
Type: 4-room Model 'A'
Nearest MRT: Serangoon (10 minutes by bus; two stops)
The home: Step inside this home, and you'll need to do a double take as to whether you've stepped into a well-appointed condo or serviced apartment instead. The colour scheme of this 4-room flat in Serangoon is soothing, and the space between living and dining areas is well-demarcated — something newer flats might not have.
Not only that, but the nice-sized kitchen, with it's old-school floor and wall tiling, has room for a breakfast or tea nook. In its current form, there's generous countertop space, but a refurbishment can truly realise the kitchen's potential as a haven for home chefs, who need lots of elbow room for inspiration.
According to the agent, the home is also a corner unit — a big plus-point for privacy — that also includes a bought recess area outside the home, meaning homeowners can start a semi-outdoor garden in the corridor without fear of neighbour complaints.
The location: A very short bus ride from Serangoon MRT and town centre (where the enormous NEX mall is located), this unit strikes a balance between accessibility and tranquility. Fitness enthusiasts will celebrate the fact that the unit is three minute walk from Serangoon Stadium and Swimming Complex, whereas food-lovers are a similar distance away from a kopitiam, cafes and restaurants around the stadium area. Of course, there's also Serangoon Gardens a couple of bus stops away, giving residents in this area a truly diverse set of dining, shopping and lifestyle options — plus a couple of really good drinking spots.
Meanwhile, motorists will appreciate the fact that this flat is highly accessible to and from the Central Expressway (CTE).
Verdict: The respectable and dignified hotel-like decor should say something about the current owner of the home. Interested buyers can expect a soothing viewing experience, but they shouldn't be too relaxed. Because for a well-maintained unit that only needs a few tweaks to attain its potential, they might have to move fast.
**[See all HDB flats for sale in Serangoon]
AHTC Exhibit #3: 506 Bedok North Avenue 3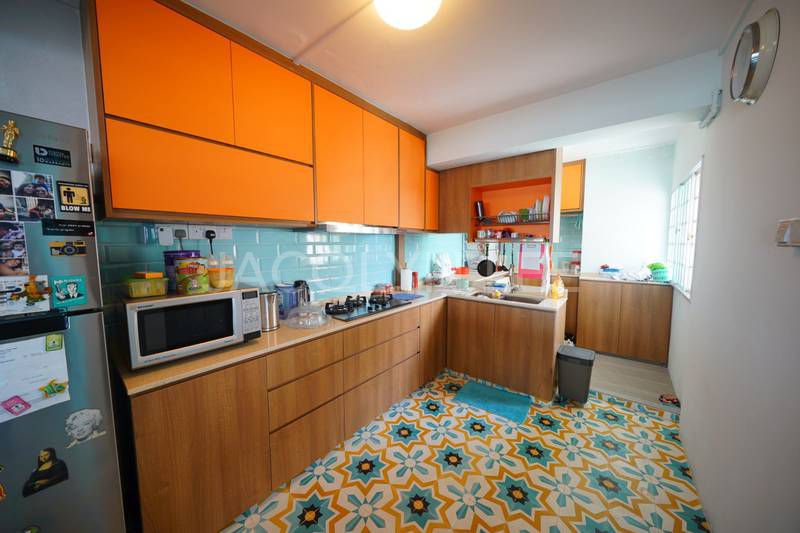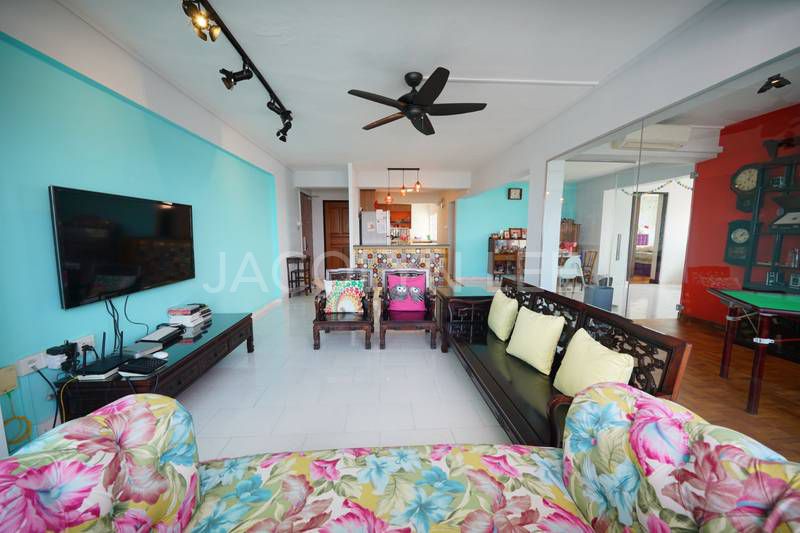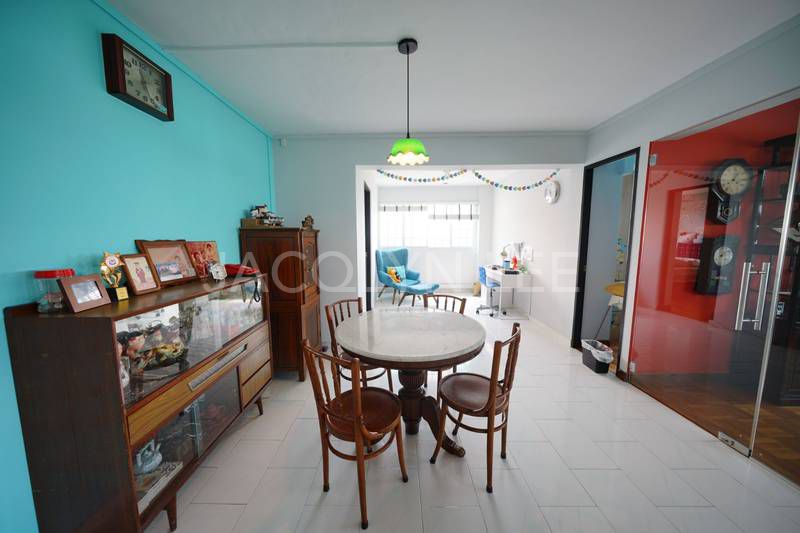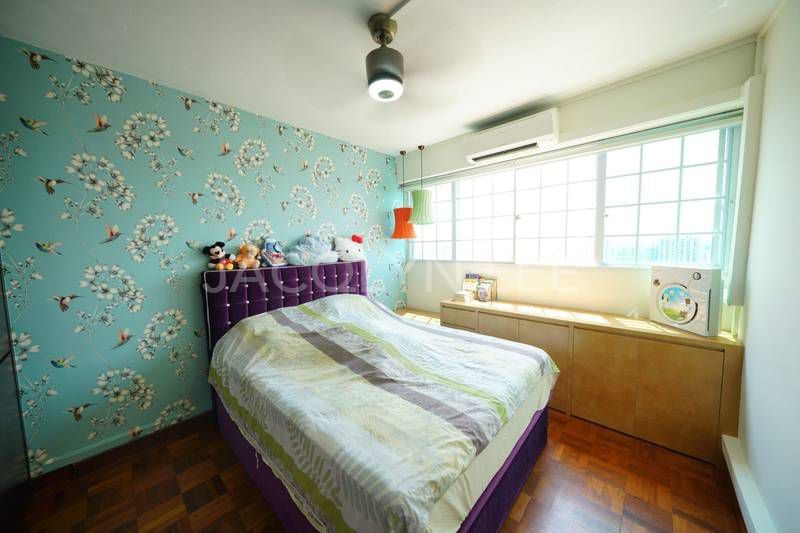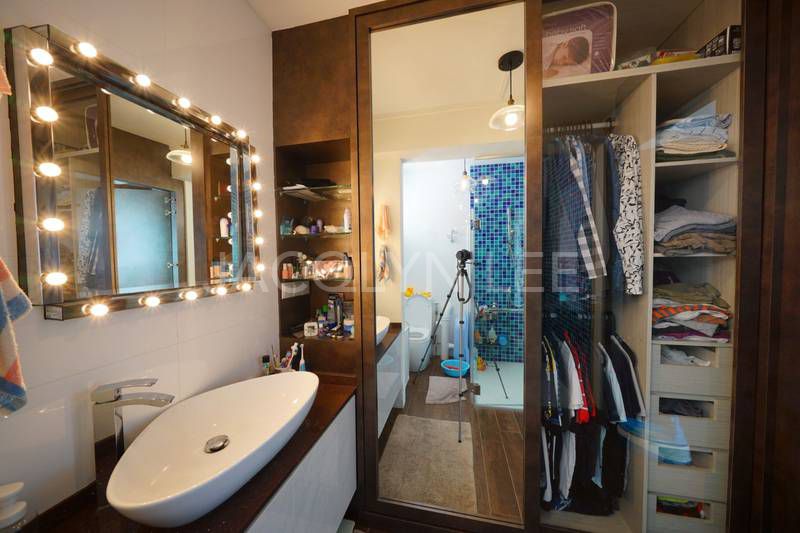 Built: 1978
Listed price: $720,000 ($526.06 psf)
Floor area: 1,281 sq ft
Type: 5-room Point Block
Nearest MRT: Bedok Reservoir (6 minutes walk)
The home: Wait, we must address the eye-popping price tag for this 40-year-old flat first. This 5-room flat in Bedok isn't merely a unit in a point block (itself a selling point), it is also on the top floor — 25th floor — with unblocked views extending to the sea, Changi Airport and even Malaysia to the East. (Just imagine the breeze this unit gets.) Pair these plus points up with an attractive decor and you get an asking price that right up there.
Meanwhile, the interior of this unit aims to be as eye-catching as its external attributes. We could describe the design as eclectic and playful with authentic retro-Oriental flavour, or bold yet cohesive, but we know that the photos do the flat more justice than mere words. If the built-in furnishings (e.g. kitchen cabinets, tiles, bathroom) are your kind of style, then this unit is essentially in move-in condition.
Space-wise, the flat has been converted to a unit with two large bedrooms from a maximum of four. This has the effect of maximising natural light and increasing the number of communal spaces in the unit. There's a glass-partitioned tea room, a four-seater breakfast bar, a dining area, and a reading nook/study, in additional to the living area.
Buyers who need extra bedrooms can convert the study back into a room and/or reconfigure the the common room and tea room into two enclosed rooms. The point is, spacious HDB resale flats like these offers prospective buyers many more possibilities for space planning and configuration.
The location: Although it's a few bus stops away from the Bedok MRT station, Bedok Mall and town centre, this point block arguably boasts even more amenities within walking distance (compared to a more "central" unit in the same estate). Not only is the Bedok Reservoir MRT station a six-minute walk away, continue in the same direction for two more minutes and you'll reach the scenic Bedok Reservoir Park. The nearby Bedok Town Park is also a hit with residents.
For families with children, not one, but two reputable primary schools — Yuneng Primary School, Red Swastika School — are at the doorstep. Also nearby is Anglican High School.
And if you're a foodie, try to go easy on the hawker fare in the area. The block is located right between two large and well-known hawker centres at Block 511 Food Centre (3 minute's walk) and Block 85 Fengshan Food Centre (6 minute's walk). Both come with adjoining wet markets, and there are also supermarkets and shops nearby. Let's just say this: you'll never go hungry.
For homeowners who drive, the Pan-Island Expressway (PIE) is also a minute away from the block.
Verdict: Is buying the unit a justified use of your money? We'll let you be the judge. But usually, if a unit that looks good on paper (and photos) has a relatively high asking price that's within your budget, it's worth going down to see it for yourself.
And here's a tip: always remember to look beyond the decor when assessing the merits of a HDB resale flat, or any property for that matter, regardless of how eye-catching the colour scheme or the kitchen floor tiles. A good start is to begin your property search on the 99.co property portal; simply scroll down an individual listing to view similar transaction prices for the same block of flats. Happy house-hunting!
**[See all HDB flats for sale in Bedok]
Which HDB resale flat in AHTC is guilty of stealing your heart? Voice your thoughts in our comments section or on our Facebook community page.
If you liked this article, 99.co recommends 3 stunning Executive Maisonette HDB flats we love and Why now is the best time to buy a HDB resale flat
Looking for a property? Find your dream home on Singapore's largest property portal 99.co!