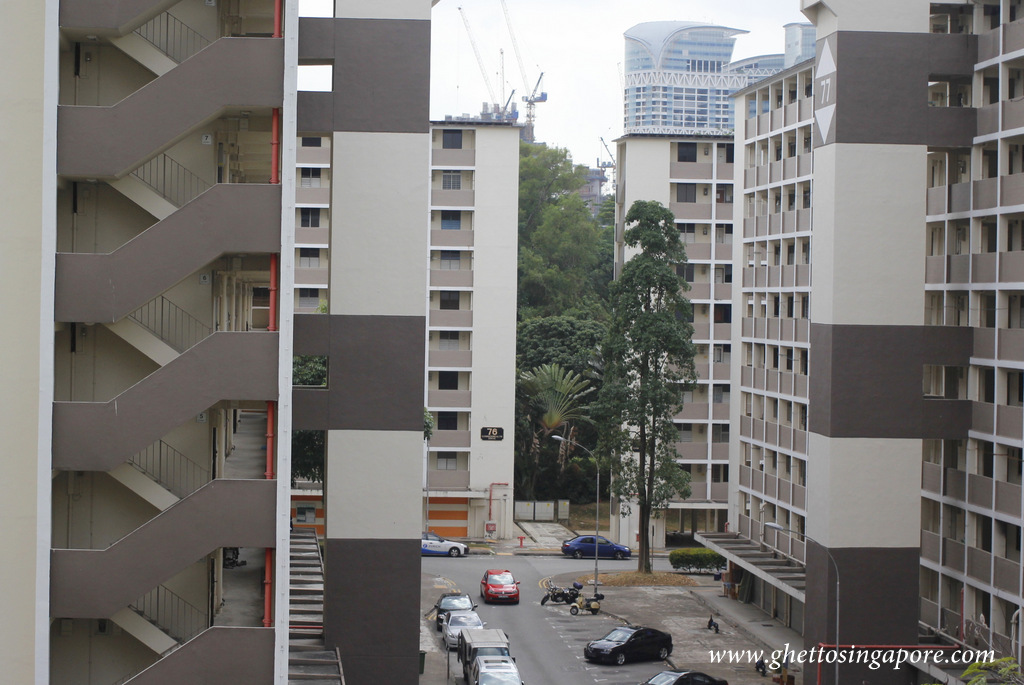 Photo source: Ghetto Singapore
Recently, Minister of National Development Lawrence Wong has been warning us about HDB SERS assumptions. It beats us why he's warning the buyers; those people kind of asked for it. But the owners of old flats are the ones who need to freak out (what are you going to do if your HDB lease expires and you can't afford a new place?) Anyway, here are some other dangerous assumptions to drop while we're at it:
1. The HDB SERS assumption
So far, we haven't had a situation where an aging HDB estate has really been left to die. The Selective En-Bloc Redevelopment Scheme (SERS) has always kicked in before that happens.
In case you don't know, HDB SERS happens when HDB estate residents get early notice they're homes are being torn down. They get compensation based on the market value of their flat, and get to buy a new unit with a grant of $15,000 to $30,000 (among other rehousing benefits)
(See the example of how this works for Tanglin Halt)
SERS announcements tend to bring in a certain type of buyer.
For example, say you're looking for a flat in a mature estate, with all the amenities that go with it. Chances are you can't find a Built-to-Order (BTO) flat in such a location. So one solution is to look for an old flat about to be torn down from SERS – these flats tend to be in a built up area, are often bigger*, and the rehousing benefits will be transferred to you from the previous residents.
The problem, as highlighted by Minister Wong, is that HDB SERS has become an assumption. However, only four percent of HDB units (about 40,000 out of a million) have been targeted for HDB SERS since 1995.
Contrary to popular belief, HDB SERS does not exist solely to extend expiring leases. In fact, the main purpose of SERS is redevelop land that could be better used. It's possible that SERS won't happen, in which case buyers who forked out money for SERS flats – which can run to over $600,000 for five-room resale flats in mature estates – will be left with no money and no house.
The people who should really be alarmed though, are the ones staying in old HDB flats right now. What happens if their lease runs out, and there's no HDB SERS?
Our guess is that the government will help on a case-by-case basis, rather than implementing a fixed system of rehousing (publishing a fixed system would rile dissatisfied residents, and maybe promote even more speculation). But the fact remains: it's dangerous to assume SERS will happen, whether you're a buyer, or a current owner of an old flat.
It may be a good idea to consider selling before your unit hits the dreaded 40 year mark (i.e. 40 years left on the lease), as beyond that it's tough to offload it to buy a new one. Many banks don't give out loans if there is 40 years or less remaining, and there are also restrictions on how much of your CPF can be used for an old flat – this makes it tough to find buyers.
(*Older flats tend to be bigger than their new counterparts, although it's not always true).
The "downsize for retirement" assumption
Do you feel life is too dull? Do you want to really live on the edge, threatened with the prospect of bathing in longkang water and dumpster diving at McDonald's for lunch? Then you can bank all (or most) of your retirement prospects on downsizing your house.
Don't get us wrong: holding on to your house as a retirement asset is a perfectly viable strategy…if it's part of a wider portfolio. If you have literally no retirement assets beyond the house (e.g. even all your CPF savings have gone into it), then you're making an unhedged, one-way bet on Singapore's property market.
Remember that you may not be able to control the timing of the sale. Housing prices almost always appreciate over time (like stocks, gold, or various other assets, so don't think it's unique); but it's possible for the market to be in a downturn when you need to sell.
At present, for example, Singapore's property market has been in a downturn for 13 months. If you bought a house in 2007 for $900,000, and have to sell it today for $1.2 million due to the downturn, that's a return of $300,000 over 10 years. That's an annualised return of about 2.92 percent; you may as well have just stuck the money in your CPF (and we haven't even deducted the mortgage interest, or maintenance costs).
Also, core inflation is about 3 percent per annum, so you would have seriously damaged your retirement fund with the house.
But we're not saying it's a bad investment – just that you can't take a highly generalised rule of thumb (i.e. property will always appreciate over the long term), and stake your whole retirement on it.
If you're a homeowner, don't play investor. Buy a house that's affordable, not the most expensive one you can afford. It may not reward you for 25 years of mortgage repayments. And get some advice on building a retirement portfolio, where the asset list isn't "this house I'm in".
Assume the view and amenities will last forever
Owners of the Bayshore condo can give you a long lecture on how the "view" thing can go wrong.
When there's a lot of space between you and that ocean, there's a good chance that a new condo will spring up there. Then the sea view gets replaced with a magnificent concrete wall, or the neighbouring condo's stairwell. This is exactly what happened to some units at the Bayshore, once developments like Costa del Sol sprang up.
Besides the changing view, remember that amenities are not permanent. Food heavens can move on (as is the case of many hipster diners moving out of Tiong Bahru these days), malls undergo renovation (or are poorly managed and become non-amenities), and cinemas close down.
For landlords, this means rentability can go down with time. Just because estates tend to get built up more, it doesn't mean the changes will always treat your particular property kindly. Homeowners should also look at the URA master plan, and question whether the area will be convenient in the next decade or two – don't just look at the amenities there now, and base your decision on that.
Be ready to react to changes
Not only does the state of your property change over time, your finances will as well. Your income can go up or down, and your family unit may change (due to divorce, children moving out sooner than expected, parents moving in, etc.)
The key is to build up an emergency fund, to prepare for situations when you may need to offload your property and move. Always stash about six months of your income in an accessible place (Singapore Savings Bonds may work, fixed deposits don't because they're locked down).

Six months is about the right amount of time to find a new home, or to offload the old one at a reasonable price.