Sellers have been waiting for Sentosa Cove prices to improve for a long time. But given the looming downturn and higher stamp duties, things are looking about as bright as a broken light-bulb. If you're eyeing a landed property in Singapore, here's an updated look at how things are really going: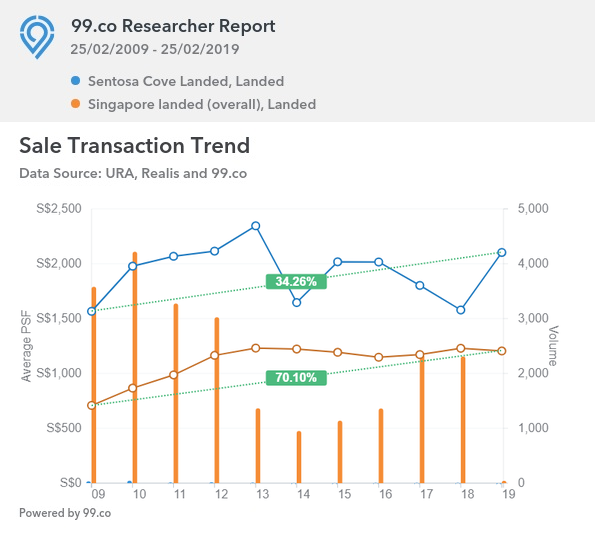 If we look at price per square foot, Singapore's landed properties (overall) have seen an increase of just over 70 per cent, over the past 10 years. Landed properties in Sentosa Cove, however, have seen an increase of less than half that amount, at around 34 per cent.
In the interest of using a closer equivalent, we also compared Sentosa Cove landed properties to those in another luxury area – Orchard (District 9):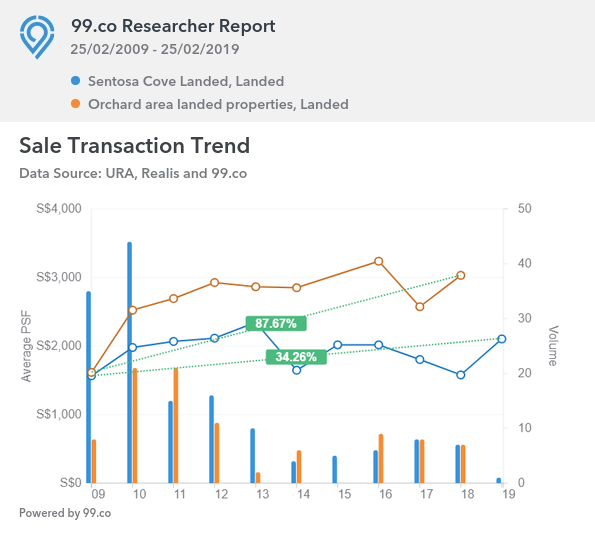 The difference is even more pronounced. Landed properties in Orchard saw a rise in average PSF of over 87.6 per cent, beating Sentosa Cove landed properties by more than 53 percentage points.
But how about rental transactions?
For rental transactions, we only have data from 2012 onward. From what we can see, rental rates at Sentosa Cove haven't recovered from their dive between 2012 to 2014: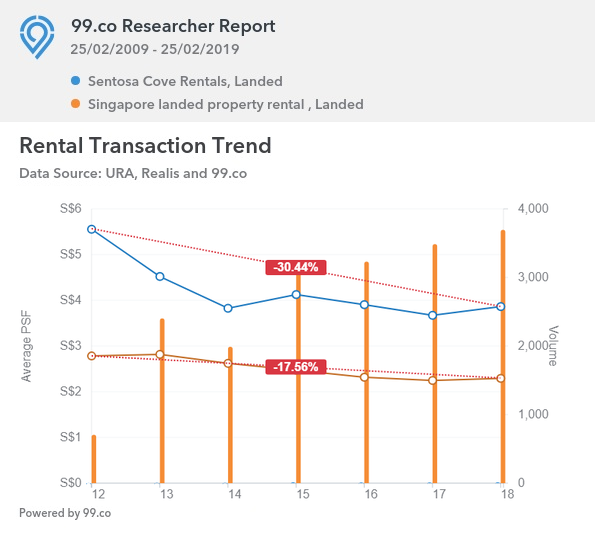 Rental rates for landed properties have slipped across the board. However, rental rates in Sentosa Cove landed properties are down by over 30 per cent since 2012. By comparison, overall rental rates for landed properties in Singapore is down only around 17.5 per cent.
Next, we make the same comparison between Sentosa Cove and Orchard again: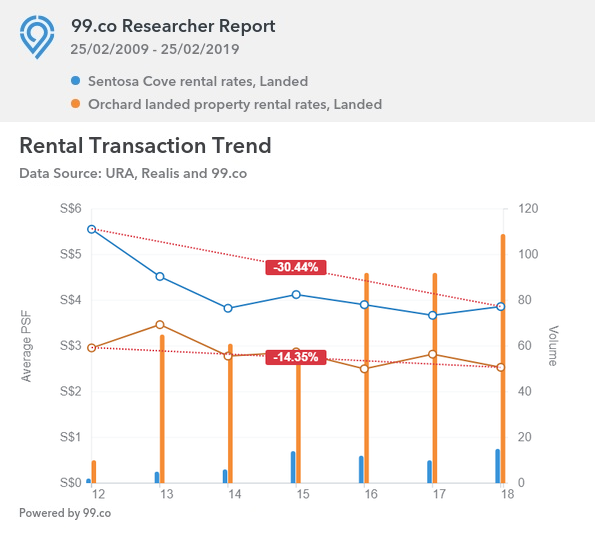 Orchard also comes out ahead, with rental rates for its landed properties falling only 14. 3 per cent (Orchard also managed to beat the average of 17.5 per cent).
What's behind the fall of Sentosa Cove?
Landed properties on Sentosa Cove are among the first to bear the brunt of cooling measures, such as Additional Buyers Stamp Duty (ABSD). Many of the buyers at Sentosa Cove are foreigners, as its the only place they can easily buy landed units*.
As of today, the ABSD has doubled since it was first introduced, to 20 per cent of the property price. This, of course, has done the area no favours.
Then in 2014, an oil price slump and weakening financial sector affected the luxury property market. Foreign buyers turned cautious, and the flow of affluent expatriates (the prime tenant demographic for landed properties) slowed. On its own, this might have just resulted in a slight dip in prices; but it followed multiple rounds of cooling measures.
By Q4 2016, Sentosa Cove as a whole (including its non-landed properties) was topping the charts for rental vacancies at 9.6 per cent. This was higher than the average vacancy rate of 8.4 per cent across Singapore.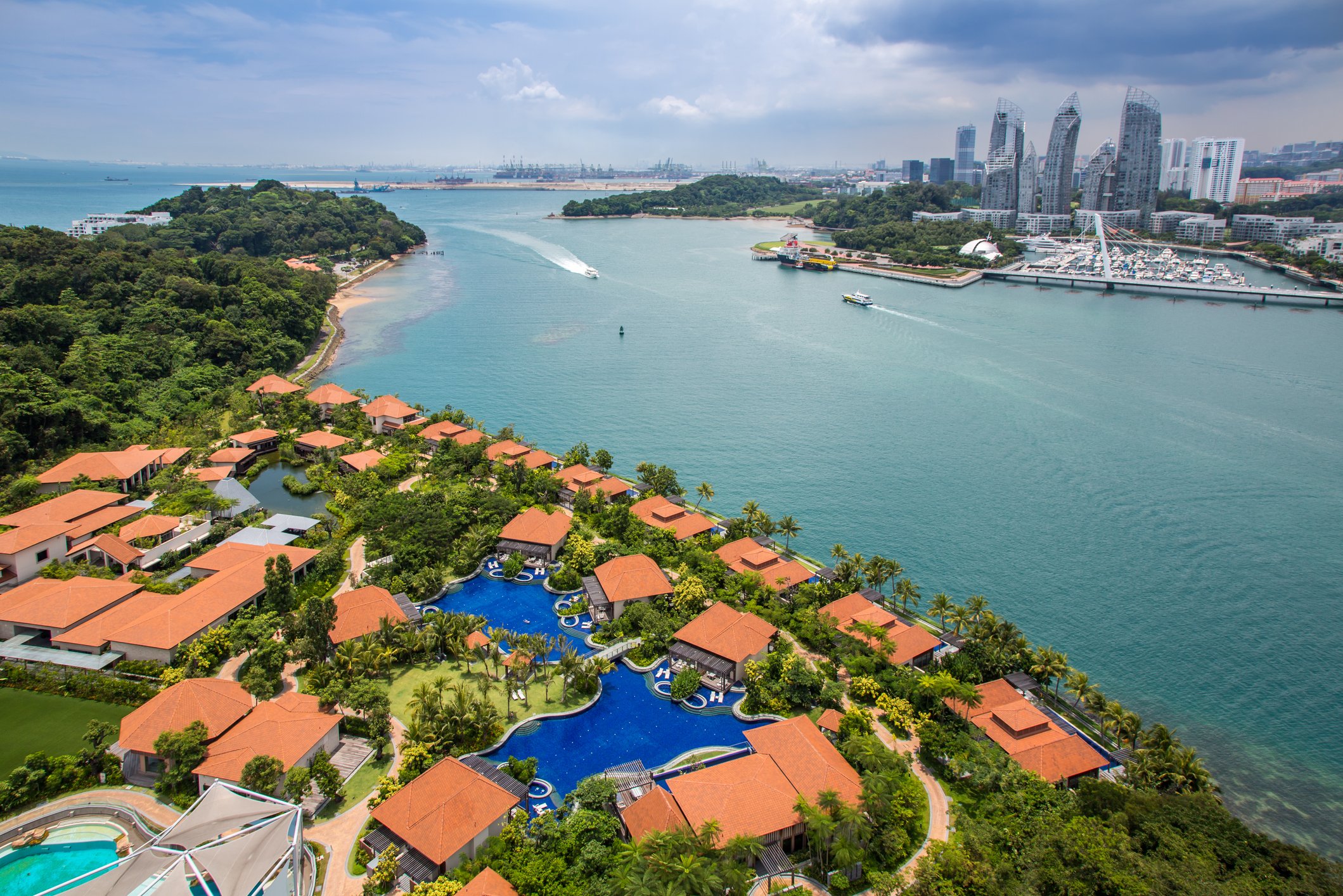 We'll update you on how much the rental situation has improved after Q1 2019; but we're not particularly hopeful, given that rental vacancies in luxury areas like District 9 have been above 10 per cent as of last year.
At present, hopes for Sentosa Cove's rebound are being weighed down by a negative global outlook. A Sino-US trade war, Brexit, and a slowdown in the Chinese economy are all expected to put the brakes on foreign buyers; and local investors are turning cautious as well.
*It's possible, but difficult, for foreigners to get approval to purchase landed properties on the mainland. However, most can obtain approval to buy a landed property at Sentosa Cove within two days.

Then again, the same global uncertainty may work in Sentosa Cove's favour, if we play our cards right
Uncertainty can also cause a flight to safety; and Singapore property is regarded by many foreign investors as a safe have asset. Note that, in the graphs above, landed property prices continued to increase immediately after the Global Financial Crisis in 2009.
If we can convince foreign investors that Sentosa Cove is a port in a storm, we might be able to turn the economic uncertainty to an advantage.
This isn't to say Sentosa Cove is a bad place to stay
It just means that Sentosa Cove's landed properties are best regarded as a luxury expense for home owners.
Like golf, don't expect to put money into it and come out with more money. That could happen, but it's more likely that all you'll get is more golf. Likewise, put money into a Sentosa Cove bungalow and what you'll probably get is just more house. Not more money.
Are you confident you can get an HDB loan? Voice your thoughts in our comments section or on our Facebook community page.
Looking for a property? Find the home of your dreams today on Singapore's largest property portal 99.co!