Not all properties are created equal. Find out what makes a potentially good investment property.
Buying investment property is quite different from buying one to live in. If your agenda is the former, then the first thing you need to do is to assess whether the said property can potentially generate a steady rental income to help defray your mortgage.  
In this regard, the priority would be to ensure that you manage the carrying costs of the property well. To achieve this, investors would need to consider the current economic climate, potential changes to existing policies, and clearly, demand-and-supply factors before taking the property plunge.
But with so many elements at play, where do you start? More importantly, how do you determine if a property will generate profit? Below are some starting points to determine potential rental yield and capital growth, to hopefully make your property-seeking journey a little easier. 
However, while every effort has been made to ensure that the information provided here is accurate, do note that it is merely for reference purposes and do not constitute investment or financial advice. 
Determining potential rental income
Rental income refers to rent and related payments that you receive when you rent out your property. For property investors, this is an important consideration when deciding which property to buy. 
To start, you will need to determine the kind of potential rental income that different areas can command. What's the growth potential, and what kind of rental is achievable going forward?
While we don't have a crystal ball, we can look at past rental performance between 3Q2018 and 3Q2019 to get an idea of which areas have been performing well to inform your investment decision ahead.
For the purpose of this analysis, we will look at gross rental yields, which are calculated by taking the median $per square foot (psf) annual rental income of properties within specific areas, and dividing it by median $psf resale prices of projects at corresponding areas. 
In this context, we assume that all units are 700 sq ft (the typical size of a two-bedroom unit) in size. Using URA data, only non-landed private residential properties were considered in our analysis. 
Singapore areas with rental yields of 3% and above from 3Q2018 to 3Q2019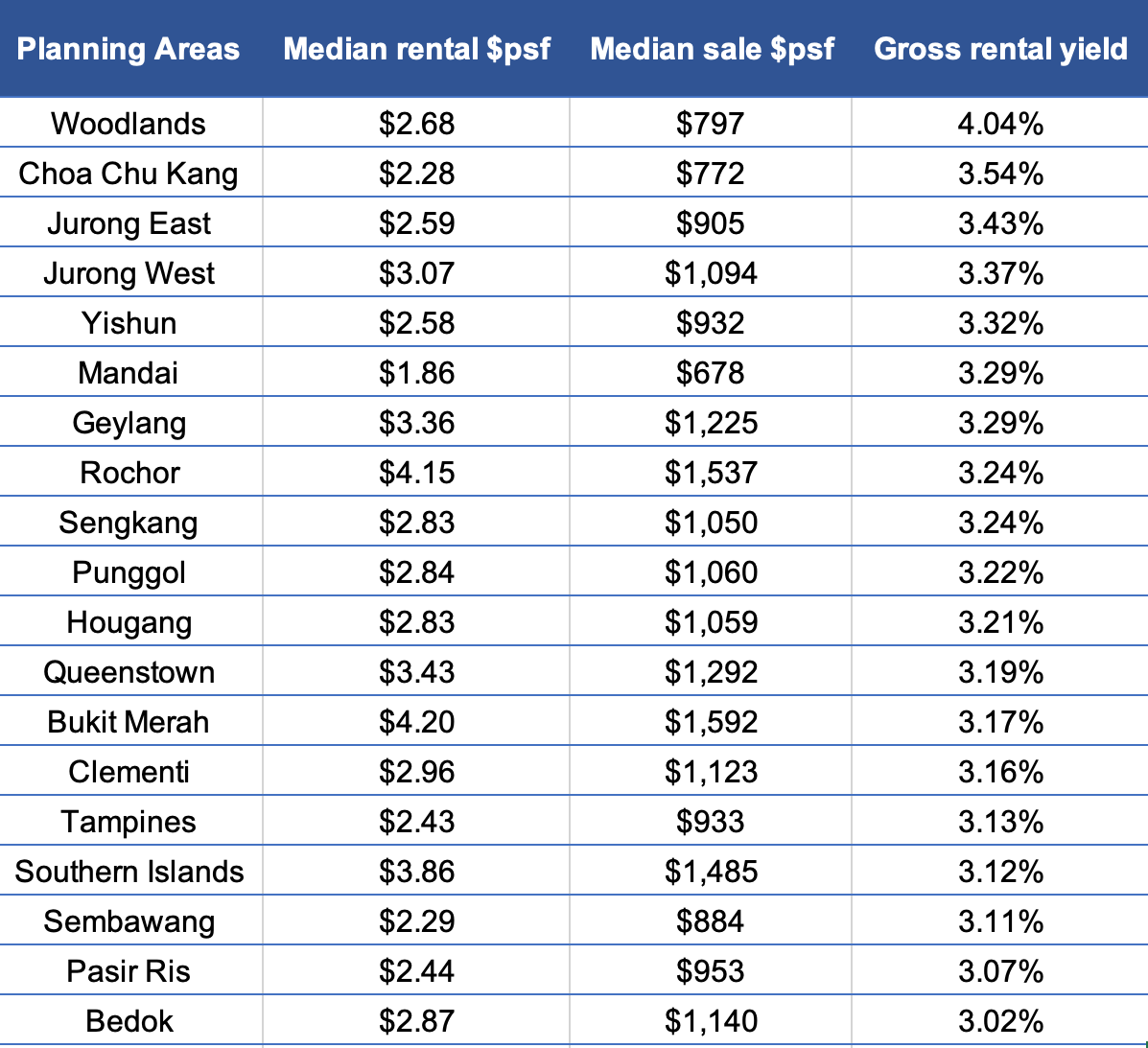 As observed from the list of properties yielding 3% and above, the bulk of these properties are located in the Outside Central Region (OCR) or the suburbs.
However, considering that gross rental yields are calculated by dividing annual rental income by recent resale prices, it makes sense that a lower purchase price – typically linked to properties located further away from the central – would also see more favourable rental yields.
That said, potential rental yield is by no means a be-all-end-all criteria of selection when it comes to picking an investment property, as it is just one part of the total return of investment equation. Obviously, capital growth potential is another pivotal area to look at, which we will elaborate more in detail below.
Identifying Capital Growth Potential
It goes without saying that the lower the purchase price, the higher the potential for upside, which is why your entry price point is so crucial when it comes to identifying capital growth potential. 
To start, it pays to study various potential areas and consider what has happened or what has been planned in these respective areas to identify where these buying opportunities lie. 
One area that has come under investor scrutiny in recent years is the West Region, where prices of certain private residential projects were observed to have risen by over 40% over the last decade.
From its origins as a sleepy region, the western part of the country has since transformed into a lifestyle and commercial hub, and more developments are in the pipeline.
It started with the announcement of the Jurong Lake District (JLD) development as part of the 2008 Masterplan. The Government had further announced plans to transform the area into Singapore's second central business district (CBD), with works slated for a 2040 completion.
When completed, the 360-hectare JLD will be the largest mixed-use business district outside the city centre, with offices, housing, amenities and green spaces. The announcement sparked off massive revisualisation and revitalisation of interest in the West, especially for private residential properties located in District 22 (Boon Lay/Jurong).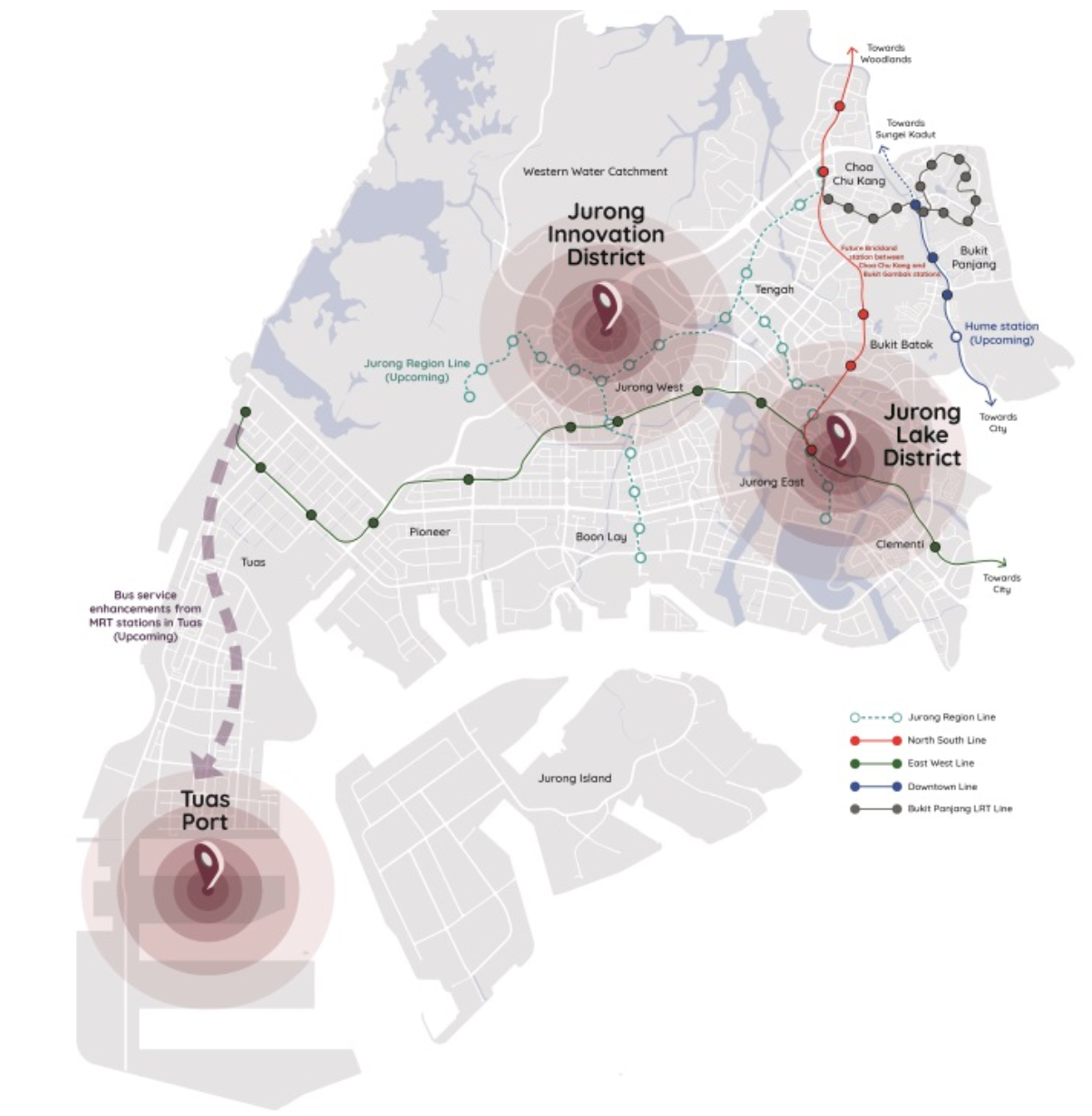 Moving forward, we do expect to see continued demand for properties in the West, especially amongst investors looking to capitalise on these long-term plans, and those who are sold on being part of the growth story of Singapore's suburbs.
What do you look out for when buying investment property? Voice your thoughts in our comments section or on our Facebook community page.
Looking for a property? Find the home of your dreams today on Singapore's largest property portal 99.co! You can also access a wide range of tools to calculate your down payments and loan repayments, to make an informed purchase.