They say beauty is in the eye of the beholder. But every time you hear that phrase being used, it's invariably an excuse for something being ugly. Well the property agents will have to say that a lot when dealing with some of these ugly condos – don't get us wrong, they may have a great location, incredible amenities, good price, etc. It's just…people look these ugly condos and ask if the architect still has a drinking problem.
The Linear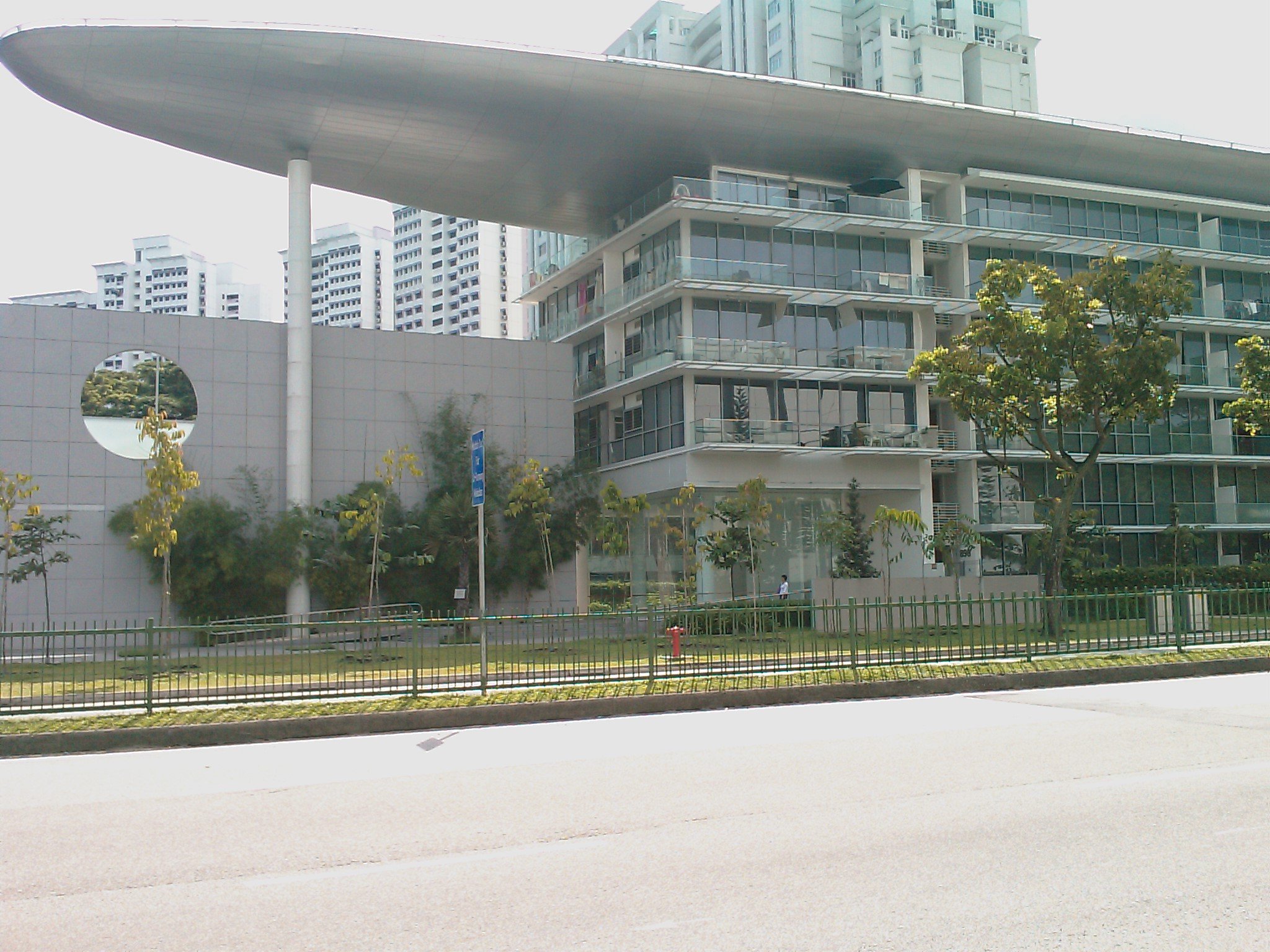 This is the kind of design creativity you attract when you call your development "The Linear."
The name is honest, because this has got to be the most unimaginative structure ever conceived. The Linear is a thick straight line, and nothing more. If I had to guess at the inspiration, I'd say it has the same aesthetic appeal as a trench in World War I. Just look at that straight block – if your child built something like this as a Lego project, she'd fail kindergarten for lack of effort.
That said, this testament to uncreative thinking is set along the posh Upper Bukit Timah road. It's got a rare 999 year lease, and on 99.co is an affordable $760 to $770 psf. There are 221 units, and the entire development is barely 10 years old.
All the creative effort was apparently reserved for the interior, which has a sort of cosy yet postmodern feel.
Peace Mansion
If there's a reason not to give peace a chance, the facade of this mixed-use development is it.
We have featured Peace Mansion before, as a dumpy looking place that nonetheless has huge value (en-bloc attempts at $680 million have been made for it).
From the exterior, Peace Mansion looks like something the Soviet Union built in a time of severe shortages. They say all buildings communicate something to the viewer, and this one is clearly an articulation of why we need anti-depressants. Complementing its Cold War charm is a thick cluster of dubious KTVs, which post flickering, half malfunctioned neon signs all over the facade facing Middle Road.
This run down (but incredibly well located) condo has access to six MRT stations, from Dhoby Ghaut to Little India. It sits along Sophia Road, minutes away from the heart of the city. That's a location so desirable, three rounds of en-bloc attempts failed to pull owners away from it.
Peace Mansion is a 99-year leasehold condo, which had its TOP in 1976. Average unit prices, if you can even get a hold of one, is around $949 per square foot.
Reflections at Keppel Bay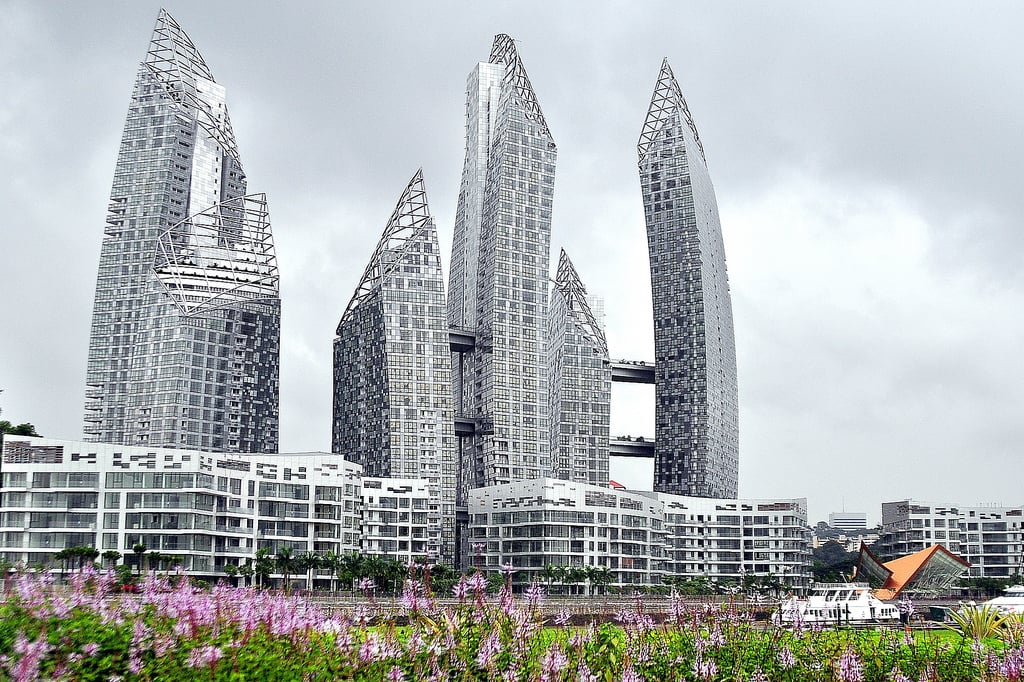 I don't care how famous the architect is (Daniel Libeskind), or how upmarket it is. This entire development looks like it was hit by a meteor, or designed during a time of severe ruler shortages.
The curvy, organic shapes of these buildings are (as I'm made to understand) in relation to their reflection in the water. They look like a distorted reflection of towers in the water. I guess that's cool once it's explained – but if you didn't know that, you'd wonder if this was a case where the architect punched the contractor after seeing the end product.
This development was awarded the FIABCI Prix d' Excellence Awards 2013, because ridiculousness in architecture is like improv jazz. Loads of people pretend to like it.
Reflections at Keppel Bay is a luxury property, and it even comes with complimentary membership at the nearby Marina. At around $1,600 to $1,700 per square foot, some of the residents can undoubtedly afford a yacht. There are 1,129 units, and its 99 year lease started in 2013.
The Jade at Bukit Batok
I don't know what you call the shade of green they used on this building, but I'm thinking it's along the lines of mould or algae. If your jade is actually this colour, call the police because you got scammed.
But the worst aesthetic issue with this building are the two holes in the middle. Look at them for a minute, I guarantee they'll start to irritate you.
What's the point of this feature? Why would you knock two gaping holes in the centre, where perfectly good units could be? Was there an accident with the blueprints and a hole puncher? It's a mystery.
(Note: I have since received clarification that the two holes exist for Feng Shui reasons. Without judging the validity of Feng Shui, l will say knowing it doesn't make The Jade less ugly.)
That said, this is a development with a remarkable location. The Jade is a 99 year leasehold, with 280 units. It was completed in 2004, and goes for around $950 to $1,100 per square foot. It's location along Bukit Batok Central means it's easily accessible by bus and MRT – that's  the transport hub of the whole area. It also means The Jade is close to amenities like cinemas and eateries, and the retail hotspots like West Mall. Maybe the residents can even find some new paint there.
The Parc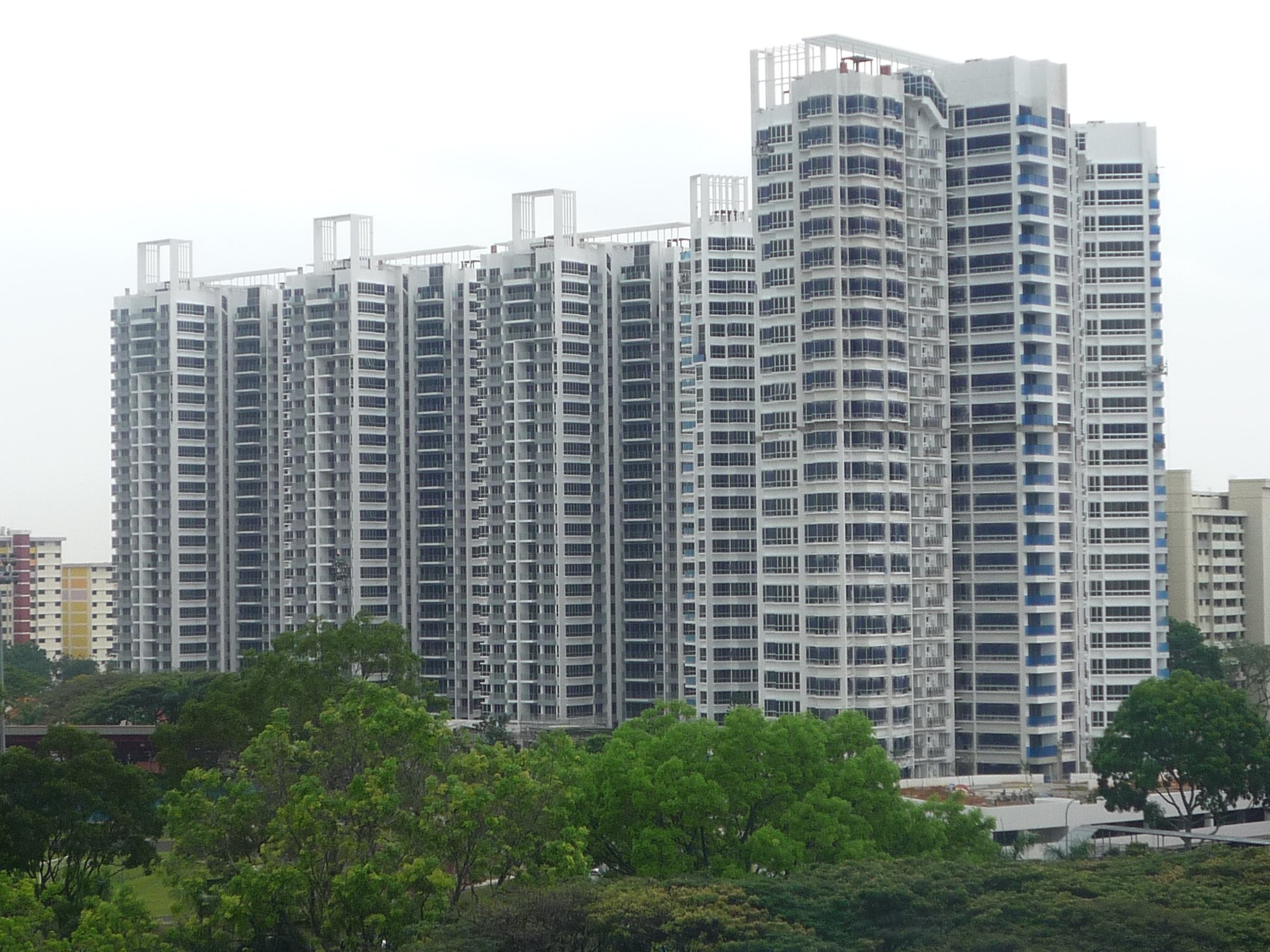 You know I said The Linear was bland? The Parc somehow manages to take that same problem, and multiply it by 10.  The blockish, undifferentiated towers look like someone tried to save money by having one blueprint drawn up, and then replacing the architect with a photocopier.
The colours don't help either. HDB flats are often criticised for being too uniform and drab, but notice how the nearby flats are actually more vibrant in contrast. The only feature that seems to stand out for The Parc is that its balconies are painted blue. Other than that, the exterior is exactly what you'd pick for a prison if you want to demoralise the inmates.
But dull or not, this West side property is actually one of the best places to live in Clementi. It's situated close to the MRT station (and hence by default, is also close to Clementi mall.) The West Coast Drive Market is also nearby, forming a cosy lifestyle enclave. Most importantly, it's freehold.
The Parc was completed in 2010, and has a total of 659 units. Recent transactions reflect an average price of $1,200 to $1,300 per square foot.
Ultimately, it's what's inside ugly condos that counts
If you live inside ugly condos, you're not the one staring at the facade. In some sense, a pretty facade is more a chance for an architect to show off, or to ramp up the price (you're braced for a higher price when something is prettier).
But stick to the basic realities – convenience, location, and affordability. The exterior of ugly condos can come last on the list.