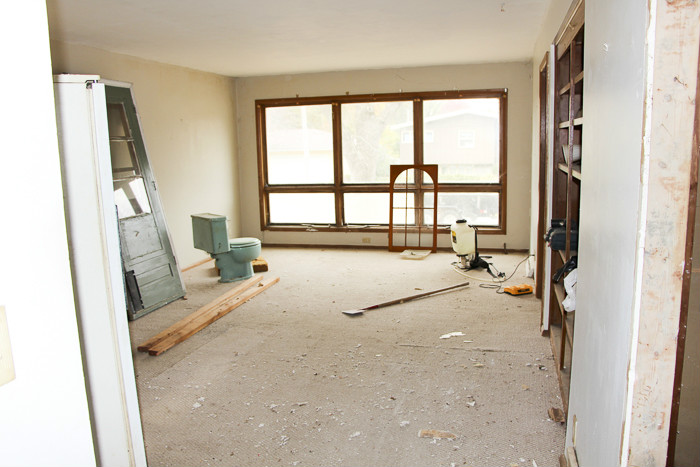 Renovations are always a strategy question for landlords. Spend too little, and your property looks like the set of a Japanese horror movie. Spend too much, and you have a divine palace that will maybe recoup its cost in 27 years. Even worse, ignore the wrong kind of damage and your maintenance costs will drive you to a whole other break down.
Here are the principles on what a landlord should – and should not – bother to renovate:
Focus on the kitchen, toilets, and bedroom, NOT the living room
Many landlords make the mistake of spending too much on the living room. It's instinct – we've been trained to think of it as the centrepiece of the house. In reality, tenants pay attention to the living room for all of about 30 seconds.
Put yourself in the mind of the tenant: what's the first thing you check out if you're going to be staying for one or two years? That's right: kitchen, toilet, bedroom. If these rooms are bad, the best decorated living room won't help.
Use a 70 / 30 approach: 70 percent of the costs go toward refurbishing the kitchen, toilets, and bedroom. The rest go into the other parts of the house.
Use the faucets, showers, and lights guideline
Faucets, showers, and lights are the three basic, low cost upgrades you should always do. Rusted faucets, mould on shower glass panels, and broken lights are all cheap to fix, but make an immediate impact on a viewer.
New faucets may only cost around $20 each, but still look super fancy. Replacing the glass door on a shower may be less than $200 (depending on your contractor's contacts). As for lights, you may want to consider buying track lighting or halogen lights if the property is old (well lit properties look newer and cleaner).
As a guideline, these are the important repairs because tenants notice them almost immediately.
As an aside, make sure you have proper sink plugs. If you use a kitchen sink plug (the type with the strainer) in the toilet sinks, it looks ugly as hell; even if it's functional.
Always pay for proper painters
Do not hire cheap, unqualified types to paint your walls. I know there are some people who will paint your entire living room for $200, and some landlords bribe foreign construction workers to do it for cheap (which I suspect is illegal).
If the walls are not properly primed, or the paint is not properly applied, you will get flashes and streaks all over the walls. That happens because the consistency is off, and your house will look like someone painted the bloodstains off a makeshift refugee hospital.
Try looking on paint company websites, as some of them have contractors who will paint your walls for you at discounted rates (Dulux is quite popular for this).
That said, it always pays to repaint your walls if the current paint is peeling. When tenants see peeling paint, they tend to assume the rest of the property will be a mess as well. When they see bulging paint, they know there's a leak somewhere (water behind the paint causes it).
Between installing a kitchen island and redoing the cabinets, always choose the cabinets
Tenants always open kitchen cabinets to look inside. Be prepared for that: if your cabinets have missing handles, or are sagging and stained, it will be an immediate turn-off. Remember that tenants are going to keep the plates they eat off in there, as well as cups and sometimes condiments (salt, pepper, soy sauce, etc.)
While kitchen islands are nice, they are less important to most tenants than the apparent cleanliness of the kitchen.
Cabinets can be pricier than you expect – unless you are going to get a pre-built set from IKEA, cabinets can range into hundreds of thousands of dollars. Remember that designer cabinets are a step too far too far: all you need is for cabinets to be clean and functional, not fancy. Few tenants will pay more rent because the cabinets are "gloss white Italian imports with a hairline effect."
Throw in a game console if you already provide a TV
This is a recent trend, but it does pay off: pander to a tenant's children by throwing a game console (with a small library of games) next to the TV. At around $600 (inclusive of the cost of a few games), you'll be surprised how much this can sway certain tenants.
Mind you, if it's children who will be using it, be prepared to take the cost out of the security deposit.
Rip out the flooring and door panels the second you see mushrooms
If you have mushrooms, you have a serious problem. This typically happens when you have wooden flooring or door panels. Plucking out the mushrooms won't help: the roots run deep, and they will just appear again in a few weeks. Few things will disgust a prospective tenant like seeing fungi in the walls.
You'll have to bear with the (significant) cost of ripping up the flooring and affected door panels, and replacing them entirely. There's no getting around the fact that this is expensive as hell, and inconvenient – the cost can be well in the $10,000 to $15,000 range. But forego other renovations to fix this issue first, because (1) it seriously affects the rentability of your property, and (2) it spreads and gets worse.
Always pay to replace a discoloured or tattered carpet
So you made the unfortunate decision to carpet the entire floor 10 years ago, and now it's a discoloured and tattered mess. You'll have to bite the bullet and replace it. Perhaps this time go for a cheaper option (like, you know, just leaving it uncarpeted).
When the carpet is discoloured or ragged, it gives the impression that the property is dirty. Don't believe it? Try it yourself: throw a dirty, tattered carpet in the middle of a clean living room, and watch how everything instantly looks run down.
Go room by room, and focus on functionality
The key to strategically renovating the unit is to go room by room. Don't see the entire house as a single project: divide it into bedroom, living room, kitchen, etc., and analyse each one respectively.
Focus on repairs before upgrades. If you just keep everything well maintained, the unit will look good even without an expensive new feature wall or walk-in wardrobe.
As a rule of thumb, aim to recoup the total cost of renovations within six months of renting. For example, if your rental income is $2,700 per month, try to keep any upgrades or repairs to $16,200.   
Check out other rental related articles here: Dos and Don'ts of HDB Renovations and What to do when your renovations won't be in time for your tenants
Find the rental home of your dreams today at Singapore's largest property portal 99.co