Trust us when we say that nothing quite flaunts the spending power of the 1% as much as luxury property floor plans do. The rest of us is holed up in our HDB flats, at least get to ogle at the rich and dream that, one day, we might strike Toto and have a floor plan like what we're going to show you here:
Luxury Floor Plan #1: TwentyOne Angullia Park
Back 2015, notorious Malaysian billionaire Jho Low purchased two high-end apartments in Singapore, one of which is a sprawling 7,718 sq ft triplex penthouse at TwentyOne Angullia Park. Because of its large size and central location, the property cost Mr Low a grand total of S$42.9 million, which tranlates to a cool $5,560 per sq ft..
In case you don't already know, Jho Low is named as the mastermind behind the 1MDB financial scandal across the causeway, which recently culminated in the conviction of former Malaysian Prime Minister Najib Razak. During the investigation, $120 million of Jho Low's assets have since been frozen, which most likely would include his Singapore properties.
Jho Low is still on the run, and he'll sure miss being able to hang out at this prime district penthouse he had once owned. Just look at the floor plan: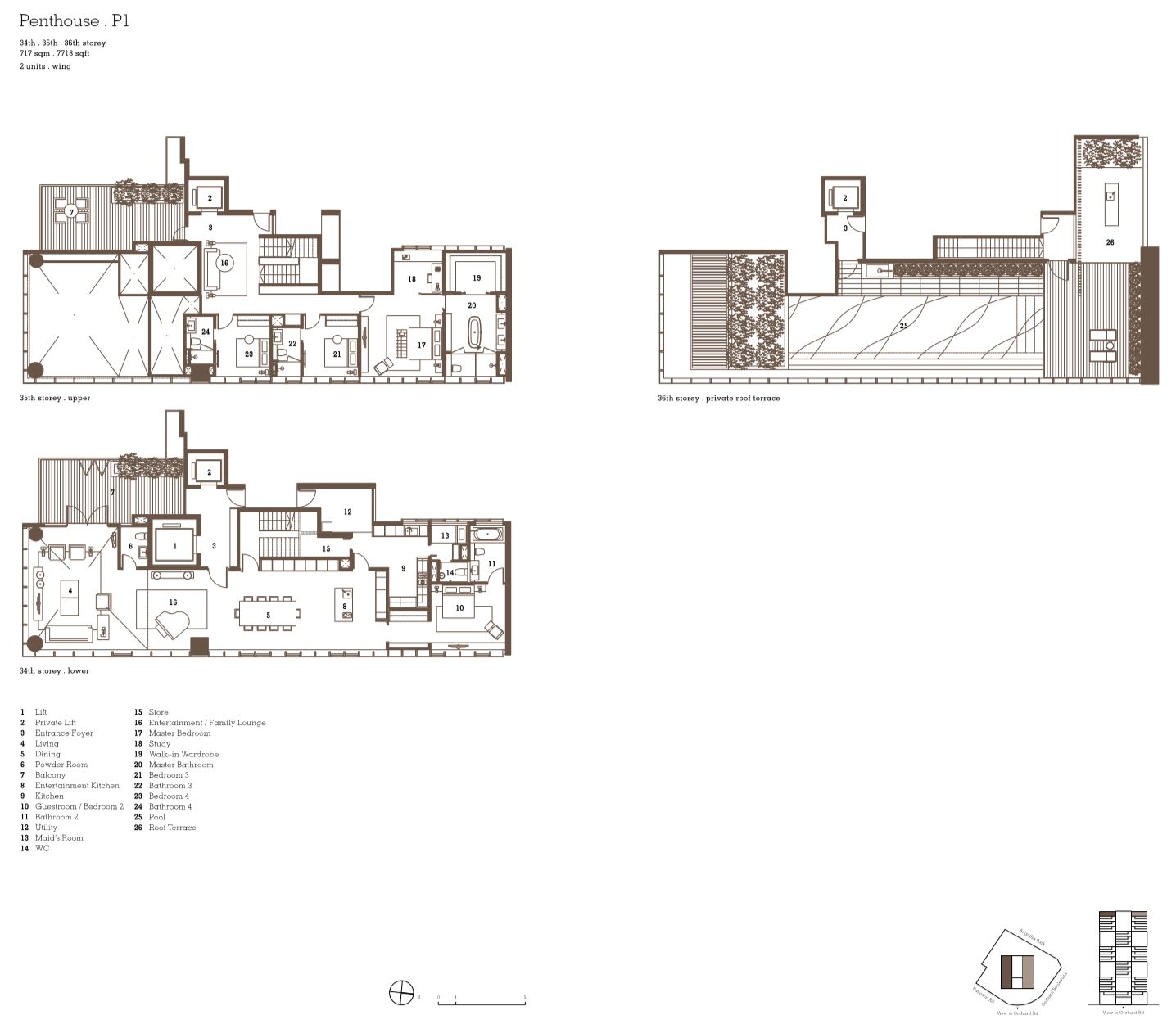 The unit covers three floors, from the 34 to 36th levels of the single-tower condominium. It's surprisingly modest in terms of number of bedrooms and bathrooms (four each), but the master bedroom on the middle floor is as large as a three-room HDB flat!
The penthouse itself come with all the must-haves of luxury properties, such as a private lift, a family lounge area large enough to fit a grand piano and a rooftop terrace with a pool that's big enough for lap swimming.
Luxury Floor Plan #2: Wallich Residence
While Jho Low's (former) property may have raised eyebrows for its hefty price tag, it certainly isn't the largest. That distinction goes to Wallich Residence's five bedroom super penthouse located in Tanjong Pagar, which was purchased by billionaire James Dyson for $73.8 million back in 2019. Covering three floors as well, its floor area totals a jaw-dropping 21,108 sq ft–around the size of 18 5-room HDB BTO units.
At 290 metres in height, Wallich Residence is also the tallest building in Singapore, part of the iconic Tanjong Pagar Center development by Guocoland, and the 'super penthouse' is the highest residential unit in the country. Here's the floor plan for this stunning home:
Here's the rundown on what's on each floor:
62nd floor
Master bedroom
Junior master bedroom
Three bedrooms
Private garden
Viewing deck
Family room
63rd floor
Living room
Study
Dining room
Dry and wet kitchen
Utility room
64th floor
Private 12-metre pool
Pool deck
Cabana
Jazcuzzi room
Bar facilities
Entertainment room
Wet kitchen
The other standout feature of the super penthouse has got to be its cantilevered viewing deck, which lets James Dyson have the whole of Singapore within his sight!
Luxury Floor Plan #3: Reignwood Hamilton Scotts
This one's for car fanatics. Reignwood Hamilton Scotts lets owners to store up to 2 cars next to their living room, no matter which floor they live on: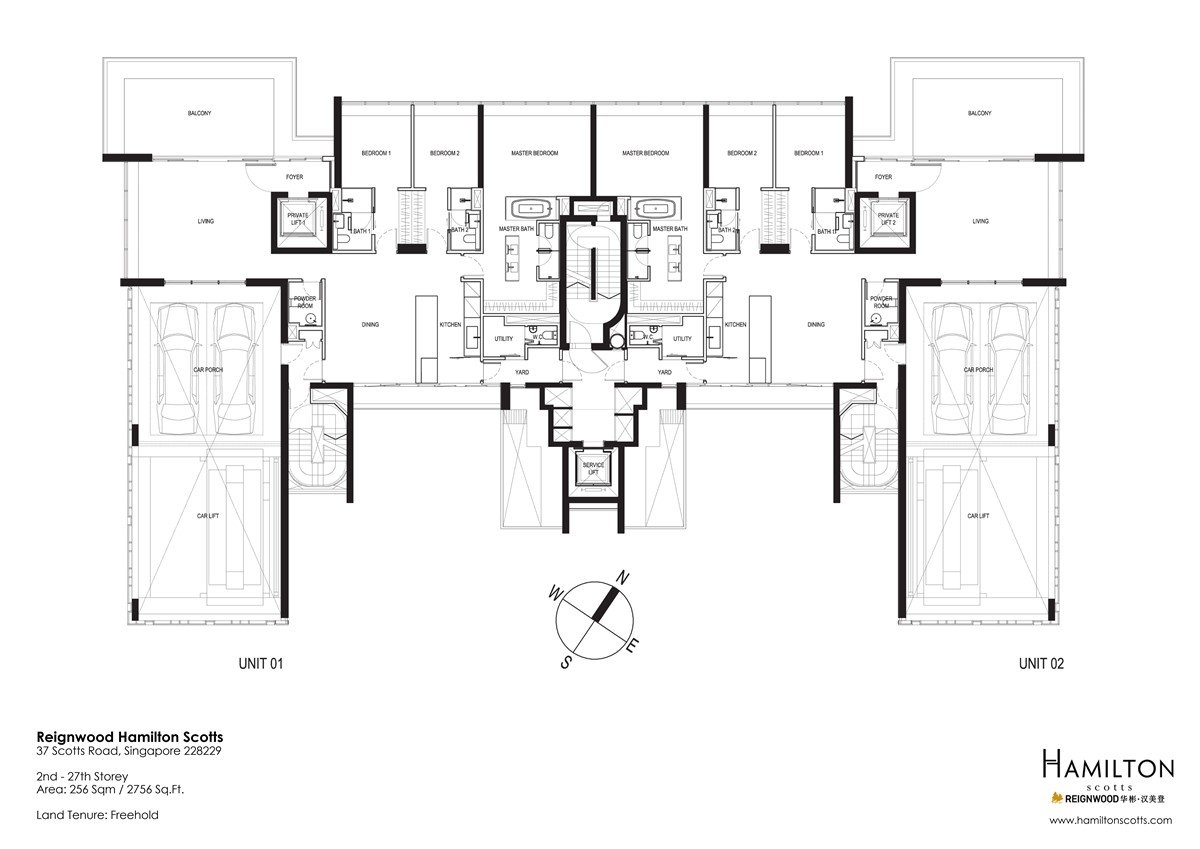 As you can see, the iconic apartments' key selling point is their en-suite sky garage and lifts. If you're curious, this video shows how the mechanised parking system works:
When parked, residents can still access their vehicles via a back door in the apartment, so there's no need to have to 'unpark' your car if the owner needs to retrieve his/her breath mints.
Luxury Floor Plans #4 and #5: Turquoise and Seascape
Two developments in Sentosa Cove, Turquoise and Seascape, caught our eye not only for their extravagantly-sized units, but also the open spaces within the units that include massive balconies and infinity pools.
The Seascape, a penthouse villa in the coveted Sentosa Cove, is laid out like the hull of a boat with a total area of 9,655 sqft. That said, over 40% of the apartment is non-livable space, consisting of the private carpark, pool and pool deck and PES areas. The unit also has a grand total of seven bathrooms, so guests will never have to queue for…um, their turn.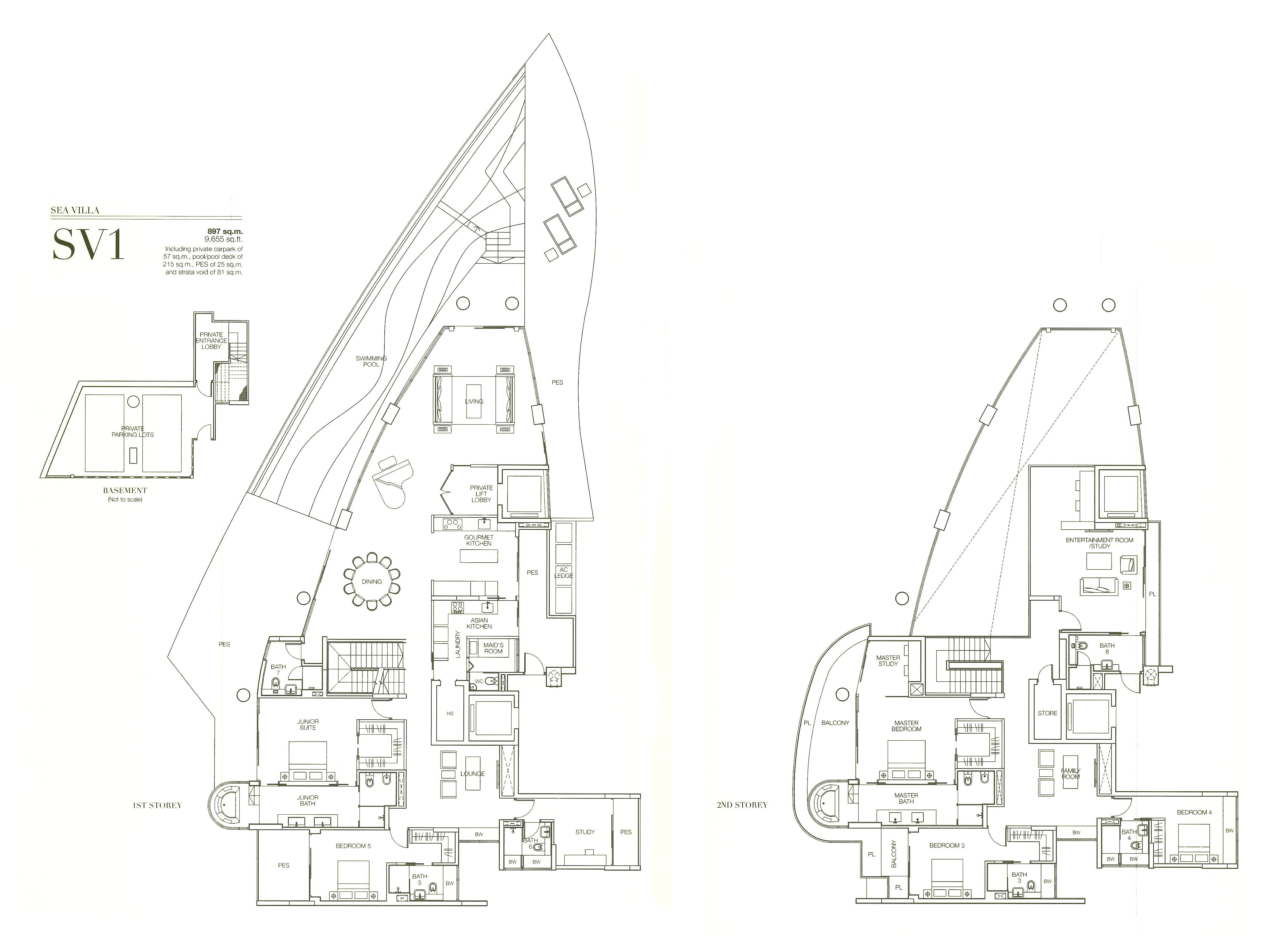 Located not too far away from it, the penthouse units at the Turquoise is even more ridiculous, as nearly half its floor area is external. This example has 5 balconies on one floor–four smaller ones and one massive one extending out from the living room. Other features that the villa has include an infinity lap pool with an accompanying pool deck, an open terrace, a sky gym and even its own wine cellar.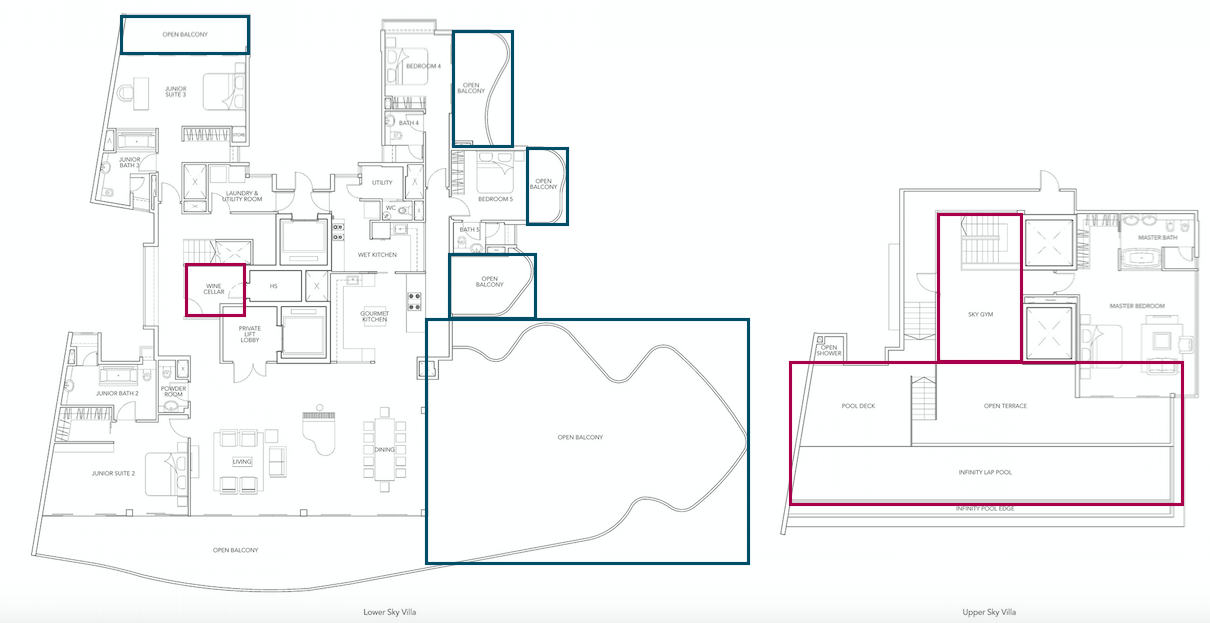 Which luxury property floor plan do you fancy the most? Let us know in the comments below!
If you found this article helpful, 99.co recommends Inside the $28 million penthouse that Vicki Zhao's husband, Huang Youlong, bought and Sentosa Cove: is "the playground" for the rich losing its edge?
Looking for a property? Find the home of your dreams today on Singapore's largest property portal 99.co!