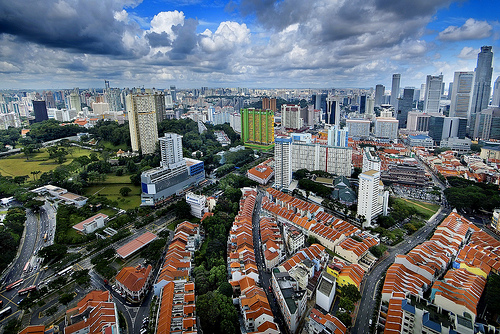 So you want to buy a property in Singapore. Well, get ready to look deep – nothing here is how it appears on the surface. Sleepy Yishun has weird crimes, "industrial" Jurong is more green than many other estates, and "sea view" Sentosa is more like an observation platform for container ships. Besides those, here are some other things that get missed:
Assuming high prices mean good amenities and a central location
In Singapore, the more accurate formula is high prices = space and privacy. It doesn't always equate to accessibility or amenities; in fact, it could mean the opposite.
The Upper Thomson Road stretch, for example, is a pretty high rent area. There are a lot of landed properties here that are located a five-day hike from the nearest bus stop. Okay, I exaggerate, but the cluster of landed houses really are far from most public transport facilities. Even to get to the nearby mall, you'll probably want to drive; unless you enjoy walking long distances in the tropical heat.
Sentosa Cove is another example of this. The amenities in the area tend to be quite niche (like specialist cafes or imported goods stores). If you want a good 'ole movie or local food, you better be ready to drive across the bridge (this is also a cure for low blood pressure, when attempted on weekends).
You see, when developers pick spots for luxury properties, they look for different kinds of amenities; and they may not be concerned with accessibility at all. It's often assumed that if you can live in a condo, you can also afford to drive. Just like it's assumed every foreigner wants to see overpriced, chi-chi cafes and golf stores every two metres they walk.
If you want luxury property with good amenities and accessibility, Orchard is an option. But for other areas, be aware that the high price tag may ironically mean less convenience.
Assuming that older also means cheaper
Singapore has mature estates, which have been built up over a long period, and new estates, which looks like the landscape in Lord of the Rings movies. The mature estates, despite having older properties, are more desirable.
New properties tend to sprout in less developed estates. That's because, due to space constraints, Singapore's land space is about the size of a poor person's outhouse in Australia. There isn't much room for new properties in mature areas like Queenstown or Marine Parade. As a result, the prices in these areas tend to be higher, even if the properties there are a little more worn out. As such, the newer estates often have cheaper properties.
Using a local bank for a mortgage, and expecting perpetual fixed rates
There is no Singapore bank that provides a perpetual fixed rate home loan. In Singapore, when we say "fixed rate" we always mean for a certain amount of time only; typically three to five years. After that, the loan will revert to a floating rate.
Another option that confuses some foreigners is the semi-fixed rate, or when the mortgage banker says there is no fixed rate but "you can keep it fixed anyway". This refers to constantly refinancing between fixed rate packages.
For example, say you get fixed rate package A, which is only fixed for three years. Before the third year is out, you refinance into package B, which gives you a fixed rate for five years. Before the fifth year is out… You get the picture. Note that the interest rate between the packages still changes; you are just getting a more stable repayment scheme.
So if you do want a perpetual fixed rate, right up to the end of the loan tenure, check the banks back home.
Not checking the facing of the gigantic windows
If this is the first time you're moving into a condo, or a country where it's perpetually summer, we have a new concept for you: property facings.
Two of the key terms to note in property facings are West, and North-West. These properties tend to be shunned by locals, who know that it turns the apartment into an oven during the day.
Between the two, West facing units are considered the worse, as your house gets direct sun from 2pm to 6pm. Watch in amazement as your pictures fade, your wood furniture turns pale, and your leather upholstery is moistened with more sweat than a used gym sock.
Of course, you may like living in a sauna, in which case you'll love it – these units are often toasty warm when you get home, and are often priced lower (if they're not, try to bargain it).
South-East facing units are considered the best; most property developers aim for this as often as possible. These units get a lot of sunlight in the morning, but are shielded from the afternoon sun. It's useful if you spend a lot of time at home, and don't want monthly air-conditioning bills that look like you tried to cool hell.
Central locations ironically make travel slower at certain times
Singapore is a small country, with a lot of cars. During rush hour, roads in the Central Business District are more congested than a fat man's arteries at a bacon buffet. It will no longer matter how central your property is, as your car will progress at about 60 inches per hour.
This becomes a common point of frustration for some foreigners who choose to live in the heart of Orchard Road, or in the Tanglin area. Come weekends, driving feels like navigating a giant parking lot where no one wants to move.
Bear in mind that foot traffic rises to match – central areas mean bigger crowds to get on the trains, and buses that are standing room for the entire journey.
We recommend that before you sign for that expensive central region property, you check out the road conditions between 8am to 9am, and right after 6pm. Take a look on weekends too, and decide if it's something you can deal with.