Many Singaporeans ultimately wish to be able to live in a private condominium, but little do we appreciate the fact that our public housing is actually one of the best in the world. With more than 80 percent of Singaporeans living in HDBs,  citizens have become proud homeowners thanks to the continuous efforts of the government.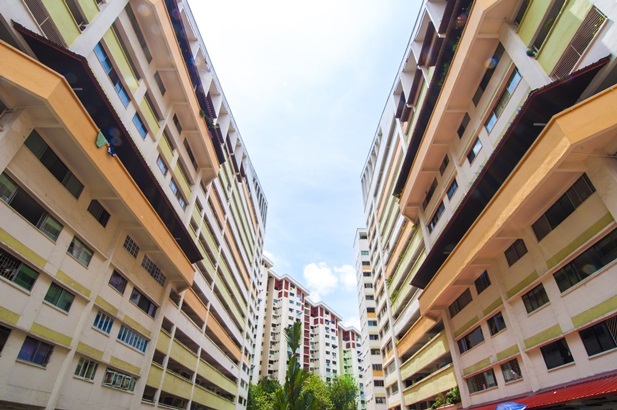 However, housing has become more expensive in recent years. As a result, home-owners need to be more discerning when it comes to financing their homes. Even if it is with the help of government, servicing the mortgage loan for a HDB (for both BTOs and resale) can certainly be problematic..
Not sure how to decide on a suitable HDB home loan?  We've got some tips for you.
HDB home loan vs Bank loans
When you buy an HDB flat, you have the choice of either taking up the HDB concessionary loan or a HDB loan from the bank. The HDB concessionary loan is essentially a flat-rate loan that is pegged at 0.1 percent above the CPF Ordinary Account interest rate. Currently, that will be at 2.6 percent.
On the other hand, HDB bank loans work similarly to bank loans for private properties. Most are pegged to a benchmark rate, such as the Singapore Interbank Offered Rate (SIBOR), can be floating or fixed rate loans, and may or may not require a lock-in period.
There are some key differences between the two that you need to consider when making a choice:
The HDB concessionary loan has a very stable interest rate which hasn't changed much in the last few decades. This works well for those who want to know exactly how much they need to pay every month, instead of bearing the risk of your monthly repayments increasing by a few hundred dollars in the coming years.
Having said that, in the last 5 years, SIBOR rates have been exceptionally low (as low as 0.56 percent), bringing most mortgage loan rates below the HDB's 2.6 percent. If this phenomenon continues, you will probably be able to save a few thousand dollars over the years of repayment with a bank loan.      
The loan-to-value (LTV) ratio is a limit on the loan amount a lender can offer you based on your property's value. With a bank loan, you can loan up to 80 percent of the value, while an HDB loan gets you 90 percent.
Downpayment can be a struggle for some people since it can easily be a 5-figure sum you'll need to pay upfront. The good thing about a HDB loan is that the down payment is only 10 percent whereas you need to pay 20 percent down payment for a bank loan.
Additionally, the 10 percent down payment for an HDB loan can be fully paid by your CPF money, which means you basically do not need to fork out any extra cash. For a bank loan, you can pay up to 15 percent from your CPF money, but 5 percent has to be made in cash..
So in the example of a S$500,000 HDB apartment:
HDB loan –  borrow up to $450,000, $50,000 from your CPF and no cash payment required
Bank loan –  borrow up to $400,000, $75,000 from your CPF and $25,000 in cash
Bank loans typically issue an early repayment penalty at about 1.5  percent within the lock-in period. You will not have this problem with an HDB concessionary loan. This can be helpful for those who are expecting a sum of money in the near future, perhaps from their endowment policy or inheritance, so that they can pay off some of their mortgage in a lump sum.
Overall, if you are looking for a stable monthly repayment rate, an HDB concessionary loan may suit you more. For those who can take the risk of interest rate fluctuations or intend to sell off the HDB flat within a shorter period of time, a bank loan may be better for interest savings.
Choosing A Suitable HDB Bank Loan
If you've decided that you prefer to take up a mortgage loan from a bank because of the lower interest rates offered, which ones should you choose?
This mortgage loan is based on the fixed deposit home rate +1.58 percent, and guarantees that the rate you get for the first 5 years will be lower than the HDB concessionary loan. While the current rate is at 2.18 percent, the bank guarantees a rate cap at 2.5 percent, at least for the first 5 years.
If you are deciding between this and the HDB concessionary loan, you will definitely pay a lower rate with the POSB HDB Loan. On top of this, this loan also offers the borrower the flexibility of repaying your loan partially or in full without incurring a prepayment fee.
Standard Chartered 48-Month FDR
Similar to other banks providing fixed-deposit rate(FDR) loans, Standard Chartered is the only foreign bank which has jumped on the FDR-loans wagon to offer the lowest reference rate amongst the other banks.
When it launched earlier this year,  the all-in reference rate for Year 1 was at 1.65 percent, compared to UOB and DBS at 1.8 percent. There were of course other differences between these loans, such as the offer of varying subsidies.
Comparatively to the rest, the reference rate given by Standard Chartered is now at 0.50 percent, compared to the average of 0.6 or 0.65 percent the other banks are offering. Of course, the all-in rate depends on the spread as well, which Standard Chartered is offering at a promotional rate of 0.5 percent for year 1, followed by 0.9 percent for year 2.  
Which HDB home loan should you take up?
Let us do a simulation of the interest payable for someone looking to buy an HDB apartment worth S$500,000 dollars. Based on loan amount of $400,000 on a 25-year tenor:
Mortgage Loan

HDB Concessionary Loan
POSB HDB Loan

Standard Chartered 48-month FDR

Conditions

–

Need to meet HDB loan criteria

– New HDB Owners

– Minimum loan of S$100,000

– Minimum loan of S$100,000

Year 1 interest rate

2.6%

2.18%

1 %

Monthly Repayments

S$1,815

S$1,731

S$1,508

Total Repayments for first year

S21,780

S$20,772

S$18,096
As you can see from the table above, the cheapest loan among the three will be the Standard Chartered 48-month FDR loan. With the first year rate at just 1 percent, it is quite an unbeatable offer in the market. Although the second year rate will increase to a 0.9 percent spread + 0.5 percent FDR rate, it  will still be just 1.4 percent.
However, be very cautious that since FDR is considered aboard rate, banks will be able to change the rate at their discretion. It is thus very important to consider refinancing options after that, should interest rates increase drastically.
Another word of caution is that you will not be able to go back to getting a HDB home loan if you started out with a bank loan, whereas you can do it the other way round.
That said, while a HDB home loan is an excellent choice if you value stability, there are smart savings to be made if you are diligent enough to monitor the market and choose your home loans accordingly.