On 15 July, the Urban Redevelopment Authority (URA) announced that developers sold 998 new non-landed private residential units in June 2020—more than twice the number of new launch condo units sold in May.
The figure, which excludes the 33 units of executive condominiums sold in the month, brings the total number of new condo units sold by developers in the quarter to 1,762, adding onto the 277 and 487 units sold in April and May.
RCR properties lead the way for new launch condo sales
City fringe projects in the Rest of Central Region (RCR) saw the greatest month-on-month increase in buyers. In fact, 430 out of the 998 new private homes sold in June were RCR properties, with Parc Esta (82 units sold), Stirling Residences (74 units) and Jadescape (56 units) leading the pack.
Notably, transaction prices at Stirling Residences, which is currently 60% completed, have increased 1.3% quarter-on-quarter and 6.6% compared to the same quarter last year.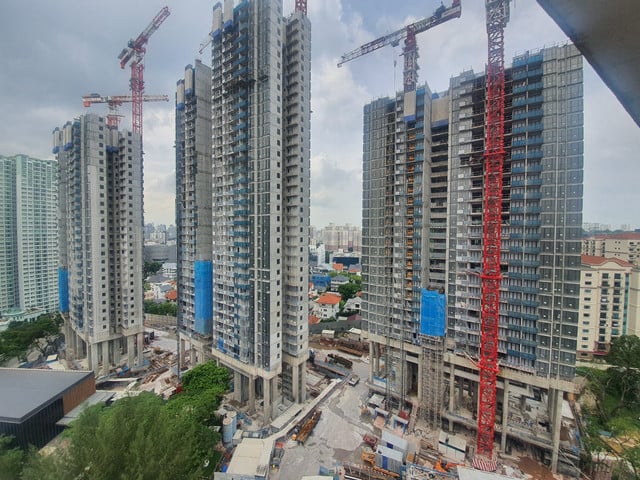 For projects in the Outside Central Region (OCR), developers sold 489 units in June, up from 257 units in May. June's top two best selling projects, Treasure at Tampines (104 units sold) and Parc Clematis (90 units), are mega projects of over 1,000 units in the OCR.
Projects in the Core Central Region (CCR) saw the smallest increase in new home sales in June. The 79 units sold in June is up 93% from the 41 units sold in May, but fewer than the 102 units sold in April. Kopar at Newton was the best-selling CCR condo in June, with 25 units sold.
Our take on new launch condo sales in June 2020
We feel that the increase in new sale transactions in June can be attributed to a combination of the following factors:
The rise of virtual tours: Developers and agents have spent most of April and May creating and marketing high-quality 3D walkthroughs of new projects, which culminated in higher sales in June even before showflats reopened on the 19th. Buyers are now more confident of making a decision to buy a new launch condo based on comparing several virtual tours, which is also far more time efficient than viewing multiple showflats.
Pent-up demand: There's also pool of buyers building up since April, the first month of the Circuit Breaker, who decided to wait until showflats reopened to make a decision.
Optimism: The perception towards the start of June that the worst of the Covid-19 is behind us.
Fear of missing out (FOMO): Units at more popular developments being snapped up.
Avoiding uncertainty: Buyers are aware that upcoming projects that are yet to be launched could be delayed for various reasons e.g. construction manpower shortage. Instead of waiting, buyers may be deciding to put money down for developments that have already been constructed to a certain extent, knowing manpower will likely be prioritised for the completion of such projects. (There's also an element of FOMO in this.)
Despite continuing travel restrictions, we also saw an increase in foreign buyers in June. OrangeTee pointed out that foreigners (excluding permanent residents) bought 49 new launch condo units in June, a significant increase from the 14 and 7 units transacted in May and April respectively.
[Recommended article: The FULL list of 2020 New Launch Condos in Singapore (+ Analysis)]
Still lot of ground to make up for
While June's new home sales figures can be viewed in a positive light, it's premature to declare this rebound in sales to be the start of an upward trend.
June's 998 units sold brings to quarterly total to 1,762 units. This is about 22% short of Q1 2020's 2,254 units sold.
With pent-up demand from the Circuit Breaker dissipating and the government's latest GDP announcement possibly affecting buyer sentiment, we could be seeing a slight reduction in units sold for July 2020.
Furthermore, the assurance of low interest rates up until end of 2022 will mean that buyers won't feel the sense of urgency that partly resulted in high sales volumes in Q3 2019.
For us to declare that the Singapore property market has truly turned a corner, the number of new homes sold in Q3 2020 will have to outperform Q1 2020 at the very least, especially considering that Q1 is typically the quietest of the four quarters.
And buyer response to these five upcoming condos will be the litmus test.
Is June the start of a rebound for new condo sales, or a false dawn? Let us know in the comments below!
If you liked this article, 99.co recommends Is there such a thing as 'first mover advantage' in property? and The FULL list of 2020 New Launch Condos in Singapore (+ Analysis)
Looking for a property? Find your dream home on Singapore's most intelligent property portal 99.co!