While putting together our Quarterly Property Report for Q2 2018, we noticed a standout statistic: Condominiums located in District 14 (Eunos / Geylang / Paya Lebar) have just achieved a quarterly historical record for their average transacted sale per square foot (psf) price. More specifically, the average psf price of condominiums from this district has risen from $1,240 in Q1 2018 to $1,579 in Q2 2018. That's a whopping 27.34% increase that we're looking, as the chart below indicates. The average psf condo price trend in D14 has also kept pace with prices of condos across Singapore.
What is driving the highs in District 14? Will demand for District 14 properties continue to rise in the near future? In this article, we analyse the factors behind D14's record-breaking quarter:
Factor #1: Park Place Residences
In Phase Two of the Park Place Residences sales launch in 2018, keen buyers snapped up 186 units (most of them within the launch weekend). This was despite developer Lendlease pricing Phase Two units about 5% higher than Phase One units. The average psf price of the 186 transactions completed during Phase Two was $2,024, which contributed to a nice boost to D14's average psf prices.
Park Place Residences was hot property last quarter owing to the buoyant market as well as its status as part of the Paya Lebar Quarter (PLQ) integrated development. The entire project was billed as the "gateway to the Paya Lebar district", and will provide Grade A office space housing about 10,000 employees when fully occupied. Naturally, this could bring about a wave of foreign PMETs looking for housing in the vicinity, boosting rental demand.
**[Browse homes for sale near to Paya Lebar MRT here.]
**[Browse homes for rent near to Paya Lebar MRT here.]
Factor #2: Avant Residences
Park Place Residences aside, Avant Residences also played a key role in the significant increase of D14 property prices over the last quarter. While Avant Residences has been around for quite some time (it was completed in 2012), it's actually been run as an unauthorised serviced apartment up until recently.
That said, the condominium was officially launched for sale earlier in 2018, and 31 out of its 50 fully-fitted units were sold in Q2 2018. The average transacted price of these 31 units was $1,608 psf; these were presumably snapped up by investors looking for a fuss-free, ready source of rental yields.
Avant Residences is located within 5 minutes walk from Aljunied MRT.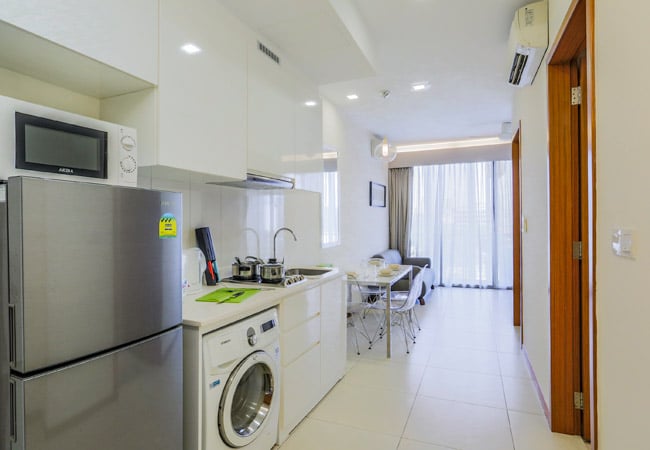 Factor #3: Older resale condos doing well
It's not just the newly-launched condominiums that are well-received by buyers — resale units from older condominiums near East West Line MRT stations have also been performing well.
Simsville, which is located 6 minutes' walk away from Paya Lebar MRT station, has seen its average transacted price increase from $905,000 to $1,140,000 in the last 3 months. The Trumps, which is just 2 minutes from Kembangan MRT station, now has an average transacted price of $1,544,444 (up from $1,067,500).
**[Browse homes for sale near to D14 MRT Stations here.]
**[Browse homes for rent near to D14 MRT Stations here.]
Factor #4: A transforming Geylang?
In 2015, the Urban Redevelopment Authority (URA) rezoned a sizeable area of Geylang from residential/institutional uses to commercial use. Property buyers saw this as part of the government's intention to weed out seedy activities in the area and to earmark the precinct for future mid-rise offices. Some 1,000+ residential units in the area were allowed to remain as their original intended use.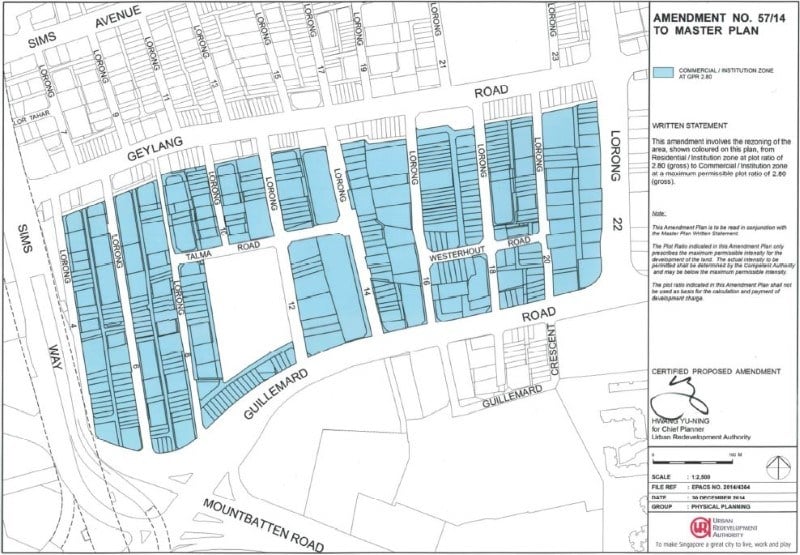 In 2Q 2018, the average psf prices for condos in this area — which includes the recently completed #1 Suites and Treasures @ G6 — increased by a healthy 15.15%. Not bad for an area with the reputation for being the Red Light District of Singapore, although this reputation is surely poised to fade in the next decade if the government gets its way.
#5: The "Buona Vista effect"
Today, Buona Vista is a commercial hub housing world-class research and innovation facilities (Biopolis) and offices for multinational corporations such as Shell and P&G. Back in 2003, Buona Vista's development had just begun, and average condo psf prices between Buona Vista and Paya Lebar were not far apart ($519 vs $509 psf respectively). Then the completion of the Biopolis business park and the subsequent launch of condos One Rochester and One North Residences saw average psf prices in Buona Vista increase and pull away from that of Paya Lebar, as the chart below shows: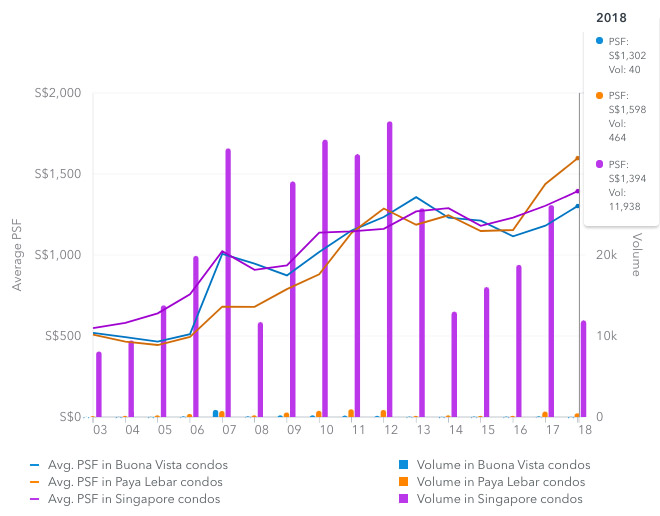 However, following the 2008 Global Financial Crisis, average psf prices for Buona Vista and Paya Lebar converged once again. Fast forward to 2017, and it was Paya Lebar's turn to make the leap forward and show the "Buona Vista effect", with average psf prices for condos not only surpassing Buona Vista, but also the Singapore average for non-prime condos. With Paya Lebar undergoing the transformation into a business and commercial hub just as Buona Vista had undergone in the past decade, property buyers in District 14 have good reason to be optimistic.
**[Browse all condo listings in D14 here.]
Will property prices in Paya Lebar and District 14 continue to rise?
Given the implementation of additional cooling measures at the start of Q3 2018, it's difficult to ascertain if the upward trend for D14 property prices will continue in Q3 and Q4. That said, for an indication of D14's performance in the second half of 2018, there are a few key developments to keep a lookout for, such as bidding activity for the GLS land parcel at Sims Drive. On top of that, we're also keeping an eye on the upcoming tender outcomes for en bloc deals in D14 and neighbouring D15, namely the freehold Blossom Mansions and the 999-year leasehold Haig Road Flats.
Regardless of the near-term effects of the latest cooling measures, there's reason enough to believe that in the longer-term, the future for Paya Lebar and District 14 looks bright for property owners and buyers alike. The continual development of the Paya Lebar CBD is of the key appeals of this city fringe district, and will form the key narrative of D14 growth story in the foreseeable future.
Do you think D14 and Paya Lebar will hit property gold? Voice your thoughts in the comments section or on our Facebook community page.
If you found this article helpful, 99.co recommends Has Clementi become prime real estate in Singapore? and How property buyers should react to the ABSD increase
Looking for a property? Find your dream home on Singapore's largest property portal 99.co!