The name Preeminent Group would ring a bell to anyone in the real estate industry. With more than 2,200 agents under their care, they are currently the largest team in ERA. Over the past six years, they have been consistently named the Top Sales group at ERA, an unprecedented record in ERA's history. 
As anyone in this industry would know, growing a team whilst ensuring everyone's success is a tough challenge. To find out how Preeminent Group acheived it, we sat down with the group's founder and co-founders to get a little insight into how they operate, and the secrets to their success.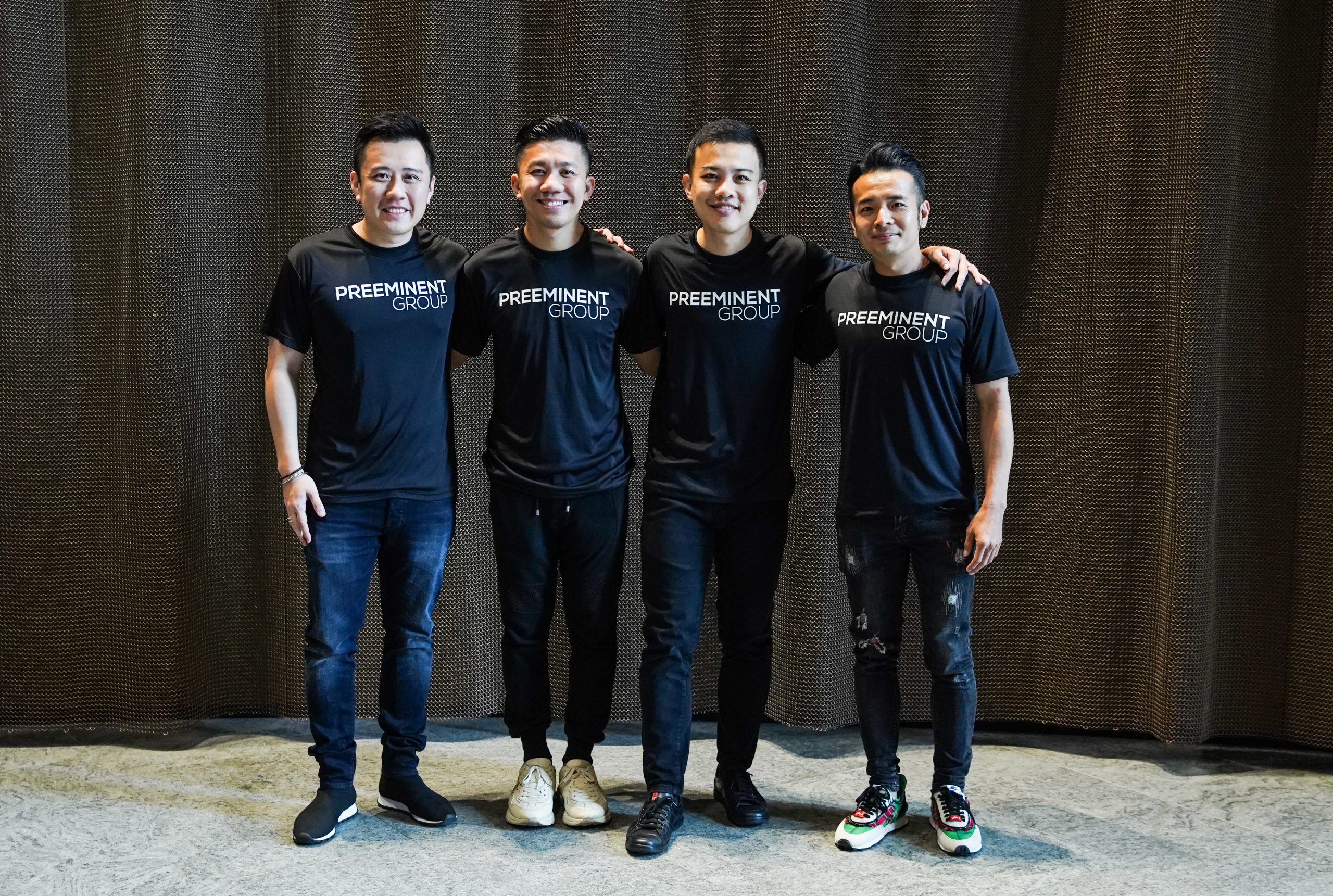 Hello Kevin, Alex, Zac and Bjorn! Thanks for joining us today. Please share a little bit about what you guys have been up to the last few months of Circuit Breaker.
Kevin:
Hello! Thanks for having us here. We have been kept busy the last few months of Circuit Breaker trying to find ways to value-add to our clients and agents.
When Circuit Breaker first happened, we immediately came together as a core team to plan what we could to help our clients and agents during this period. We knew the biggest problem for Circuit Breaker was that property viewings were no longer allowed, and showflats were all closed. So it was imperative for us to train our agents to adapt to the new normal in order to help them excel during this time.
Alex:
Yes, this is also why we started to roll out webinars from Day 1 of Circuit Breaker. We brainstormed and put together a series of webinars we could do that can help educate our agents about the situation today, while at the same time equip them with the necessary skills to help them continue with their day-to-day activities. We did a range of consumers' webinars, agent's masterclass, new launch project webinars and even Zoom online trainings that lasted three to five days! And this was on top of the 49 episodes we did during Circuit Breaker through our PGDaily platform: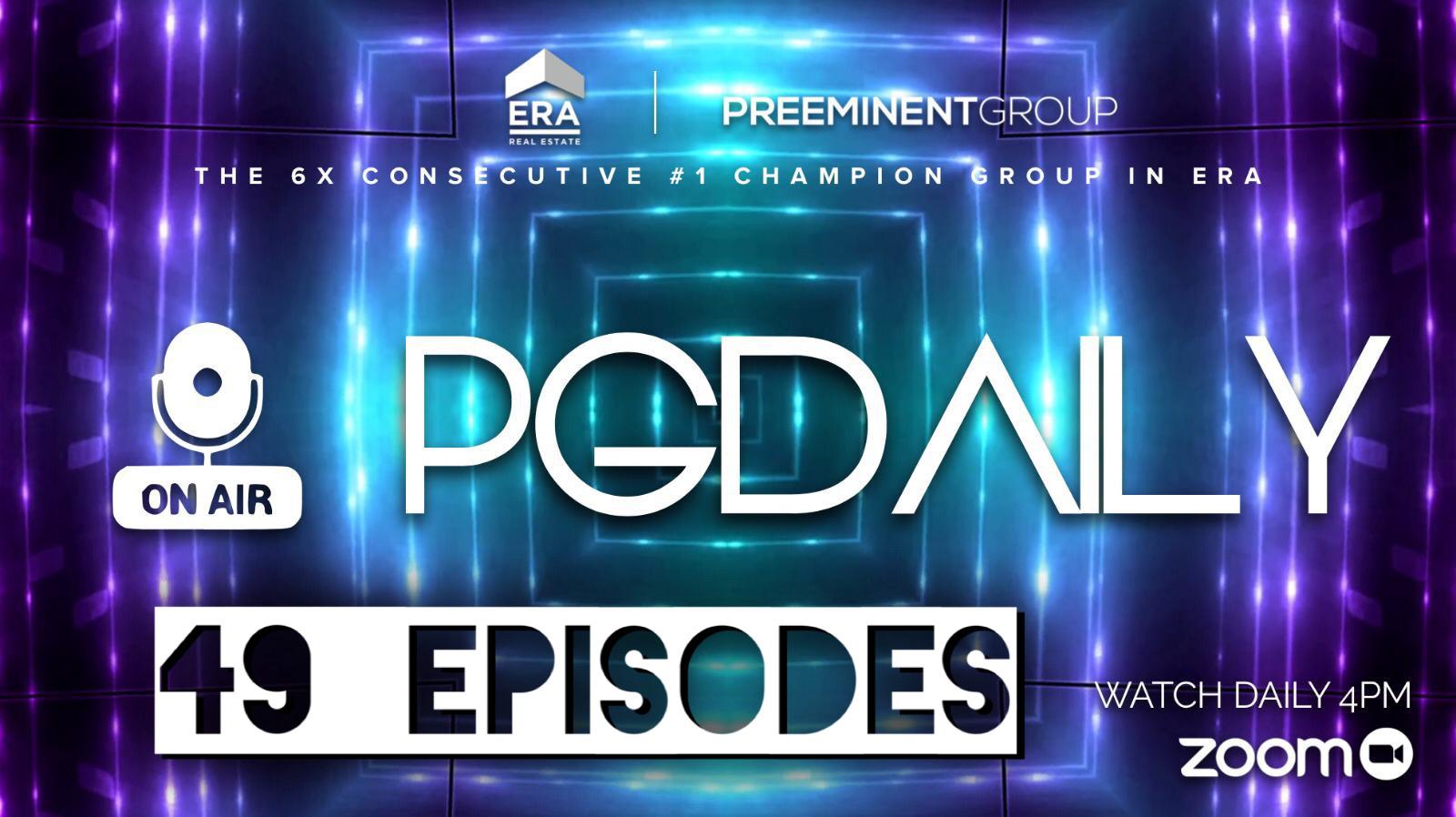 As Kevin mentioned, the biggest problem was that physical viewings were no longer allowed, and showflats were closed. And so we did a lot of digital content, teaching agents how to do digital viewings, and how to present themselves virtually to their clients. 
That was quick thinking from your end. In hindsight, the topics covered by all of you are extremely important and some would say the key to whether or not an agent emerges stronger or weaker after this crisis. As the situation was very new then, there were a lot of agents, even some leaders, who were lost and unsure on how to lead their agents. How did your team come up with all these ideas and execute them in a short span of time? 
Zac:
One thing different about all of us is that even as we hold the role of leaders of Preeminent Group, all of us are also active salespersons and top achievers of ERA. We are very on-the-ground and are kept abreast of things that are happening in the industry. As leaders, we believe this is important in helping us stay connected and easily pick up what is needed to compete in the market. We also spent a lot of time syncing up within the core team. 
As a group, we have 78 divisions to work with and being big has its' pros and cons, depending on how you orchestrate it. What sets us apart as a group is that every single leader we have is someone of quality and a MVP in his own field. This is also why there is a high level of trust amongst all the leaders, and whenever the core group sets out to get something done, we can rest assured that quality will be delivered. So for our core team it's very seamless- we just organise and set up the training, and we know our leaders will always deliver.
Bjorn:
Other than the educational webinars, we also did some Facebook Live to better engage our audiences. As market leaders, we wanted to find a way to rally agents together and lift their spirits in the industry. Just getting agents to learn and pick up new skills can be very dry for them, so we also decided to record a song and release it to our agents during this season.
Preeminent Group's music video.
Preeminent Group has been around for more than 12 years, and many are curious as to what our story was. So we did an open sharing on Facebook, and got close to 1,000 live views and more than 200 shares, culminating to more than 30k views on the video after the session. A lot of agents, even those not from ERA or our group, wrote in to thank us for helping to bring up their spirits as many were feeling down from the crisis, and the song served as a good reminder on how far they've come in their real estate journey, and that they are not alone.
Preeminent Group's Live Facebook Sharing.
Additionally, we also did the first ever virtual Career Opportunity Talk for agents. We held it online and attracted 500 attendees, which was 5x more than any regular recruitment talks we used to do. For these career talks, we had our own leaders front the stage, and agents just need to bring their friends to listen. This whole process made it extremely easy for agents, as we made sure to iron out all the hiccups and make it as easy for them to grow their team as possible.
Thank you for sharing. I think one thing that is amazing about Preeminent Group is how all of you are so open to sharing- even to agents beyond your group.
Kevin:
With our current position as market leaders, we have to be. We see it as our personal responsibility to be open about our sharing, give back, and help pave the way for breakthroughs in the industry.
To us, our agents are our family. There is no holding back when it comes to sharing with your family. Every moment, we are always thinking about how we can give back to our agents, to make life as easy as possible for them in this new normal.
As leaders, we are also not afraid to go on the ground and get our hands dirty. We believe in leading by example, and that true leadership is about being able to serve your people well. This is also why I also recorded a video tutorial on how anyone can take professional shots with just their iPhone.
Kevin's video tutorial on taking property videos with an everyday phone.
In a Covid world, there is huge importance placed on video. With agents not being able to meet up face-to-face, it means all our other senses are now impaired when it comes to clients viewing a property. The only senses available during Circuit Breaker would be your visual and auditory senses. This is why it was important or us to educate agents on the ability to film good videos of their properties. How successful they can be now also depends on their ability to work together with their homeowners to film the property.
If you take time to watch the video, you would see that we have broken it down to very simple steps. It was done deliberately because we wanted to allow agents to easily send over the video to their owners to facilitate video taking for video listings. People always think that one would need professional tools to capture an impressive video, but our tutorial proves that anyone can shoot professional looking videos with simple everyday tools. All our agents need to do is to send the video over to their homeowners, and the video will do the rest of the work for them. That is our value-add back to our agents.
That's very impressive. I think a lot of times, when people think about the real estate journey, they view it more as an individual journey rather than a shared journey. What was it that convinced all of you that sharing was the way to go? 
Kevin:
Back in 2017, we've already started to notice the emergence of a Sharing Economy, with the emergence of tech startups like AirBnb, Grab and Foodpanda. Prior to that, the causes they were championing were foreign to many. Let's take Grab for example. Before they entered the scene, the industry has been trying to solve the problem of matching supply and demand effectively to no avail. But then Grab came in with their revolutionary vision of anyone and everyone being able to call for a ride with just a click of a button, and our lives have been transformed ever since.
For us at Preeminent Group, there are many learnings from this. First, is that there is strength in numbers. We shouldn't be afraid to share, because harnessing the power to share can be extremely effective in growing the pie so there is more for everyone. This is also why we started building GRABPro way back in 2017. Today, we are already on Version 3 of the GRABPro application- an app that helps agents to co-market their listings.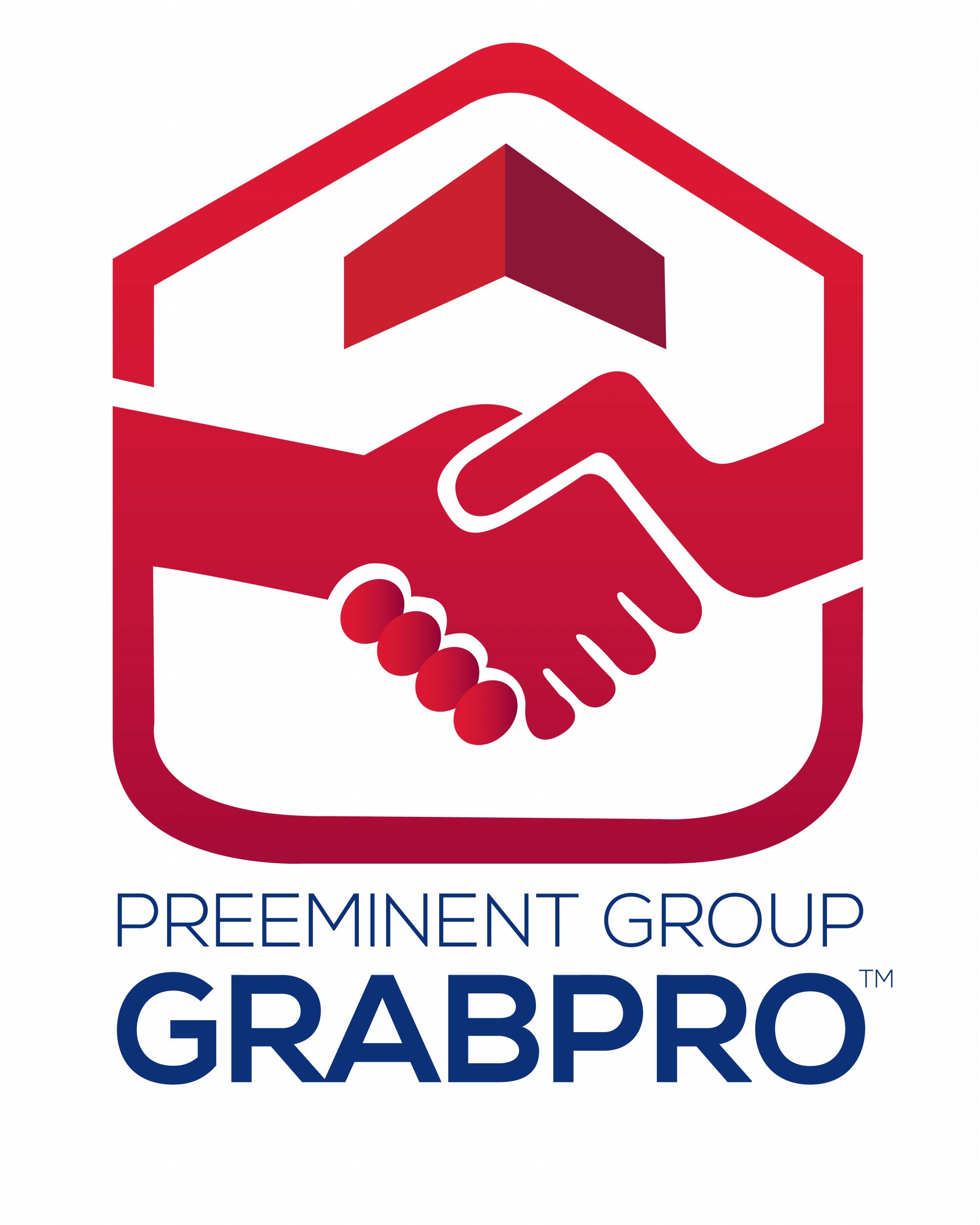 GRABPro was developed at a time when emails and spreadsheets were the norm. We started building this because we believe when we value-add and help our agents, this benefit will be easily passed on to the clients that they serve. With this app, we want to help agents get more efficient and close deals faster.
GRABPro was designed with the concept that 8 is better than 1. Rather than just having a single agent serving the owner, when our agent lists their listing on GRABPro, they are opening up their listing to 7 more grabbers to help market it. We believe with collective marketing, it makes helping our clients find buyers faster and as a team we will be able to do more.
Why an app though?
Kevin:
We decided to build an app instead of a site because in line with the future, we saw that mobile was the way to go. A lot of leading companies in different industries got successful by starting off as an application- because that is where the future lies. Even in 2017, we knew that more and more agents would rely more heavily on their mobile than desktops to continue their daily work. Furthermore, the nature of a property salesperson means you are always on the go, whether it's arranging for viewings, doing door-to-door prospecting, or even out taking photos for your listings.
Being mobile is important, and at the end of the day, it is really about leveraging our network of 2,200 agents to serve our customers and be more effective as a whole.
Your team of leaders is really wearing multiple hats- from leading the biggest division in ERA, being top salespersons yourselves, to developing your own app. Can you share more on how your app-developing journey has been like?
Zac:
We started developing GRABPro in 2017. With the current Covid situation, we are now launching Version 3 together with 99.co.
We are extremely excited to work together with an industrial giant like 99.co. One key difference about our current version is that the design is a lot more sleek, and function wise, they are a lot friendlier to agents in terms of navigation. 
We built this app with the mindset of value-adding and improving the lives of our agents. Because we do not have tech backgrounds ourselves, we usually work with strategic partners who can help bring our vision to fruition. 
It has been a tough journey, and we have also worked with other smaller app developers who were not as experienced and did not have the same tech vision and values as us. Some of them had their own business objectives that they wanted to drive, and did not have a common passion to serve our agents. 
Thankfully, we now have a partner that we can trust, and who holds the same vision to serve the ERA Preeminent Group. Our focus this time round will be on building a holistic business environment and improving our technology. Our system has been around for the last 4 years, and we are already on Version 3. Many competitors are starting to play the catch-up game with us as with this pandemic, their eyes have been opened to see the importance of digital. 
With this head start, it means that Preeminent Group already has an edge as we now have a system in place. This system, coupled with our culture of teamwork- where we actively educate our agents on the importance of working together-, means that we as a group will be able to deliver even more value to our clients than any other group out there. 
Thank you all for being so open. With all that you guys have shared, I think it is evident that the Preeminent Group is made up of leaders who have a heart to serve your agents and are constantly thinking two steps ahead of everyone else. Does the team have any other golden nuggets of insights you'd like to share on what the future of real estate will be like?
Kevin:
For me, I believe that Virtual is here to stay. Virtual is here early because of this pandemic, but even after the pandemic, it will form our new reality and be the new normal for the real estate industry. This is why it is important for agents to be quick to embrace technology. 
With the pandemic, ways of our past are now thrown out the window. Agents can no longer prospect from door to door, or arrange physical viewings and sell their homes face to face. I see many agents who are still afraid of change, and have not even tried hosting a single online session by themselves. It's one thing taking part in a Zoom webinar the leaders organise, but another hosting and leading your own online session. It is only by putting yourself out there and practicing will agents be able to get better through experience.
Advice to all agents is to be open to change. That is the only way you can stay ahead of time and now always struggle in your journey. 
Zac:
I believe that digital is here to enable and not disable agents. A lot of agents are very fearful because they realised that traditional marketing which they are familiar with is no longer useful.
Digital, moving forward, would be the way to go. Circuit Breaker is here to bring the level of digital in the industry to the next level. With this pandemic, everyone starts back at ground zero, and whoever adapts first will be able to win the real estate game.
This is why I believe that digital is an enabler- as it has now levelled the playing field for all agents. You don't have to worry about digital taking over agents. Digital will only take away obsolete things, like Yellow Pages. As long as you continue innovating, you will never be disabled by technology.
Alex:
I believe with the new normal, transactions will start to streamline for the Real Estate Industry. In the future, there will be less paperwork, which is why agents must always find ways to stay updated.
Our new normal today consists of the majority of transactions happening online. People are no longer buying $50 or even $500 items online. They are now transacting properties worth millions and billions of dollars in the same space. 
With this new normal, consumers' definition of trust will start to change. People will now have to start increasing their trust to purchase bigger items online, or risk missing out. With this increase in trust, it will get easier for laws to change to accepting contracts done and signed virtually instead of through traditional paperwork. 
That's why agents must understand how to use new tools in the market to be prepared for these changes in the future. Change is difficult and it's easy for us to fall back to our comfort zone, but we have to be ready as leaders and ensure we help pave the way for our agents to be ahead of time.
Bjorn:
I believe consumer expectations will start changing. Traditionally, the old ways of viewing requires consumers to give agents a call to arrange for viewing of a place together. However, with the accessibility and familiarity of technology today, people will start embracing video calls as the new normal. 
I'm expecting that Post-Covid, consumers will request to have a Zoom session with agents first before deciding if they want to view a property or even engage the agent. There will now be pre-qualifiers for agents and this will be a game changer for the real estate industry. This is why it's important for agents to constantly be at the forefront to embrace technology and get better at it.
Those are certainly very good insights. Any last words for our audiences?
Kevin:
One of the reasons why Preeminent Group has always managed to stay ahead is because we are future-ready. We are always at the forefront of changes and are not afraid to adapt. My advice to agents is to embrace technology and our new normal, because they will be with us for a long time to come.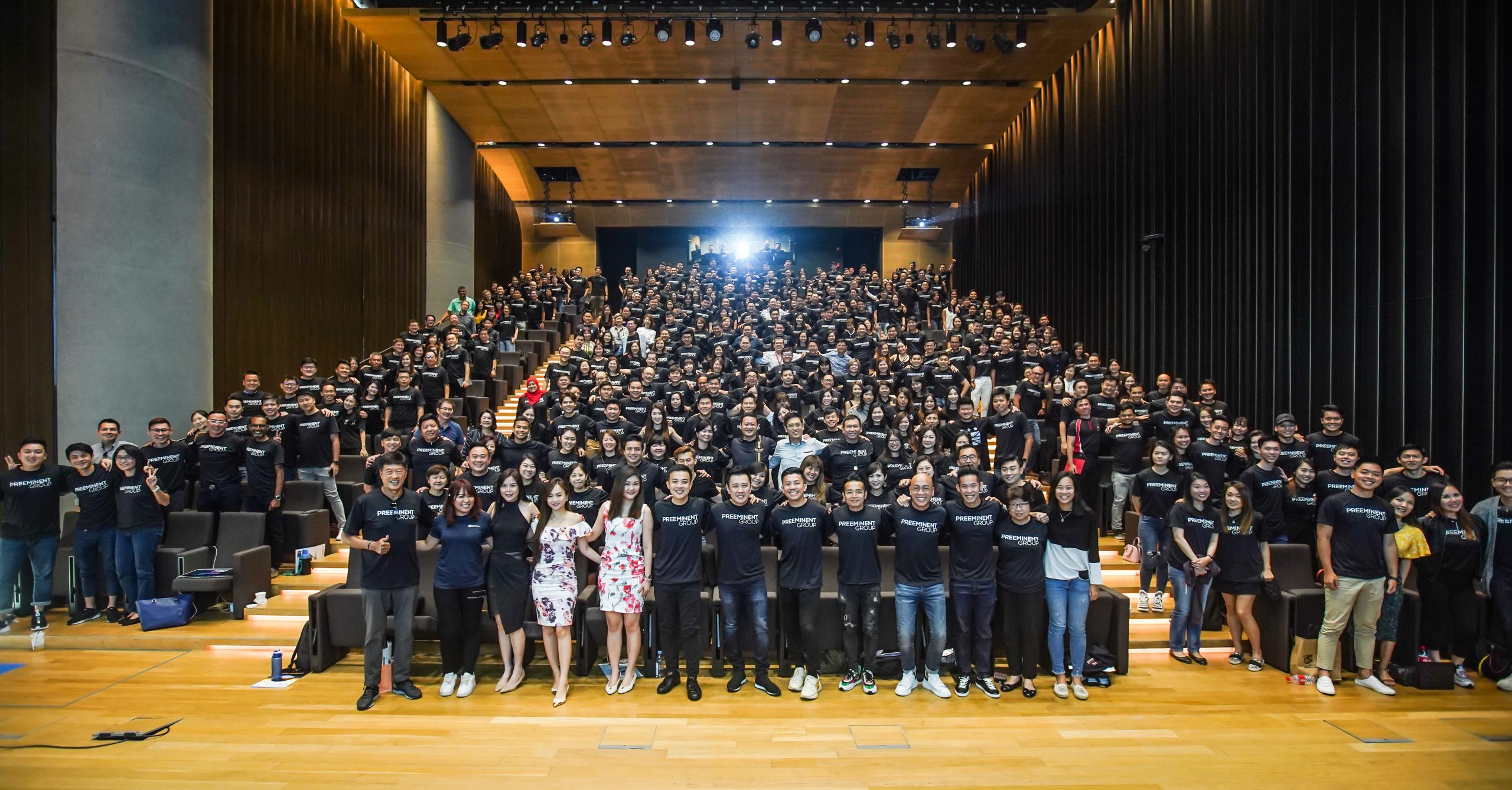 Group shot of Preeminent Group