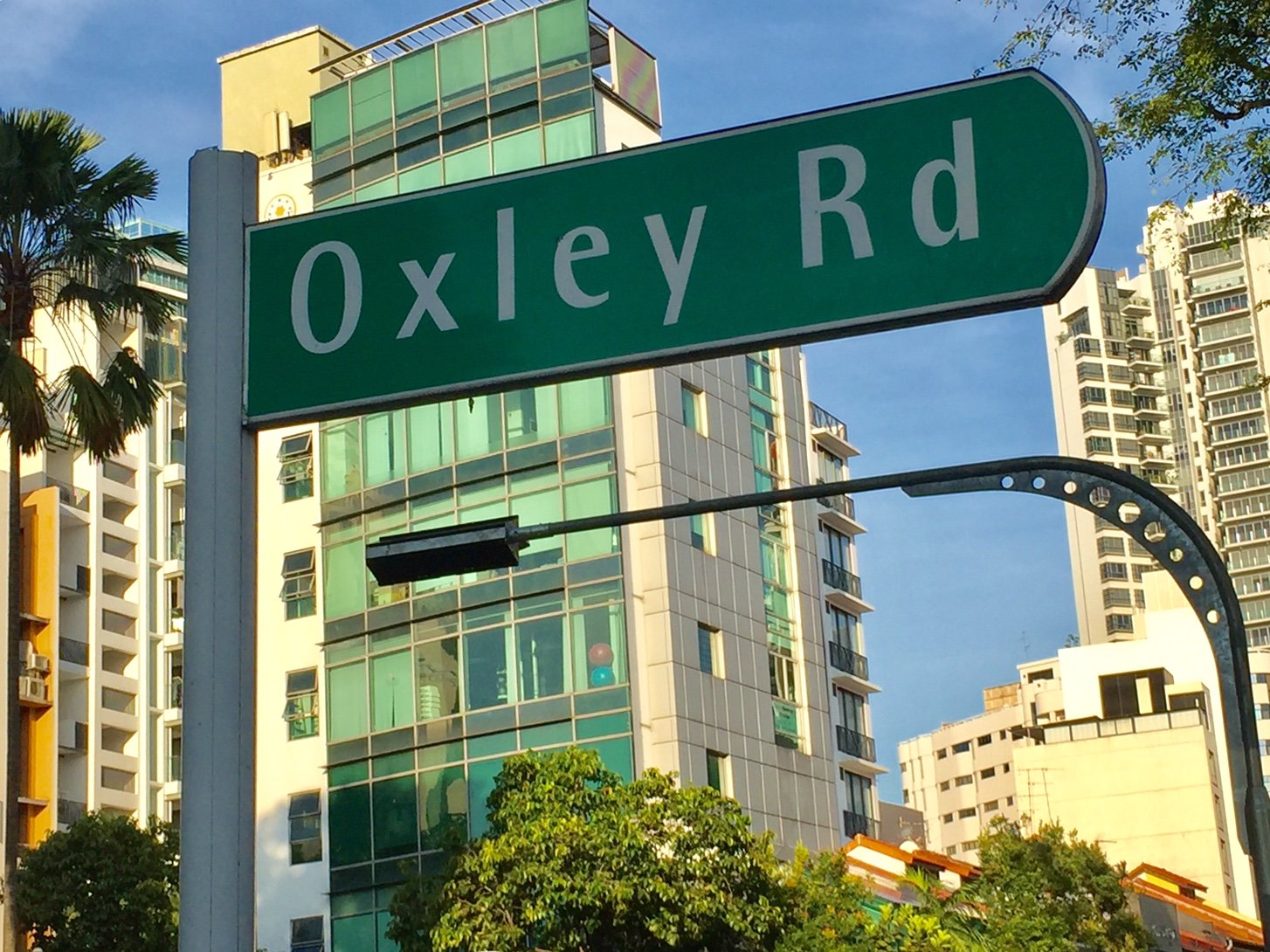 After the 14 June 2017 press statement by Mr Lee Hsien Yang and Dr Lee Wei Ling and the days after, the spotlight on the late Mr Lee Kuan Yew's home at 38 Oxley Road has never been more intense. We have seen aerial shots and other photographs of the bungalow. Beyond the $24 million valuation placed on No. 38, let's take a closer look at the Oxley Road area and its surroundings, and examine the real estate potential of this enclave in the Core Central Region (CCR).
Up close and personal with Oxley Road
Before the passing of Mr Lee Kuan Yew, Oxley Road's access was restricted to residents who lived there, lending it an air of exclusivity. Oxley Road runs between Orchard Road and River Valley Road. 38 Oxley Road is nearer the River Valley Road end. It is surrounded by low-rise residential developments. Right next door is Oxley Neo Residences which comprises eight units of bungalows of about 7,000 square feet each. About one month ago, on 99.co, one such unit was advertised to be available for rent at a whooping $21,000 a month.
On the other side of 38 Oxley Road, nearer River Valley Road is 51A Oxley Road known as Oxley Residence. Currently, a 2573 square feet unit in the condominium is being advertised for sale at an asking price of about $5.66m.
Further away from 38 Oxley Road, are the Oxley Rise and Oxley Walk areas (i.e. the wider Oxley area), there are more modern non-landed residential developments. The overall Oxley locality continues to exude a relaxed vibe with wide open spaces despite being in the central area.
Newer projects in the area include One Oxley Rise and Belle Vue Residences.
Key new non-landed residential developments in Oxley locality

Muted property prices at One Oxley Rise and Belle Vue Residences
The pricing of units up for sale at both projects have been somewhat suppressed and muted despite their freehold status and relatively recent TOP dates. Oxley Road is typically not considered the number one go-to choice for buyers and investors in the D9 region. Nearby areas such a River Valley Road, St. Thomas Walk and Killiney Road are more popular among buyers and renters.
Taking a more objective look at things, the stagnant price growth may have been due to the weak property market between 2014 to 2016 which registered sliding property prices and rental rates island-wide. Still, the generally low prices and rents in these two developments backs up my hypothesis that the Oxley Road area is not a popular modern residential development locality. Transactions at Belle Vue Residences and One Oxley Rise are limited, and slowed to trickle or null in selected quarters in recent years.
Number of secondary sale transactions in Belle Vue and One Oxley Rise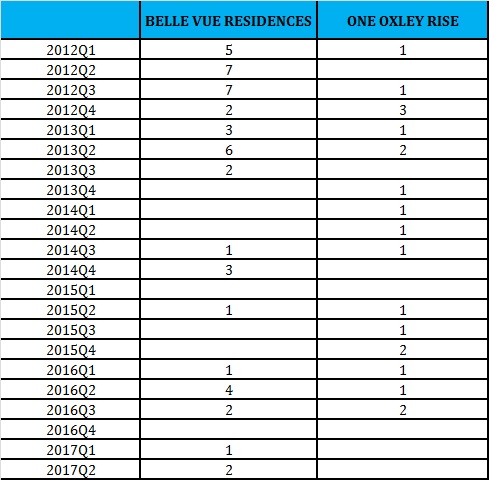 Prices averaged between $1,700 to $1,800 psf for most transactions in 2016 and the first five months of 2017. Such pricing is extremely low for freehold properties in the CCR, considering that in the Rest of Central Region (RCR), new 99-year leasehold project launches are priced at $1,500 psf and above, with premium grade leasehold projects averaging about $1,800 psf.
The general pricing for CCR leasehold properties is between $2,100 to $2,600 psf in recent times, and the recent improvement in buying sentiment suggests that sale of high-end properties could tip the scale closer to the $3,000 psf mark.  An average $3,000 psf pricing or more for CCR properties is considered affordable and reasonable. If we benchmark the figure against the highs registered in 2007 for high-end property, mass market CCR properties were in the $2,000 psf region and luxury projects averaged well above the $3,000 psf mark.
An interesting point to note –  there were three properties in One Oxley Rise that were purchased by buyers with HDB addresses, reflecting a direct upgrade from HDB living to owning or investing in a property in the CCR. These purchases were made in September 2016 (two transactions) and in April 2016. These buyers may have seized the opportunity to make an express uplift to owning a property in a prime locality, as prices in Oxley Rise are attractive. Owning freehold property at about $1,700-$1,800 psf is a good place to be in; it suggests an almost guaranteed increase on capital gains when the property market recovers and Oxley locality further rejuvenates in the long term.
Recent secondary sale transactions in Belle Vue Residences and One Oxley Rise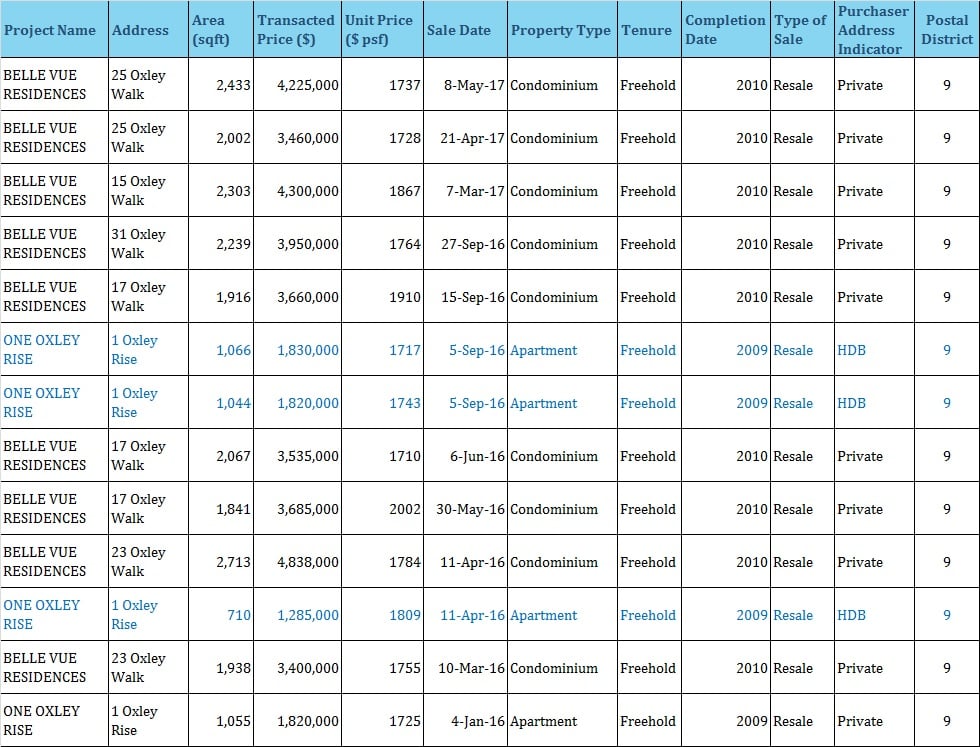 An overview of Belle Vue Residences and The Rise @ Oxley
Notwithstanding the central location, rental rates remain affordable at Belle Vue Residences, where median rents in Q4 2016 were only $4.10 psf per month. A new condo within walking distance to an MRT station in a suburban area would have averaged about $2.80 psf per month; one at the city fringe would generally average between $3.50 to $4.20 psf per month. On the other end of the spectrum, a high-end condo generally averages about $4.30 psf per month, or higher.
Median rents for Belle Vue Residences (in $ psf per month)
However, The Rise @ Oxley Residences seems to register more buying interest and clocks in a higher psf. The general perception is that the development is considered to be in a class of its own compared to to the existing developments in the Oxley area. The Rise @ Oxley Residences has a total of 120 units, of which 113 units haven been sold by the end of May 2017. This project is freehold and has a median selling price of about $2,300 psf. At $2,300 psf, it is priced substantially higher than other resale property prices of non-landed developments in the Oxley area. Overall, it is still quite an attractive pricing for freehold properties in the D9 area. The largest unit transacted is only 1,163 sq ft large. Smaller sized units tend to have higher psf compared to bigger sized units. If we do a quick comparison with Cairnhill Nine, a 263-unit 99-year leasehold project also in D9, the latter has a median price of about $2,500 psf and has sold 253 units by the end of May 2017.
Good sales achieved for The Rise @ Oxley Residences

Properties along Killiney Road and St Thomas Walk
The Killiney Road and St Thomas Walk area is more popular among buyers and renters alike. Key developments in the area include St Thomas Suites, Espada and The Boutiq. The following chart provides some pertinent figures of the developments in this locality. Generally, non-landed residential properties in these areas are priced at least 12 per cent higher than that of freehold properties in the Oxley locality.
Notable developments in Killiney Road and St Thomas Walk

Why investors should keep Oxley Road within their radar
I believe that the prime Oxley locality is what I would call a "suppressed high-end residential property locality", at least in terms of non-landed private residential developments. The area is generally low-rise, has non-landed developments in the wider Oxley locality (further away from 38 Oxley Road) and has been transacting at comparatively reasonable prices. Averaging between $1,700 to $1,800 psf for a less than 10-years of age non-landed freehold development, this is considered a very attractive resale property pricing. Across the road over at Martin Place, soon-to-be launched project Martin Modern has an indicative average price of $2,300 psf and above.
For decades, buying interest in the CCR has focused on the upscale Ardmore Park, Cairnhill area; and the ever popular Killiney Road, St Thomas Walk and River Valley Road. The Oxley enclave has been quite a hidden gem, but its full potential can perhaps only be realised if the locality is ascribed with higher plot ratios – supporting the redevelopment of freehold non-landed residential projects.
As to when or whether such an increase in plot ratio will happen remains to be seen. The next Master Plan is due in 2019 but we may not see any revision of the plot ratio in Oxley Road due to the uncertainties surrounding the fate of No. 38 Oxley Road. The million (or multi-million) dollar question is whether the plot ratio will be revised in the 2024 or 2029's Master Plan.
If one were to follow the philosophy of space optimisation in land-scarce Singapore, there will then be a very real possibility that in the foreseeable future, perhaps a decade from now, the Oxley area could see an increase in plot ratio. Strategic and risk-taking property investors or even developers may want to consider investing in the Oxley locality, where prices are generally still relatively reasonable, all things considered.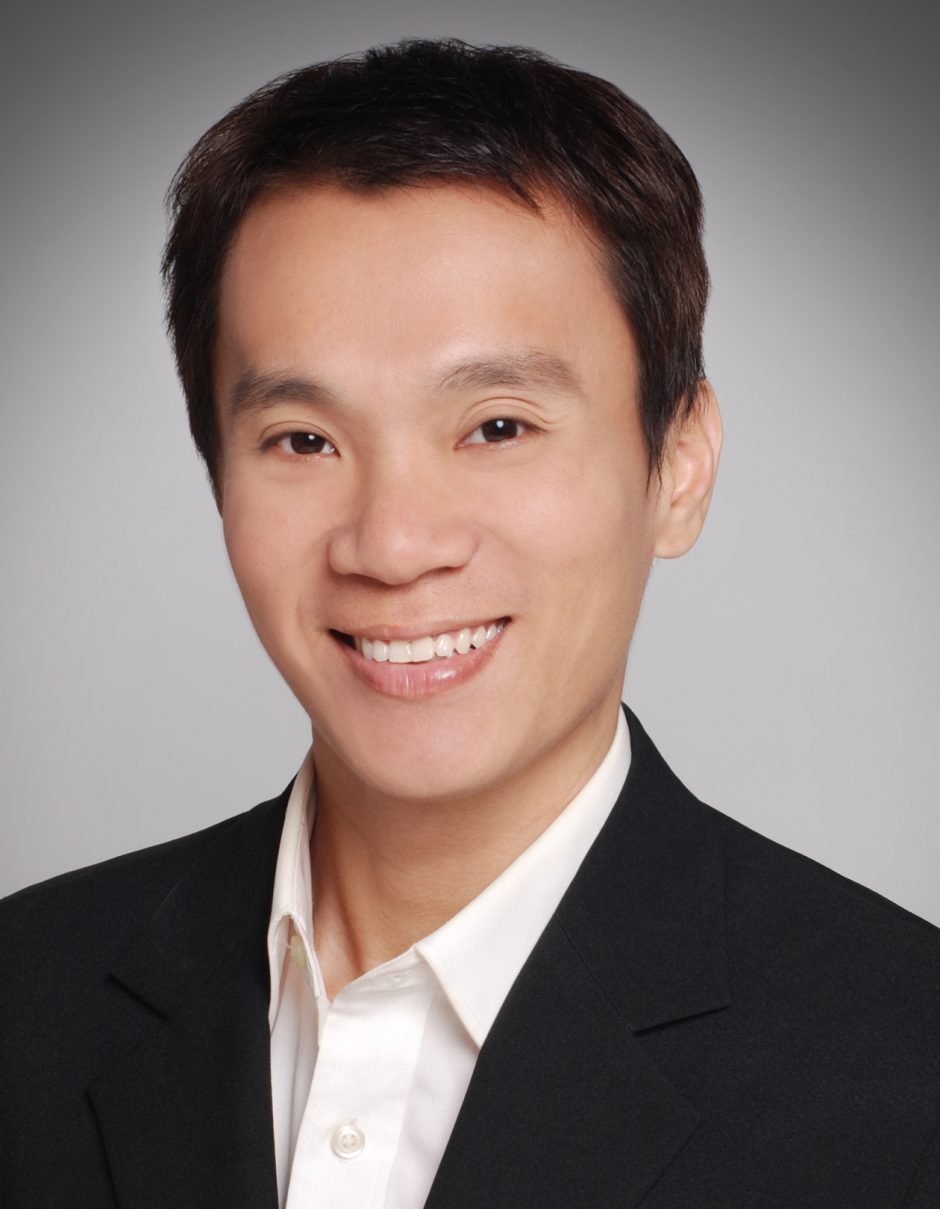 This article was written by Ong Kah Seng, Director of R'ST Research on behalf of 99.co