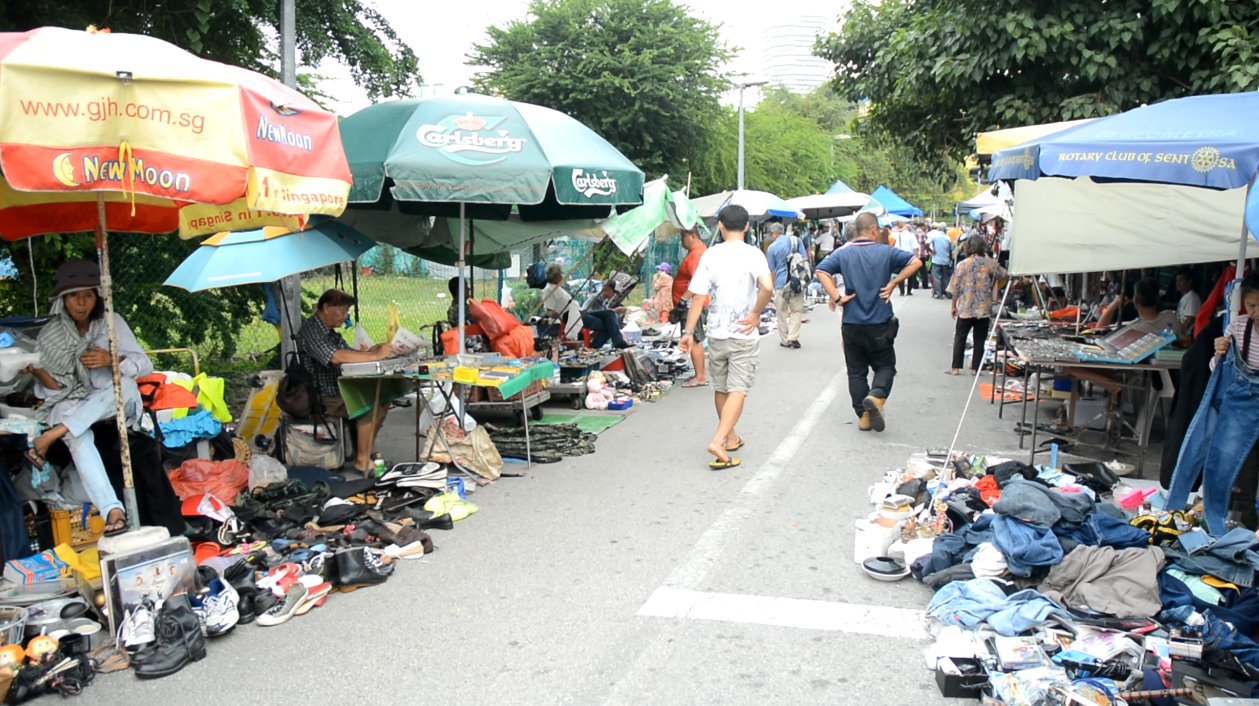 It's the last days for the famous Sungei Road Thieves Market. Come 10th July this year, the flea market – which has been open since the 1930s – is going to be shut down for good. This marks the end of Singapore's last true street vendors, but one thing is clear: their longevity speaks volumes about the nature of the location, and there are some property lessons to be learned here.
A rundown of the Sungei Road Thieves Market
The Sungei Road Thieves Market is not exactly on Sungei Road. To be precise, the market moved away from this main road over the past few decades, and operates along minor roads nearby (Pasar Lane, Larut Road and Pitt Street). Officially, it's referred to as the Sungei Road Hawking Zone (SRHZ).
Despite the colloquial name, the SRHZ stopped being an actual "thieves market" many decades ago. The vendors – many of whom are now in their 70s and 80s – had to register as second hand dealers, and adhere to certain rules (no actual stolen goods, no selling of new goods, and so forth).
The SRHZ, after the 1990s, was a shadow of its former self. Its peak was somewhere between the mid-1950s and late 1960s, when there were estimated to be over 200 vendors here.
One particular point of interest is Mr. Pang Lim, a former (illegal) food vendor in the thieves market in 1970s. If that name sounds familiar, it's because he's the director of local food court chain Koufu. He first raised sufficient funds for his first coffee shop while hawking in the SRHZ.
So, what can the Sungei Road Thieves Market teach us?
Don't worry if an area seems spartan; amenities always build up over time
Sungei Road used to be quite dull and boring. It was home to stationed British troops, before their withdrawal in the 1960s, and not much else.
(Well okay, there was an ice factory, but that doesn't qualify it as the lifestyle hub of Singapore).
Those British troops are the reason the thieves market got started: vendors crept up to sell all sorts of military equipment, like boots, canteens, compasses, and map cases. Because even for the British army in the 1960s, no one liked to fill in a 1206*.
Over time, this expanded to include watches, clothes, questionably sourced meats, and cassette tapes. A thriving trade hub formed mostly out of nothing. So that goes to show: just because places like Punggol and Sengkang seem quiet, don't assume they'll always lack amenities. Huge changes can suddenly happen in the span of a few years.
(*Ask your friends who have been in the army. They'll know.)
Sleaze doesn't last
People get mocked for buying property in Geylang, even though it's a fantastic location (it's six minutes' drive from the Central Business District, and has limited permits for residential housing. It's a goldmine). The reason is, of course, the sleaze.
Well the Sungei Road Thieves Market was a total den of sleaze right up to the 1970s. Starting with, you know, the fact that it was called a thieves market. But besides that, most of the shophouses in the area were opium dens, catering to the poor and desperate. You may recognise such conditions as breeding grounds for a knifing and a stolen wallet.
But by the time the 1980s rolled around, the sleaze had mostly vanished. Many of the peddlers were licensed, and the actual "thieving" was mostly a colourful name. The opium dens were also gone.
Those who bought property in the area saw significant capital gains, and even today there's good rental demand nearby. Once the new MRT station opens (that's the reason they're getting rid of the market), demand will be through the roof.
Look through the sleaze: sometimes, the sleaze just provides a temporary discount on what will, in future, be an excellent property asset.
Organic features can do more for an area than planned changes
What do we mean by organic? We're referring to things that are not engineered. For example, the wave of hipster cafes and boutiques at Tiong Bahru wasn't planned by any government body; it was something that just happened.
In the same way, the Sungei Road Thieves Market was just something that happened. And when organic features like these creep up, they tend to last longer – and make a bigger impression – than planned attempts. That's because they usually only happen due to a combination of influences: the right location, momentum created by the initial participants, the acceptance or even participation of residents, and so forth.
A common oversight of property investors is to rely wholly on the Urban Redevelopment Authority's (URA) Master Plan. Over time we've gotten a bit lazy, and stopped "walking the grounds".
Sometimes, what's important is to take time to travel the neighbourhood on foot, and see what's happening. Is there a famous food stall? Is there a business that clusters in the area?
If you can spot the beginnings of another Sungei Road type feature, you may have insight into the area that a detached property analyst doesn't. Not everything shows up in the transaction history!