Much like the case of residential property, the rental market has been weak in the last three years. Largely due to tenants possessing a greater say over the places they want to live and the wider variety of properties due for completion, it is expected for rent prices to be hit hard in the coming months.
Rental prices for condos takes a beating, transactions climb further
Drawing similarities with the sales market, the slowdown is casting a shadow on residential leasing as well. 2015 saw a total of 70,922 rental units transacted, a gain of 13 percent year-on-year. Looking at Q1 2016 in isolation, transaction numbers inched up 2.8 percent from the same period a year ago.
Historically, rental activity is the highest in the RCR, with at least half of the total transactions occurring within this region. Popularity of the RCR can be attributed to the relative affordability and accessibility. It includes residential units which are sufficiently located around the city fringes, as compared to other options situated further away in the OCR and at a lower cost in comparison to those in the CCR.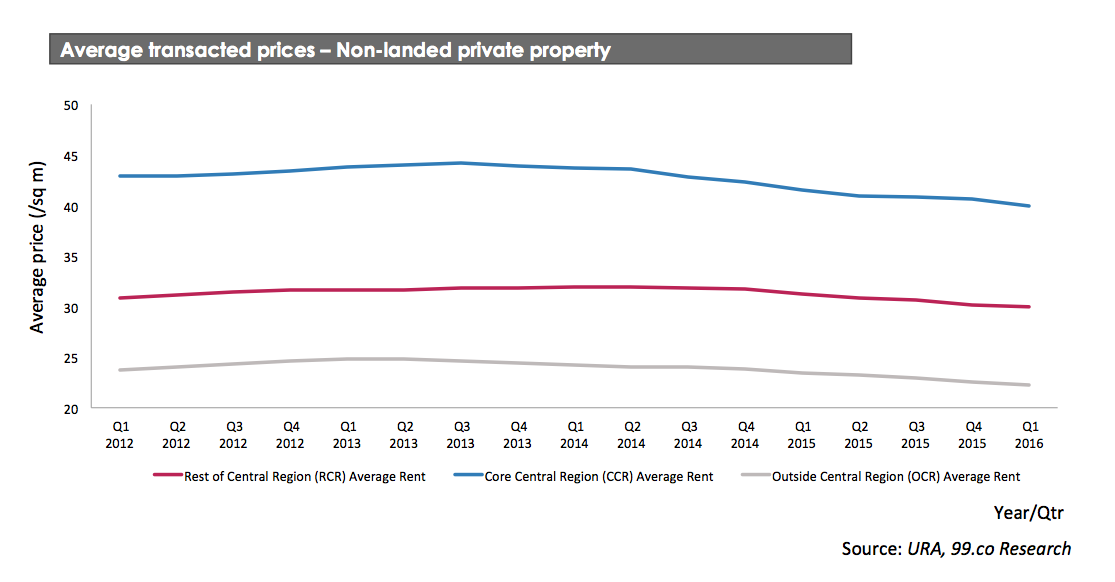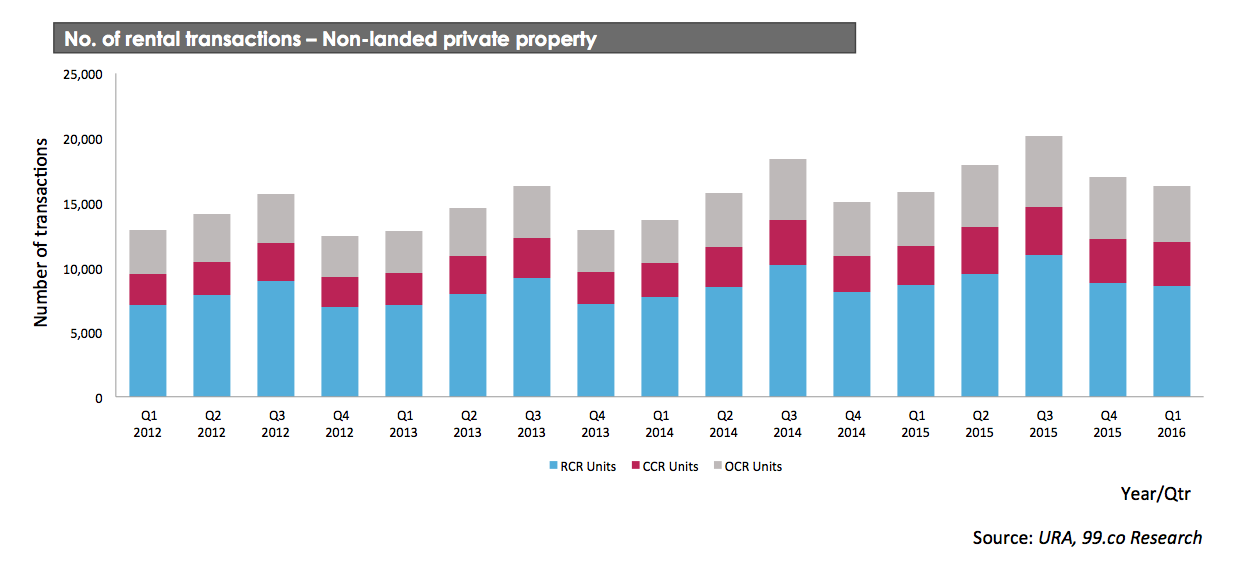 However, despite the optimism the increase in transactions bring, in reality, landlords are facing the prospect of garnering lower rents. Rental prices of residential property in Singapore dropped by 3.6 percent across the board in Q1 2016 compared to the same period in the year prior. Average prices in the OCR amount to $22.25 and $29.98 per square metre (sq/m) in the RCR, both displaying a steep year-on-year decline of 5 and 4 percent respectively. Rents too fell in the CCR to an average of $39.95 per sq/m, closing the first quarter with a 3.7 percent drop from Q1 2015. As a result, more landlords are finding their hands tied, forced to adjust rents at a lower market rate or lose their bargaining power.
HDB rents experience lesser price volatility, transactions also on the uptrend
The HDB rental market can be said to be a reflection of the situation happening in the private market. The number of rental transactions garnered in Q1 2016 was 8.2 percent higher than in Q1 2015 – a record of 11,239 HDB flats, with 3 and 4 room units forming the bulk of demand.
As for rent prices, there has been a significant dip of 5.4 percent in Q1 2016 compared to the year prior. The fall in prices are largely attributed to the attractiveness of the 5-room and executive units, as seen in the 6.2 and 7.3 percent growth quarter-on-quarter respectively.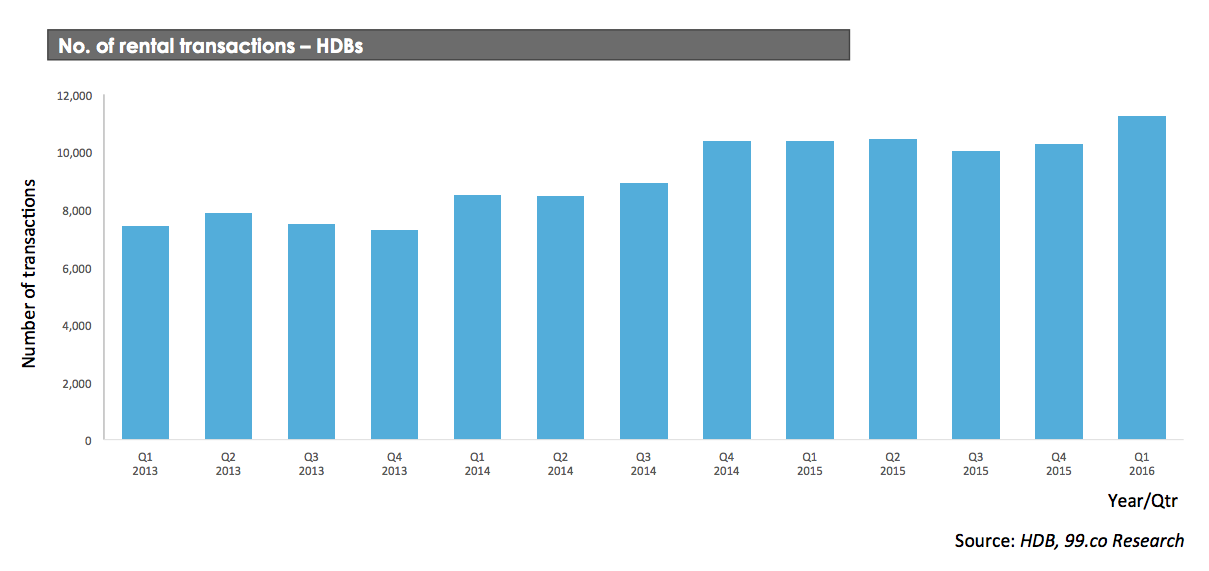 Predictions for 2016: Rental market predicted to remain weak
A big part of weakening prices is caused by the large supply of newly completed condos set to enter the market. With more homes for lease than there are prospective tenants, bargaining power sits squarely in the hands of tenants, forcing landlords to be more accommodating in order to avoid being priced out of the market.
With rental rates heading south, net yields too are likely to shrink, or even become negative. For landlords dependent on rental income to offset their mortgages, there is a real possibility cash flow issues might force them to sell off their assets and cut their losses.
Coupled with the global market on shaky ground,  the leasing market is expected to showcase a weak performance in 2016. As such, we predict that rental transactions for both private properties and HDBs will follow a similar trend to that seen in 2015, with average rents slated to correct by another 4 – 6 percent for the year.
The changing tactics of landlords
As a means to cope with the flood of 26,467 new private homes and executive condominiums, landlords are forced to ponder new ways to make their property more enticing to rent to attract  the same shrinking pool of tenants.
These strategies include:
– lowering the price of rent vis-à-vis similar properties in the vicinity
– reducing the rental contract term (typically down from the common 1-2 years to as low as 6 months) ­or allowing for flexibility in revising the terms in the tenant agreement
– dividing the property for rent to multiple tenants rather than a single family
– offering additional amenities to incentivise tenants to rent/prolong their stay (eg. the property comes fully furnished, has additional kitchen appliances etc.)
– negotiating on terms of lease to absorb some costs from tenants
– opting to list on short-term rental sites such as Air BnB to diversify into the transient renters' market
That said, the rationale behind these measures is chiefly due to greater knowledge of the softening rental market conditions from the tenants. Tenants have stronger negotiating power to take advantage of the situation and ask for significant discounts from prospective landlords. If no win-win agreement can be reached, the tenant will have no qualms and be prepared to shift to a property which can suit their price requirements.
Tenants' expenditure on rentals shrink
Within the existing pool of renters, there are also concerns of affordability. The cost of providing certain benefits such as housing is the most expensive component of an expatriate's pay package when he or she is employed or re-located to Singapore. With the current state of the economy, it is not surprising companies choose to cut their budgets on housing allowances or to offer localisation packages which replaces the expat's compensation package with comparable one on par with local Singaporeans. With a lower ability to pay for a prime location, most will be searching for cheaper alternatives in the market.
What can landlords do?
For landlords who possess the holding power to weather the prospect of garnering lesser than expected yields, it is advisable to be more flexible on the lease terms during negotiations. As mentioned, this is not only limited to reducing the amount of monthly rent payable as a means of attracting prospective tenants. That said, it is also important to bear in mind what is the rental pricing one needs to set, given the area and the type of properties around the vicinity. This is to ensure that you at least have some basis for arriving at a mutually agreed upon (and fair) rent price when meeting with tenants.
Whatever the methods employed or concessions granted, the idea is to keep the unit occupied. After all, having some income to pay off the mortgage on the property is better than none at all. In the event that landlords are not able to get tenants for say, a prolonged period of 3 – 6 months, it is recommended to re-assess the property itself as an investment.
The scary thing about having a vacant unit is that not only will it not garner any returns, you will still have to foot the loan repayments at the end of each month. On average, this may stretch to at least between $10,000- $30,000 in debt over the aforementioned 3-6 month period: a bitter pill for cash strapped landlords to swallow. In such cases, it is advisable to change tactics and consider selling the property, even if the capital appreciation is not to expectations (this is of course, after considering the SSD payable if any).
Check out other rental related articles here: Why vacancy rates are high in the rental market and Renters now enjoy cheap rental prices in Singapore – here's why
Find the rental home of your dreams today at Singapore's largest property portal 99.co!