(Credits)
At the risk of being accused of romanticising it, we think that Tiong Bahru is one of the most charming neighbourhoods in Singapore. Hipster cafes, restaurants, and bars aside, we love the art-deco inspired architecture of this area, as well as its proximity to town (even if you don't drive, you can still get to Orchard Road in less than 20 minutes via bus!)
Convinced that Tiong Bahru is a great place to stay? To sweeten the deal, we've rounded up 5 apartments that you can rent in Tiong Bahru for $3,000 or less per month. Yup, staying in Tiong Bahru doesn't have to cost you an arm and a leg. Read on to find out more!
#1: Tiong Bahru Estate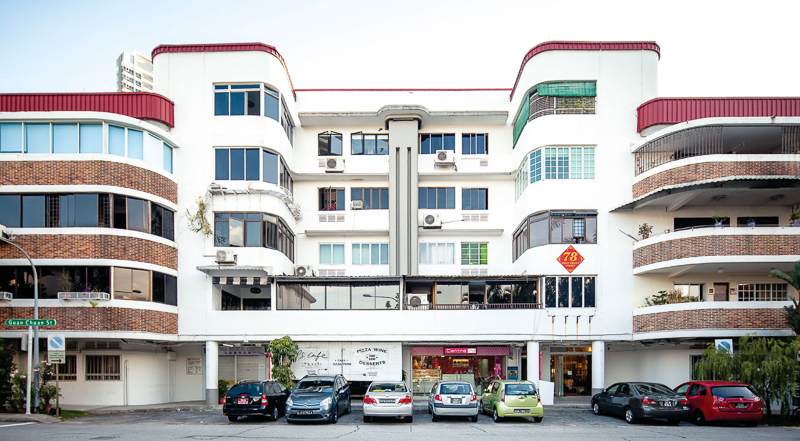 (Credits)
Location: 71 Seng Poh Road, Singapore 160071
Unit details: 1 studio, 1 bath, 550 square feet, $2,800 per month ($5.09 psf)
Tiong Bahru Estate has got a lot going for it, especially if you're into history and/or architecture. Built in the 1930s, the low-rise apartments in this estate are some of the oldest that you can find in Singapore. Architecture-wise, these apartments also stand out from all the other HDB flats in Singapore, with their rounded balconies and gorgeous spiral staircases. Nab this unit whilst you can – you'll get bragging rights from staying in such a highly coveted estate, and we also love the intricate Peranakan tiles that run throughout the apartment.
Rent if: You don't want a cookie-cutter flat or apartment, and would rather stay someplace with a lot of heritage and history.
#2: Harvest Mansions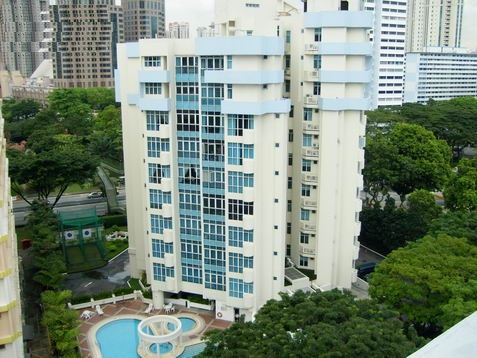 (Credits)
Location: 550 Havelock Road, Singapore 169638
Unit details: 1 studio, 1 bath, 230 square feet, $2,000 per month ($8.70 psf)
This condominium is located nearby Havelock Food Centre, Kim Seng CC, and the Singapore River. Condo facilities include a pool, putting green, BBQ pits, and more. Given that the unit is fully furnished, and that the rental price includes utilities and wi-fi, we'd say that this isn't too shabby a deal at all. The only downside is that it's pretty far away from the nearest MRT station (Tiong Bahru MRT), so you'll either have to take a bus, Uber, or drive.
Rent if: You can foresee yourself making good use of the facilities.
#3: Jalan Bukit Ho Swee
Location: Block 34 Jalan Bukit Ho Swee, Singapore 160034
Unit details: 2 beds, 1 bath, 631 square feet, $2,200 per month ($3.49 psf)
Sin Lee Foods may no longer be there, but Jalan Bukit Ho Swee is still home to plenty of good food and hipster cafes, such as Cream and Custard, The Tastemaker Store, and more. Other than being located in close proximity to a wide variety of food options, the unit available at Bukit Ho Swee is also a mere 5 minutes walk from Tiong Bahru MRT station – how convenient!
Rent if: You commute by train on a daily basis.
#4: 78 Yong Siak Street
Location: 78 Yong Siak Street, Singapore 163078
Unit details: 2 beds, 1 bath, 1,076 square feet, $3,000 per month ($2.79 psf)
This unit at 78 Yong Siak Street comes with a large balcony, where you'll be able to entertain your guests or simply put up your feet in the evening with a glass of red wine. Because it's a fairly spacious unit, you can share it with friends and split the cost. The location is also fantastic, because you've got pretty much everything you need in one street – you can head to Open Door Policy for dinner, schedule a workout session at Yoga Movement, have dessert at Plain Vanilla Bakery, and fulfil your intellectual needs at BooksActually.
Rent if: You value your space, and feel claustrophobic in an apartment that's too small.
#5: 38 Beo Crescent
Location: 38 Beo Crescent, Singapore 160038
Unit details: 2 beds, 1 bath, 570 square feet, $2,300 per month ($4.04 psf)
Always wanted to stay in a walk-up? You can do just that, with this unit at 38 Beo Crescent. A word of warning: because this unit is located above a shophouse, you can expect there to be a general level of hubbub throughout the day. You do, however, get your own private entrance to your apartment, so there's that. There's also Beo Crescent Market nearby, in addition to other eateries, coffee shops, wet markets, and more.
Rent if: Noise doesn't bother you too much.