Property prices in the upscale waterside enclave of Sentosa Cove have come off significantly from their highs. Some estimates state that the prices have fallen by as much as 18-36% from their peak in 2011. We explore whether it is the right time for you to own a seaside property in the niche 
neighborhood
.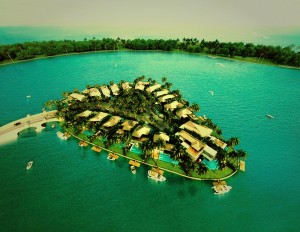 In March this year, Sentosa Cove properties did not make happy headlines. Widely reported across the media were the heavy losses incurred by investors. Notable among them was the four-bedroom unit at the Turquoise at Sentosa Cove which incurred a loss of S$2.71 million when sold at the price of $4.15 million. Similarly, a four-bedroom unit at The Coast sold for $3.12 million, incurring a loss of $1.21 million. All in all, many an investor was abandoning this exclusive enclave. After a dream run, the investment mood at Sentosa Cove had turned quite somber.
The turn of events was sudden and unexpected. Sentosa Cove was conceptualized as one of the world's most prestigious integrated oceanfront marina residential communities. This centrepiece of Singapore's billion-dollar master plan for Sentosa island was developed in the early 2000s when Singapore was actively luring the world's super rich to its shores, with the bait consisting out of the Singaporean status as a safe haven, good business opportunities, an attractive tax scheme and of course the exclusivity of Sentosa Island.
Now, however, all that has changed with the myriad of government policies introduced to stop the residential market from getting red hot. There has been a drop in foreign buyers, who were responsible for over half of Sentosa Cove sales between 2010 and 2014.
Price decline across condominiums and landed properties
Sentosa Cove was buzzing with sales activity till the beginning of 2013. From Q4 2004 to Q1 2008, median condominium prices shot up 213.8% compared to the 124.2% growth of those in mainland Singapore. Singapore's wealthy and the foreign rich were lapping up units as soon as they came on the market.
Landed houses were not to be left behind. The world's ultra rich including Australian mining tycoons Gina Rinehart and Nathan Tinkler were snapping up their second or even third homes here as Sentosa Cove is the only place in Singapore where overseas buyers can acquire landed property without restrictions.
It was a win-win situation for all. Not only did wealthy foreigners get to invest and soak in the sun in a serene ambiance, they also got their permanent residency fast tracked under the Financial Investor Scheme (FIS) by investing S$10 million in the country.  From 2004 to 2012, a total of 1,080 investors successfully took advantage  of this scheme with 194 being rejected.Thereafter, the government's property cooling measures including the withdrawal of the FIS, lending restrictions and taxes on foreign buyers, started to have an impact. The latest Singapore Real Estate research report by Barclays states that The Berth by the Cove last traded at $1,230psf, down 36% from the $1,919psf in October 2011. Similarly, The Oceanfront last traded at $1,954psf, down 25% from its peak price of $2,650 in September 2011.
"It feels like we're back in 2008," Christine Li, head of research at real estate firm OrangeTee, told Reuters. Historically, says the Barclays report, non-Singaporeans have comprised the bigger proportion of luxury home buyers. Lately, this proportion has declined significantly – from 49% to the current 30%.
Looking Ahead
With depressed prices, this might just be the ideal time for you to invest in the dream property in upscale Sentosa Cove. The reasons are plenty. According to an interview in Lianhe Zaobao on May 17, 2015, Knight Frank stated that Singapore remains a favoured destination for investment for foreign nationals from PRC, Indonesia and Malaysia. It predicted luxury property prices to rise by 1-to-3% in 2015-16 and thereafter further more.
Moreover, despite falling prices and lacklustre demand, a Sentosa Cove home is still a good asset compared to similar developments in other cosmopolitan cities. This charming locale together with the ease of doing business in Singapore, transparency of property markets and steady economic growth will for some time to come be attractive to buyers. Once the cooling measures have been rolled back, the market is sure to recover and the pool of potential buyers will increase and prices will rise.
Although as per the Urban Redevelopment Authority's Draft Master Plan 2013, the government has envisaged more waterfront enclaves, these projects are still years in the making and are aimed at the mass market unlike Sentosa; which is and will always remain an exclusive community with a limited supply of homes.
New Waterfront Communities Planned by the Government
A new residential area on the water called the Greater Southern Waterfront will be developed on 1000 ha of the southern coast once the ports have been moved from Pasir Panjang and Tanjong Pagar to Tuas by 2027.

An eco-friendly district called Marina South will be carved out on 130 ha near Marina Bay and is expected to provide 9,000 new homes.

Kampong Bugis will be expanded with 4,000 new waterfront residential homes.
Source: Urban Redevelopment Authority
Today, Sentosa properties are not really that much more expensive than mass-market condominiums if prices per-square-foot are considered. Therefore, it may be the right time to explore opportunities in this tranquil island enclave as it might very well offer more intrinsic value in terms of capital appreciation in the coming few years.
Sources:
The Palace Magazine, March issue –

http://www.palacemagazine.asia

Barclays Singapore Real Estate Report –

http://sbr.com.sg/residential-property/in-focus/sentosa-cove-condo-prices-down-whopping-36-2011-peak

Urban Redevelopment Authority. –

https://www.ura.gov.sg/uol/master-plan.aspx?p1=View-Master-Plan
If you enjoyed this article, you might be interested in 5 ridiculous luxury property floor plans you've got to see to believe and How much more would you pay for an "auspicious" address?.

Find the home of your dreams today at Singapore's largest property portal, 99.co!