It's Sentosa Cove versus Orchard Road, two of the biggest residential heavyweights in Singapore in the Core Central Region (CCR). Let's face it: if you're loaded and want to look the part, it's going to be one of these two areas. Here's how they weigh up against one another:
Sentosa Cove
In the early 2000s, Sentosa Cove – on the eastern end of Sentosa island – was conceptualised as a lure for the super-rich. Unlike on mainland Singapore, foreigners are allowed to buy landed property there, and the space would be used for high end facilities like places to berth your yacht.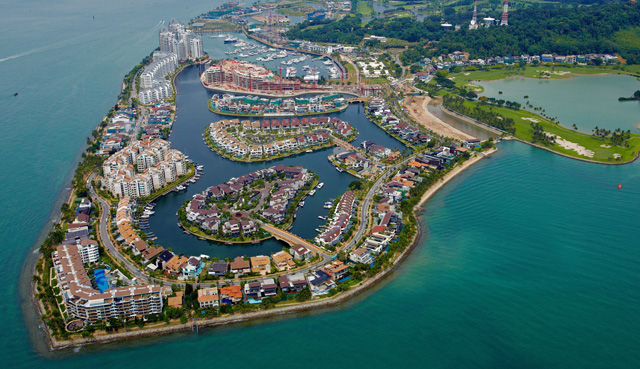 The unique oceanfront view, coupled with room for gigantic estates, has since become a status symbol. It's also an expatriate enclave: about 60 percent of properties on Sentosa Cove are owned by foreigners, who are owner-occupiers.
Communities in Sentosa Cove are quite tight-knit, as you'd expect from small, elite neighbourhoods.
The upsides to living on Sentosa Cove are pretty straightforward:
It is the best option for foreigners used to having a proper backyard

There's a sense of familiarity and community

You can sail home
It is the best option for foreigners used to having a proper backyard
Are you used to country living, or wide open spaces? Then even if you were to buy the most prestigious and spacious condo on Orchard Road, you're going to feel cramped. For foreigners who absolutely need their space, Sentosa Cove is the best option. In comparison, Orchard Road properties are known for many things, but vast size is not one of them.
There's a sense of familiarity and community
We looked up what rich people need. That usually means living within gated communities with other high-net worth families. Living on Sentosa Cove makes that really easy.
Alternatively, you may just prefer communal living to an isolated option. The resort feel of Sentosa Cove is conducive to that, and you'll find many neighbours on the island know one another.
Some might contend that condos on the mainland have tight knit communities too. In our experience however, this is hit-and-miss: some condos do have strong communal bonds. But many more consist of strangers who just live side by side. This is especially true in areas like Orchard, where you may find many short term tenants rather than long term residents.
Sentosa Cove even has its own newsletter for residents, and the people working on the island (e.g. staff in the restaurants) know many by name.
If you have a yacht, The [email protected] Bay and Sentosa Cove are hands down the best places to live. The marina gives you convenient and immediate access, and nothing beats sailing home from nearby Batam or Bintan on the weekends.
There are also downsides to take into account:
Sentosa Cove properties have been falling in value

It's not the most accessible area

If you want to get a sense of the real Singapore, you won't find it here
Sentosa Cove properties have been falling in value
Sentosa Cove is not, in our opinion, ideal for property investment. Since the peak of prices in 2011, properties in the area have recorded falls of between 18 and 36 percent, and have yet to recover. In March 2015, for example, a unit at The Coast made news when it sold for a loss of around $1.21 million.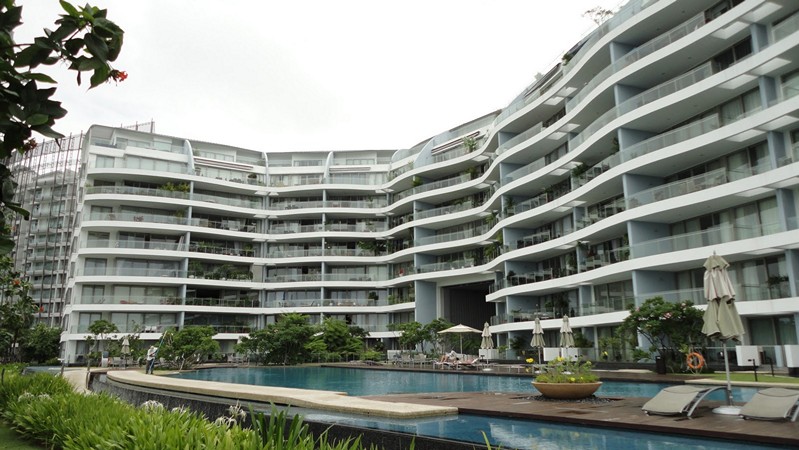 The high Additional Buyers Stamp Duty (ABSD) of 15 percent has reduced demand from foreign buyers across the board. And with Sentosa Cove being a large expat enclave, prices have suffered significantly from this.
In addition, many homes in the area are sold at high prices, with limited room for further gains. These properties are often luxuries, not investments. Those looking for capital gains might want to pay more attention to other parts of Singapore.
It's not the most accessible area
The nearest major mall is Vivocity at Harbour Front, and you should be prepared to drive there (or wait for the shuttle service). There isn't really a convenient MRT station near you (except again, Harbour Front), and some parents may be frustrated at the lack of a nearby school.
Even if you can resolve these issues with a car, be aware that friends who live on the mainland may find it a hassle to visit you.
If you want to get a sense of the real Singapore, you won't find it here
Trying to experience Singapore by staying at Sentosa Cove is like trying to experience the United States by staying in Disneyland. If you don't like being conscious of how different your lifestyle is, you may want to consider moving onto the mainland for a more authentic local experience.
Orchard
Orchard Road is Singapore's main shopping belt. It's why our country is sometimes described as a shopping mall with a seat on the United Nations. While Orchard Road as a retail hub hasn't done well lately (vacancy rates in retail malls are over eight percent), residences close to this 2.2 kilometre stretch remain a prime choice. Orchard Road provides high end retail and entertainment options around the clock.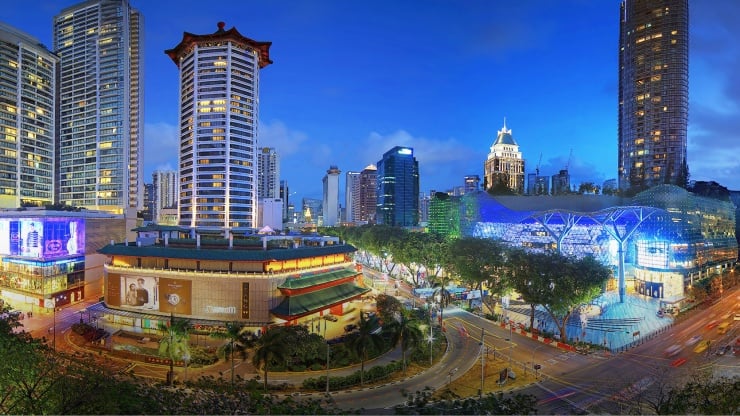 The Orchard area abuts Tanglin, and the two are often lumped together when describing the district.
Orchard and Tanglin hold a large number of embassies, including the United States Embassy and Australian High Commission. Healthcare facilities are widely accessible in the district, with Gleneagles, Mount Elizabeth, and Camden Medical Centre all being in range. Those who have medical conditions and needs should take note.
Upsides to property on Orchard include:
Great nightlife, and the best shopping for upscale brands

Central location

Good for landlords
Great nightlife, and the best shopping for upscale brands
The whole point of living here is that there's 24/7 entertainment right outside your door. The best malls are probably next door to you as well – although it's going to be mainly upscale brands you find (but then again, if you can afford to live here you probably don't shop on a budget).
Orchard Road is not as brilliant as it was in the early 2000's and before – retail malls are starting to die out due to e-commerce and high rentals. Still, this remains the main shopping area in Singapore, and it's one of the best in the world.
You are close to the centre of Singapore, so just about any place is equidistant. It's easy to get to City Hall, Raffles Place, or just about any central office in a matter of minutes.
One of the key advantages is that you can choose to skip on renting or buying a car, and notice it makes little difference to your transport needs. That's nothing to sneeze at, in a country where a car costs about as much as unsubsidised open heart surgery.
If you're buying for investment sake, Orchard properties are tried and trusted. Vacancies seldom happen here, and it's the district most highly paid expats want to rent (yes, even more than Holland Village). You can usually get $5 to $8 per square foot (depending on which part of Orchard you're at), even when the rental market is weak.
The downsides of living in Orchard are:
Traffic can be a killer

Weekends are an exercise in claustrophobia

Noise pollution
On weekends, or between 6pm and 7pm on most weekdays, you'll want to be sure you take the train. Even if you have a car, you will want the train. Orchard Road may as well be called Orchard Parking Lot, with the amount of congestion that occurs.
The roads are packed with two large groups: shoppers/tourists hitting the mall, and those who are headed to or from work (it's centrally located so a lot traffic flows through the area).
On a related note, there's a common complaint about getting cabs here – ask five Singaporeans, and three will tell you it's impossible to get a cab in town. A common theory holds that this is because of the sheer number of people fighting for the cabs, and the near constant body of tourists who need them. Or that taxis generally avoid the area for fear of being stuck in said traffic jam.
Weekends are an exercise in claustrophobia
If you come from a dense urban area like Manhattan, you should find Orchard tolerable. If you're not used to it, you'll find it overpowering. Massive crowds pack the malls on weekends, although it's not as bad as it used to be a decade ago.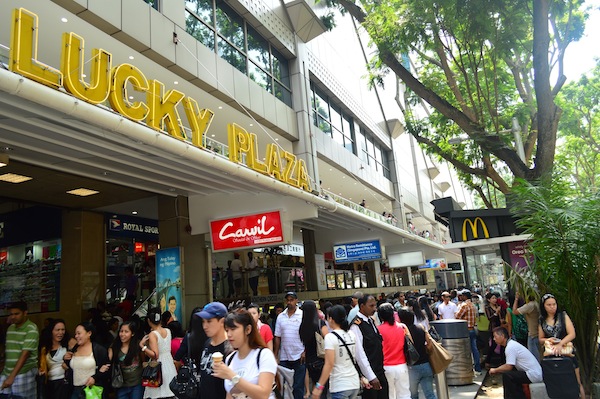 A peaceful stroll can be almost impossible outside your condo or estate grounds – remember this is not just a central location, but a prime tourist spot. It's bad enough that some locals swear off Orchard during the weekends; but if you live here you'll have to deal with it.
The city doesn't sleep, and maybe neither will you. Expect honking cars and the buzz of conversation, all day, every day, not to mention the almost unfathomably loud chirping of birds en masse in the trees lining the road . A lot depends on finding the right condo, which is situated the right distance from intersections or Orchard Road itself.
No matter where you go in Orchard though, it's not going to be the most quiet place in Singapore. It's not as bad toward the Tanglin, Cairnhill or Killiney Road areas though, so if this bothers you then look there.
Which one wins?
A lot of it comes down to what kind of living you're looking for. If you want a quiet, spacious area to raise a family, Sentosa Cove wins hands down. If you're young (at heart) and active, Orchard is far more entertaining. If you're clear on your needs, it's easy to make a decision.
(If you have teens we suggest Orchard by the way. Sentosa Cove is a good way to bore them out of their skulls, and raise the probability that they will have no local friends).
The second consideration is how much integration you're looking for. Sentosa Cove can be almost escapist, an area for people to feel like they're not in Singapore. But Orchard plugs you right into the pulse of Singapore city. If you want to have a more complete experience of living in Singapore, Orchard is better by miles.
If we had to pick an absolute winner though, we'd give it to Orchard by a narrow margin. The decision comes down to accessibility: it is just easier to get to every end of Singapore when you live in the middle.
Whatever your decision though, be sure to check out the best listings for both on 99.co. We have all the options worth browsing.