As Singapore claims more and more natural vegetation for housing and urban development, we've been seeing an increasing number of wildlife having nowhere to go besides our pristinely-manicured HDB estates and condos. Official figures show that wildlife sightings have been on the rise recently; just in the first seven months of 2018, the Singapore Agri-Veterinary Authority (AVA) has received 150 cases of wild boar-related feedback, compared to 310 cases in 2017, 140 cases in 2016 and just 80 cases in 2015.
Another reason for a rise in wildlife sightings is also due to the fact that Singapore has incorporated plenty of nature in our living environment, which allows otters, for example, to roam from park to park like nature-loving tourists. While some of them can be friendly and/or harmless, there have been sightings of potentially dangerous animals, and even attacks, in residential areas.
Here are the five wild creatures that have sneaked into our condominiums and HDB estates at one time or another, and what you should (and should not) do in case you encounter one. Bookmark and share this; it might even save you and your loved ones a trip to the hospital.
Wildlife #1: Wild boars
The first thing you should know is that wild boars have fangs up to 10cm in length. These toothy creatures have been sighted with increasting frequency in nature parks and near forested areas across Singapore. On 28 August 2018, a wild boar was found trapped in the bin centre of WaterBay Executive Condominium at Punggol, but not before it had attacked a pregnant woman outside a nearby school (where she works as an administrative assistant). The attack, which the woman and her husband claim was unprovoked, left the woman with deep cuts on her right calf.
The AVA says that the boar likely came from forested areas in Punggol or Coney Island, and subsequently relocated the caught boar to the Lorong Halus area.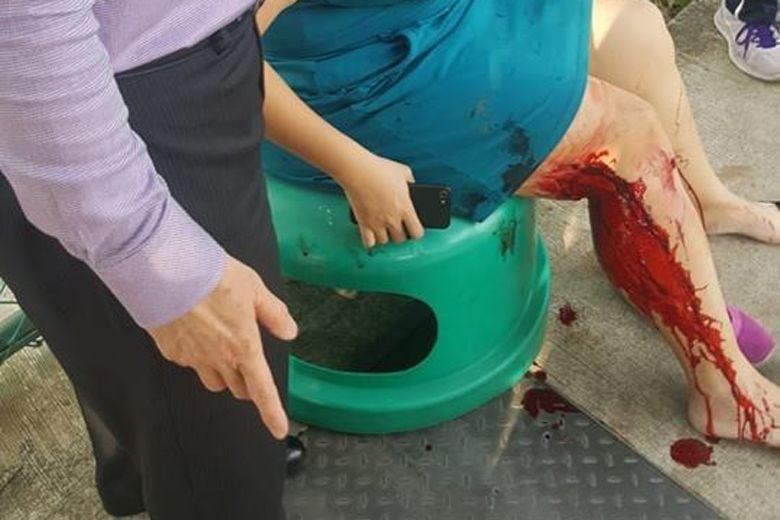 Previous cases of wild boar sightings/attacks include:
19 Oct 2017: A 44-year-old man was injured outside Glendale Park condominium at Hillview/Bukit Gombak by a wild boar. According to reports, the man was walking towards Hillview MRT station when he spotted the animal approaching him. He lost his balance and fell as he tried to run. The wild boar charged at him and left him with deep cuts on both legs. Later, when the animal tried to escape, it ran onto a road and was killed by a bus (RIP).
30 Jun 2017: A woman who was walking her dog at Windsor Nature Park was gored in the leg by a wild boar, which left a 10-cm long wound that needed 60 stitches (ouch).
What to do if you see a wild boar: Wild boars don't attack humans unless they feel cornered, so leave them alone. Call the Animal Concerns Research and Education Society (ACRES) Wildlife Rescue Hotline at 9783-7782 if you see a wild boar roaming in built-up areas.
What NOT to do if you see a wild boar: Don't go closer or feed them. Even if you've spotted piglets, who look cute and harmless, their mother may be nearby, and she might react aggressively to defend her offspring. Do not take photos of the wild boar using a flash.
Wildlife #2: Monkeys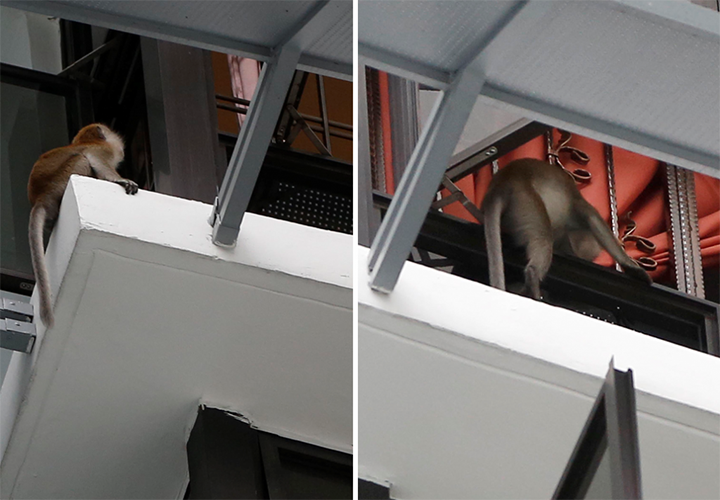 Bold and often aggressive towards humans, monkeys in Singapore have grown accustomed to roaming in our HDB estates and condos, and the species of monkeys that are associated with being a nuisance is macaques. Last year, HDB residents at Segar Road faced-off with a horde of macaques that kept breaking into their homes. The ordeal lasted 15 months and involved multiple government agencies.
Macaques are also fans of our condos, although they don't fancy the pool and gym. Rather, they use their climbing skills to access our kitchens and pantries. Here's what R. Krishnan, a security guard at Le Wood condominium in Hindhede Drive (near Bukit Timah Nature Reserve) told a local news outlet.
"Once a resident forgot to close the window, and a monkey went into her home, pushed things around, and made a mess. She called me in a panic, and when I got there, the monkey was standing, like a king."
Macaques have even stolen cosmetics from the homes of Singaporeans.
While this might sound funny, macaques become downright aggressive when you try to chase it away or retrieve things they they've taken from you. Across the border in Malaysia, a baby girl was tragically killed in 2010 when macaques entered a home in Negeri Sembilan province. The monkeys had snatched her from the home and later dropped her from height. The lesson here is to always mesh your windows if the area you live in has a known monkey problem.
What to do if you see a monkey: If you spot a monkey who routinely hangs around urban areas, call ACRES or AVA for assistance. (The AVA loans monkey traps to residents on a case-by-case basis.) To discourage monkeys from getting too close for comfort, close all windows and doors when you're not at home, and don't leave any food lying around or rubbish bin uncovered.
What NOT to do if you see a monkey: Never feed monkeys (this will teach them to associate humans with food) or taunt them.
Wildlife #3: Snakes
Snakes are stealthy intruders, and pythons in particular are commonly found in Singapore, according to the AVA. Sometimes, they enter our homes uninvited.
Back in May 2014, a woman was bitten by a python in the toilet of her apartment in Eunosville condominium. The snake, measuring 1.8 metres long and as thick as a man's forearm, had been curled up snugly inside a toilet bowl, which the woman had proceeded to sit on unknowingly. What a nasty shock that must've been but, luckily, the woman was discharged from hospital shortly after being admitted for the incident.
Snakes aren't just looking for a place to rest and relax; they might also be looking for food. Last year, a resident in Pasir Ris woke up to find a 1.5m-long phyton coiled around the family's bird cage. "It may have been trying to eat the bird," the owner said, stating the obvious. They also filmed a video (below) where they ushered the snake into a plastic bag, stroking it in the process (which we feel was a little unwise).
What to do if you see a snake: Snakes strike whenever they sense their safety is threatened, so leave them alone and keep about a 2 metre distance, and avoid any sudden movement. If the snake is in a room inside your home, take children and pets away from that room and close all the doors and windows except those that lead outside. Doing so will allow the snake to escape outdoors. Then, call ARCES or the AVA (contact number at the end of article).
What NOT to do if you see a snake: Do not try to restrain a snake, and do not spray or pour chemicals or insecticides on snakes in an effort to repel them. You. Will. Get. Attacked.
Wildlife #4: Monitor Lizards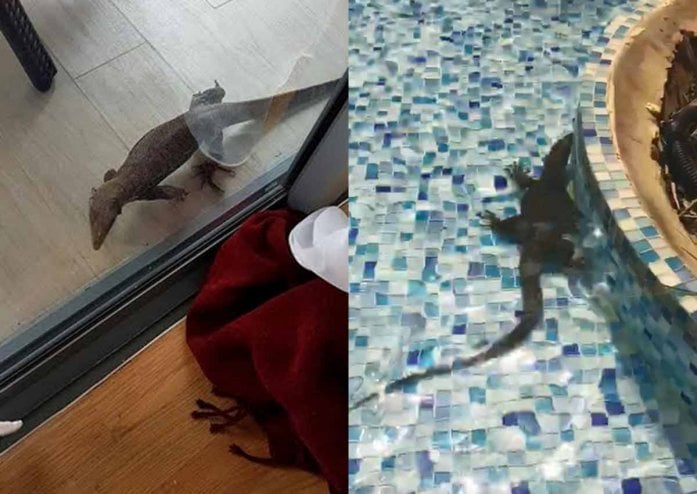 Along with otters, monitor lizards are frequently sighted swimming in Singapore's many waterways. Just last year in 2017, a monitor lizard was spotted trying to open the balcony door belonging to a resident of Skies Miltonia condominium in Yishun. After the lizard failed, it adjourned to the pool, spending half an hour there before another resident caught it and released it into a forested area. Safe to say that the reptile might have preferred a cocktail instead.
What to do if you see a monitor lizard: Monitor lizards are generally shy and do not attack humans unless they're provoked. Leave them alone, and call the ACRES Wildlife Rescue Hotline.
What NOT to do if you see a monitor lizard: Do not chase or corner them, because this may result in you getting bitten. In the event that you are bitten, seek medical help immediately. Decaying flesh that's caught in the monitor lizard's teeth (from its previous meals) carries plenty of bacteria, and may cause a nasty infection.
Wildlife #5: Bees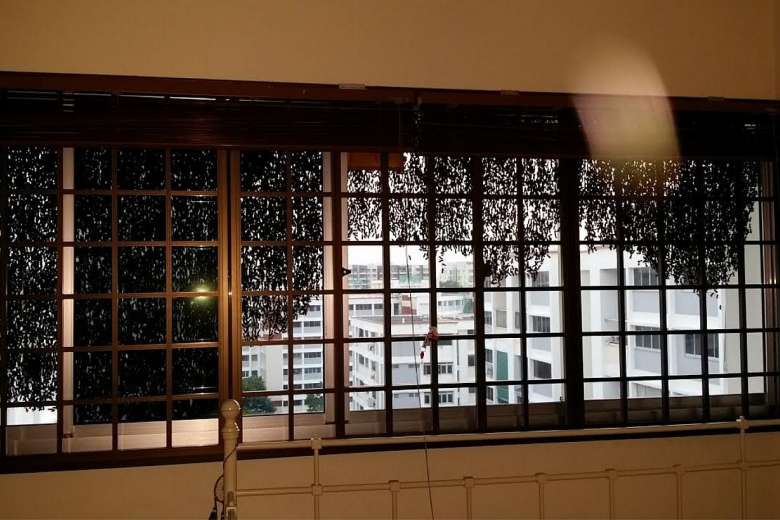 Lush landscaping might make condos more appealing to humans and bees. Back in 2011, a man was stung by a bee from a hive from an unidentified condominium. We don't have too many details of this incident, but we do know that this man described the hive as a "monster hive".
The bee swarms in Singapore are also seasonal occurrences. They typically arrive at the end of the rainy season or the start of the dry season — periods where several species of nectar-yielding flowers are in bloom. Swarms of bees seek shelter in buildings when their habitats are destroyed by strong winds or rains.
There have also been more recent reports of bee invasions in HDB estates. In June 2015, over a thousand bees swarmed into two blocks of flats in Sengkang. In August 2016, again, bees invaded five HDB blocks in Punggol. Just last year, a Punggol resident found a huge swarm of bees hiding in a shower head in his bathroom.
What to do if you see a beehive: Bees are unlikely to attack unless provoked. If you see a beehive, contact AVA or, for a quick resolution at a fee, a pest control company. If you're attacked by bees, run against the wind while covering your face. Stop only when you get to shelter, as bees get disoriented by lights and changes in temperature.
What NOT to do if you see a beehive: Do not disturb a hive by throwing sticks and stones at it. Seek medical attention promptly if you get stung, as those who are allergic to bee stings can die within 30 minutes of an attack. Don't crush bees; crushed bees release a scent that will draw more bees to you.
In general, this is who you should call if you spot wildlife roaming in your condo/HDB premises:
AVA Animal Response Centre: 1800-476-1600 (24 hours)
ACRES Wildlife Rescue Hotline: 9783-7782 (24 hours)
Have a wildlife encounter? Share it with us in the comments section or on our Facebook community page.
If you found this article helpful, 99.co recommends Buying a home next to nature reserves and 5 condo facilities that are fast disappearing in Singapore
Looking for a home? Find the of your dreams today on Singapore's largest property portal 99.co!