As we enter the weeks leading up to Chinese New Year, spring cleaning is an activity many households in Singapore gear up for. Way before Marie Kondo made tidying and decluttering trendy, the Chinese have had the tradition of spring cleaning their homes in preparation of the Spring Festival for a couple of millennia.
Why spring cleaning is so important to Chinese mums
Besides ridding the premise of physical dirt and grime, giving the home a thorough cleaning "sweeps away the bad luck" of the previous year and prepares it to be filled with auspicious vibes in the coming new year. Who doesn't want to start the new year flushed with luck, fortune and all things good? Of course, having a shiny clean home to host your relatives in is another added benefit!
Many households take this opportunity to fix anything that's leaking or close to breaking at home. Also, it is not uncommon for dull walls to be given a new lease of life with a fresh coat of paint. All these activities serve to renew and refresh the home environment.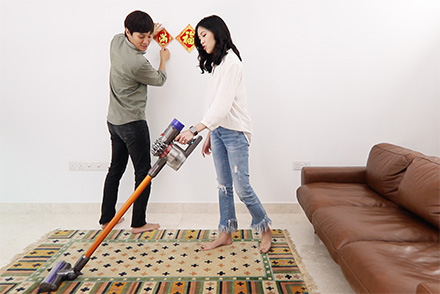 Spring cleaning and the first-time homeowner
For new homeowners, celebrating their first Chinese New Year in their new space brings with it feelings of both excitement and trepidation. It's liberating to have a home of your own where you get to call the shots and do things your way. Olivia, a first time homeowner explained, "In my parent's home, we operated on a one-in-one-out policy. For every new item I brought home, I had to get rid of something else to make space for it. Now that I have my own place, the one-in-one-out rule is no longer in operation!" 
Mark, Olivia's husband, shared, "In the past I only had my room to clean. Now, there's a lot more rooms and square footage to tackle!"
Never fear, the Dyson V8 Absolute + is here
A lean mean cleaning machine weighing only 2.6kg, the cord-free Dyson V8 Absolute + has made spring cleaning a cinch for the couple.
Being cordfree, it has allowed them to vacuum with ease without having to trip over clunky wires or having to plug out and re-plug the appliance while going from room to room. The Dyson V8 Absolute+ also transforms from a stick vacuum to a handheld one in a matter of minutes, allowing for vacuuming to take place down low, up high and everywhere in-between.
Best of all, the vacuum comes with a soft roller cleaner head which enables it to efficiently remove both large debris and fine dust from hard floors, and a direct-drive cleaner head that removes ground-in dirt and pet hair from carpets.
Olivia shared, "The Dyson V8 Absolute+ made easy work of cleaning up cereal crumbs on our hand-woven Nepalese carpet! One round of suctioning was all it took to clean the carpet thoroughly. Great for busy bees like me!"
Mark added, "I like that the hygienic ejector eliminates the cost and hassle of having to buy and change vacuum bags. I can clear the bin easily without having to touch the dirt since it's always the guy who has to get his hands dirty!"
Being dog lovers, the new homeowners are also thrilled that they can vacuum around Doodle who remains calm and unperturbed in the face of the whirling V8! Many four-legged fur kids are known to be vacuum-phobes.
Olivia concluded, "My mum always said that we shouldn't sweep the floor on the first day of Chinese New Year in case we sweep away all our luck. I think I can get away with using the Dyson V8 this year as I'm technically 'sucking up' all the luck instead of sweeping it away!"
The Dyson V8 Absolute + is your perfect spring cleaning companion. Get yours today at a special CNY promotional price!
Presented by Dyson
If you found this article helpful, 99.co recommends The homeowner's guide to sprucing up your home for CNY 2018 and Smart home assistants that will change life as you know it.
Find the home of your dreams today at Singapore's largest property portal 99.co.