The rundown on Tengah Forest Town
Tengah is well known to many Singaporeans who serve – or have served – in the Republic of Singapore Air Force or the Singapore Police Force. It's home to Tengah Air base, one of the major military airfields. It's often identified by its iconic blue glass guardroom. The Home Team Academy is also close by.
Tengah is in close proximity to Lim Chu Kang, Choa Chu Kang, Bukit Batok and Jurong West, and is bounded by the Kranji and Pan-Island Expressway. The area designated for Tengah Forest Town about 700 hectares, making it close in size to Bishan. It's expected to provide around 55,000 homes.
There were plans to develop the area as far back as 1991, but this is the first major announcement we've heard. The idea of a rural-themed residential area makes sense, given that it's quite close to Lim Chu Kang (an area designated to be an agritainment hub.) We understand that it will also be integrated with the Jurong Innovation District, which is a next-generation tech-park slated for completion in 2022.
Normally, an announcement like this would cause a lot of excitement in the property market. But the sentiment on the ground is uncertainty – the area has been considered an "ulu" (backwater) area for a long time, and both investors and property agents are unsure what to make of it. Already, there have been some misconceptions about it. We weighed up some pros and cons.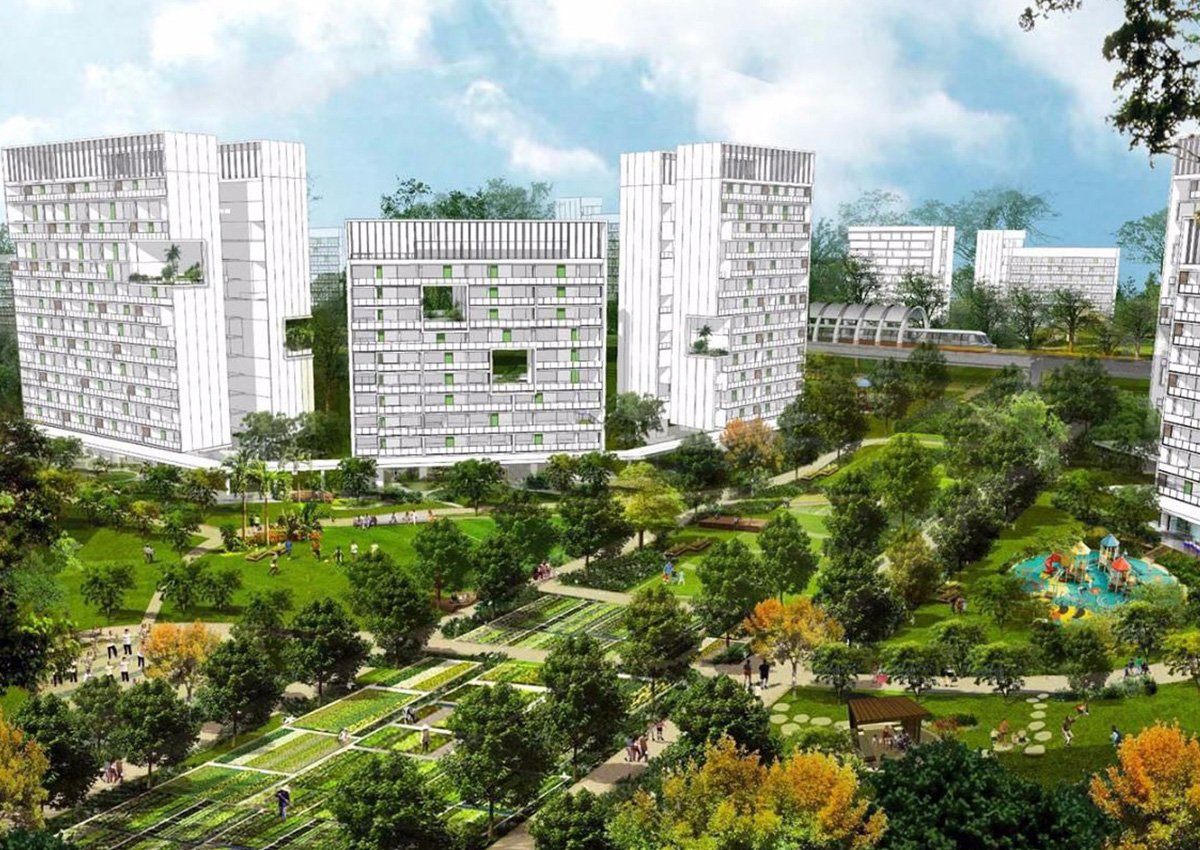 The upside to Tengah forest town
These can be summarised as:
Proximity to Jurong, a developing hub
Open spaces that you seldom find in Singapore these days
Low crowds
Proximity to Jurong, a developing hub
Jurong is the gold mine of the west, due to the development of Jurong Gateway, Jurong Lake District, and now the Jurong Innovation District. In addition, the High Speed Rail to Malaysia will have its terminus here.
There is a chance of some spillover. For example, many people who work in Malaysia (or Malaysians who work in Singapore) may want access to Jurong. In the event that prices get too steep there in the coming years, Tengah may provide a less developed and cheaper alternative, which is not too far away.
However, for reasons we describe later in this article, we feel this will also be a weakness in the early days.
Open spaces that you seldom find in Singapore these days
Tengah, like Mandai, still has the look of a true tropical jungle in parts. There are also some unusual places to be found surrounding it – head up toward Lim Chu Kang road from Tengah, and you have access to fish farms, topiaries, and even an area where they produce artisan Chinese "dragon vases." This is one of the few places where you can stroll among the tall lalang grass, spot snakes and squirrels, and hope that the funny insect that bit you isn't poisonous. You can walk for hours without seeing a single tall building.
We don't know how well this will be preserved; but given that the theme is "forest town", it's likely this will remain one of the most literally green and scenic areas in Singapore. Home owners who hate our glass-and-concrete monotony may be the first to move in.
Low crowds
Tengah is one of the least crowded places in Singapore. Apart from the National Service men, there is no chance that you will be mobbed by the throngs you find in Orchard, or even many neighbourhood malls these days.
This uncrowded ambience is likely to be retained for a while, even after Tengah undergoes its transformation. The reason is simply that living in Tengah will be a concept many Singaporeans haven't considered before; they will probably take time to warm up to it. This is a major plus point if you hate the more congested areas in mature districts.
The potential downsides
Some serious work will need to be done on Tengah, before it becomes the new hub that's envisioned:
Between Jurong and Tengah, most buyers would still choose Jurong for now
Lack of amenities
Low accessibility
The airport gets noisy
Between Jurong and Tengah, most buyers would still choose jurong for now
Investors (landlords) will probably have little interest in Tengah, now or in the coming years. As we mentioned above, Jurong really is the star of the west – given a choice between the two, most tenants would pick Jurong given its access to MRT stations, built up malls like JEM, and of course the high speed rail.
Lack of amenities
Tengah lacks its own major malls (you would need to travel into Jurong or Choa Chu Kang for those), and there are no schools or hospitals that we would really consider close. While there used to be small coffee shops that dotted the area, we note that many of these have now closed or moved on.
Unless you never get tired of nature walks, there just isn't much to see or do here right now.
Low accessibility
Even the National Service men in the area often complain about this. Ask some of the soldiers who work at Tengah Air Base – they may tell you they prefer to stay in camp, because it's so hard to get there. The most common form of public transport is to take the train to Choa Chu Kang, near Lot 1 (a mall in that area), and then take a long bus ride.
And some areas of Tengah – particularly the parts near the air base – will need to have a lot more in the way of bus stops. It's hard to even catch a cab in the area, unless you specifically call for one.
The airport gets noisy
Tengah airbase is home to several air force squadrons, and some of them are flying F-16s. If you've never heard one, try to imagine a thousand starved cats being thrown a sausage, and then imagine the resulting noise is fed through a hundred amplifiers stacked right next to your ear. We're not sure how the government is going to resolve this issue, but it's bound to be a factor that potential residents hate.
Overall, Tengah Forest Town is a bit of puzzle on the property scene. Opinions will be divided: some will feel it's a chance to "get in on the ground floor", and snap up cheap initial developments before the area builds up. Others will still look upon Tengah with suspicion, because – no offence to anyone living there – it's hard to imagine just being surrounded by foliage and nothing else.
Tengah will get a lot more interesting, but it will take a few years before we see significant developments.