If you were to go to the supermarket, it is likely you'll see over 20 varieties of detergent, another 30 types of washing powder and shelves upon shelves of body soap and shampoo varieties. That is the reality of consumerism – we are spoilt for choice. The same goes for themed condos; with more than 26,400 non-landed private and executive units expected to be completed in 2016, followed by another 17,234 in 2017 and an estimated 26,000 more in the 3 years following that, it is definitely a buyers' market.
On a small island already saturated with condo projects, differentiation and catering to a specific market segment is crucial. As a result, property watchers are seeing a wave of themed condos being marketed, as developers look to distinguish themselves amid the impending glut of supply.
There are various ways this is done, as we have seen how some condos follow a foreign theme in part 1 of this series. These are other themes that have gained sufficient traction in recent times:
Nature-themed
Being a tropical island means we have little fluctuation in our weather – it is either blazing hot or pouring with rain (whilst remaining hot). That also means that we are blessed to be surrounded by lush, green foliage all year around  – something developers have taken into serious consideration in their condo designs.
Coupled with the fact that Singaporeans generally work very long hours, condos have introduced elements of nature to "provide a respite from the demands of corporate life". (On a side note, did you know Singaporeans are so hardworking that we have the honour of being consistently ranked as having the longest working hours in the world?).
Most of the projects with said theme are envisioned to be sanctuaries with lush, landscaped gardens and ornamental plants, oases of peace that rejuvenate the soul. In some instances, it could also be that the condo faces a forest or conservation area, hence is marketed to "seamlessly blend with nature". The Glades at Tanah Merah and Glentrees at Mount Sinai are two of them; the former is a 99-year leasehold development with 726 units and is just right across from Tanah Merah MRT station while the latter has 176 units each containing a private enclosed space, open terrace or planter box for residents to create their own nature corner.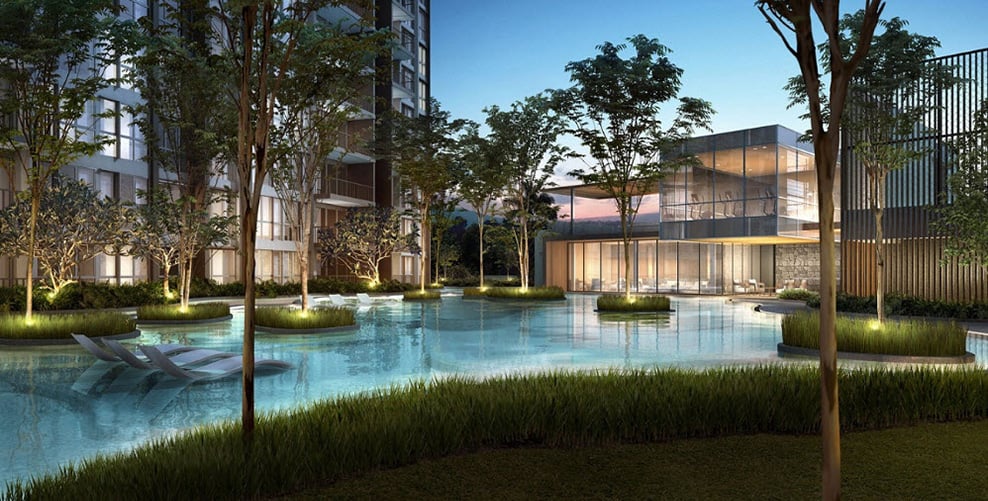 For those who have a deeper love interest with nature, they will be glad to know that there are several forest themed condos as well. While the thought of forests may conjure up images of swamps, dirt and bad memories of outfield exercises for national servicemen, such condos are surprisingly highly sought after. Waterfront @ Faber, a forest-themed project located within Faber Hills estate and overlooking Sungei Ulu Pandan, sold all of its 199 apartment and 11 strata-landed home units in April. Bellewoods, an executive condo at Woodlands, also witnessed brisk sales with 98 percent of its 561 units sold thus far. Interestingly, Bellewoods is said to have six zones of indulgence each having a different forest theme "inspired by the beauty of nature".
Sports-themed
Tucked away in a quiet corner of Flora Drive along Upper Changi is Parc Olympia, a 99-year condo with 482 units. What makes this project stand out? It has been aggressively marketed as the first and only sports themed condo in the market since its launch. You have got to admit that this adds a unique spin on the usual condo fare in the market, but we suspect that the developers were heavily inspired by the governments' Active Lifestyle public campaigns.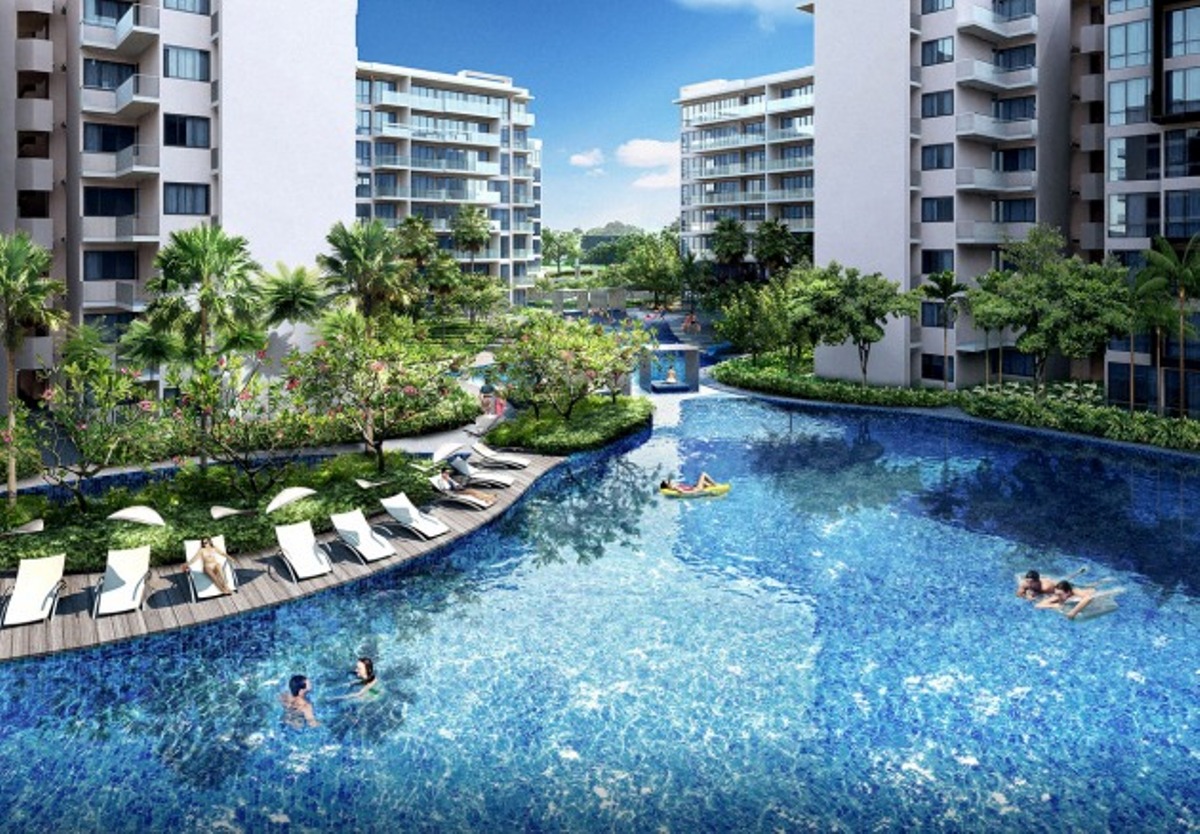 And true to its brand, Parc Olympia has a whole host of sports facilities that could rival a country club – a children's and 50 Meter Lap Pool, Gym, Badminton Court, Rock Climbing Wall, Basketball Court, Table Tennis, Tennis Court, Golf Pitch, Skate Board Ring and Running Tracks.
 Safari-themed
Singaporeans are generally not accustomed to traveling to Africa because of the high airfare costs. What they do know though is that most of the wildlife they see in zoos and on the National Geographic channel comes from the continent. So, in order to bring the experience of the Serengeti to our shores, Savannah Condopark was conceived. As the name suggests, the project draws inspiration from a safari theme park, albeit without the actual animals.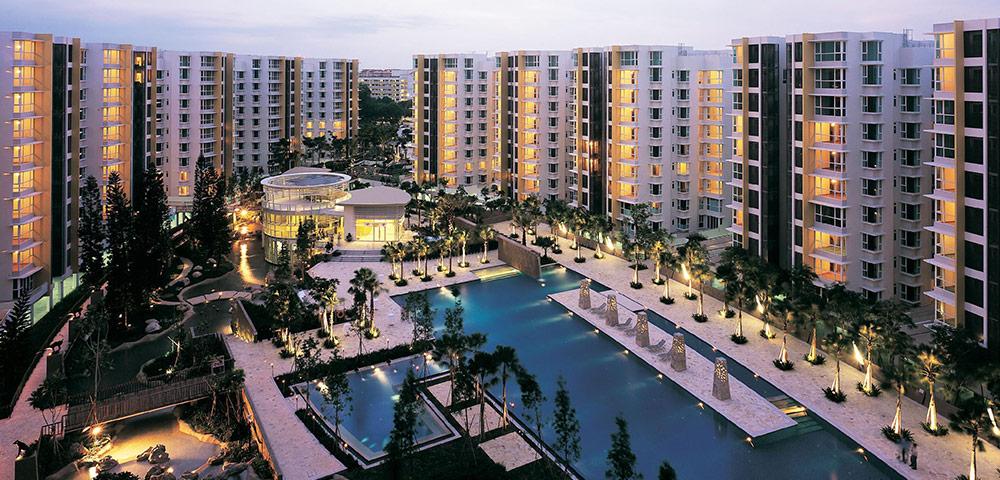 What it does have are features such as 110 bronze sculptures of animals found in Africa such as elephants, giraffes and panthers, hidden caves, waterfalls and a water slide modeled after a volcano. Tacky as it may sound, the 648-unit project received a warm reception when it was launched 14 years ago.
 Fashion/design-themed
Luxury homebuyers need not feel left out as there are also themed condos dedicated to their discerning taste. Two projects stand out – The Marq on Paterson Hill and [email protected]. Catering exclusively to high net worth individuals, both are situated in the prime Orchard Road district and are branded as one-of-a-kind developments in Singapore.
Why? It is because their interior design is conceptualized by renowned brands. The Marq is the world's first condo fully decorated by French fashion giant Hermès. All 66 units come complete with floor-to-ceiling bespoke furnishings and decorations by the designer brand as well as a private 15-metre lap pool.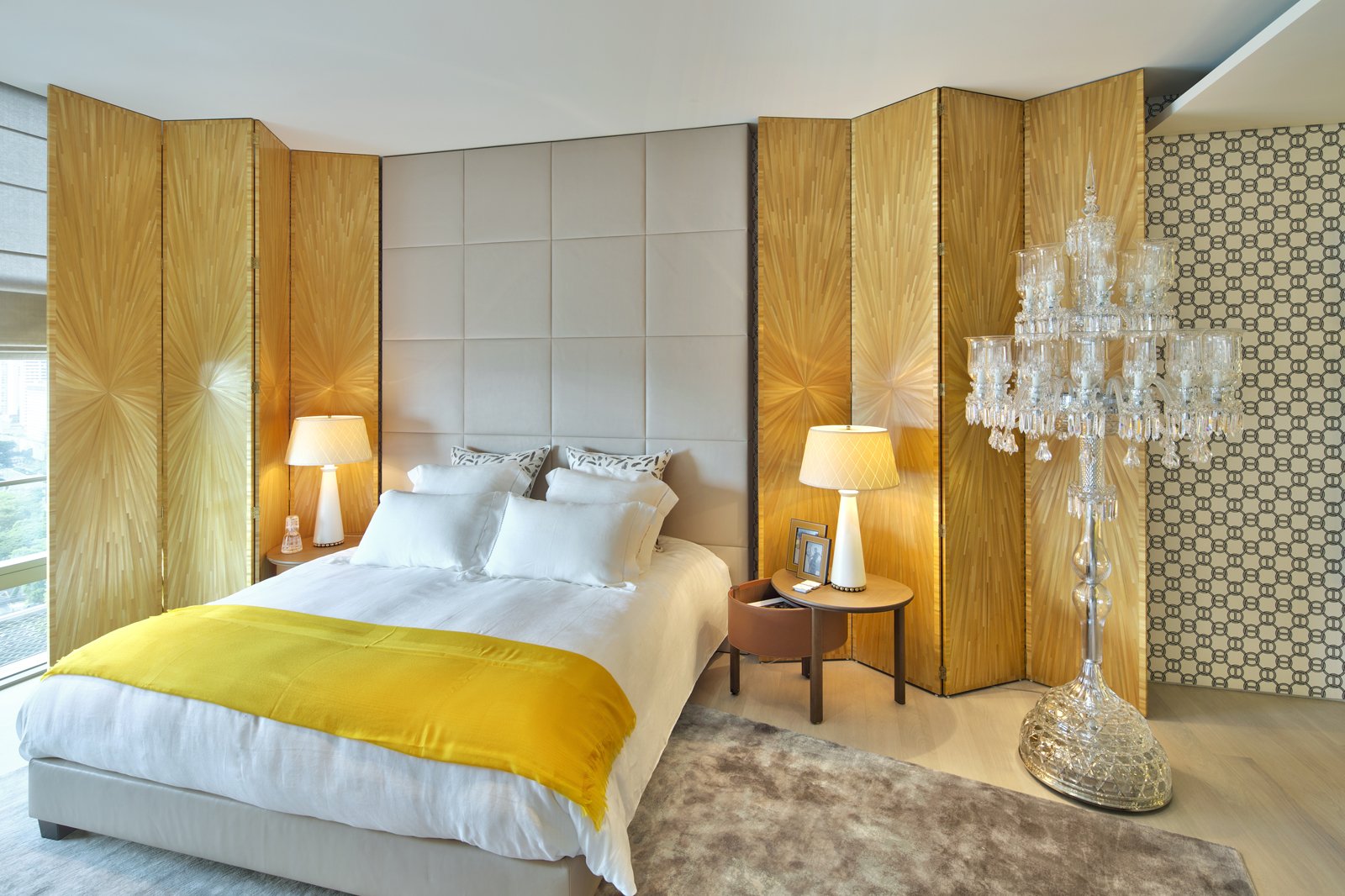 Down the street from The Marq is [email protected], a freehold property on, you guessed it, Grange Road. Comprising 30 units of designer apartments and penthouses within a 16-storey block, each unit is served by private lifts and specially designed by French interior and product designer Philippe Starck. This includes top-of-the-range finishings from Poggenpohl kitchen and Gaggenau appliances, as well as sanitary ware and fittings from HansGrohe by Starck, Duravit by Starck, and Sesamo door handle by Starck (try repeating that rapidly 5 times!)
Do themed condos really work?
While it is a good attempt to revive flagging sales and overall weak buyer sentiments, marketing concept condos may not necessarily generate strong interest.  For one, developers cannot expect to sell out based on marketing strategy alone – regardless of whether the theme is a memorable one or not. Rather, a project's success relies primarily on combination of suitable pricing and location, in other words, where value in the short term meets opportunity in the long term.
Such was the case for The Santorini, a condo inspired by the famous Greek island. Back when it was first launched in March 2014, the 597-unit project only managed to muster a total of 80 units sold on its opening weekend. This was despite having low competition being the only major launch that particular month. The real culprits for the poor sales performance were both price and location; Buyers were put off by the high average selling price of $1,100 (Other condos in the area were selling between $1,000 – $1,030 psf) as well as the relatively inaccessible Tampines Ave 10 location (The nearest MRT station was at least 20 mins away and only had few amenities nearby).
There is also a sense of "been there, done that". The novelty of living in a condo with a theme wears thin when a number of other projects in the area promise similar offerings. A prime example are properties located in Punggol, each marketed along the prospect of "waterfront living" or having eco-friendly features; River Isles, Watertown, Riverparc, Twin Waterfalls, Ecopolitan…the list goes on.
Nonetheless, there will always be demand for concept condos, especially among HDB owners looking to upgrade to condos. It is the lure of newer designs, changing lifestyle trends and affluence that influence decisions to fulfill aspirations.