Residents can look forward to unique landscaping, refreshed facilities and fine homes with high-quality finishings.
When it comes to talking about the charms of Bukit Timah, one cannot miss out on the iconic Bukit Timah Nature Reserve. Each visit to the 137-year-old nature reserve – home to lush forests and a diverse ecological system – unveils something new.
It's no surprise that those looking to reconnect with nature have chosen to put down roots in Bukit Timah.
Forett at Bukit Timah, which overlooks the reserve, is sited on an interesting piece of land. With an undulating terrain and existing mature trees, it provides the perfect canvas for developers to anchor the great outdoors in the freehold estate that spans approximately 360,000 sq ft.
Drawing inspiration from nature's playbook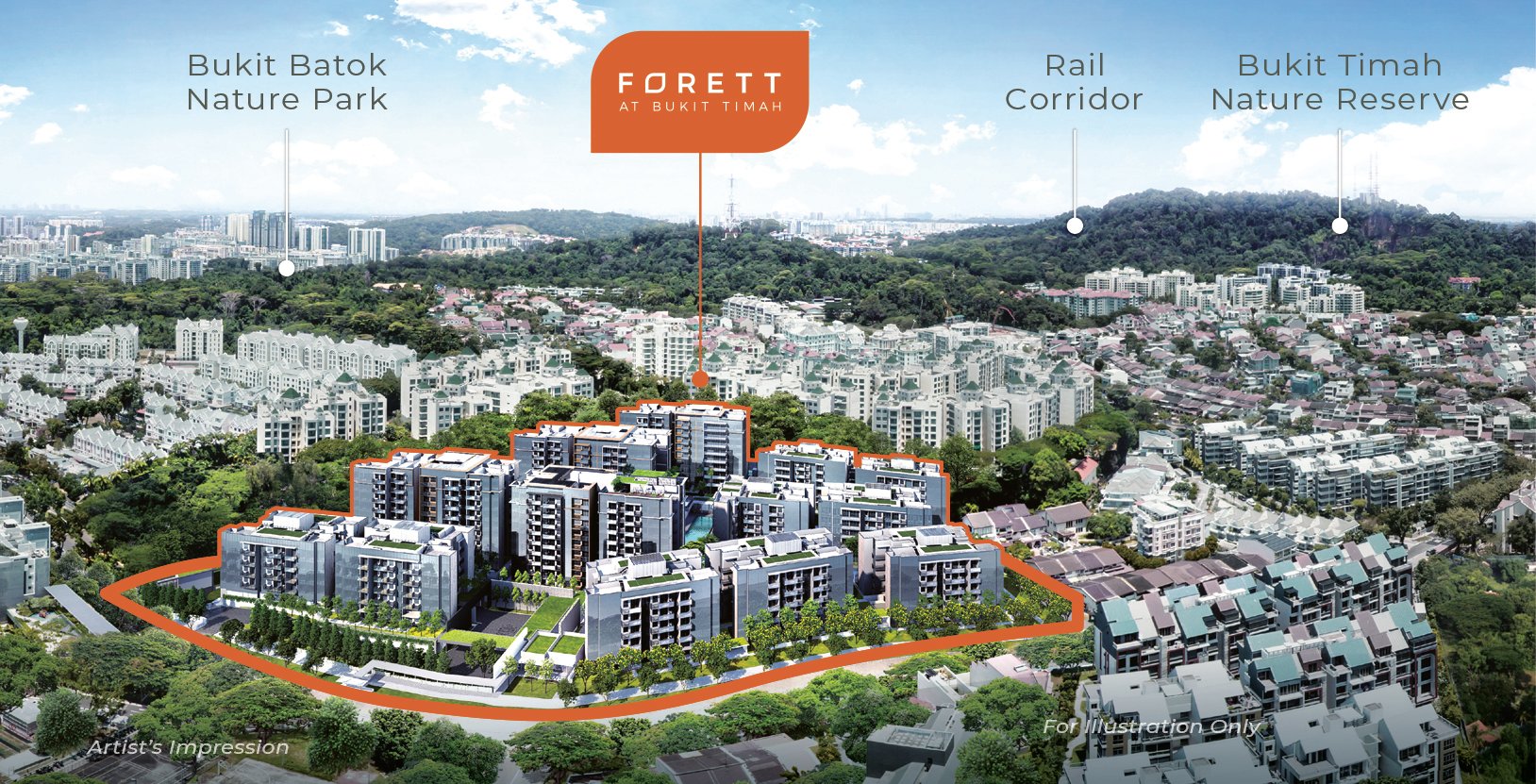 Forett at Bukit Timah bears many similarities to Bukit Timah Nature Reserve – encompassing rugged terrain with pockets of space is one of them. The terraced site allows Forett at Bukit Timah to have its facilities ensconced in discrete locales, affording greater privacy for residents looking to unwind.
The development comprises nine-storey and five-storey blocks that have been deftly positioned to allow more space between blocks.
Like nature reserves, Forett at Bukit Timah is replete with verdant foliage and bodies of water with seven lawns and five pools on its grounds.
Fancy having some friends over for an intimate tete-a-tete? The Lifestyle Pavilion provides the ideal setting for an al fresco dining experience over good food, even better conversation and fine wine. For a more robust culinary encounter, the BBQ Pavilion has been equipped with electric grills to serve up perfectly seared meat and burgers.
Green enthusiasts often feel inspired and awed amid nature's ever-changing landscape. To spark the same sense of wonderment, a four seasons concept has been woven across the development.
Experience the richness of summer with an evergreen tree-lined boulevard, illuminated by the rays of the sun as you enter Forett at Bukit Timah.
On the grounds, seasonal trees that produce pink blooms lend a touch of spring, while those with yellow flowers provide a taste of autumn.
Finally, naturally silver-like plants and barks introduce a wintery hue on the grounds.
A different take on amenities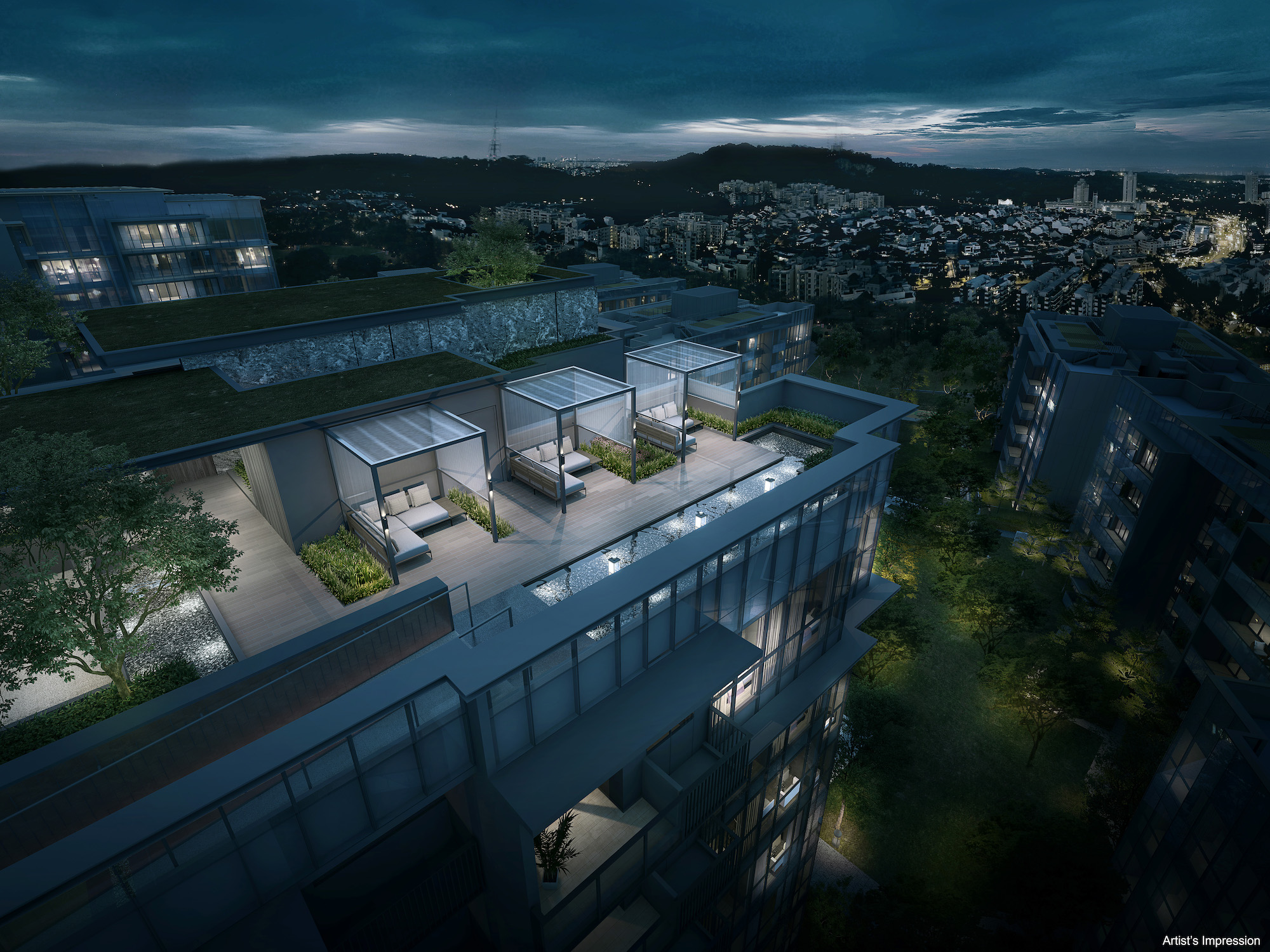 While clubhouses take centre stage in most developments, Forett at Bukit Timah has adopted a more novel approach – a "third place" concept. Besides your home and office, the estate's amenities is the third place you'll look forward to returning to, where comfort and familiarity abound.
To achieve this, amenities such as the Social Lounge, Chill Out Lounge and Gym are housed in glass structures. From the outside, these glass houses blend seamlessly with the surroundings. Even their interiors arise from a material palette that is an extension of the outdoors, further blurring the lines between spaces. Within, residents are able to take in unobstructed green views in air-conditioned comfort.
The two function rooms at Forett at Bukit Timah are high-volume spaces that can host up to 40 guests when combined. Each room is equipped with state-of-the-art cooking facilities. One of the rooms comes with a gelato maker – a sure-fire hit with kids and adults with a sweet tooth.
Overlooking Bukit Timah Nature Reserve, the Sky Terrace is where you'll find the Teppanyaki Sky Lounge. Comprising an indoor living space and outdoor dining area, the layout is akin to that of an apartment, providing an ideal setting for residents to hold get-togethers.
Elegant interiors to match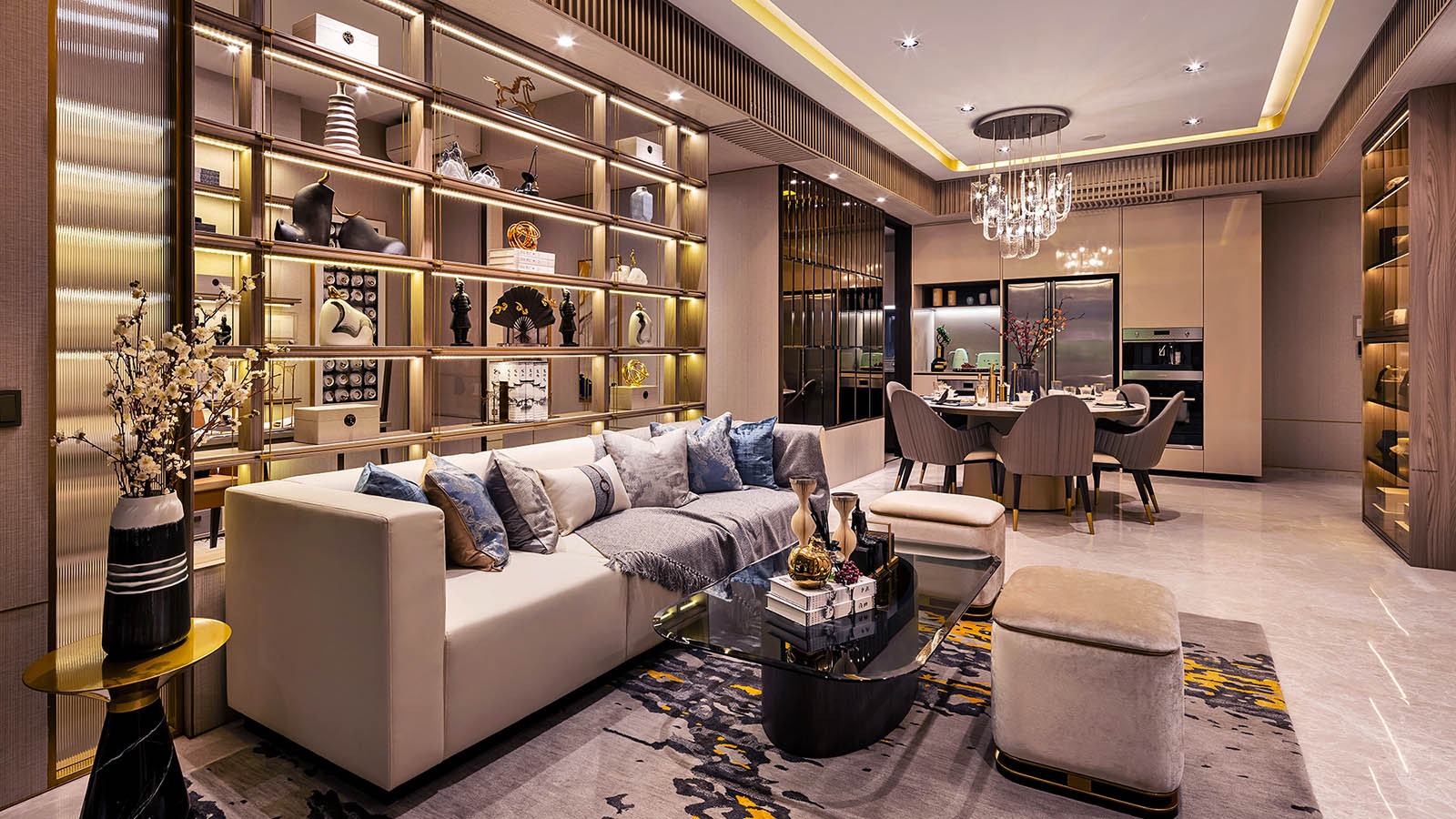 While the grounds and amenities take a leaf out of greenery, apartment interiors feature tones from an earthy-hued palette. Natural marble flooring in all units, and natural timber flooring in bedrooms, set the stage for tasteful homes.
In smaller units, this is paired with minimalist kitchens and bathrooms. Porcelain tiles with stone-look finishes, glossy laminated cabinets and quartz countertops imbue a bright and airy feel.
The luxe factor is enhanced in four- and five-bedroom suites, where bathrooms and private lift lobbies come with natural marble flooring. Tinted glass doors for master bedroom walk-in closets add a touch of modernity.
Equally impressive are the innovative accessories that are fitted in selected apartments. A pull-out larder for sauces, a magic corner for cookware, as well as an integrated waste bin under the counter keep kitchens sleek and practical.
An accessories panel in the master wardrobe and a pigeon hole drawer for ties, watches and belts in all wardrobes help maximise storage space. In bathrooms, storage areas for daily necessities have been cleverly incorporated behind a vanity mirror.
To top it off, residents can enjoy the sophisticated style and advanced workmanship of top-notch appliances by several high-end European brands, including Smeg, Laufen and Gessi.
Food and modern conveniences aplenty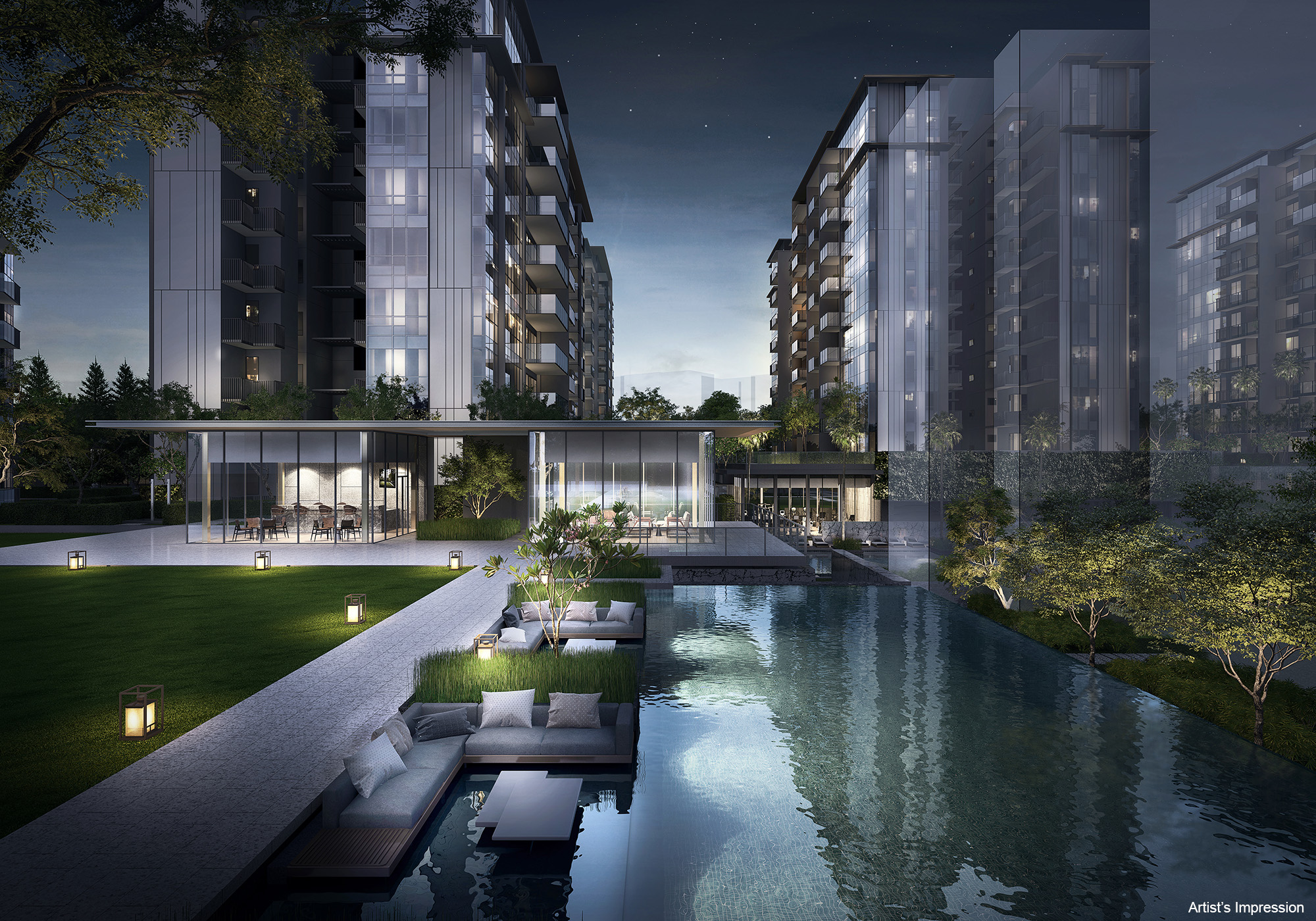 Forett at Bukit Timah is a 10-minute walk from Beauty World MRT, which will be linked to an Integrated Transport Hub in time. The Downtown line has connections to several MRT interchanges, including Botanic Gardens for the Circle Line, Newton for the North South MRT Line and Little India for the North East MRT line.
Several developments that will make Bukit Timah a more convenient and exciting place to live are also in the works. These include the Bukit Timah Community Building, a one-stop integrated facility, and Rifle Range Nature Park, which will feature hiking trails and vantage points for spotting native wildlife. 
Residents will soon be able to swing by the upcoming 4km Rail Corridor (Central). The conserved Bukit Timah Railway Station, its heritage gallery and nature walks are some of the attractions visitors can look forward to.
There is no shortage of renowned schools in Bukit Timah. Local primary schools within 1km of Forett at Bukit Timah include Pei Hwa Presbyterian Primary School and Bukit Timah Primary School. Raffles Girls' Primary School and Nanyang Primary School are three MRT stops away, while St Joseph's Institution, the German European School and Swiss School in Singapore are a short drive away.
Forett at Bukit Timah is a gateway to a verdant home, transport nodes and amenities. If a laidback lifestyle in a green setting is a treasured home goal, the development offers this and more, living up to its tagline "love nature, live freehold".
The Forett at Bukit Timah sales gallery is located at Yarwood Avenue, opposite King Albert Park MRT. For more information, visit the Forett at Bukit Timah website, call 6846 7778, or stay connected via Facebook and Instagram @ForettSGOfficial. Viewing is by appointment only.
This advertorial was produced in partnership with Mediacorp Brand Studio.