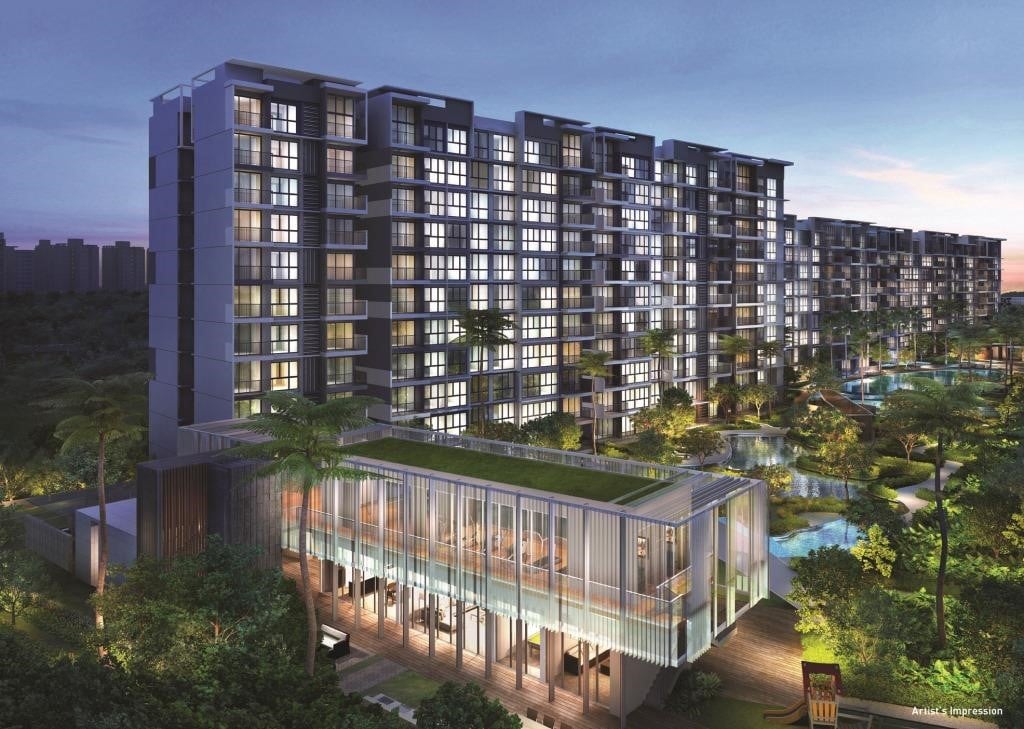 Riding on the crest of the smart home wave, Qingjian Realty and technology giant Samsung have joined hands, launching Singapore's first Executive Condominium (EC) with self-styled smart homes – The Visionaire.
So, how far precisely has the envelope been pushed today and what scope of this future fantasy are we to find in the Visionaire in 2018/2019 when it is set to be completed? Launching this April, the Visionaire comes with 10 smart devices, all of which are connected through the Internet of Things (IoT). The IoT is a peculiar thing, which is hard to concisely put into words, and it's best to google it for yourself. Notwithstanding, for the purpose of understanding what is yet to come in this post, let's just say that it allows different devices to interact with one another. This way, your smartphone can for instance be linked up with the television, the speakers, the stereo, the lights, the fridge, and even an army of sensors – all of which can be interconnected so as to send and receive one another cues.
Still a little vague? The Visionaire offers a standard package which includes 10 smart features to the home, so let's see how this goes down in practise…
1. Smart Air Conditioner
The smart AC system self-regulates the temperature. Ordinary air-conditioning systems have one function and that is to spur out air at a chosen temperature. Key is that this is done in a relatively unintelligent fashion, disregarding what is going on around the room or apartment. smart AC's are dynamic in that they adapt themselves to the surrounding temperature, and moderate their temperature accordingly. The difference is that whilst the former just blows out air at say 25 degrees celsius, the latter will take into account external influences on the temperature and subsequently choose the right level of coldness for its air, so that the temperature of the room will fluctuate back to 25 degrees. This means that you won't be changing the temperature every 30 minutes any more, the AC will do it for you.
Additionally, the AC can be switched on and off remotely, from your phone, and it can even be programmed to start or stop at a predetermined time. If for instance you are caught in the outside heat, you can as such already switch it on, so that you are welcomed with some fresh air when you arrive home.
2. Smart Digital Lockset
While smart locks have been around for a while, they usually aren't applied on residential developments. Today they are. While you can still unlock it by keying in your home's unique code at the display screen (yes there is a display screen adjacent to the door), you can also do so with your phone. The benefit lies in that you can let people in when you are away without handing out keys, or in this case, sharing your entrance code.
3. Smart IP Camera
The smart homes are supplied with a minimum of two cameras. One is installed in the top right hand corner of the door frame, so that you can remotely check who is at the door, and the other you can place within the house, wherever you want. More camera's can be integrated into your home at extra cost.
4. Smart Washing Machine
Like all smart devices, the washing machine is connected to your phone and integrated with the other devices. Consequently, you can start or stop the washing machine with your phone, set cycles and change its settings.  
5. Smart Lighting Bulb
Light is not just there to help you make your way through the darkness anymore. Instead, for many people it nowadays also serves the purpose of setting the right mood, or complementing a home's scenes and themes. To this end, a smart lightbulb allows you to change the colour of the light, and regulate its brightness. And of course, there is a whole programming dimension to this. Effectively you can set your lighting to follow certain colour patterns and trajectories at certain times and places in your home. For instance, the light bulb can be set to switch on at 6 o'clock on Sunday eve, and display a blend of warm colours for a predetermined span of time. In fact, you can hit this one out of the ballpark, and similar to how you make different music playlists to soothe your different moods, create as many lightning playlists, to serve the same purpose.
6. Smart Motion Sensor
An army of sensors in your house can detect motion. Apart from notifying you on your phone, it can be integrated with the other devices and for instance turn on the light, music, or television when anyone enters a room.
And on the off-chance that a burglar finds his or her way into your home, it can detect that too.
7. Smart Temperature Sensor
Smart temperature sensors monitor the temperature of your home. This is a great tool to reduce the energy you use, and save on the utility bills. As noted earlier, the smart AC can adapt to changes in temperature, and it needs the smart temperature sensor to do this.
8. Smart Speaker
The basics of the smart speakers is that they are wireless, and can be controlled via your phone. Bringing this to the next level is to integrate it with your stereo, radio or television. This will allow you to program your speakers to turn on and off whenever you wish.
9. Smart Electrical Plug
The smart electrical plug is basically a plug on top of a plug, so you place it between the real plug and the outlet of whatever device you link it up with. It serves the purpose of remotely controlling the devices you plug into it; you can thus turn on and off the devices with your phone. Additional features are available such as an built-in energy monitor, so that you can see precisely how much energy certain devices use.
10. Smart Home Control Center
This is where it all comes together; in your phone, your tablet or on your laptop. All the smart devices are integrated and linked into an app. And as noted before, the IoT integrates all devices within a single system. This way you can link up the smart motion sensors, with the lamp and for instance the speakers. Ultimately then, you can walk into a room automatically alerting the motion sensors, the sum of which would send a cue to the lamps, which then in turn could instigate the lamps to switch on and display a previously determined lighting playlist, ultimately sparking the speakers to switch on and start a previously selected music playlist. Really, your imagination is the limit.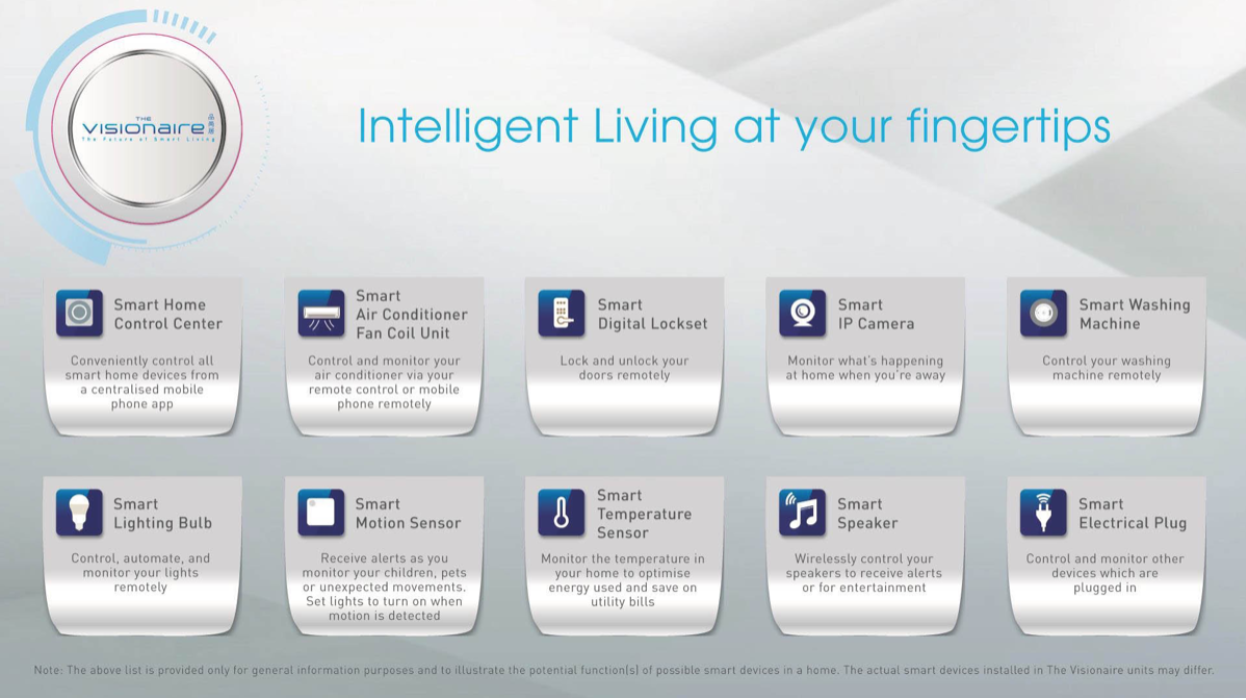 The standard package offered can be expanded with more smart devices and due to the IoT there is theoretically no limit to this. One option is for instance to additionally buy a smart bed (yes there is such a thing). Whilst not offered by the Visionaire, and not even available in Singapore, for those with deep pockets, it is for sale overseas. A smart bed is wired up with sensors enabling it to monitor your heartbeat and respiratory pattern. Effectively, it can tell when you fall asleep, and when integrated with let's say the lights, the stereo and the television, it can turn them off when you fall asleep, and turn them back on when you wake up.
Post Scriptum: there even is a smart bed version where the bed makes itself – no joke.
App HiLife
Whilst the smart appliances at the Visionaire are placed within the setting of a single apartment, the entire development as a whole is also meant to have a smart edge to it. This is is dubbed The HiLife
Similar to many condominiums or other ECs, the development is home to facilities such as barbecue pits, swimming pools, a gym, a dance room, a function room, a karaoke room, a library and private dining area. The idea then is for every resident to be supplied with a HiLife app on their smartphone, which will allow them to book the facilities, or sign of for classes, tutorials and lessons online.
In a similar vein, the app would come with a series of lifestyle appliances allowing its users to see what community events are around, access the development's handbook and order from a variety of food outlets.
The CoSpace Concept
While it is not directly related to the smart home features, it is similarly novel. Qingijan is set to offer  different versions of the same apartment to different people. The idea is that spaces can be altered on demand. This way, bedrooms can become studies, and living rooms can be reduced in size to make way for a bigger kitchen. Conceptually, it looks something like this.
Is the Visionaire something for you?
Basic behavioural economics teaches us that for most new products and trends there are early adopters, there is an early majority, a late majority and then there are the laggards. If you are into the smart home automation trend, and are excited by Singapore's Smart Nation initiative, then you may want to put the Visionaire somewhere at the top of your list of potential homes. Whilst, it's not quite like Stark Tower yet, it's getting closer.
Even if you are a big fan of the automation trend, then there is still the issue of money. Smart stuff does come with a price tag, and while prices are still subject to change, the first estimates suggest apartments will be offered according to the following categorisation:
Two-bedroom apartments: $598,000 to $638,000

Three-bedroom apartments: $678,000 to $888,000

Four-bedroom apartments: $888,000 to $1,080,000

Three & four-bedroom CoSpace:  $888,000 to $1,110,000
The Visionaire is certainly a milestone in residential property developments. So, if you consider yourself an early adopter, or perhaps part of the early majority, then check out the Visionaire, you may very well come to like what you see 🙂