'Wah, nowadays a 5-room BTO flat costs $500,000 in Tampines?! How to afford? 

"Resale flats in Tiong Bahru can be $700,000, you know?" 

"$900,000 flat in Boon Keng, I kid you not!"

"I pay 30 years also cannot pay finish!" 
You've probably heard something like this, in some way or form. You might have even been one of these people. 
Bottomline is: You think HDBs are expensive. 
This article will tell you why they're not. 
Sorry man, we cannot all live expect to live in a mature estate while all paying the same price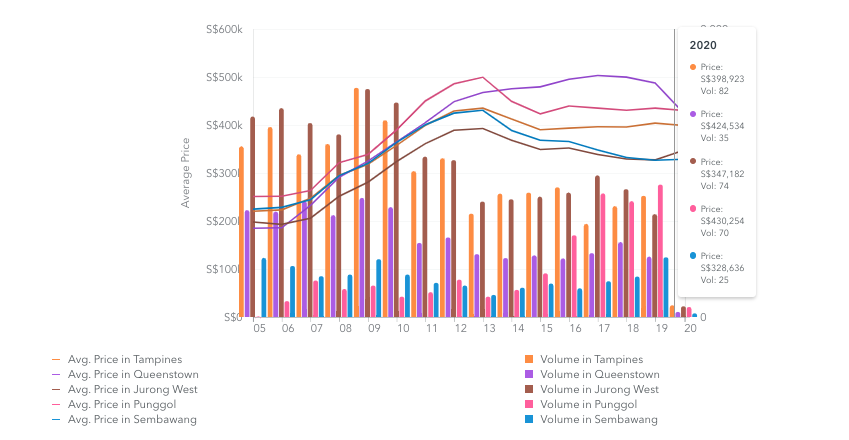 $1,000,000 HDB flat at Dawson? Of course it's expensive. $500,000 BTO in Tampines, yes, it is pricey. 
Then again, nobody has ever asked you to live there. (Ok maybe your parents, but they should understand yeah?)
What about the $409,000 BTO Flat in Tengah? Or that $380,000 resale in Sembawang?
PS: If you still want to live in a mature estate, you can always opt for a lower-floor unit of an older block, and honestly it isn't that bad. Here's why.
"But those places are so ulu…"
Yes, flats in non-mature estates are typically further away from the city centre, and there could well be fewer amenities. To sum it up: they are less convenient.
Sure, I get it. Owning a home is a very emotional decision and it's a huge, important purchase. Living far away from your school or your office will most definitely affect your life in a negative way. 
But here's the thing about convenience. People have to pay for it. It's shocking, isn't it?
Q: What if I want to live near my parents, it is so expensive to live close to them?? 
If living near your parents is too expensive, you can try convincing them to live near you instead. After all, the government offers incentives for right-sizing, and living in an empty mansion when the married children have moved out sounds like the perfect recipe for Alzheimer's…
Tip: A dual-key unit or 3-gen flat, as well as any unit with an extra ensuite bathroom, is perfect for multigenerational families living together.
Q: What if I want to live near a school I want to send my kid to? 
Think about it: Singaporeans are willing to pay up to 33% more for their McDonalds to be delivered to them. 
We're willing to pay that extra premium for stuff at 7-11 over say, a Sheng Siong, because of a late night convenience. 
But suddenly, when the $520,000 flat in Kallang/Whampoa costs more than a $306,000 one in Tengah or $244,000 one in Woodlands, it is ridiculous?? You see what I mean? 
The thing is that, in all cities all over the world, places that are more developed or are closer to the city centre simply cost more. 
In New York, Manhattan costs (way) more than Queens. 
A condo in Melbourne's CBD costs more than somewhere that a bushfire can reach. 
Common sense, isn't it?
The magic number here you need to remember is $430,000

$430,000 is the average of three, four and five-room HDB flats in the entire Singapore (including executive HDB flats).  The number of rooms doesn't matter. Affordability does.

The median salary of a Singaporean is about $4,500, excluding CPF contribution. 
The average household income is S$9,425.
Assuming they take a loan over 35 years, that's a very comfortable payment of $1,105 per month.
Keep in mind this is the price WITHOUT grants. So yes, to the average Singaporean buying an average HDB flat, HDB flats are very, very, affordable. 
At the same time, there are MANY good reasons for buying a HDB under $430,000

If you and your partner will be living in the home, or you'll have less children. Or, you are single. Why buy an overly big and expensive place when you don't need the space? 
If you and your partners are high earners, you don't need to buy the most expensive place you can afford. It's actually pretty smart to by a more affordable home to have less financial burden, freeing up extra money to invest to create passive income streams. 
You earn below average salary – which is really fine. Without a big home loan to pay, you can focus on working on your earning power, and this will eventually allow you to afford a more 'upscale' home, if that's what you want. 
And really, how 'ulu' is Singapore, really? I know my colleague took a dump on Tengah, but in Singapore you can really get to the CBD within an hour or so by public transport. Even less if you take a cab.

Wait till you live in cities like Melbourne, where it could take two hours just to DRIVE to work.

Meanwhile in sunny Singapore Look, you can get it work in just slightly over an hour even from the most ulu HDBs in the East.
The problem arises when people go out and buy the most expensive home they can afford
It's damn simple. If you're spending more than $430,000 on your flat in 2020, you should be either one of these things: 
Earning more than the median salary

 

Intending to house a bigger household
Fully aware you're paying a premium for convenience/size 
Conclusion

The thing about society these days is that it has become politically incorrect to tell people they can't afford something.  Say something along the lines of "this is too expensive for you", and watch people curse and swear. 
I think it's because we've been sold messages that luxury is accessible and affordable – where in fact, the very nature of luxury is neither – because luxury has always meant to be exclusive.

Think of those ads that say a couple can afford a condo based on a $7,000 combined household income. Or more controversially, the less-than-successful DBSS projects that resulted in HDB prices that cost way, way, way, way, way, more than the average HDB.
We're on a trend that convinces people to overreach and this puts them in difficult situations – no matter what type of property they buy – HDBs included.
What I find lacking, is really rational thinking and prudence. 
And with hard times ahead for Singapore, maybe we all need a reality check.

Are Singaporeans right to think HDB flats are too expensive? Voice your thoughts in our comments section or on our Facebook community page.
If you found this article helpful, 99.co recommends Eh, is it dumb to buy a 40+ Year Old resale HDB? and Things you should consider when buying an older HDB resale flat
Looking for a property? Find your dream home on Singapore's largest property portal 99.co!