The aspiration is strong with most of us to one day ascend Singapore's social and property ladder high enough to make the jump from public housing into the private residential sector. Today, we explore the ramifications of this jump, and we intend to give a thorough analysis of the journey that leads one from upgrading from an HDB to a condo. So, if you dream the dream, and if the force is strong with you 😉 read on!
When to take the jump
Apart from having served your Minimum Occupation period (MOP), the question of when to jump will depend on your salary, your savings, and your spending habits.
 MOP
Upgrading from a HDB to a condo is possible whilst residing within the MOP. That said, moving on at this early stage is rare, and generally advised against. For one, you will not be allowed to sell your HDB just yet, and even if you have the money to make the purchase without first selling your old home, you are not allowed to move into the condo just yet. Ultimately, you would be stuck with two properties, over which you have to pay property taxes, and in all likelihood you'd now have two mortgages. That's not an ideal picture, leading to the vast majority of upgraders choosing to wait until the MOP has passed.
Savings
Before upgrading from an HDB to a condo, you will need a certain amount of savings. The bare minimum? Enough to pay the down payment for the loan. If you do not take a loan tenure that is higher than 30 years, and if the loan will be paid off before you retire at the age of 65, then the down payment will amount to 20% of the full loan. If these criteria aren't met then 40% of the total loan amount will have to be paid right away.
Basically, see whether you fall in the 20% or 40% down payment category, and assess whether you can gather enough cash on hand to afford this. Note that this is the bare minimum; there will probably be some other costs plus it's always good to hold onto a little bit of a buffer. You do not want to be in the position where you can't service your debt, and have to explain this to a bank; they tend not to be too forgiving.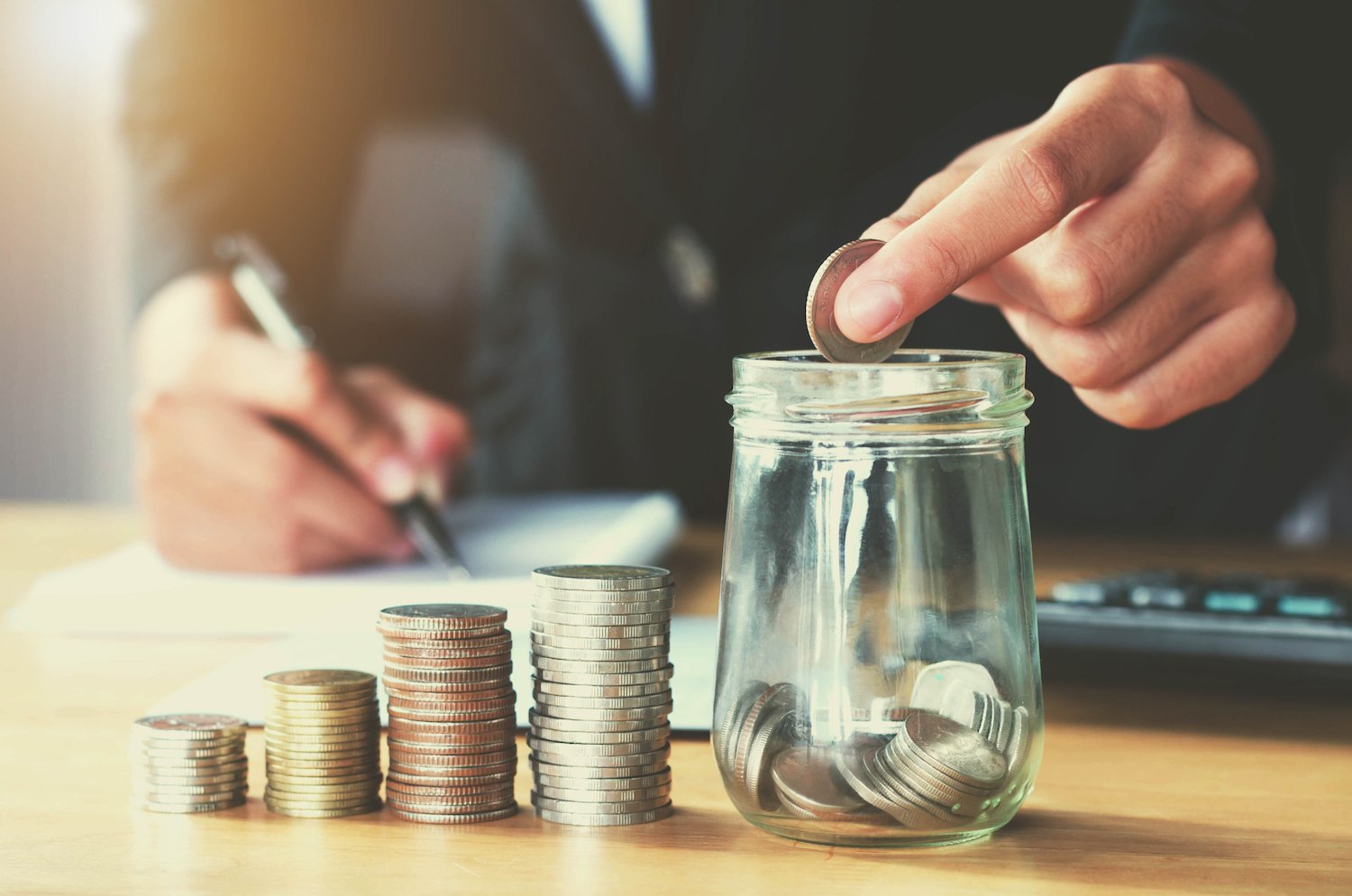 Salary & Spending Habits
Naturally, your salary matters, and you will need to eek it up to a certain level for comfortably upgrading from an HDB to a condo. That said, it is tough to determine a sweet spot at which you can safely think of moving upwards. It will depend on your spending habits, the price of the condo, and the terms of your mortgage. If you have some uncontainable, money-draining hobbies, then your salary will have to be higher, so as to make up the difference.
In the name of financial prudence, the government has mandated banks to add the requirement of a Total Debt Servicing Ratio (TDSR) to the general criteria of a home loan. The TDSR, that is the total monthly payments on all loan payments including property, must not exceed 60% of one's total gross income.
Note*: Some have lazily slammed the TDSR as being a cooling measure. This, in a way, is wishful thinking. The TDSR is not a cooling measure for it is not temporary. Instead it comprises a measure to rein in risky lending behaviour of banks, and is as such, here to stay.  
So, when you are looking into whether you will be able to afford your condo mortgage, fill in your information in any of the myriad of online mortgage calculators. Next see if your monthly outgoing to the mortgage, plus any other debt servicings you may have are smaller than 60% of your total gross income. If yes, then at least on the salary/expenditure side of things you are good to go. Again, it is always good to have a bit of a buffer. Imagine the scenario where your household income takes a hit for one reason or another. That will probably be painful enough without having to go through the progress of selling off your condo and downgrading again.
Other Payments
In addition to having enough savings and a high-enough salary you will have to budget for paying both stamp duty, and probably agent fees. What is more, you will probably also incur other miscellaneous costs such as paying the movers, possible refurbishing and of course a condo comes with the periodic costs of the MCST.
Buyer's & Seller's Stamp Duty
If you sell your HDB flat after having stayed in it for over four years no seller's stamp duty (SSD) will be due. If however, you are selling it within four years of having bought it, you will have to pay taxes as per the table below: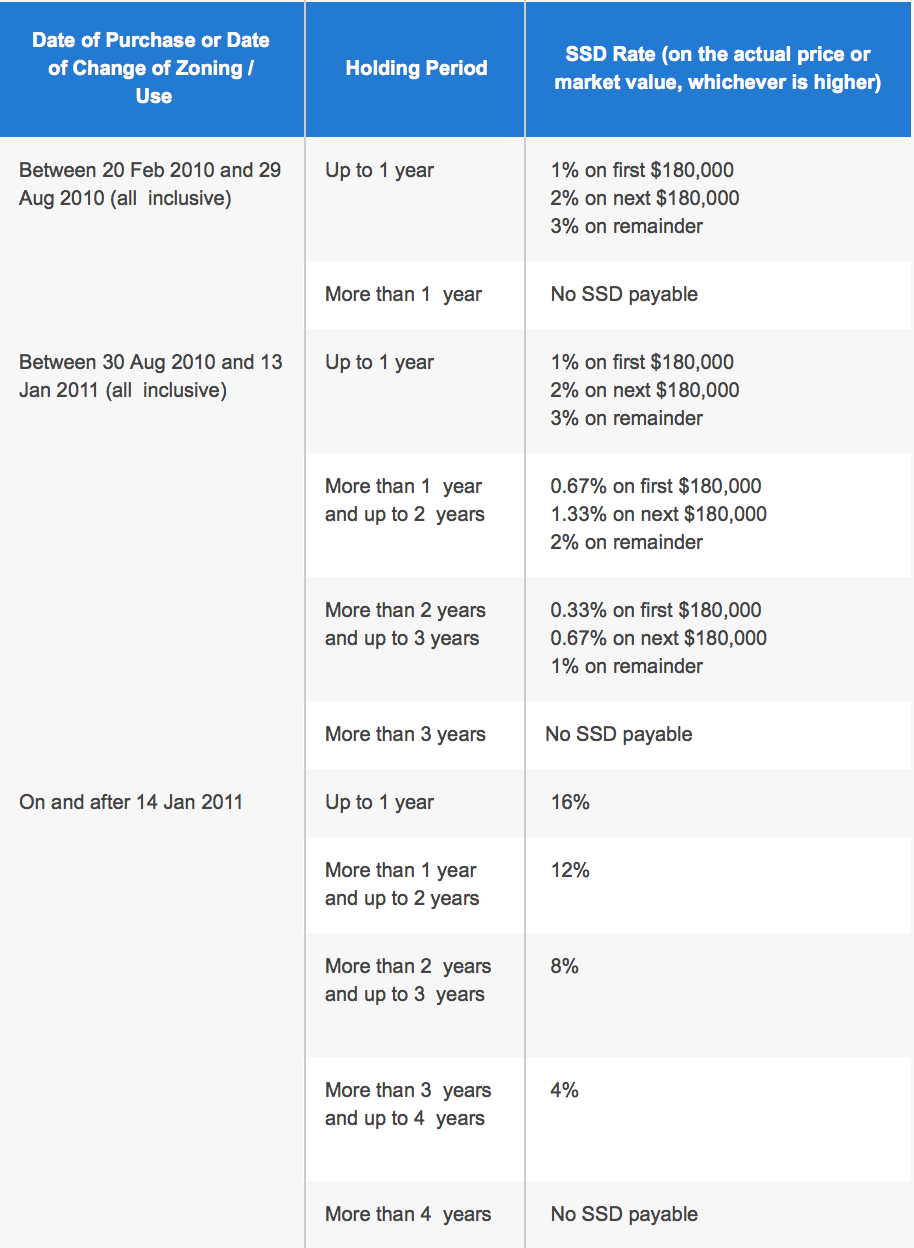 Whilst there is an easy way to avoid paying your SSD, there is no dodging the Buyer's Stamp Duty (BSD). Depending on the value of your flat, you will have to pay a sum amounting to 1 to 3% of the total value, as per the table below: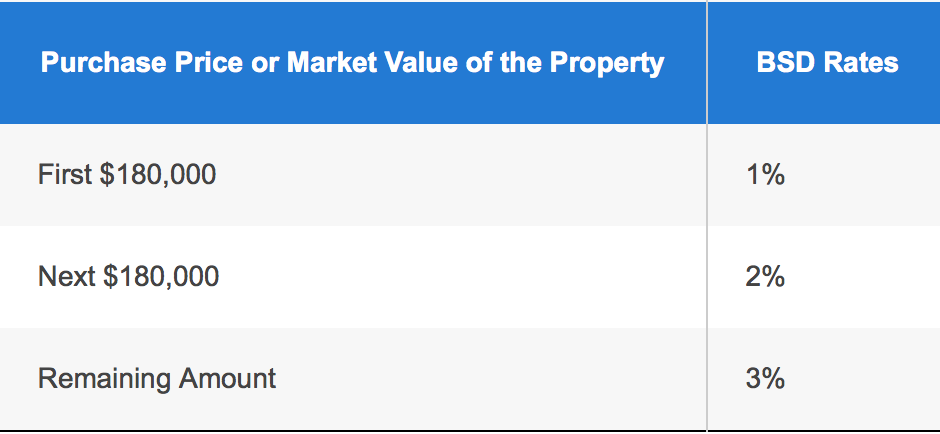 To contextualise these numbers a little better, let's imagine your HDB is valued at $450,000.
Over the first $180,000, you will have to pay 1%:
$180,000 X 0.01 = $1,800
Over the next $180,000, you will have to pay 2%:
$180,000 X 0.02 = $3,600
The remainder amounts to $450,000 – $180,000 – $180,000 = $90,000
Over the remainder, you will have to pay 3%:
$90,000 X 0.03 = $2,700
Total Buyer's Stamp Duty = $1,800 + $3,600 + $2,700 = $8,100
As can be seen from the calculation above, tax costs can amount to quite a bit, especially if your HDB flat is worth a relatively high amount. Take this into account when planning your savings.
Agent's commission fees
You will probably make use of the service of a property agent to market your HDB and help you purchase your condominium. Whilst commission prices aren't set in stone, they often amount to about 1-2% of the property's value. And since you are both selling and buying, this counts for both your old HDB and the new condo.  
The MCST
If you are used to paying the 70-some dollars a month for Service and Conservancy Charges (SCC), then condo's, especially the more luxurious ones, may come as a nasty surprise. For a standard mass condo, monthly management fees tend to amount to about $250-$300 dollars, whilst the more up- market ones situated in districts 9, 10, and 11 may come up to $1000 a month. It is best to deduct the discrepancy in costs between the SCC and MCST, from your projected salary, for these are new monthly costs which you haven't had to pay previously.
While you may be ready for upgrading from an HDB to a condo, is the market ready for you?
If you have got a comfortable enough salary, saved up enough to have enough cash on hand for the downpayment, and have assembled a little buffer, both for the extra costs and as a buffer for potentially trying times, then you are essentially ready to make the jump unto the private residential sector.
With your dream condo within reach, there is still some things to think about. Whilst you are ready, the market may be unfavorable. Let's descent into the swampy territories of the real estate market and see if the market is also ready for you.
Ideally, you would sell when HDB prices in your present location are at a high, while prices of the condo in your prospective area are at a low. Seeing that we do not know where you are selling and where you are buying, it's best to map it out yourself and discern which way the current trend is heading for. As noted in a previous article, you can simply use the following HDB tool and see all the past transaction prices in any given area, for any given type of HDB. Similarly, for condo prices per project simply use the following URA tool.
Disregarding area and looking at Singapore as a whole (note that your particular case may be going in against the general trend), we can see that general prices have been going down. This in itself is not too enlightening. Decreasing condo prices are favourable, for it makes the purchase more affordable, yet decreasing HDB prices make it less profitable to sell, effectively making the entire upgrade more expensive. When we look at HDB and condominium price indices separately, we see that HDB prices have slowly but steadily gone down, yet since January this year prices have inched up a little bit. At the same time, prices for condo's fail to reflect any clear trend. Still, since October 2014, the general trend has been downward sloping.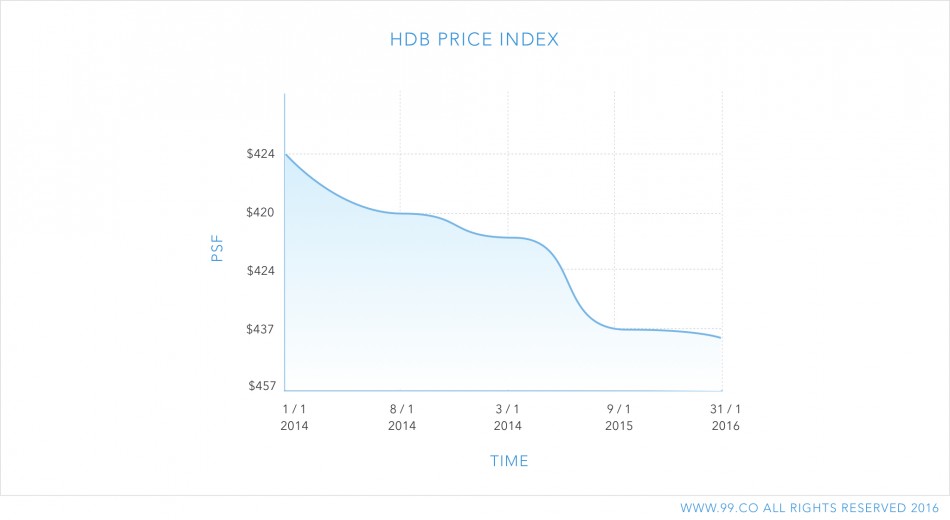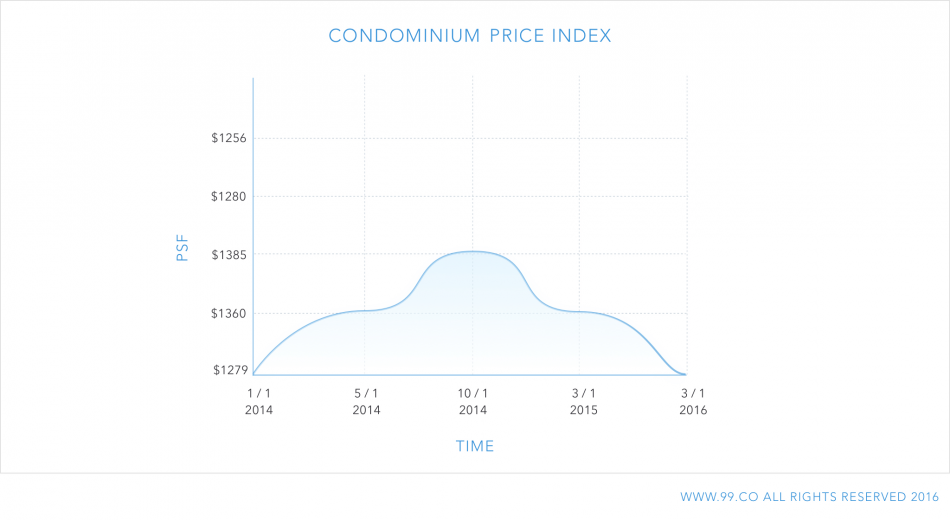 While there is a lot of noise, and it's hard to tell what the future holds in store for us, the most recent data suggests that the timing now may just not be too bad with prices of HDB bottoming out and condo prices on a downward trend. That said, it's really best to compare the prices specifically for your area and property type; the trends may very well be the opposite!
So…
Do you have enough savings for the downpayment?
Do you have enough of a buffer for extra costs?
Is your household's salary high enough?
Is your total monthly debt servicing less than 60%?
If your answer to all the above is positive, then you are technically ready to upgrade to a condo, and if the rift between the price of your HDB and your prospective condo seems to be at a low, the timing may just be right too. Good luck, and happy upgrading from an HDB to a condo!
If you found this article helpful, 99.co recommends Upgrading from an HDB flat to a condo unit – steps to take and [2018 Update] Eight-step guide to buying a new launch condo in Singapore.
Find the home of your dreams today at Singapore's largest property portal 99.co!