By now, we all know that Hong Kong action-star Donnie Yen has been shopping for property in Singapore.
Yen, who plays the titular character in the popular Ip Man martial arts film series, reportedly made a trip here late last month with is wife, Cissy Wang. The power couple was said to be on the lookout for "value buys" ranging $5 million to $10 million.
Word on the street has it that they visited a handful of completed high-end condos during their trip here. They included: The Oliv on Balmoral Road, Bishopsgate Residences at the Bishopsgate neighbourhood, Nouvel 18 on Anderson Road, and South Beach Residences along Beach Road. 
What are some considerations?
The question on everybody's lips now is which Singapore property would Yen and wife be buying. To start, let's take a closer look at the couple and what they would likely consider when buying a home abroad. 
Yen, 56, has a reputation as a doting husband and will be making a final appearance in the upcoming Ip Man 4. In 2013, he reportedly bought Wang a HK$135 million (S$23.8 million) home in Mount Davis Road, Hong Kong, after renewing their wedding vows.
Then, media reports also said that Wang was eyeing investments in Hong Kong shops and office buildings, but the cooling measures there was said to have deterred this goal. 
More recently, Yen made an online post about his gratitude to his wife after 16 years of marriage. Together, they have two teenage children, while Yen has another son from his first marriage.
Based on these observations, we've come up with a few factors that we think could ultimately determine which condo they would purchase. They are: 
Investment potential

– This is almost a

given

, especially as Hong Kong is the couple's country of residence. In the Singapore context, a property's investment potential is often linked to its proximity to facilities and amenities such as MRT links, renowned school and lifestyle amenities. 

 Privacy

– We imagine that the famous couple would prefer to keep their private life from the prying eyes of the public. Given their celebrity status, a development with fewer units would likely rank higher on their shopping list. 

Size and price

– The couple could be looking for a holiday home that's potentially large enough to accommodate the entire family during their visits here.

While a price range of $5 to $10 million might sound like a lot, it could still be a bit of a stretch when it comes to buying a larger unit in the luxury property landscape (more on this below). 
Where would Ip Man buy?
So which of the following condo (or condos) would best fit their criteria? Let's have a look. 

Note: Data is based on transactions that took place between Sept 2018 and Sept 2019. *However, there was only 1 transaction at The Oliv is nearly a decade. As such, we derived the figure based on a handful of new sale transactions that occured in 2010.
D10 – Balmoral Road,
Average price: $2,400 psf*
Tenure: Freehold
Completion date: 2013
No. of units: 23
Highlights: Larger unit sizes and comparatively lower price quantum
The boutique development on Balmoral Road comprises just 23 units, and is located near renowned schools like Raffles Girls' School and Aglo-Chinese School. There is also a variety of retail and dining options at the nearby Balmoral Plaza. In terms of accessibility, the project is about six-minutes' drive to the heart of Orchard Road.
What makes The Oliv an attractive buy is its comparatively lower $psf price and larger unit sizes. Based on Realis data, we found that units at the project were selling at an average $2,400 psf when it was launched about 10 years ago. There has only been one transaction at the project since – the sale of a 3,337 sq ft four-bedder unit at the 7th floor at $7 million ($2,098 psf) in June 2018. However, this was likely a distressed sale, as the same unit was purchased at $8.606 million ($2,579 psf) in June 2010 – marking an over $1.6 million loss for the seller.
That said, there are at least five listings for four-bedroom units at The Oliv on 99.co with asking prices of under $3,000 psf at the point in writing – which makes them comparatively more affordable than the other projects the couple might have seen.
Its sizable units might also appeal to the celebrity couple. For instance, a four-bedder configuration at The Oliv span roughly 3,337 sq ft, which is comparatively larger than four-bedder configurations at some other projects, with some spanning just under 3,000 sq ft.
2) Bishopsgate Residences 
D10 – Tanglin
Average price: $3,336 psf
Tenure: Freehold
Completion date: 2012 
No. of units: 31
Highlights: Proximity to Orchard Road shopping district and the upcoming Orchard Boulevard MRT station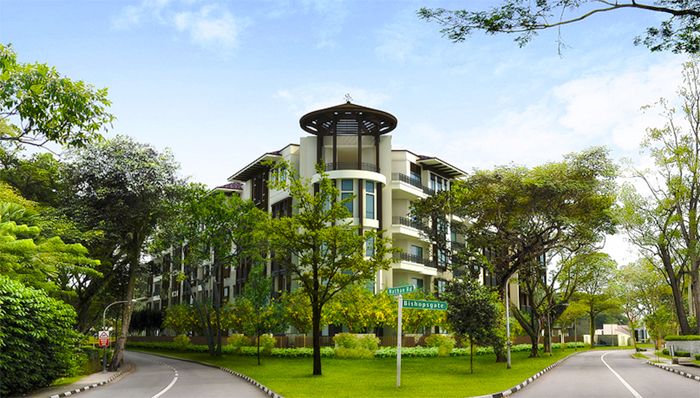 The freehold Bishopsgate Residences sits on Bishopsgate within the Tanglin enclave. A mixed-use neighbourhood that is known for its strong arts and artisanal flavour, residents enjoy a host of cultural and lifestyle offerings both within and nearby the sub-precinct. 
For instance, its close proximity to Orchard Road shopping belt means that a magnitude of amenities are readily available, including cinemas, restaurants, and vibrant shopping destinations such as ION Orchard, Takashimaya and The Paragon. The upcoming opening of the Orchard Boulevard MRT station on the Thomson-East Coast Line will bring added convenience to visitors in this sub-precinct.
For the Hong Kong couple, the vibrancy of the shopping district, coupled with easy connectivity links could be attractive pull factors. However, one possible drawback is that units at the project are priced slightly higher than properties in vicinity. The nearby Gramercy Park, for instance, transacted at an average threshold of $3,100 psf within the same time period. However, the freehold project is slightly larger and comes with 174 units. It was completed in 2016.
D10 – Newton
Average price: $3,428 psf
Tenure: Freehold
Completion date: 2014 
No. of units: 156
Highlights: Exclusive neighbourhood, near prestigious schools
The freehold Nouvel 18 is located in the prime and lush Ardmore and Anderson enclaves. Completed in 2014, the luxury development was designed by renowned French architect, Jean Nouvel.
What's appealing about this project is that it offers a combination of exclusivity and easy accessibility, given its close distance to the bright lights of the Orchard Road shopping district. This mixture would be particularly attractive to celebrities who covet a private and exclusive lifestyle, but while being surrounded by high-end amenities. 
In addition, its proximity to the prestigious Raffles Girls' School (Secondary) also increases its desirability as an investment property. The fact that about 90% of the project's buyers are said to be foreigners from Hong Kong and China also testifies to the project's appeal as an attractive investment proposition. 
D7 – Downtown Core
Average price: $3,368 psf
Tenure: 99 years leasehold
Completion date: 2016
No. of units: 190
Highlights: Integrated with JW Marriott Singapore South Beach, replete with panoramic views of the sea and Marina Bay.
The high-end residences sit on top of the JW Marriott Singapore, and span the 23rd to 45th floors of the tower. Completed in 2016, the development was jointly developed by City Developments Limited and IOI Properties Group Berhad as an integrated development that blends homes with four historical buildings and a Grade A office tower.
From being situated in a prime location, to being near Singapore's Central Business District (CBD) and vibrant lifestyle amenities, South Beach Residences has plenty to offer. Residents will find acclaimed restaurants such as Akira Back, by Michelin-Starred chef Akira Back, as well as Madame Fan, a theatre-dining concept led by famed restaurateur Alan Yau at their doorstep.
It is also connected to Suntec City, Marina Bay, and neighbouring arts and entertainment precincts.  Connectivity-wise, it is connected by City Hall and Esplanade MRT stations.
To top it up, its residential units offer panoramic views of the sea and the Marina Bay area. However, of the projects that the couple visited, this was the only one with a 99-year tenure.
Our verdict
This could go either way. To start, we actually think that The Oliv is a pretty good buy, considering the lower pricing quantum and comparatively larger sizes of its units. That said, being celebrities, the exclusivity of the Anderson enclave in which Nouvel 18 is located could also hold major appeal for the couple. 
Coming from Hong Kong, they could also be drawn to the vibrancy and convenience near the Orchard Road precinct that a home at Bishopsgate Residences offers. But if a romantic holiday home is what they are looking for, then perhaps a unit overlooking panoramic seaviews and Marina Bay at South Beach Residences would be at the top of the list. 
In any case, watch this space for updates!
Which Singapore condo do you think Donnie Yen would buy? Voice your thoughts in our comments section or on our Facebook community page.
Looking for a property? Find the home of your dreams today on Singapore's largest property portal 99.co! You can also access a wide range of tools to calculate your down payments and loan repayments, to make an informed purchase.